Never miss a bite! Sign up here to receive new recipes and reviews straight to your inbox.
NOTE: This restaurant has since closed.
Disclosure: I was invited to dine as a guest of Stateside Sandwiches and received a complimentary meal in exchange for this post. As always, all opinions are 100% my own.
The mission at Boca Raton's newest sandwich shop, Stateside Sandwiches, is simple: to recreate premium versions of your favorite regional and hometown sandwiches using fresh locally baked bread, and fresh premium meats, cheeses and seafood, sourced locally whenever available.
Chef/Owner Steve Tart has lived up to his mission, as there is definitely no shortage of premium quality product at Stateside Sandwiches. All of the meat is smoked or roasted in-house and carefully sliced or shredded to perfection. The bread is baked locally and delivered fresh. There is even a gluten-free, vegan bread option, which for me is one of the best things about this place — and it's actually really good. It has a tender crumb, without being too crumby, and has a subtle sweet flavor. 
Thanks to Steve having this bread available at Stateside Sandwiches, I could actually enjoy a sandwich or two along with my colleagues during a recent influencer tasting! (Side note: all images pictured here show the regular bread, as the sandwiches are normally sold. If you need the alternative bread, please be sure to ask for it when ordering.)
My mouth is watering just thinking about the pastrami on rye, a New York deli classic, featuring hand-sliced, house-smoked pastrami piled high on marbled rye bread, smeared with grainy mustard. That pastrami was so incredibly flavorful and the mustard added just the right amount of tanginess.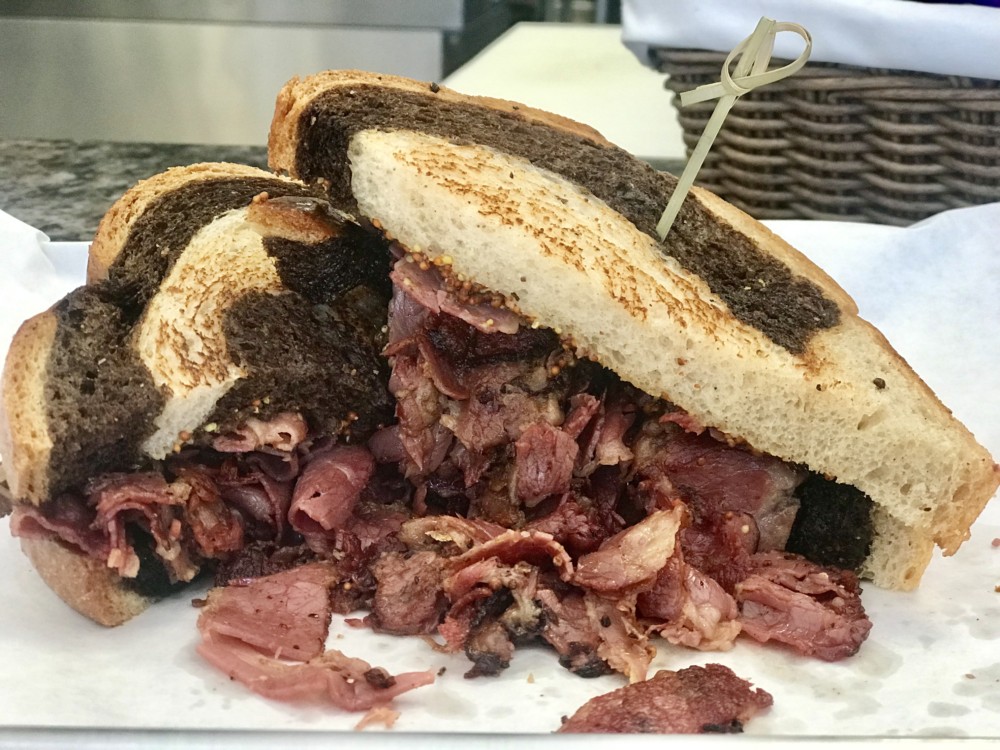 Steve served us a huge variety of sandwiches from his (extremely large) menu, including the Reuben, which was originally created at the Blackstone Hotel in Omaha, NE, the Chicago beef sandwich with shaved slow-roasted prime rib and served with fresh made au jus for dipping, and the Monte Cristo, a Southern California twist on the French classic, with country ham, gruyere cheese and fig jam, grilled French toast-style and served on batter-dipped thick-sliced country white bread.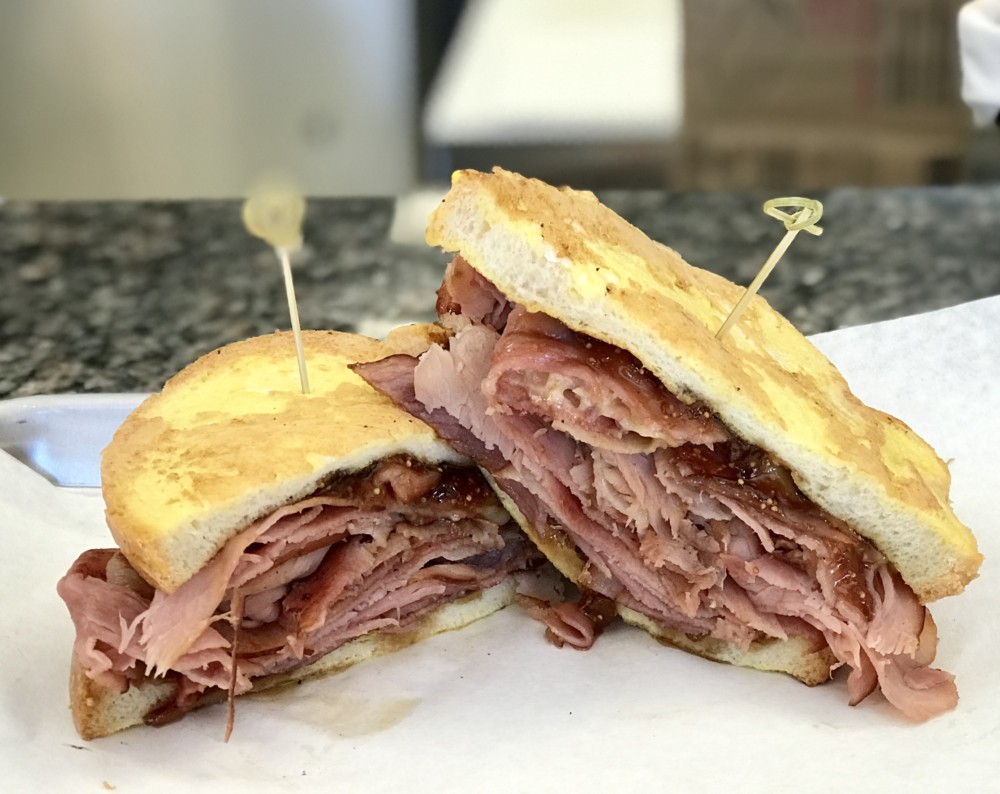 We were introduced to the Hoosier pork tenderloin sandwich, which is unique to Indiana, featuring a huge panko-crusted porkloin cutlet, and tried to tell the difference between the Carolina-style house-smoked pulled pork sandwich with mustard and vinegar BBQ sauce, and the vegetarian BBQ jackfruit sandwich (a native Brazilian fruit) with house-made BBQ sauce. Note: visually, they're both pretty identical, but taste-wise — obviously not.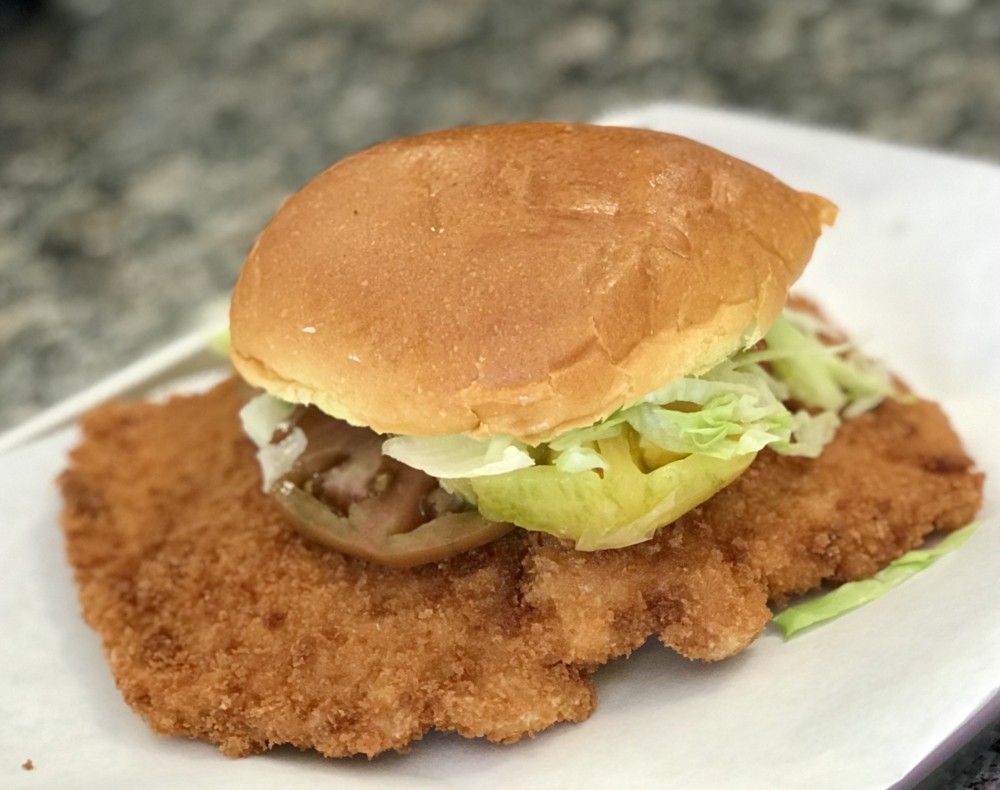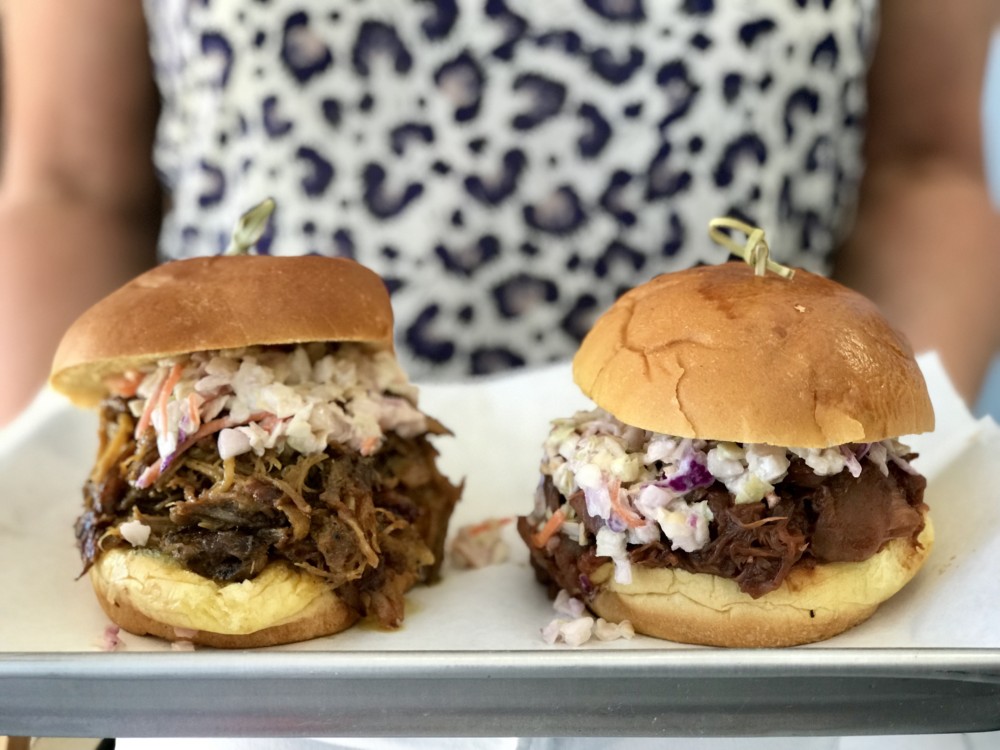 By the way, that BBQ jackfruit isn't the only vegetarian option available on the menu. There's burrata and mozzarella, a portobella sandwich, falafel, and even a cauliflower po'boy.
Speaking of po'boys… you'll find seafood on the menu too, like the New Orleans classic shrimp po'boy with buttermilk-fried Florida pink shrimp and a spicy creole remoulade, and a Maryland-style crab cake sandwich with jumbo lump crab and a spicy aioli.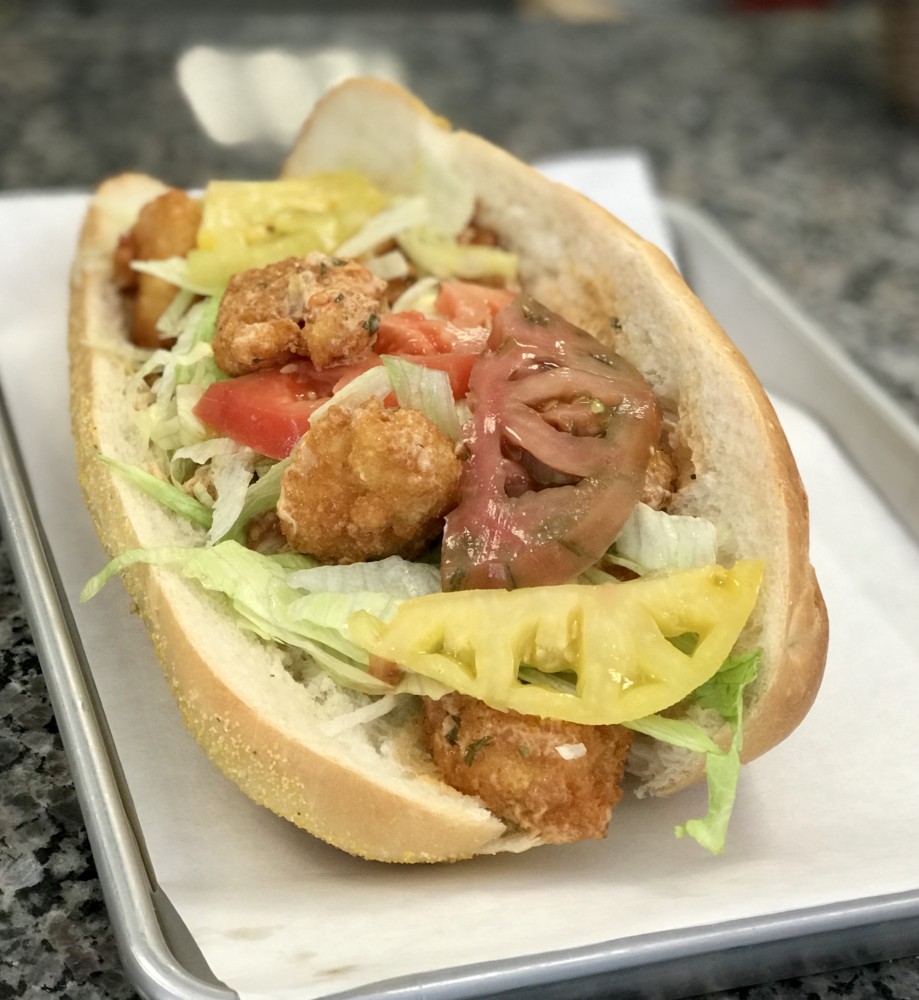 You can't forget about the sides, especially the unique twists on traditional french fries. Forget duck fat fries, Tart cooks his shmaltz fries in chicken fat and serves them with Thousand Island dressing. There are also the mushroom fries, which could easily become the new truffle fries. Twice-cooked, fresh-cut Idaho potatoes sprinkled with sea salt, and tossed with house-made foraged mushroom seasoning, and served with dijonnaise sauce.
The prices are a bit higher than most, but these sandwiches can easily be split into two meals or shared among friends.
It may not be your average sandwich shop — but that's okay, because it never wanted to be.
Stateside Sandwiches is located at 1159 S. Federal Highway in Boca Raton. It's open Monday through Saturday from 11am-7pm. Delivery is also available through Delivery Dudes.