Never miss a bite! Sign up here to receive new recipes and reviews straight to your inbox.
Disclosure: This post is sponsored by Seminole Pride Noble Juices. Product information and photos have been provided by the sponsor. As always, all opinions are 100% my own.
HAPPY FOURTH OF JULY!!
Today's the day for enjoying the outdoors. Maybe you've got plans to attend a BBQ, pool party, or picnic on the beach; maybe you're heading out for a day of boating; maybe you're going to hang out at a local restaurant with live entertainment and food and drink specials all day —  whatever you've got going on, you are going to need to stay hydrated. It's HOT outside and the last thing you want is to feel overheated, exhausted or dehydrated. That cold beer or fruity cocktail might seem refreshing and just the thing you need to stay cool, but knock too many of them back and you're definitely going to feel a little woozy. Booze + hot sun rarely end well. Make sure you drink an entire glass of water between drinks — or why not opt for something non-alcoholic that is still just as tasty!

I introduced you guys to Florida-based juice company, Seminole Pride Noble Juice, and their delicious Tangerine Clementine Juice last month and today, I'm introducing you to their Organic Aloe Mint Lemonade. Did you know that lemons actually help to lower your body temperature to keep you cool and calm? There are many benefits to this organic lemonade drink — mint is a natural stimulant that'll help wake you up when you're starting to feel that late-afternoon slump from being out in the sun all day, and Aloe Vera juice naturally hydrates the body. Noble Juice makes this juice with antioxidant-rich peppermint/spearmint oil and alkaline-forming aloe vera juice. There are no artificial colors, ingredients or preservatives and no GMO's. It has a low carbon footprint and is gluten-free.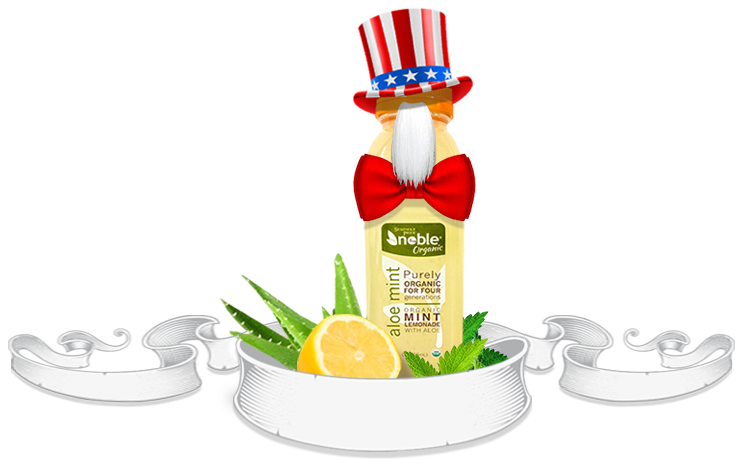 In celebration of America and all the Noble Juice lovers and supporters, right now you can buy any Noble Juice product and get one free! All you have to do is sign up here to receive your special coupon. Aside from this refreshing Aloe Mint Lemonade, there are tons of other flavors to try. The Tangerine juice, obviously, should be at the top of your list, but how about trying Noble Juice's new and exciting flavors — Apple Mandarin Chai, Honeybell Blueberry, Royal Mandarin Greens, Tangerine Ginger Pomegranate, Organic Orange Beet & Berries with Chia Seeds, Organic Orange Mango Carrot with Ginseng and Organic Apple Vanilla Greens with Flaxseed.
Remember to stay hydrated today as you're out and about in the sun. Before you start your celebrating, sign up to get your coupon and check which of your local grocery stores carry Noble Juice. Then head on over and pick up a few of these thirst-quenching juices and be on your way.

Now go have an AWESOME day!