Never miss a bite! Sign up here to receive new recipes and reviews straight to your inbox.
Disclosure: I was invited to dine as a guest of the restaurant. No monetary compensation has been received for this post. As always, all opinions are 100% my own.
Brunch. A six-letter word that signifies glass after glass of champagne, indulgent treats you would never think to make for a weekday breakfast, and an all-day affair. If I could, I'd brunch every day — but that might be hard for one to handle. Instead, I attend one or two special brunches per month where I indulge in my favorite bubbly, copious amounts of breakfast potatoes, and late mornings that turn into long afternoons with great company.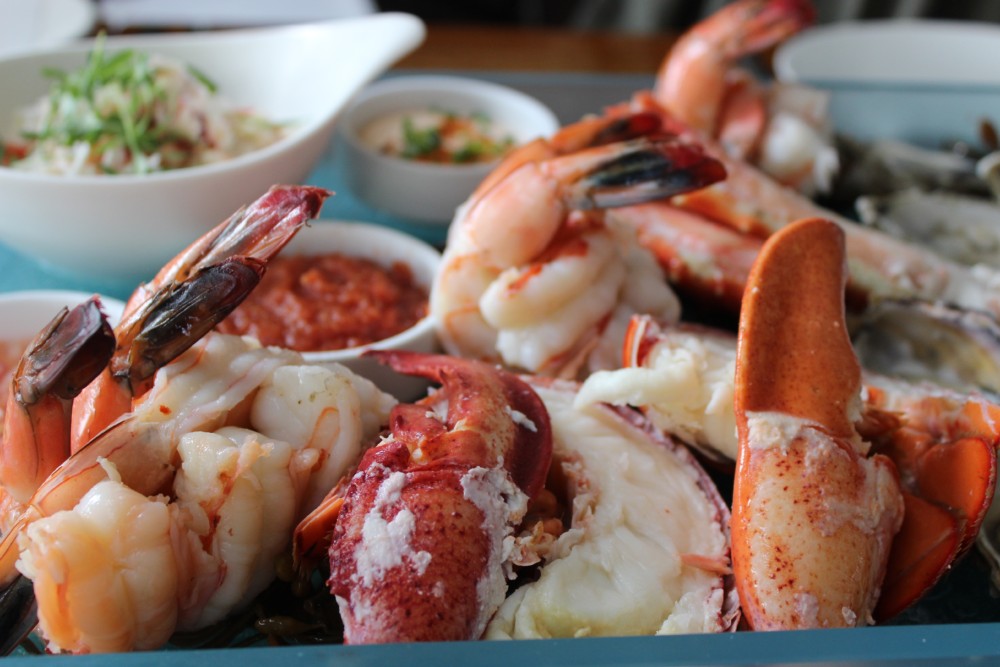 Recently, I had the opportunity to spend my Sunday Funday brunching at Steak 954, located inside the W Hotel in Fort Lauderdale. If you choose to sit outside, you're met with the most perfect view of the beach; and even if you sit inside, you've got a really great atmosphere, complete with an illuminating jelly fish-filled aquarium. Steak 954 is part of iconic restauranteur Stephen Starr's Philadelphia-based group, Starr Restaurants. If you pay attention to the James Beard Awards, you'll know that Stephen Starr just recently won the award for Outstanding Restauranteur — rightfully so.
I had dinner at Steak 954 a couple months ago and was blown away by each and every dish we tried. I'd been itching to get back in there, so when that brunch invite came along, I was ready! The main reason for inviting local media in for this special brunch was for bar manager and master mixologist, Simeon, to show off his brand new brunch cocktail menu, which includes seven super unique and creative craft cocktails. Some of the ingredients used were pretty new to me, so I was anxious to give 'em a try. I started with a cognac-based drink called Le Japonais. It's made of Vsop Armagnac, Orgeat, Angostura Bitters and (finally words I recognized) Vueve Cliquot. It was delicious and I loved the bubbly effervescence, but it was incredibly heavy on the booze. After a few sips, I had to switch to something lighter…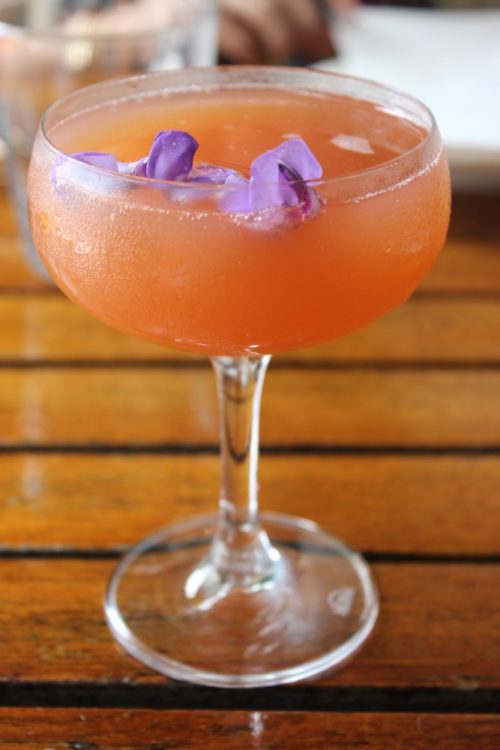 Onto the Coup De Soleil, made with Hangar One Straight vodka, Pamplemousse rose, honey and fresno chili. Despite the chili, this drink is anything but spicy. It's refreshingly sweet and has a very approachable ingredient list. This one was a keeper. Other popular choices among the group were the Thames Lemonade made with Fords gin, Dolin Genepy, basil, blackberry and lemon bitters (I tried a sip of this. Delicious!), and The Layover made with Sailor Jerry spiced rum, house cold brew, ginger and lime.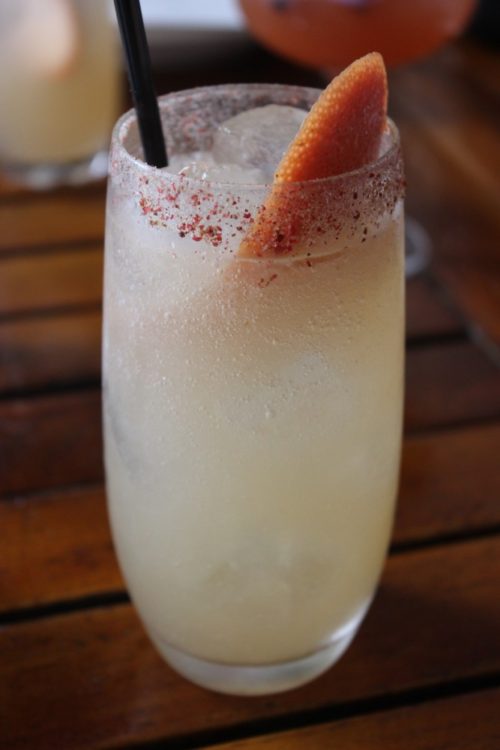 If you aren't super adventurous when it comes to cocktails, the 954 classic, The Harvest, is your best bet — Australian riesling, Veev acai sangria and berry bramble. For those looking for a pretty big kick of flavor, the Sweetest Taboo is probably up your alley — Redemption rye, Tawny port, Amontillado sherry and a coconut water cube. Not my cup of tea, but I'd be curious to hear your thoughts if you try! Last, but not least, on the menu is the 954 Michelada, to which you can add a mezcal floater. It's a spicier drink, made up of house pepper sauce, Cigar City lager and lime.
But enough about the drinks — I had my cocktail (no bubbles this time) and was ready for the food! Although Steak 954 is most noted for its steaks (surprise, surprise), you can be sure their seafood is just as incredible. To start, we were served an insane array of raw bar goodies, including east and west coast oysters, jumbo shrimp cocktail, the meatiest and most flavorful crab claws and lobster tails I've ever been served, coconut crab and lobster ceviche and a trio of sauces — champagne mignonette, spicy cocktail sauce, and a Japanese-style mustard sauce. To say I was on cloud 9 is an understatement. Aside from a cheese board, this is my other favorite kind of platter — seafood in its purest form. When it came to this selection of raw bar favorites, we had one philosophy — No Man Left Behind. We devoured the entire thing. There wasn't even any sauce left in the saucers. #SorryNotSorry.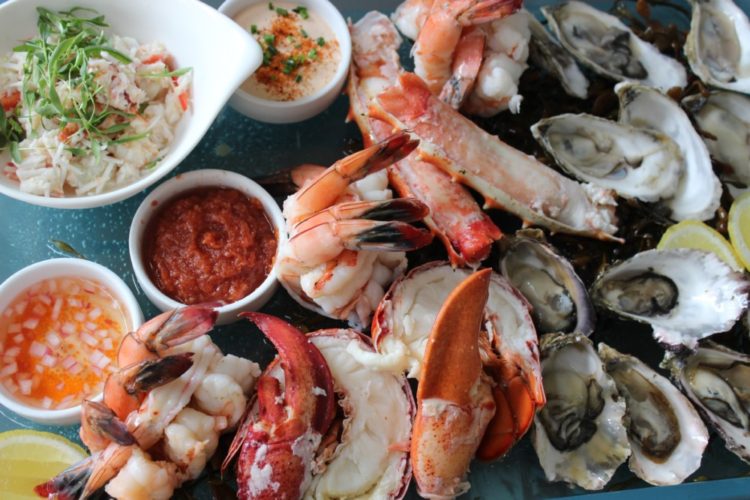 When you brunch at Steak 954, that seafood platter is an absolute MUST. Just do it. Another must? The house-made desserts. Pastry chef, Sarah Magoon, wasn't actually working that day, but she still came into the restaurant to say hello and tell us about her sweet offerings that day. She is most known for her homemade pop tarts, and that day we were being served two flavors, strawberry rhubarb and s'mores. There were also chocolate and almond croissants and three kinds of ice cream sandwiches — chocolate brownie with mint chocolate chunk ice cream; peanut butter cookie with honey-peanut brittle ice cream, toasted vanilla bean marshmallow and honey comb; and vanilla bean shortbread cookie with lemon cream ice cream. I had to pick and choose my battles for this one, and decided to forgo the starchier pop tarts and croissants and dove into the ice cream sandwiches instead. The peanut butter cookie was my favorite kind of cookie — soft and chewy, with rich peanut buttery flavor that made my tastebuds dance. The mint chocolate chip-chocolate brownie combination was a winner, and definitely made it's way onto my fork way more than it should have.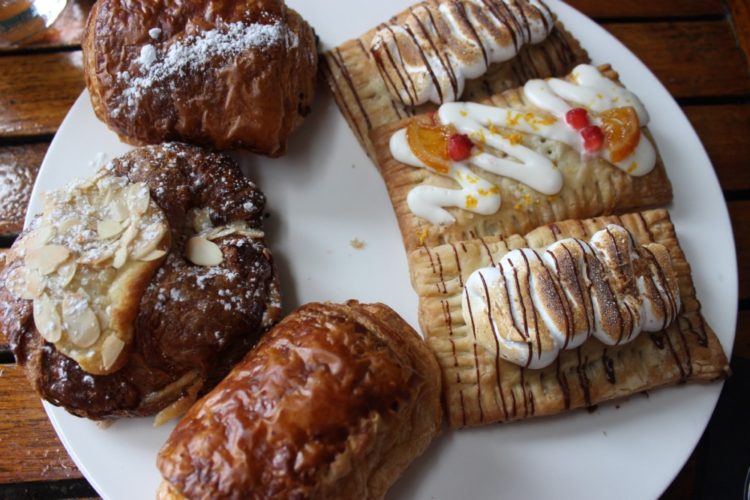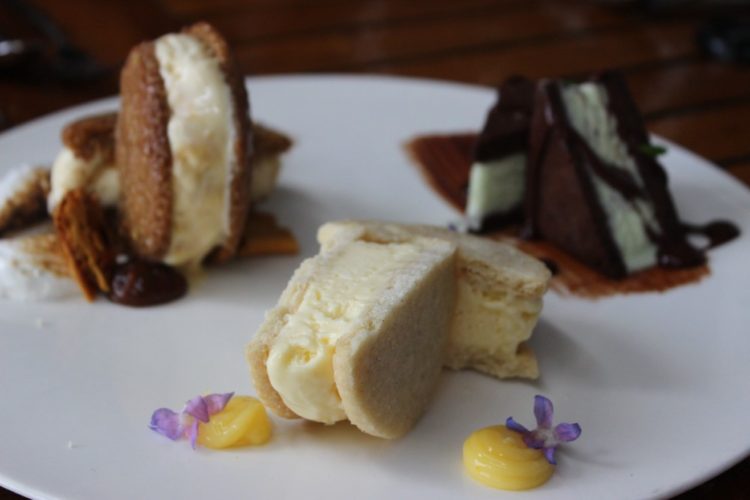 I know I just totally skipped my actual brunch entree and went straight to dessert — but I couldn't help myself! It was super impressive. Even though I didn't try everything, the presentation was heavenly, and I could tell by the expressions on everyone's faces that the pop tarts and croissants were every bit as delicious as they were beautiful.
But yes, back to the savory-ness. Each of us were able to order our own individual brunch entrees. I'm an omelet kind of girl when it comes to brunch, even better when it comes with potatoes. You know how much I love my french fries, but I'll be honest — I almost like breakfast potatoes even more. But only when they're made a certain way. Crispy on the outside, soft on the inside, diced into squares or sliced into thick chip-like consistency. I don't do the shredded hash brown thing — no thanks. Steak 954 did a great job with theirs. They also do a fabulous job with their french fries, and since we did have Fashionably French Fried at the table, you know we had to order them.
But back to my breakfast potatoes. They were gone long before I was even halfway through my spinach, tomato and feta egg white omelet. It's all about balance. Fresh seafood and a healthy omelet means it's totally okay to indulge in all the potatoes, ice cream sandwiches and cocktails. Am I right, or am I right?!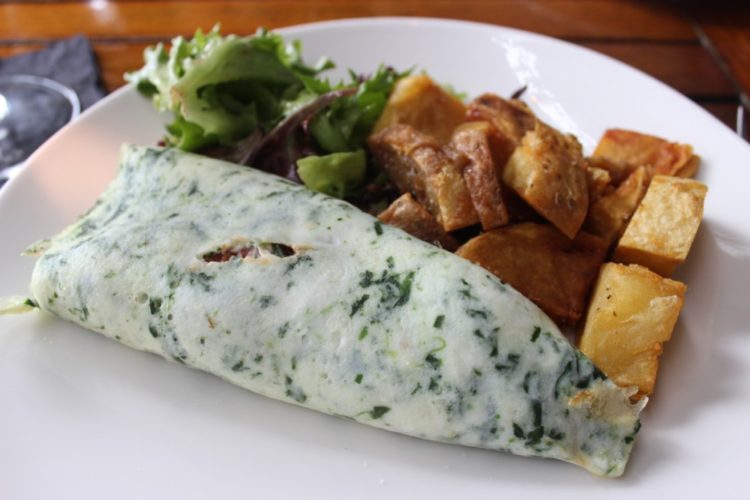 Others at the table chose some of the most popular items on the brunch menu — steak and eggs, crab and avocado eggs Benedict, and the French toast. There wasn't much talking going on at the table while we ate. We were all pretty preoccupied with what was on our plates.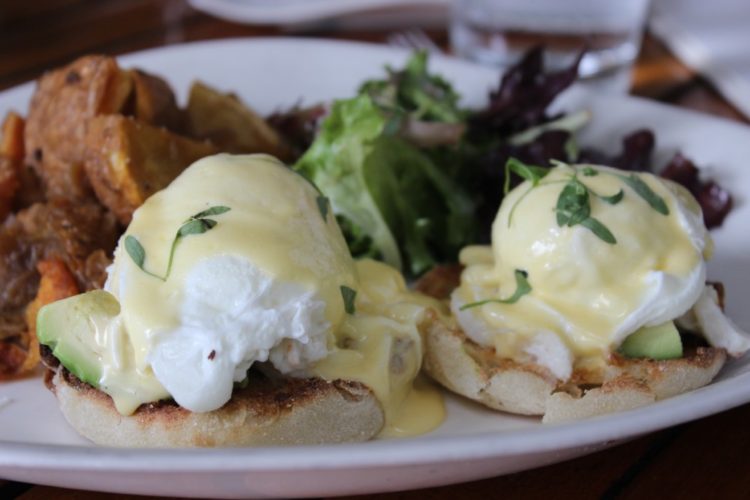 It was certainly a brunch to remember, especially with that gorgeous oceanfront view. Both of my visits to Steak 954 have been equally as amazing. If the phrase 'third time's a charm' means anything, I can only imagine what my next visit will be like…
Steak 954 is located in the W Fort Lauderdale at 401 N. Fort Lauderdale Beach Blvd., Fort Lauderdale.