Never miss a bite! Sign up here to receive new recipes and reviews straight to your inbox.
This is no boring old salad! Bright green and red produce liven up your plate in this Strawberry and Avocado Salad.
Sometimes I crave a big, fresh colorful salad, especially during the summer when the temperatures are rising and eating outside happens often. That's what we're focusing on this month for #WeekdaySupper — easy meals you can enjoy outdoors. This Strawberry and Avocado Salad takes almost no time to put together, and almost no time to devour!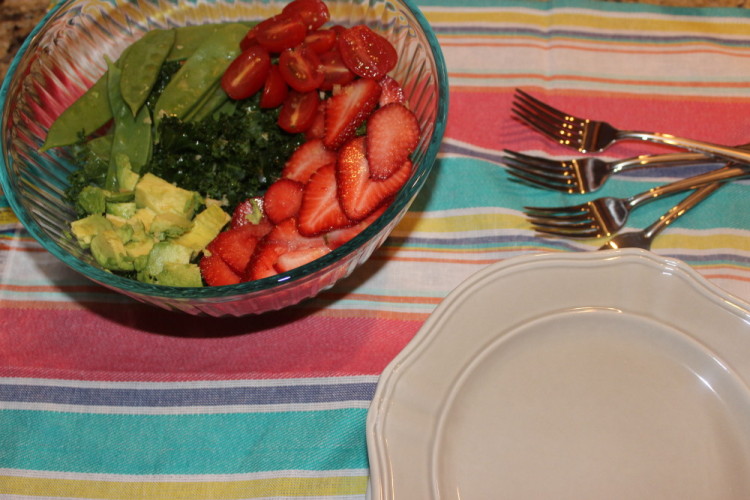 All of the #WeekdaySupper recipes we share take 30 minutes or less to prepare and include ingredients that are easy to find in your local grocery store. You could run out right now and grab what you need for a Strawberry and Avocado Salad and have dinner ready to go before anyone even has time to ask the age-old question, What's for dinner?!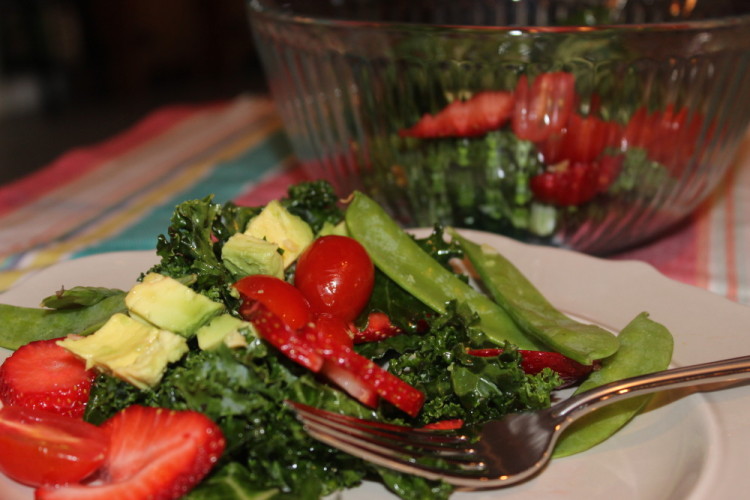 What's great about a salad like this one is that the accompanying ingredients are totally customizable to your taste. Just as long as you've got those lusciously sweet strawberries and perfectly ripe avocado slices, anything else is a go! I used a base of baby kale, but if you prefer spinach, go for it! Keeping with the red and green theme, I added some sliced cherry tomatoes for tartness and sugar snap peas for a little snap. One piece of advice when crafting a salad — don't forget to play around with texture. If all of your ingredients feel the same when you take a bite, your palate will get bored and won't be satisfied. The sugar snap peas worked well against the creamy avocado, crisp kale leaves, and juicy strawberries and tomatoes. You could also add in your favorite dried fruit or nuts. Have fun with it! After all, a salad really only means a mixture of a bunch of different ingredients.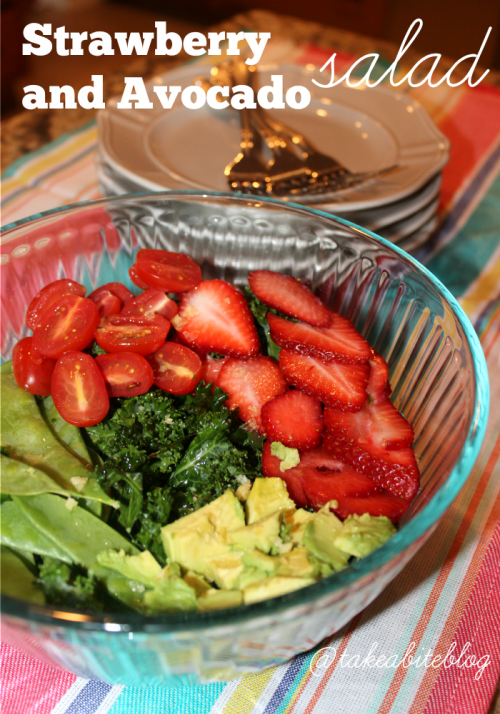 Adjust the ingredients according to however many people you're serving. Salad ingredient measurements are hard to say, so you be the judge! Make as much or as little as you'd like.
Strawberry and Avocado Salad
Author:
This is no boring old salad! Bright green and red produce liven up your place in this Strawberry and Avocado Salad.
Ingredients
Fresh lime juice
Extra virgin olive oil
Salt and pepper
Baby kale leaves
Medium ripe avocado, diced
Fresh strawberries, sliced
Cherry tomatoes, halved
Sugar snap peas
Instructions
Whisk together the lime juice, olive oil salt and pepper in a small bowl and set aside.
In a larger bowl, combine the kale, avocado, strawberries, tomatoes and sugar snap peas.
Add the dressing and toss well to combine.
PS- May is National Salad Month and National Strawberry Month. So, uh, no excuses…go make this Strawberry and Avocado Salad, pronto!
Here's what else we've got going on for you this week!
 Tuesday – Bratwurst Tacos by Palatable Pastime
 Wednesday – Lemon Sugar Grilled Chicken by Feed Me, Seymour
 Thursday – Mayo-Free Curried Chicken Salad by eating in instead
 Friday – Italian Chicken Avocado Burgers by Momma's Meals