Never miss a bite! Sign up here to receive new recipes and reviews straight to your inbox.
Add this Strawberry Streusel French Toast Casserole to your next brunch menu — the perfect time to encourage eating dessert for breakfast!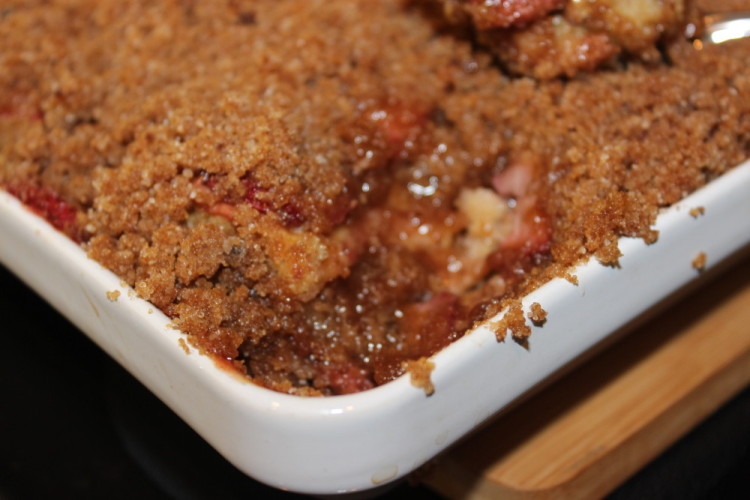 I try to always eat a healthy breakfast. At home it's usually Greek yogurt with fresh fruit and granola or oatmeal. If I go out to eat, I'll stick to an egg white omelet with veggies, or sometimes it's still that yogurt, fruit and granola combination. But brunch? That's a different story. If I'm going to brunch, it usually means there is some kind of celebration going on — whether it's a birthday, baby shower, Mother's Day, or just a "Sunday Funday" outing, brunch = indulgence. That's just the way it is.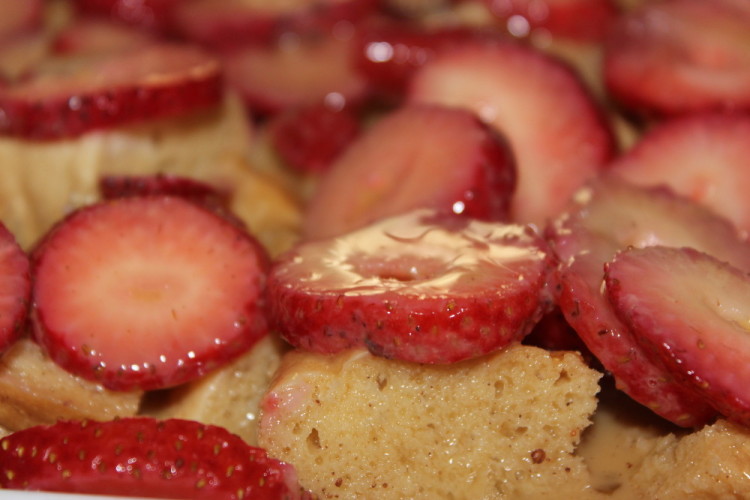 Hey, I'm not complaining. We all could use a little indulging every once in a while.
Last weekend was Mother's Day and I celebrated with my Florida family by having a quiet little brunch together at my aunt's. She made a spinach and onion frittata and a gorgeous fruit salad of grapefruit, oranges, apples and strawberries soaked in amaretto. That was a healthy indulgence — just a tiny bit of amaretto goes a long way when paired with all the beautiful citrusy flavors of the fruit. I made tasty little cucumber rounds topped with whipped chive cream cheese and smoked salmon — another healthy indulgence, unless you eat an entire plate of these babies like Bubby and I almost did! Then came the real, stick-to-your-ribs, oh-my-god-I'm-so-full-but-need-more indulgence of our meal — Strawberry Streusel French Toast Casserole.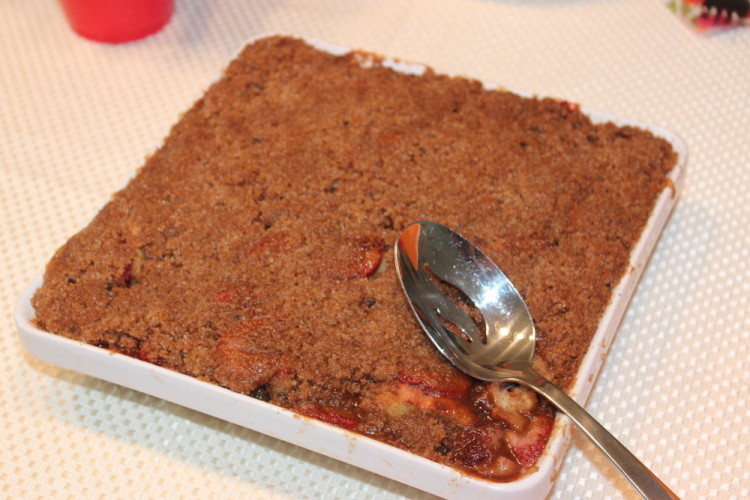 I've never made a french toast casserole before, nor have I ever eaten one — although, it is extremely similar to bread pudding, which I've had plenty of times. Now that I know how easy it is to make, I'll be doing this much more often. Looks like brunch will be happening lots more this summer! All you need to do is cut up a loaf of day-old bread — I used ciabatta bread that my friend made me, but Challah would usually be my first choice — and arrange it in the pan you plan to bake/serve it in. Top the bread with sliced strawberries (or sub with whatever berry you prefer) and pour your mixture of eggs, milk, vanilla extract, cinnamon, nutmeg and brown sugar directly overtop. The best part about this recipe is that you assemble everything the night before and bake it right before you're ready the serve the next morning! The mixture of bread and fruit soak up all the deliciousness while it sits in the fridge overnight.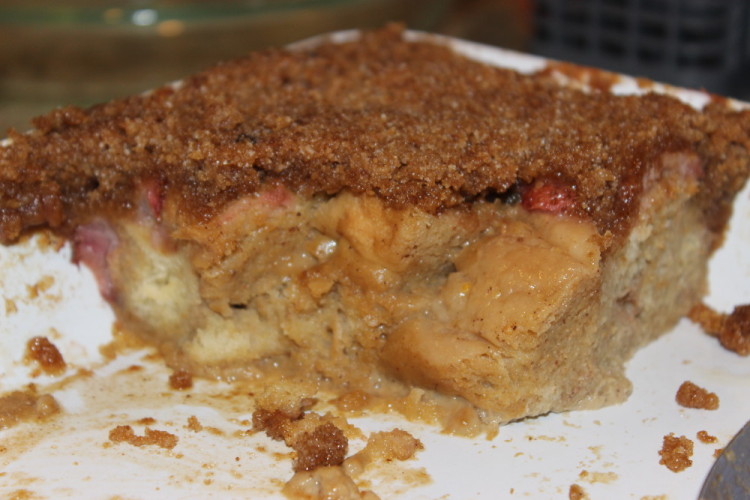 Before baking, you'll make your streusel topping and crumble it over top of the soaked bread and fruit. Oh my goodness, this is absolutely INCREDIBLE. It's super soft, super moist, and super duper sweet. This is exactly what brunch should taste like!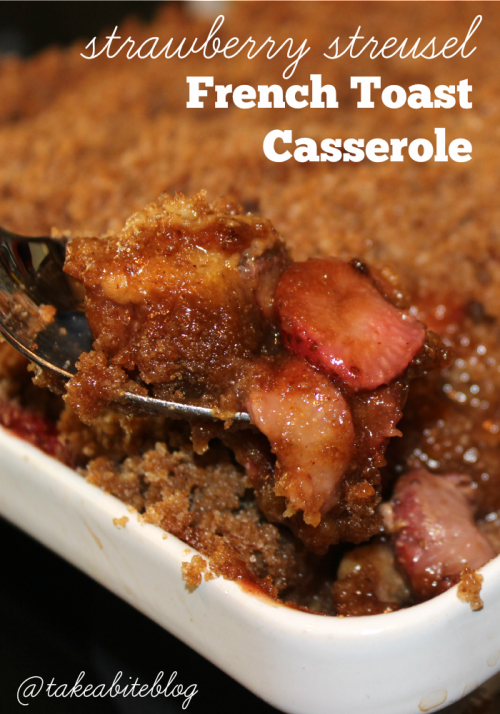 Strawberry Streusel French Toast Casserole
Recipe Type
:
Breakfast/Brunch
Author:
Add this Strawberry Streusel French Toast Casserole to your next brunch menu — the perfect time to encourage eating dessert for breakfast!
Ingredients
For the casserole:
1 loaf of day-old bread (ciabatta, baguette or challah work well), cut into 1-inch cubes
10-12 strawberries, sliced
4 large eggs
1 3/4 cup milk of choice (I used cashew)
1 tbsp pure vanilla extract
1 tsp cinnamon
1/2 tsp nutmeg
1/2 cup dark brown sugar
For the streusel topping:
1/2 cup dark brown sugar
1/4 cup granulated sugar
1/2 cup ap flour
1 tsp cinnamon
1/4 cup melted coconut oil
Instructions
Spray an 8×8 baking dish with cooking spray.
Spread the bread cubes evenly in the dish and op with sliced strawberries.
In a medium bowl, beat together the eggs, milk, vanilla, cinnamon, nutmeg and brown sugar until combined. Pour over the bread and fruit and cover tightly with plastic wrap.
Keep refrigerated overnight.
When ready to bake, preheat the oven to 350 degrees.
Make the streusel by combining sugars, flour and cinnamon in a bowl.
Whisk in the melted coconut oil until fully incorporated and the mixture resembles wet sand.
Remove the chilled casserole from the fridge and completely cover with the topping.
Bake for 50 minutes or until the top has browned.