Remember that Le Creuset panini grill I won at the Food Blog Forum in March? I've used it plenty of times for grilling, but I haven't actually made a panini with it… until now. The prize pack also came with a book full of all kinds of recipes — veggie paninis, paninis with meat, poultry or seafood, and even dessert paninis! Last time Lindsey came over for one of our Pretty Little Liars nights, we were looking through the cookbook trying to decide on one to make for the next time we got together. There were a few in the veggie section, aptly named "Farmer's Market," that sounded really good. Grilled eggplant, asparagus with sun-dried tomato and goat cheese, mushroom spinach & fontina, and summer vegetables with fresh basil, just to name a few.
Life got busy for both of us and before we knew it, weeks had gone by. We were waaaay overdue for a get together to put our panini plan into action. It just so happened that the series finale of Gossip Girl was coming up. Yes, SERIES finale (insert freak out here). We are as insane about GG as we are about PLL, so this was a big big deal to us. The obsession with Blair and Serena and their life in the Upper East Side, loving Chuck and Blair's whirlwind romance, the scandals, the lies, the money, the mystery — it was all coming to an end and we were finally going to find out the real identity of the infamous Gossip Girl. We both freaked when it was revealed. We were pretty convinced midway through the show that it was little Jenny Humphrey, but nope — LONELY BOY Dan Humphrey was the true culprit. Oh my god, I probably sound like such an annoying little girl right now, but I'm sorry. I just loved that show. If you've never watched it, then I wholeheartedly apologize for my lame rant. And if you have seen it, then you're probably right there with me. But I digress; let's get back to the real reason for this post: The Stuffed Portobello Mushroom Panini.
The recipe we chose is kind of a spin-off of your typical panini, as it isn't really a true sandwich with bread. Instead, grilled veggies and goat cheese generously fill two Portobello mushrooms and form one of the most delicious "paninis" I've ever had. Prepping the mushrooms was more work than I thought. I had to cut out the stems and all of the gills… Whew, that took some work. It's kind of impossible to cut out every last one, so there were gill remnants on the 'shrooms, but whatever… I'm no perfect cook, that's for sure. Creamy, tangy goat cheese was spread out onto each of the mushrooms, and red peppers and green onions were thrown on the panini grill to cook for a few minutes before being placed between the two pieces of goat cheese-filled mushrooms. The assembled "sandwichs" were then carefully put onto the grill with the lid pressed down over top. They cooked until grill marks appeared on the tops of the mushrooms. The intense smell of grilled veggies slathered in garlic and olive oil filled my kitchen. We were pretty much salivating as we waited for the finished product, checking under the lid every few seconds hoping for prominent grill marks to signal they were ready.
The wait was well worth it. The goat cheese definitely made all the difference. It wouldn't have been nearly as good without it. I don't really think any other kind of cheese would work as well with the peppers and green onions. We both agreed that spinach would have made a perfect addition to the other ingredients. You can swap in lots of other vegetables, too.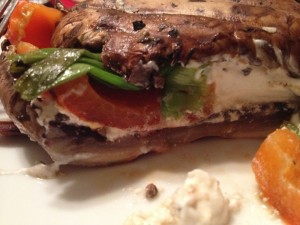 Stuffed Portobello Mushrooms
adapted from "Panini" by Melanie Barnard
serves 2
2 tbsp extra virgin olive oil
1 clove garlic, finely chopped
1 red bell pepper, seeded and cut into 8 wedges
6 green onions, white and tender green parts only
4 portobello mushrooms, 3-4 inches in diameter, stems and gills removed
3 oz. soft goat cheese, room temperature
Slice a very thin piece of the cap of each mushrooms so they have a flat top. Set aside.
Preheat the sandwich grill. In a small bowl, stir together the olive oil and garlic. Brush the bell pepper and green onions lightly with the garlic oil. Season with salt and pepper. Put the vegetables in the grill and close the lid. Cook until they appear soft and show the beginning of grill marks, about 3-5 minutes. Place the vegetables on a plate and put to the side.
Brush the top of the mushrooms with the garlic oil. Place down on your work surface, hollow side up. Season with salt and pepper. Spread the goat cheese onto each mushroom, covering the entire area as well as possible. On 2 of the mushrooms, layer 4 of the peppers and onions on top of the cheese. Drizzle the vinegar over the vegetables and top with the other mushroom, cheese side down.
Place the "sandwiches" on the grill and press them down gently, making sure to keep the insides intact. Close the lid over top. Cook until the mushrooms show prominent grill marks and the cheese is melted. Serve right away — with silverware. You are not going to want to eat this with your hands.