Never miss a bite! Sign up here to receive new recipes and reviews straight to your inbox.
Disclosure: This post was sponsored by Walmart as part of an Influencer Activation for Influence Central and all opinions expressed in my post are my own. 
It's time to upgrade your summer with Walmart favorites, Sabra hummus, Blue Diamond Nut-Thins and Blue Diamond Gourmet Almonds!
When it comes to summertime snacking, there are a few key features that come to mind. For one, you want something that is shareable and easy to bring to BBQs, pool parties and the like. You also want a snack with high-quality, good-for-you ingredients that can be paired well with countless other things. With so many options on the market, sometimes it can be a little overwhelming when deciding what to get. Lucky for all of us, Walmart is a one-stop shop when it comes to summer snacking and entertaining. Sabra and Blue Diamond products can easily be found in-store — and really, are there any better snack items than crackers, hummus and flavored almonds? I think not.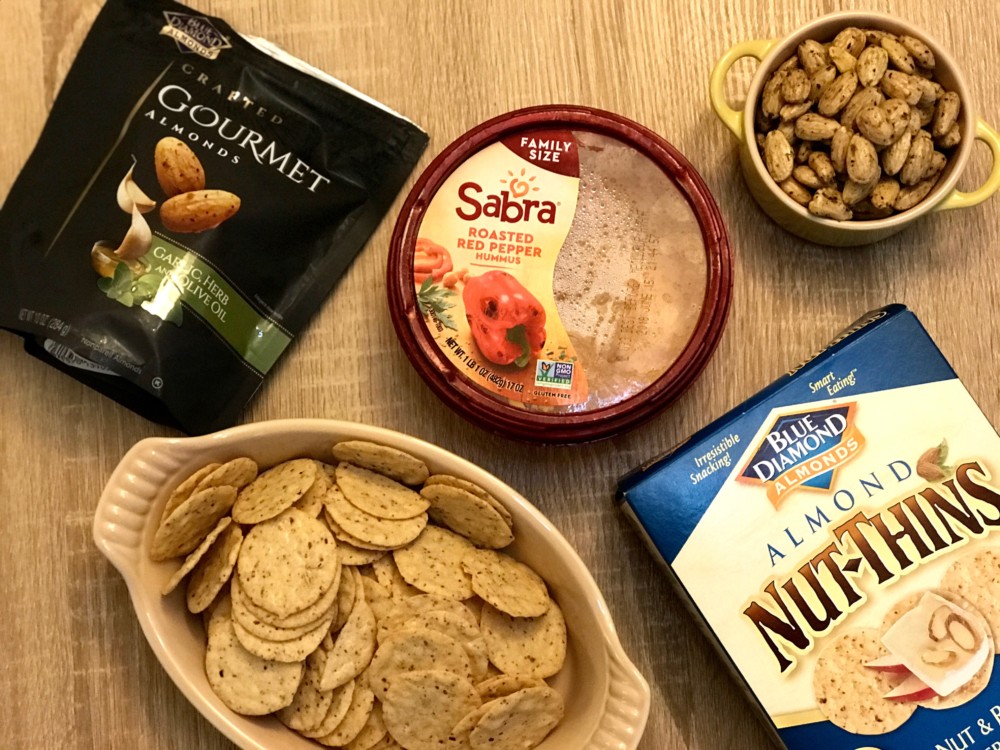 I'm a hummus fiend. It's always in my fridge, and it's my go-to dip to bring to parties especially in the summertime when outdoor picnics and pool gatherings are prevalent. Whenever I want to switch it up from the classic original flavor, I tend to opt for something on the sweeter side — like roasted red pepper. Sabra is the brand I know and trust the most when it comes to hummus, especially their Roasted Red Pepper variety. There are tons of options when it comes to dippers for hummus — fresh veggies, crackers, pretzels, pita… I've even added it to salads and bowls with proteins like tofu or lentils. But today, we're going nuts — literally — and using Blue Diamond Nut-Thins, made with real Real Blue Diamond® Almonds. These wheat- and gluten-free crackers are crispy and crunchy, have no artificial flavoring, and are the perfect pairing to Sabra Roasted Red Pepper Hummus.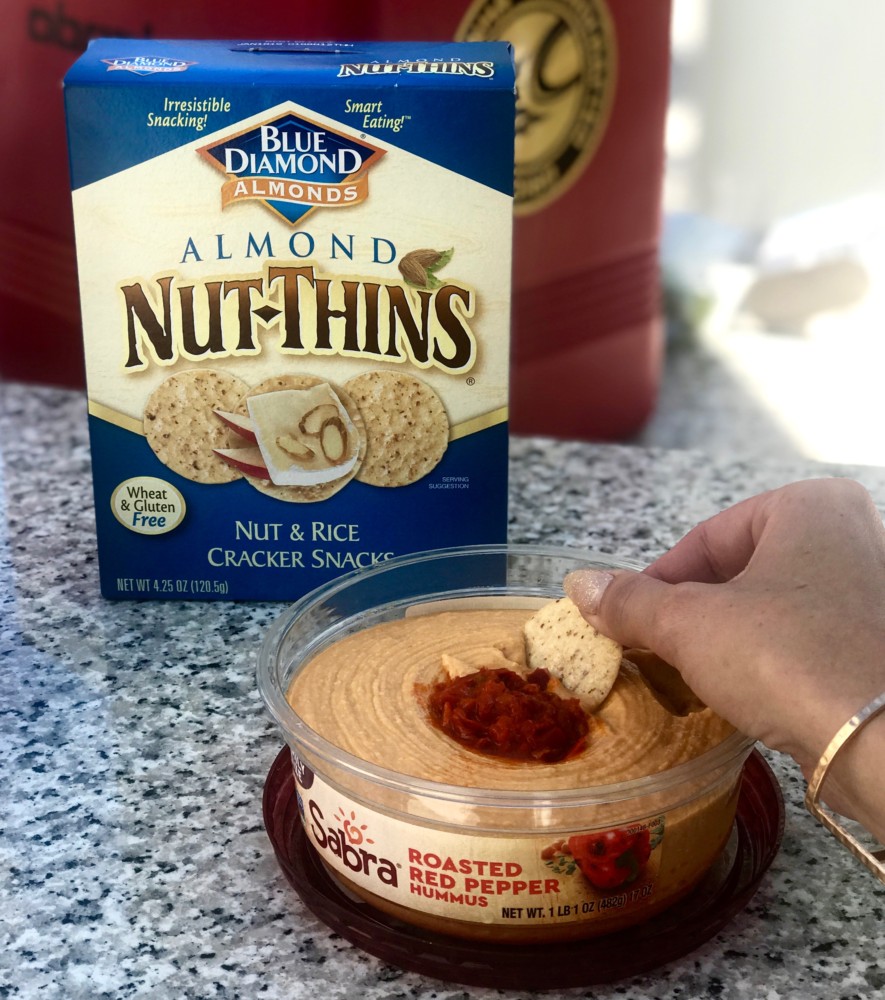 There's no denying it — Blue Diamond Nut-Thins and Sabra Roasted Red Pepper Hummus should make an appearance at every gathering you attend all summer long. I broke a golden rule during a Cinco de Mayo pool party, and instead of serving chips and guacamole, I brought out Nut-Thins and hummus. And guess what? No one missed the guac. #SorryNotSorry.
Having sustainable energy during those long summer days in the sun is crucial, and snacking on a handful of nuts is ideal for healthy protein and nutrition — even more so if they have great taste! Blue Diamond has released a new line of gourmet-flavored almonds that are out-of-this-world delicious. These shareable, handcrafted, chef-inspired Garlic, Herb and Olive Oil Almonds are made with only high-quality Nonpareil almonds, and can easily be incorporated into a spread of delicious snacks. Add them to a cheese and charcuterie board, sprinkle them into a salad or slaw, or simply pour them into a big bowl and enjoy them all on their own.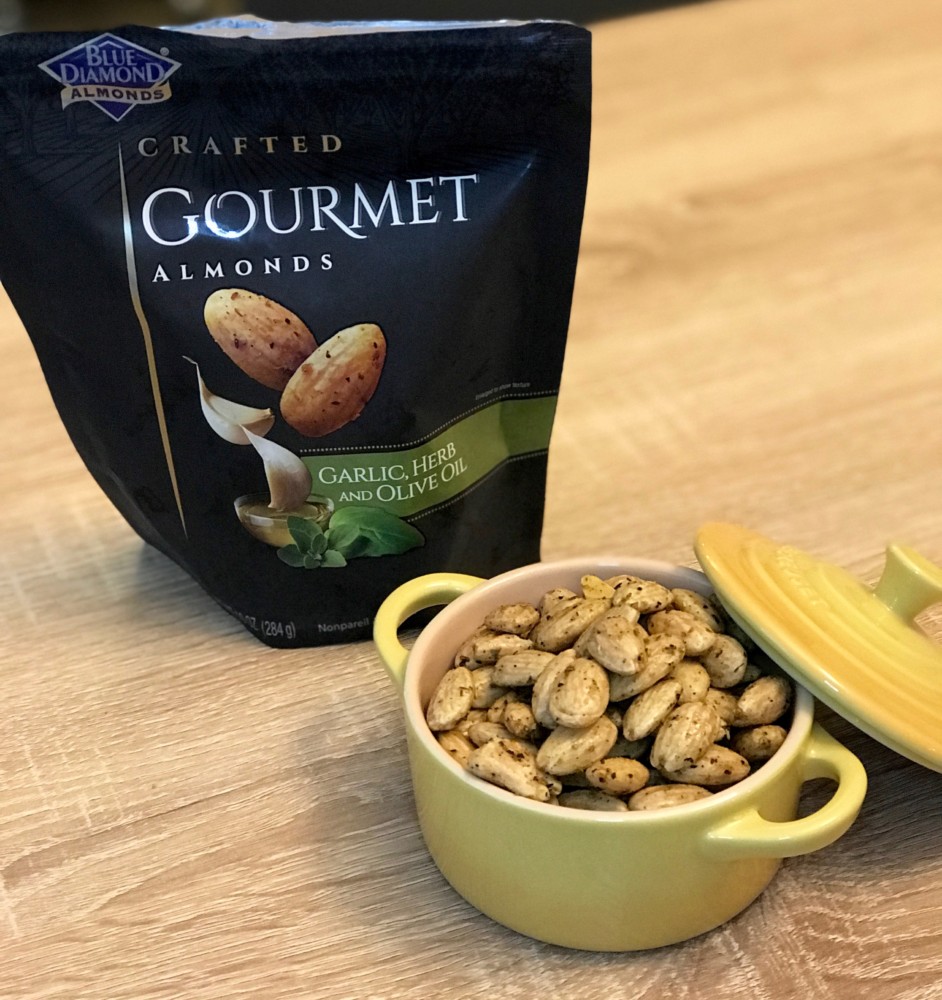 Now that I've given you some summertime snacking inspiration, it's time to start planning your next backyard soiree… What? Your backyard isn't party-ready? No worries! Visit Upgrade Your Summer for a chance to win a Backyard Makeover! Eight lucky winners will win the Grand Prize Package including a Palm Springs Wicker Patio Set with four Chairs, Sonos Outdoor Speakers, a Weber Genesis 11 E310 Grill, a Yeti Tundra 45 Cooler, and a $300 Walmart Gift Card. There will also be 25 second prizes that include a $25 Walmart gift card. What are you waiting for? Enter the contest now!
Make sure to follow the brands and Walmart on social media!