Never miss a bite! Sign up here to receive new recipes and reviews straight to your inbox.
Disclosure: I was invited to dine as a guest of Florie's in exchange for this post. As always, all opinions are 100% my own.
Don your Sunday best and get ready to take your Sunday Brunch to the next level when you dine at Florie's at the Four Seasons Palm Beach. This beautiful beachfront restaurant and bar is in partnership with three Michelin star chef, #1 World's Best Chef Mauro Colagreco. It's his first restaurant in the United States, and features a menu inspired by Chef Mauro's passion for gardening and nature.
The new Sunday Brunch launched on November 3rd and is quickly becoming popular with Four Seasons guests as well as local Palm Beachers. There's top-of-the-line bottomless champagne served tableside, interactive chef stations, a seafood bar with Stone Crab (when in season), some of the finest cheeses and charcuterie, including Jamón ibérico, and a beautiful display of desserts to end your brunch on a sweet note.
Navigating a brunch buffet is like successfully figuring your way through a maze — there is definitely a little strategy involved. First things first, scope out the scene and see what your options are. At Florie's, there are so many amazing choices, you're going to want to try a little bit of just about everything. That's the trick to not overdoing it — you can't have too much of any one item. A little bit of this, a little bit of that… And then if there's one thing that really sticks out in your mind as better than the rest, go back for seconds.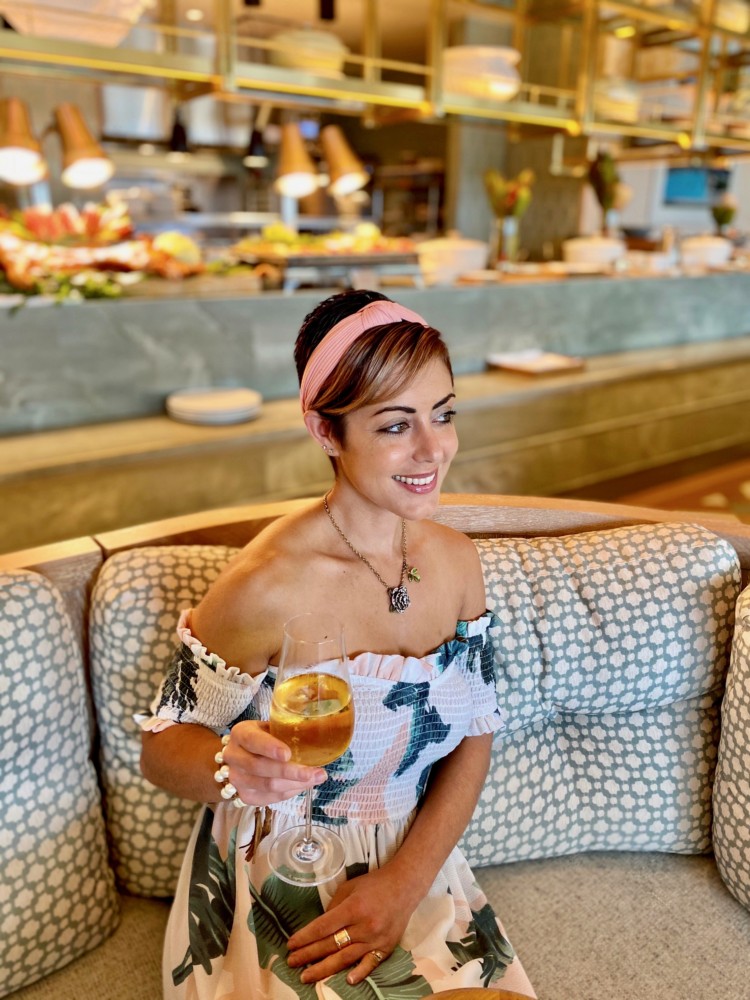 Start off at with the seafood bar and then move on to the cheese, charcuterie, jams, and fresh honey straight from Chef's garden. Then it's time to hit the hot entrées served from the open kitchen. There was a whole roasted suckling pig from Mary's Ranch in Miami, prime dry-aged beef from Creekstone Farm, salt-crusted whole roasted salmon, rack of beef, and roasted chicken from Four Story Hills Farms, as well as various salads and an omelette and waffle station.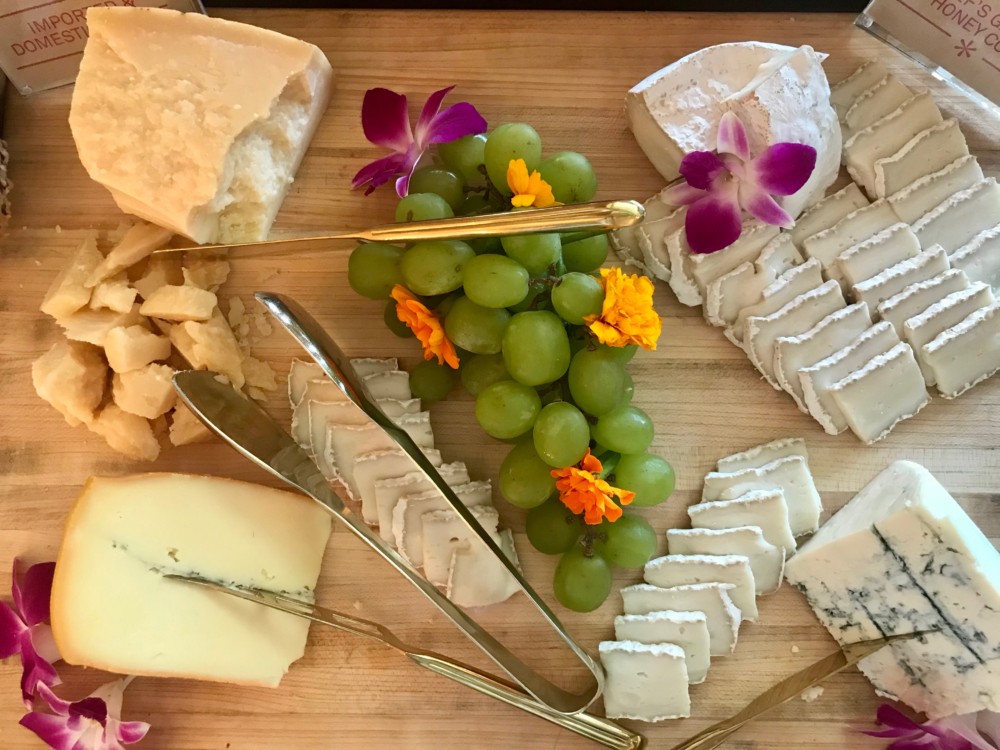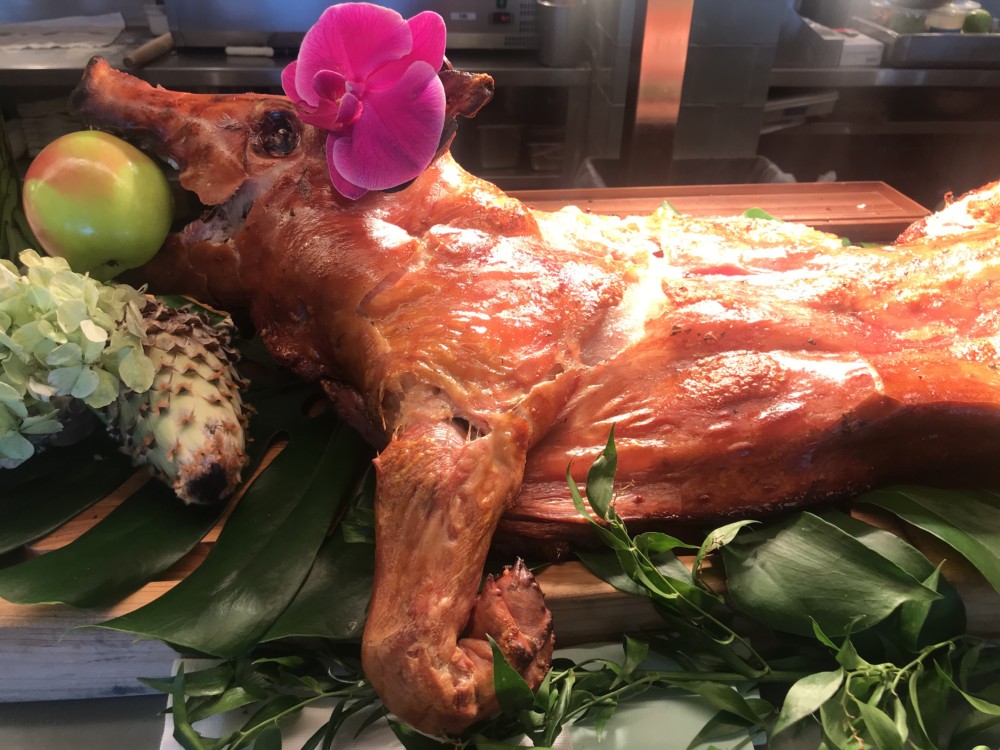 The side dishes are just as delicious as the main plates. The sweet potatoes with dates and walnuts was my favorite — and I was thrilled that Chef created a special portion for me without any dairy. There's also crushed potato hash with parsley, potato mousseline, braised carrots with orange and cumin, steamed broccoli and roasted Brussels sprouts.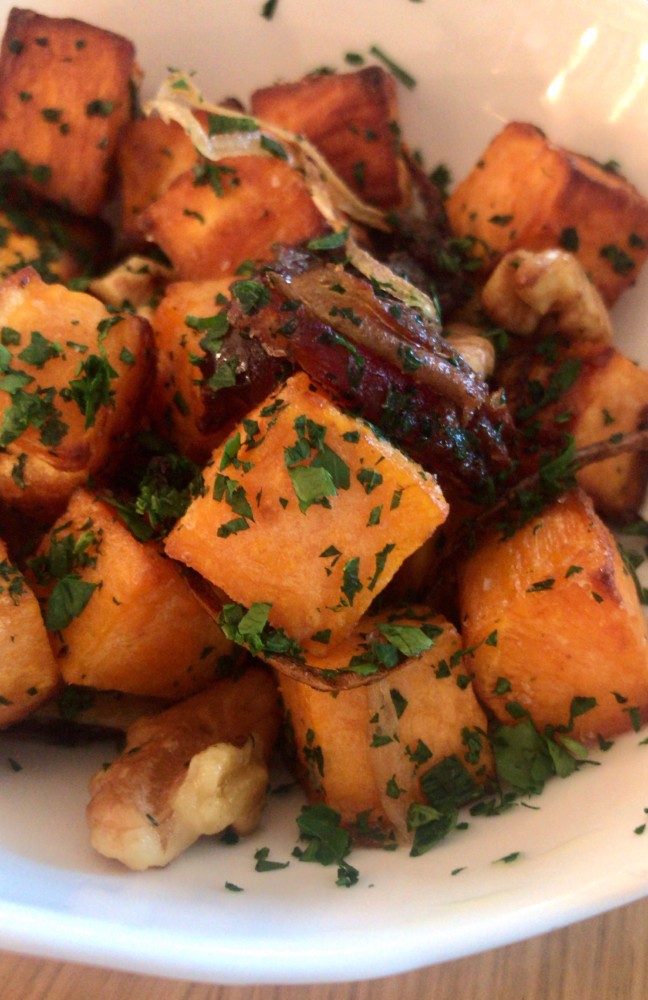 There is also a small a la carte menu with items you can order for the table. This is where we found our favorite dish of the day — heirloom tomato and persimmon carpaccio with almonds and pistachios, chives, and a basil oil. This dish is a must-order. It's so light and refreshing, so it's okay if you ignore my first rule and eat the whole thing.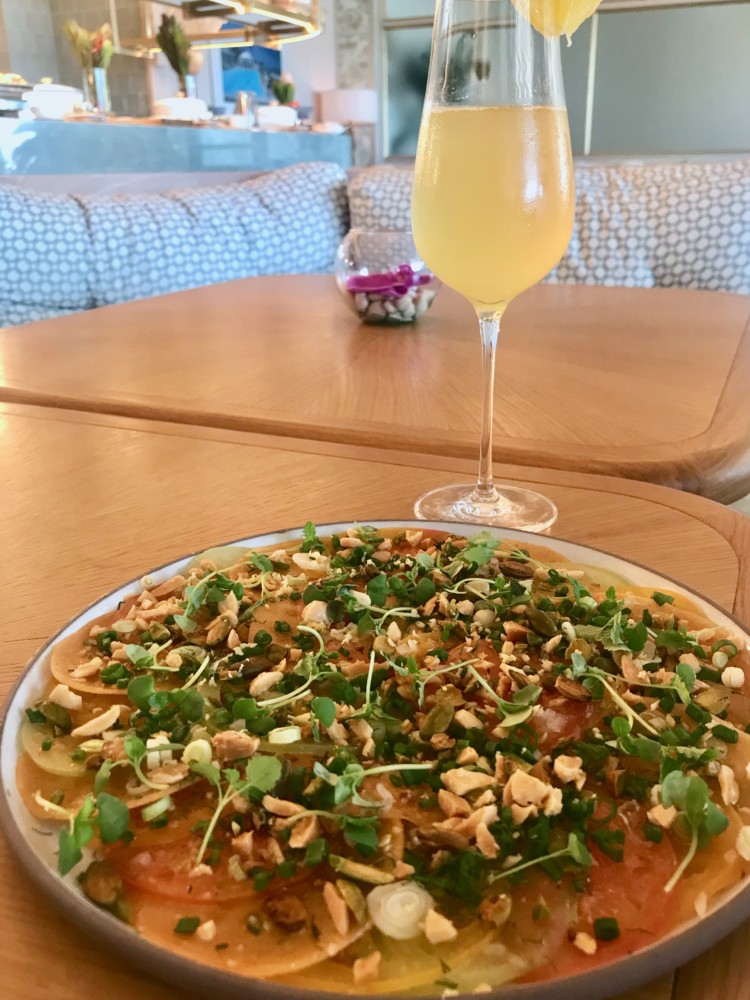 However, it's crucial that you just try a little bit of everything else, so you're not too full for dessert. You're definitely going to want to indulge in sweets like cinnamon-lemon crème brûlée, white chocolate mousse with mango coulis, espresso Baileys éclairs, salted caramel chocolate tarts, flourless chocolate mousse cake, key lime meringue tarts and dulce de leche cheese cake.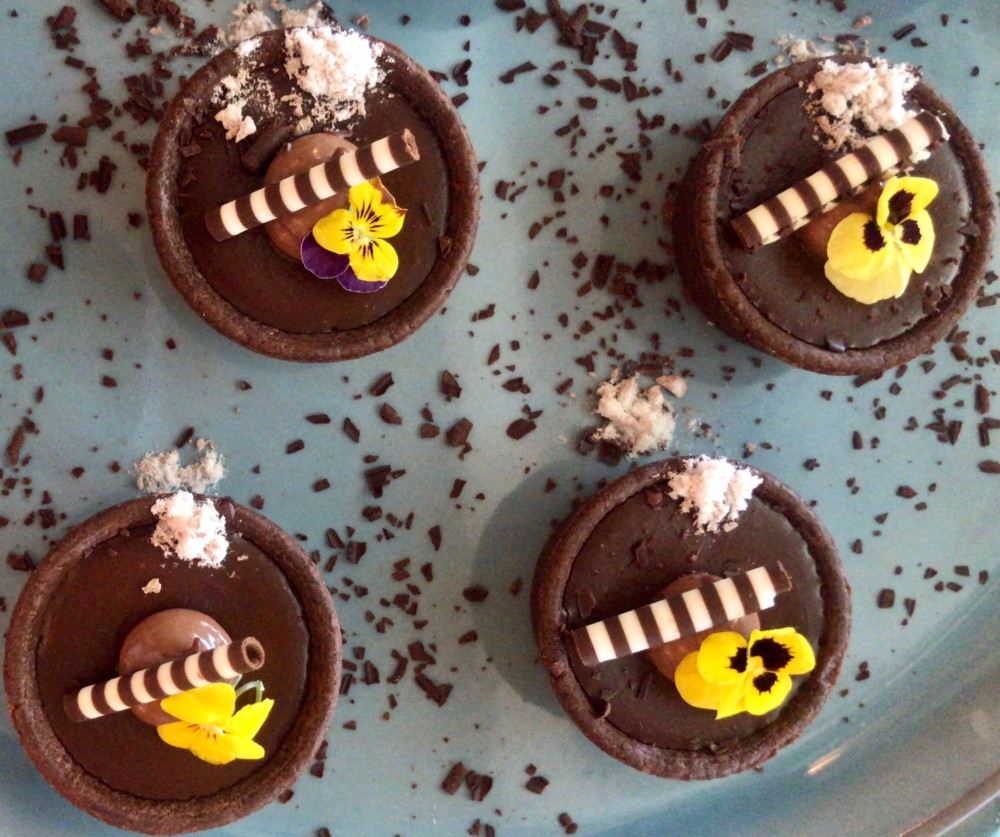 Unfortunately, I wasn't able to partake in any of these incredible desserts displayed, but I did get a sampling of three different house-made sorbets that hit the spot — coconut, mango and raspberry. The texture was absolutely perfect. Super smooth and creamy, and the flavors were on point. Coconut was by far my favorite, but all three were delish.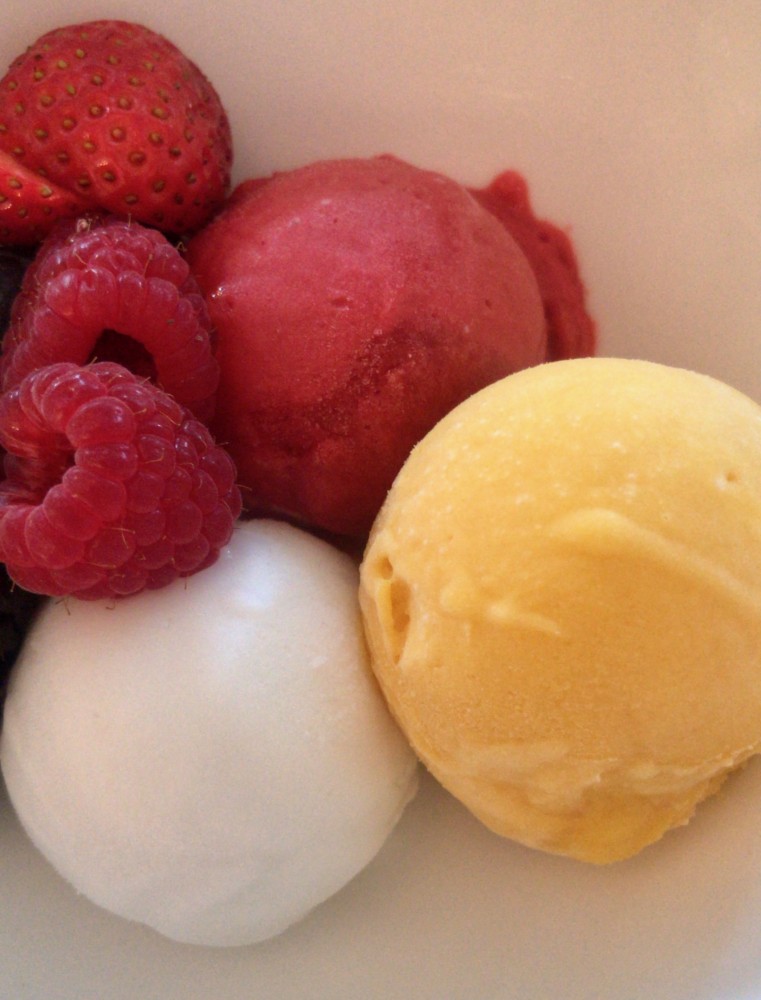 Not only was everything we tried top-notch, but the service was unbeatable. You also can't beat the view. The next time you want to treat yourself to a special Sunday Brunch, Florie's is the place to do it.
Sunday Brunch is offered from 12-2:30pm and is $100 per person or $135 per person with the champagne bar.
Florie's is located at 2800 South Ocean Blvd. in Palm Beach. The restaurant is open for breakfast from 7:30-11am and dinner from 5:30-10pm. The bar is open from 11am-midnight.