Never miss a bite! Sign up here to receive new recipes and reviews straight to your inbox.

Disclosure: I was invited as a guest to attend this Swank Table event. No monetary compensation has been received for this post. As always, all opinions are 100% my own.
The farm-to-table movement is alive and well in South Florida and seen in many local restaurants whose chefs thrive on the opportunity to create seasonal dishes that highlight some of South Florida's best ingredients. But that's in a restaurant… how about experiencing the farm-to-table lifestyle on an actual farm?
Enter Swank Specialty Produce, a hydroponic, all natural farm, located in Loxahatchee, FL. When season rolls around, owners Jodi and Darrin Swank put together a series of eight al fresco dinners right there on the farm. The best local and nationally known chefs are brought in to show off their cooking chops using Swank produce and other locally produced ingredients. Guests are also joined by the best of Florida's artisanal producers, micro-brewers, distillers, and organic wine makers during this high quality, multi-course dinner. And the positive accolades don't stop there — each Swank Table event gives back to the community by donating a portion of the ticket sales to local charities.
This year, I had the opportunity to attend one of these incredible dinner events, which just so happened to be one featuring three chefs I'm privileged enough to call friends — Blake Malatesta of 50 Ocean in Delray Beach, Adam Brown of The Cooper in Palm Beach Gardens, and Clay Carnes of The Grille in Wellington. These guys are masters in the kitchen, and it certainly showed as they impressed us all with perfectly executed plates of food. Aside from these talented executive chefs, also featured was Pastry Culinary Instructor Deana Lezcano from the Lincoln Culinary Institute in West Palm Beach.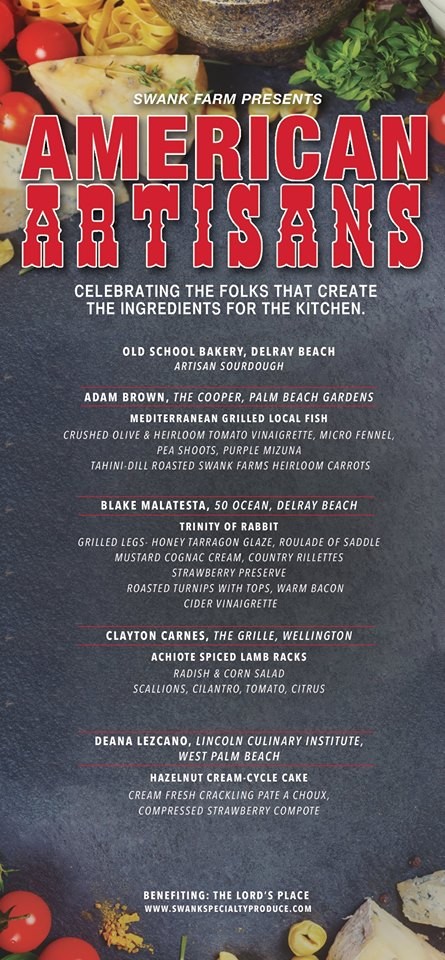 The Swank Table events always start out with a welcome drink — this particular evening it was a hibiscus flavored cocktail made with Tito's Vodka and locally-produced citrus. The accompanying appetizer was sponsored by Williams Sonoma at The Gardens Mall and was definitely one of the tastiest bites to hit my mouth all evening — mini phyllo cups filled with a spring pea and mint puree and pickled radish.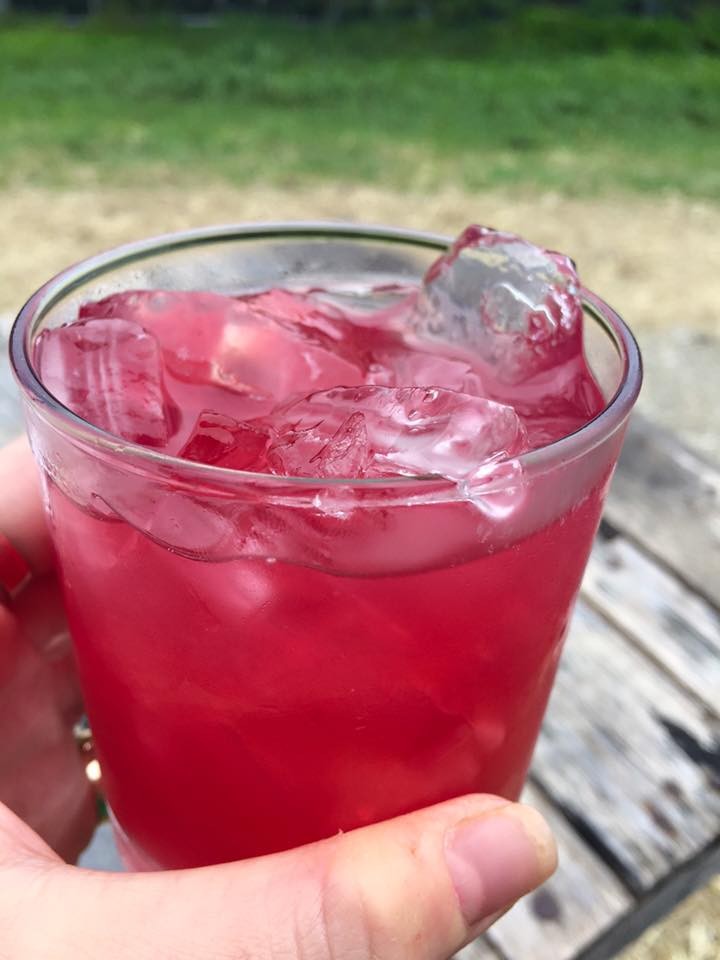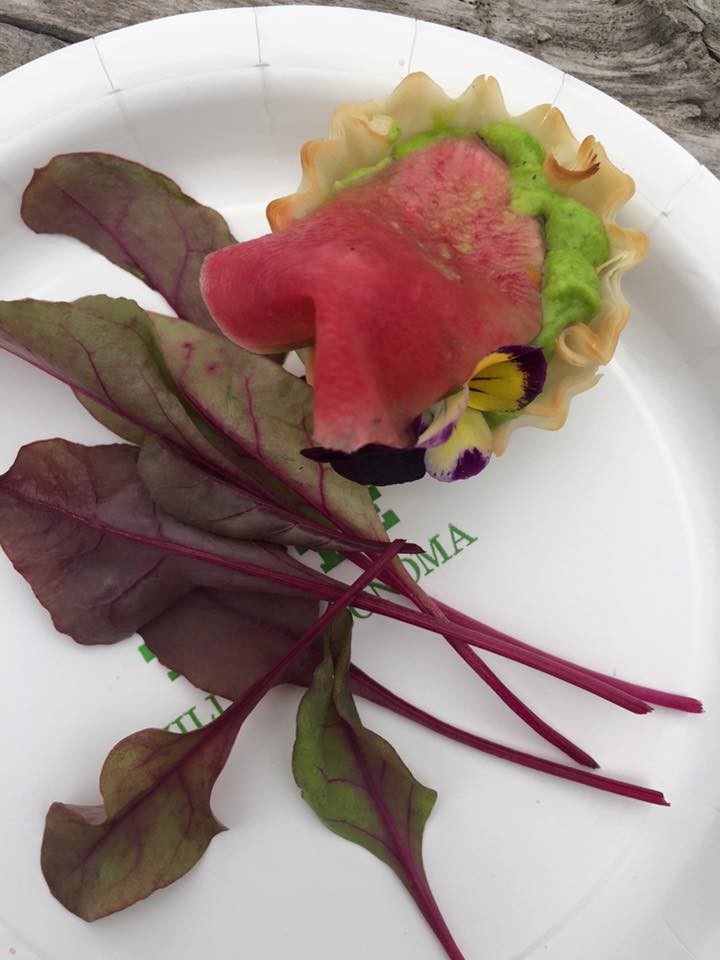 The rest of the evening was spent in a beautiful, rustic covered dining area with long decorated tables and vendors set up to showcase their products. The theme of the evening was American Artisans — Celebrating the folks who create the ingredients for the kitchen. We nibbled on appetizers from the chefs, sipped on Spanish Cava curated by Cafe Chardonnay's in house Sommelier, Brian Chamis, and listened to live tunes from Blues musician, Joel Zoss, before it was time to sit down for our four-course dinner.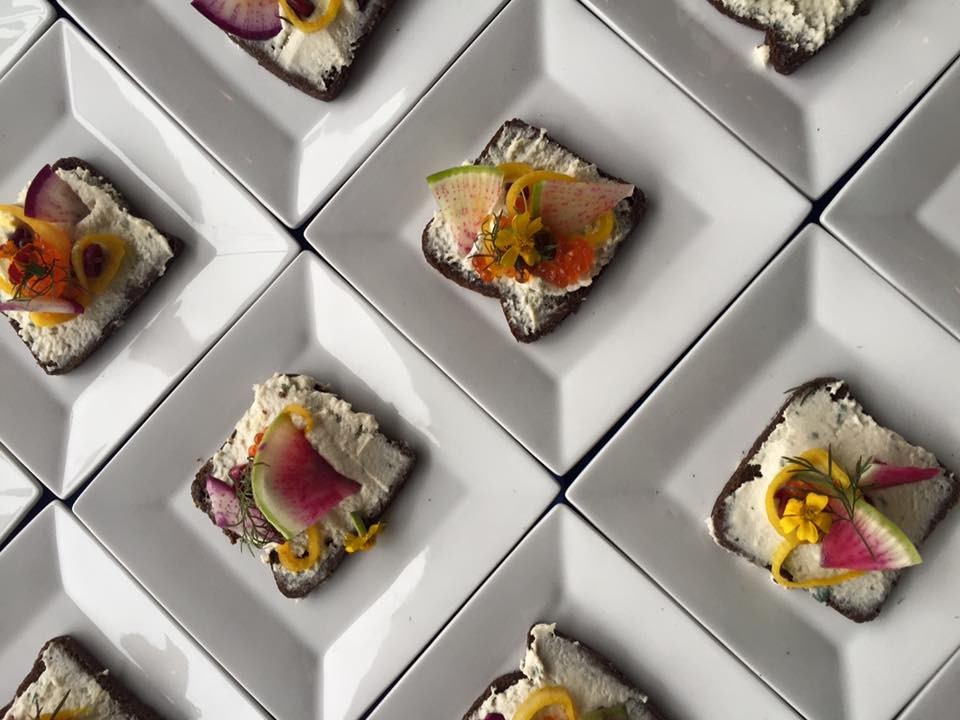 The first course of the night was the best for me — mostly because it was the only one I could eat entirely, and also because it was absolutely perfect. Chef Adam presented a gorgeous whole grilled local snapper surrounded by a sea of crushed olive and heirloom tomato vinaigrette, micro fennel, pea shoots, and purple mizuna, with a side dish of tahini-dill roasted  Swank Farms heirloom carrots. The cook on the fish couldn't have been any better, and those carrots were so full of flavor.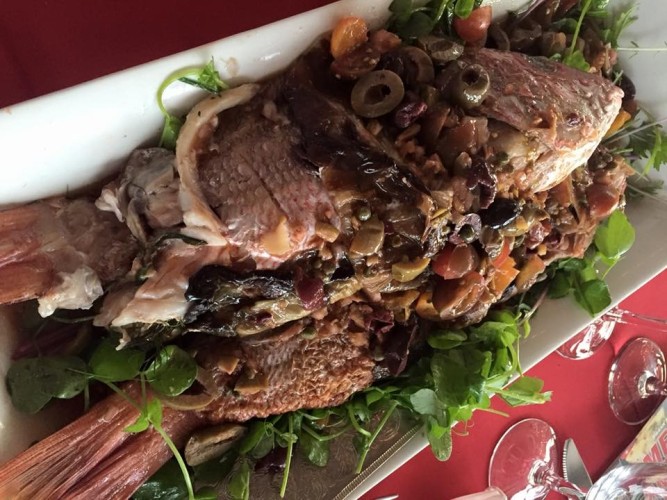 Anyone who attends a Swank Table event will not leave hungry or thirsty, that's for sure. It's worth experiencing at least once — but you should aim for more. There are still tickets available for the final dinner of the season on Sunday, April 24th featuring Heritage Pork at its best. The chefs cooking are Jarod Higgins from Cut 432 in Delray Beach, Chris Miracolo from S3 in Fort Lauderdale, and Julia Ning from Station 5 Table & Bar in South Miami. For more details and to purchase your tickets, visit Swank Speciality Produce.