Do you cry your eyes out every time you cut up onion? I used to. But not anymore. It's actually pretty easy to properly dice an onion without shedding a tear. This little secret is not so secret at all. I was watching Anne Burrell's show on Food Network and happened to notice how she was cutting her onions. I kind of squealed inside when I realized I now know how to cut my onions like Anne Burrell! It's hard to explain the process without actually showing you the steps, so I guess you'll just have to check out the Publix Aprons Cooking School calendar so you can come to a class and learn. 😉
I have been buying vegetables to practice my knife skills at home and the onion was one of the ones I definitely needed some work on. I diced up my onion and was pretty happy with the outcome… Now I just needed to actually USE the onion that I had just cut up into a billion itty-bitty pieces. I'm on a dip-making kick lately so I continued with this and decided on a sweet caramelized onion dip. I sautéed the onions until they were the perfect brown color. Honey, apple cider vinegar and dijon mustard sweetened up this sweet caramelized onion dip and gave me another great appetizer to include in future get-togethers or dinner parties.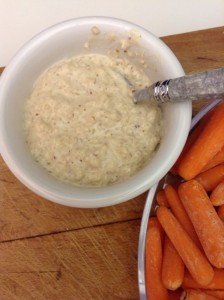 Sweet Caramelized Onion Dip

1 Spanish onion, diced
2 tablespoons honey
2 tablespoons dijon mustard
2 tablespoons apple cider vinegar
cooking spray
Spray a medium sauté pan with cooking spray and let heat up on medium. Add onions and let cook, stirring occasionally, until the onion softens and browns. Remove from heat and let completely cool.
Once onions have cooled, place in a food processor along with honey, dijon mustard and apple cider vinegar and pulse until well combined. Let firm up in the refrigerator for about 1 hour.

Posted with Blogsy