You know that yummy Baked Brie with Honey that I shared with you guys yesterday? Well, I left out the best part: its complementing cocktail! I purposely didn't mention it, because I wanted to tell you about it today.

The best part about having an At-Home Happy Hour is that you have full control over what you're drinking. No tricky or secret ingredients here! Just some Firefly Sweet Tea Vodka, water, lemon and mint. Simple…yet oh so delicious.

Recently, my friend Robyn (the wonderful face behind the blog, Grill Grrrl) introduced me to her friend Kaitlyn who also lives in Boca. Turns out, we have tons in common and live very close to each other. Kait even has her own blog. She's in the publishing business and has been a big inspiration to me lately. You'll find out why in a week or two… Cliff hanger!

We got together for an At-Home Happy Hour. Iwas in charge of snacks (Baked Honey Brie, Mini Spinach Cups, and Roasted Tomato Basil Flatbread – recipe coming soon!).
Kait was in charge of the wine and signature cocktail of the evening. I love that she kept it plain and simple; there's no need to get fancy schmancy with all kinds of sugary juices and add-ins. That just adds unnecessary calories and horrible hangovers.

Not only did Kait wow me with a really flavorful drink, but she was just as nit-picky and creative when it came to plating and styling for the pictures we took of our spread. Kait served our Sweet Tea Cocktails in cute little mason jars and she even had fun straws!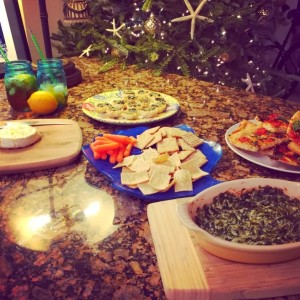 For all of my friends back home in Jersey, this drink will look and sound very familiar to you. Back Bay Bob Marley, anyone?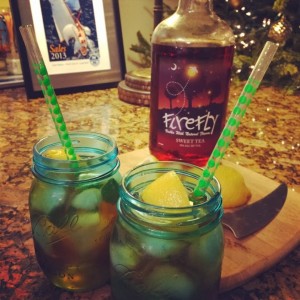 Sweet Tea Cocktail

Firefly Sweet Tea Vodka
water
juice of 1 fresh lemon
3-4 fresh mint leaves
Mason Jar (a must!)

Fill your mason jar 1/3 of the way with vodka, and fill the rest with water. Add lemon juice and mint leaves. Stir and enjoy!