Guuuys, I'm so excited! This is my first time posting for #SundaySupper! I caught onto this group awhile back and love its concept of bringing back family dinners. My roommates and I are able to enjoy dinner together at the table a couple nights a week (whenever our work schedules allow us) and it really is a great way to connect with your friends and family. There is no better place and time to catch up on what's going on in each other's lives than at dinner time. Family dinners were important when I was still living at home in New Jersey too – mostly because they were very few and far between. Those times that we were able to join together at the table were always memorable in some way: birthdays, holidays, celebrations, or just those "oh-my-god-I'm-off-work-let's-cook-dinner"nights.
Anyway, I finally applied to join the #SundaySupperMovement and was accepted. Yippee! I've already been introduced to lots of bloggers, and got some help on getting started from Cindy of Cindy's Recipes and Writings. Thanks, Cindy!
Today's theme is TAILGATING! We're all posting recipes great for football season and all of the fun tailgates you may have coming up over the next few months. My favorite thing about football season at Rutgers was definitely the tailgating. One of my roommates' parents were totally into it and always came up for our games. They set up a great tailgate with tons of food and drinks and we always had a great time. Rutgers games were so much fun, but in all honesty, I'd have been perfectly content staying out there tailgating instead of going into the stadium. To each his own!
For #SundaySupper's tailgating event, I'm bringing a healthy Tabbouleh salad. With all the burgers, hot dogs, chips and beer you're stuffing your face with on game day, you should have at least one healthy option, if not more. Tabboule is traditionally made with bulgur wheat and chopped-upcucumbers, tomatoes, parsley, mint, onion and garlic, and seasoned with olive oil and lemon juice. I cheated and used a boxed version from Near East (one of my favorite brands for quinoa, cous cous and other pasta dishes). This came with a seasoned spice mix of parsley, mint and garlic to add in with the bulgur, but you still have to add anything else you want yourself. Feel free to play around with the ingredients, as I did with mine. I added in lots of golden raisins and Feta cheese and the dish really was heightened to a new level. The saltiness from the Feta and sweetness from the raisinswere just what it needed to become the perfect side dish for your tailgate. If you absolutely refuse to give up that hamburger, why not dress it up a little and top it with some of the Tabbouleh Salad? It can't hurt, and definitely will taste good!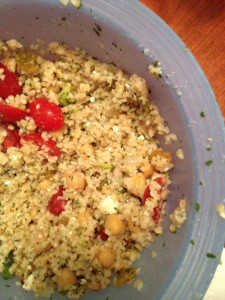 Tabbouleh Salad with Feta and Golden Raisins
1 box Near East Tabboule Mix, cooked according to package instructions
10-15 cherry tomatoes, halved
1 cucumber, peeled and diced
1 tbsp lemon juice
1 tbsp Gourmet Garden garlic paste
1 can chick peas, rinsed and drained
3/4 cup Feta cheese
1 cup golden raisins
Mix everything together in a bowl and let chill in the refrigerator for at least 1 hour.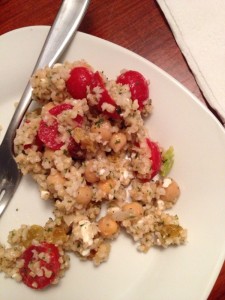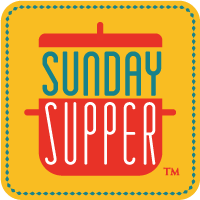 Warm Ups (Appetizers):
Game Time (Main Dishes and Sides):
Overtime (Drinks and Desserts):
Join the #SundaySupper conversation on twitter each Sunday. We tweet throughout the day and share recipes from all over the world. Our weekly chat starts at 7:00 pm EST. Follow the #SundaySupper hashtag and remember to include it in your tweets to join in the chat. Check out our #SundaySupper Pinterest board for more fabulous recipes and food photos.
Would you like to join the Sunday Supper Movement? It's easy. You can sign up by clicking here → Sunday Supper Movement.

Posted with Blogsy