Never miss a bite! Sign up here to receive new recipes and reviews straight to your inbox.
Disclosure: I was invited to dine as a guest of TacoCraft Taqueria & Tequila Bar and received a complimentary meal in exchange for this post. As always, all opinions are 100% my own.
TacoCraft Taqueria & Tequila Bar, one of many restaurants and bars owned by JEY Hospitality Group, has found a new home in Lauderdale By The Sea. This is the restaurant's third location — the others are in South Miami and Fort Lauderdale's Himarshee area — and it's definitely an ideal spot, just a block away from the beach.
TacoCraft is known for its handcrafted taco creations, innovative cocktails, and legendary all day and all night Taco Tuesday special featuring $3 tacos. I visited the Fort Lauderdale location once before, and loved the food. And I really mean love. As in, a totally and completely enamored, couldn't-stop-raving, wish-it-was-closer kind of love.
So when JEY Hospitality Group invited me to join them for Friends & Family night at the brand new location in Lauderdale By The Sea, it was all I could do not to jump out of my desk chair and scream YES! at the computer screen.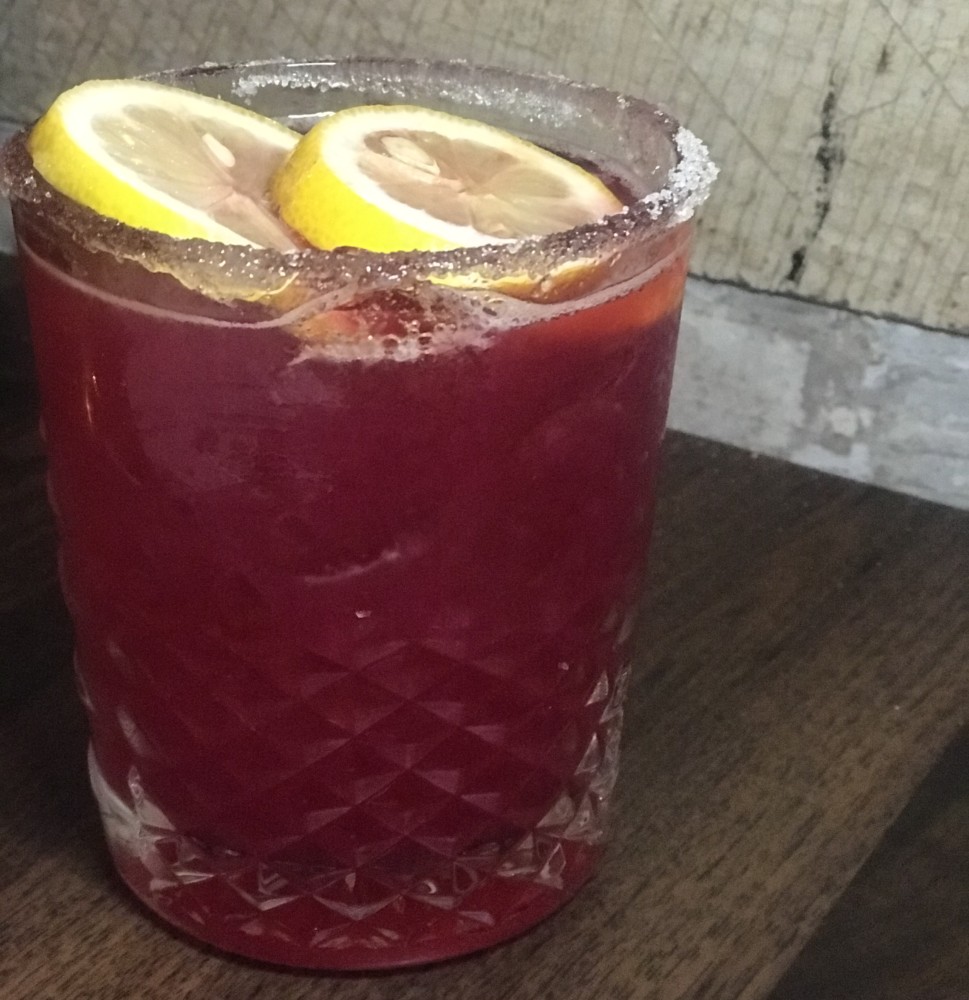 I brought along three of my good girlfriends, all of whom enjoy a good taco and tequila drink. I was super excited to introduce them to a restaurant none of them had been to before, especially one where the food is extra delicious and the atmosphere is super fun — plus it was nice to venture out of the Boca/Delray bubble.
TacoCraft's menu is full of surprises. Take the guacamole, for instance. There are four different kinds to choose from — but choosing isn't required, because you can get a flight and try them all! You've got your classic guac with the traditional tomato, onion and cilantro; a tropical version with mango, Mandarin orange, dragon fruit and pineapple; one with agave-glazed sweet potato, goat cheese and pepitas (YUM!); and then, the king of all guacs — bacon and corn with piquillo peppers and cotjia cheese.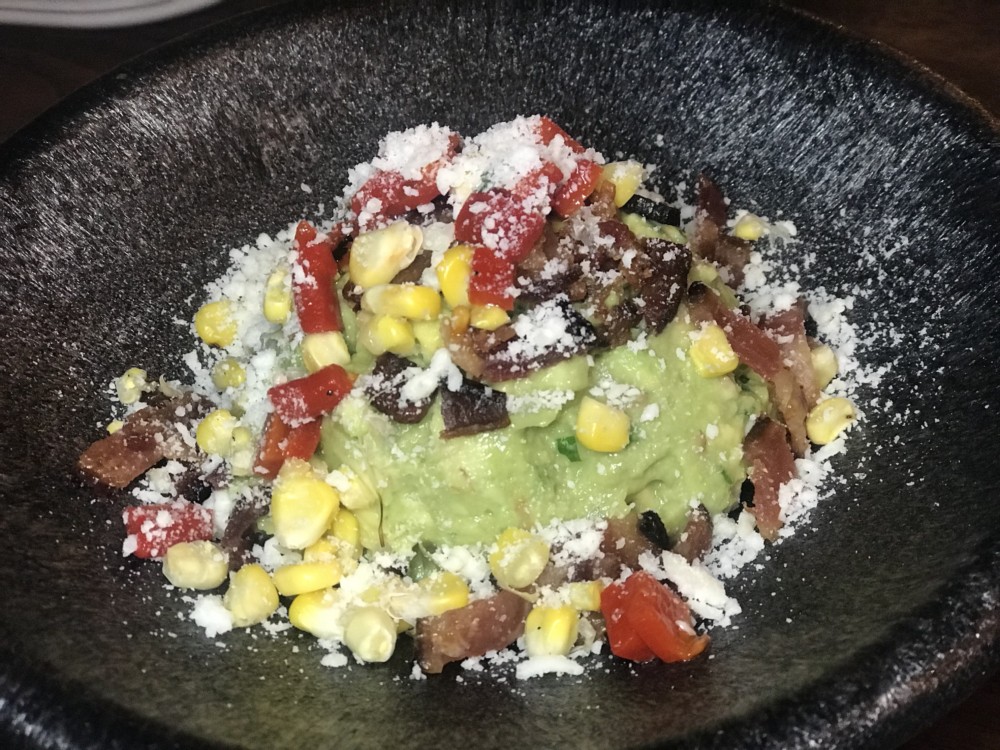 The appetizers are just as inventive, featuring things like yuccas bravas with pork carnitas and a fried egg, oxtail empanadas with manchego cheese and pineapple chimichurri, and tuna tartare tostones — which are totally gluten-free!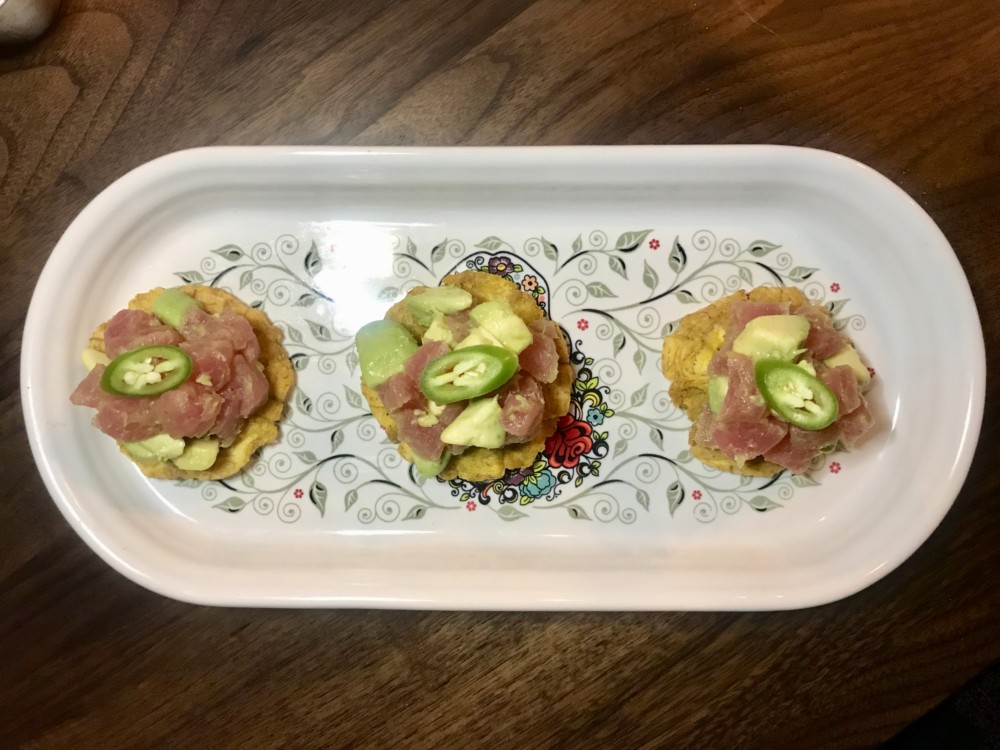 But the tacos are where it's at when you're dining at TacoCraft. On top of their list of 13 tacos, there's also a special each night of the week. Their Mexican tortillas are handcrafted with Mexican masa, but flour tortillas and lettuce cups are also available. Order a bunch of different tacos a la carte, or you can pick three and enjoy a platter that also comes with refried beans and Mexican rice.
There are so many options, but I was finally able to decide on the crispy tofu with pickled cucumber, sweet chili sauce and cilantro; the kale and sweet potato hash with avocado, radish and cilantro-lime vegan crema; and the grilled skirt steak with cilantro, caramelized onions, pico de gallo and roasted tomato salsa. The lettuce cups do make these a little harder to eat, so if you go that route, keep a fork and knife nearby.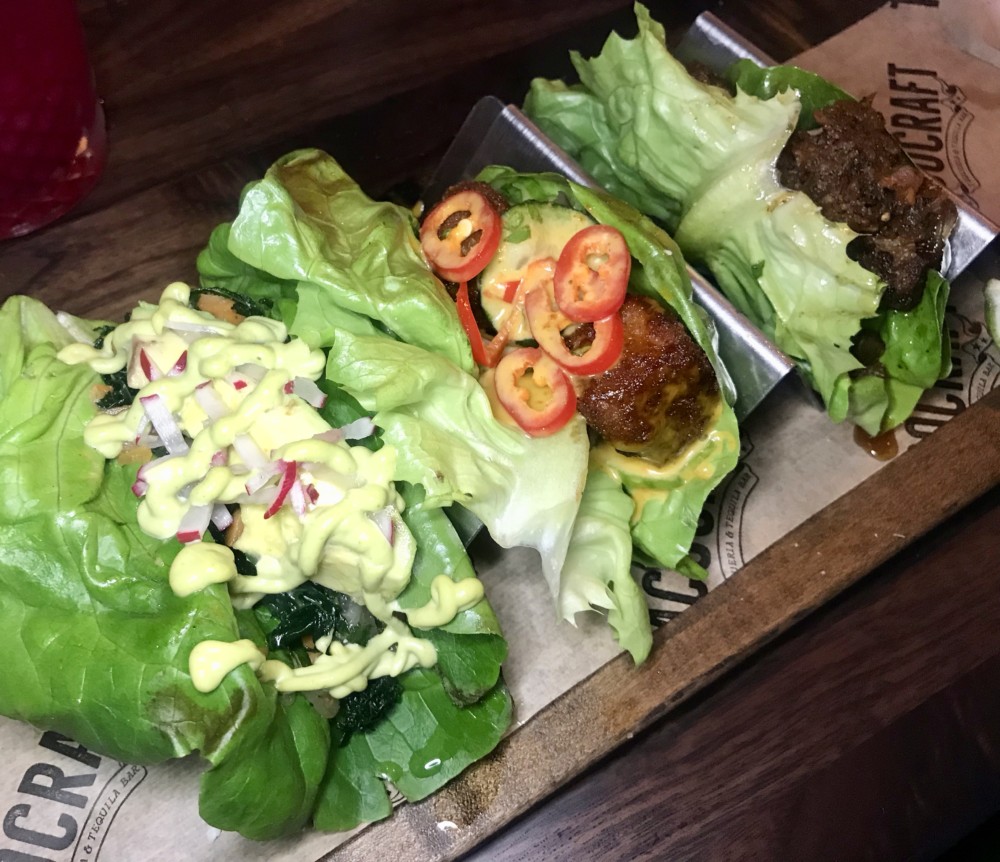 Nevertheless, the messiness does not take away from the amount of flavor in each of these tacos. I devoured all three, and could have easily scarfed down three (or six) more.
My girlfriends got combinations including the chorizo with cotija cheese, potato hash, cilantro, garlic aioli and a fried egg; the pork belly with sweet and spicy chili glaze, slaw, pickled red onions, crispy rice noodles and cilantro; the tempura-battered ROK:shrimp with mango salsa, spicy mayo and cilantro; and the exotic 'shroom with roasted corn, cotija cheese, truffle crema and cilantro. All of them overwhelmingly agreed that the shrimp was their favorite.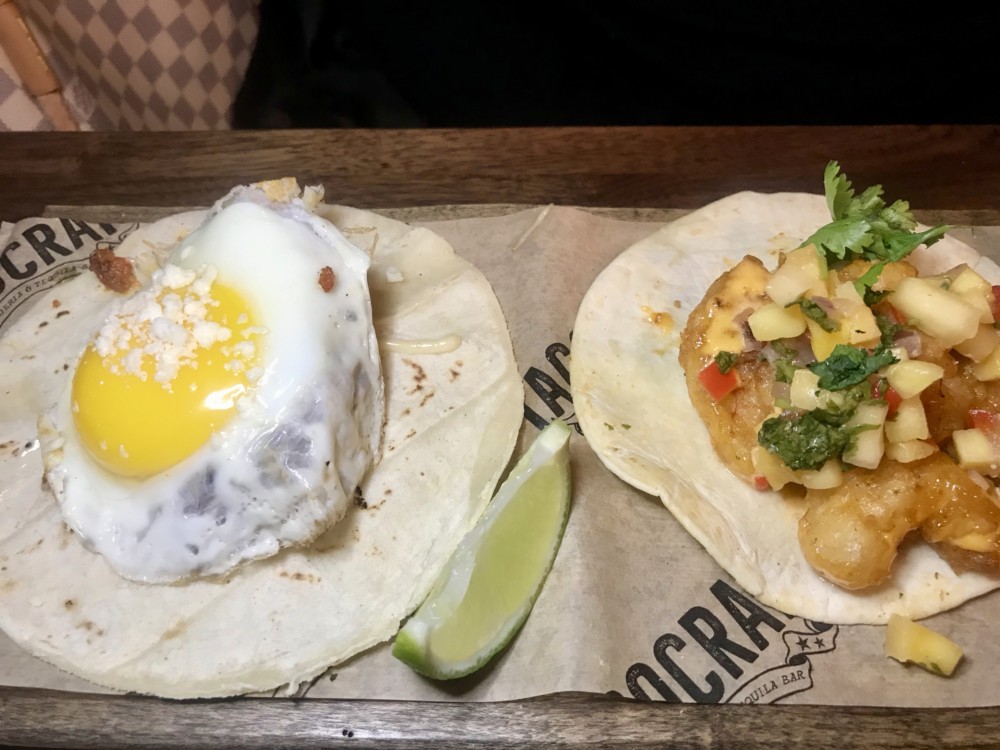 Lauderdale By The Sea residents and visitors are lucky to now have TacoCraft in town. Taco Tuesday will never be the same!
TacoCraft is located at 4400 North Ocean Drive in Lauderdale By The Sea. The restaurant is open on Monday from 11:30am-12am, Tuesday through Saturday from 11:30am-1am, and Sunday from 10am-11pm. Brunch is served on Sundays from 10am-3pm and features live music, and bottomless mimosas and sangria. Happy hour is Monday, Wednesday, Thursday and Friday from 4-7pm with two-for-one drinks. Enjoy $5 margaritas from 8pm to close every Monday, and Taco Tuesday specials include $3 tacos, $4 beers, and $5 exotica margaritas all day and all night.