Never miss a bite! Sign up here to receive new recipes and reviews straight to your inbox.
Disclosure: I was invited to dine at American Harvest as a guest of the restaurant. No monetary compensation has been received for this post. As always, all opinions are 100% my own.
Time for more fun in Brickell!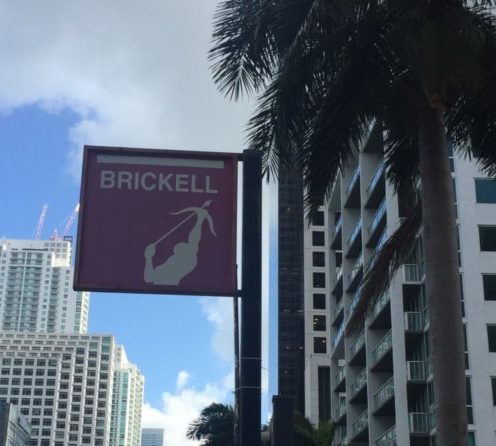 Continuing on with my weekend getaway to Miami, there's a lot more to be talked about. Like I mentioned in Part 1, the JW Marriott Marquis is walking distance to plenty of restaurants. We took advantage of this to the fullest, finding somewhere to spend Happy Hour before dinner at DB Bistro Moderne on Friday night, and bounced around to a few places on Saturday afternoon. Friday night happy hour was spent on the rooftop of the EAST Miami hotel, where we had a pretty gorgeous view of the city.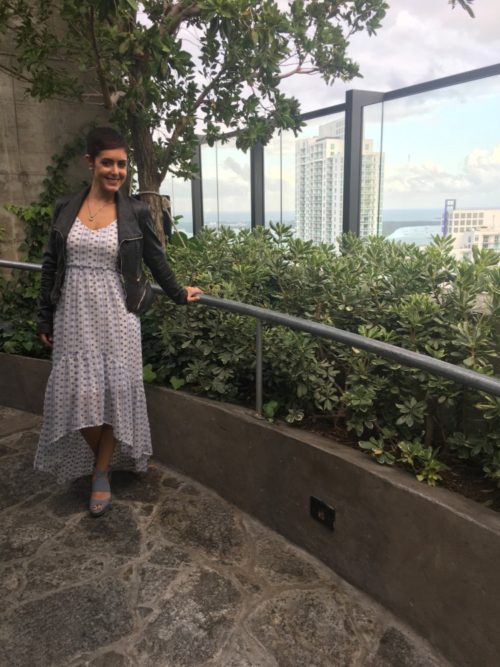 We enjoyed a few cocktails before and after a fantastic lunch of clean-eating comfort food at American Harvest. Before lunch, we took a walk over to Mary Brickell Village and plopped down at the bar inside Rosa Mexicano. I sipped on a Mojito de Coquito — a mojito with tequila and basically the only way I ever want to drink a mojito from now on. It's made with 1800 coconut blanco tequila, mint, pineapple and lime. It instantly transported me to a tropical oasis that I almost never wanted to leave…except that I knew I had a yummy lunch ahead of me, and stopped after just one of this incredibly delicious drink. After lunch, we stumbled upon the coolest cocktail bar I have ever seen: Baby Jane. The place has a refrigerator door leading to its bathroom, crazy cook artwork all over the walls, and a heavy-handed cocktail list and small menu of ramen. We walked in to meet Valentine behind the bar who took great care of us and treated us each to a drink on the house. I'd love to head back there another time to try the ramen. From what I hear, it's a great spot.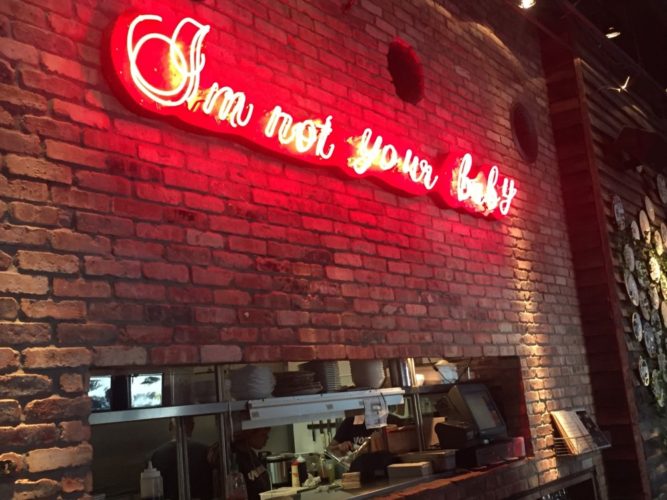 But let's back up a bit, and I'll introduce you to where we enjoyed that amazing lunch — American Harvest. The healthy, fast-casual concept is all over South Florida, and this one is situated in Brickell City Center. With Brickell being a very up-and-coming area, especially for young businessmen and women, this is the perfect location for lunch or dinner when you have a quick break or need to grab something to go.
American Harvest prides itself on serving guests fresh, delicious, wholesome food in a casual, comfortable setting. Their focus is on fresh and regional, sourcing locally and nationally from foragers, farmers and specialty purveyors who share that same passion for quality, seasonal ingredients. The produce is freshly picked and delivered daily, and all meat is responsibly sourced. It's a walk-up-to-the-counter-and-order type of place, with plenty of seating for those to choose to dine in. The menu is heavily focused on vegetables, so it's extremely vegetarian-friendly. But there are plenty of meat options too. Between the three of us girls, we ordered five items, each with their own unique and delicious flavor and ingredients we felt good about putting in our bodies.
Let's start off with one of my favorite veggies — Brussels sprouts. Brussels sprouts are on just about every menu you see, usually with pretty similar ingredients. American Harvest's were a bit different — simply roasted with a light garlic chili sauce and fresh citrus to brighten up the dish. The sprouts were huge and perfectly roasted, with a balance of flavors that allowed the vegetable to be the star.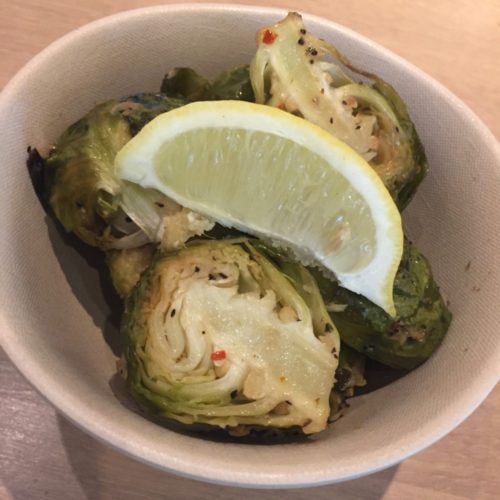 Another common ingredient seen on most menus is roasted beets. American Harvest stays on trend by pairing their red and golden roasted beets with goat cheese and kale, but the addition of Granny Smith apples and bacon-pumpkin-seed crumble had an extra element of texture and crunch that every salad needs to stand out. We asked for the crumble on the side, but Jill from Fashionably French Fried assured me that it was the crumble that absolutely made that salad. The salad was very lightly dressed in a tangy goat cheese vinaigrette that complemented all of the ingredients very well.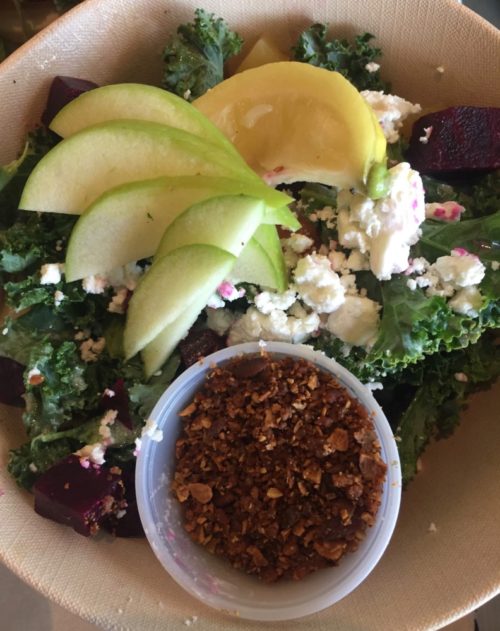 There is a great variety of "bowls and skillets" on the menu at American Harvest, all of which combine a bevy of ingredients with a sauce for a tasty one-bowl meal. We ordered three of them — the curry roasted vegetable bowl, the pesto harvest skillet, and the cauliflower skillet to which we added sustainable Ahi tuna. You can add any of the following to your bowl or skillet for an additional price (you can add any of these to the salads too): all natural chicken breast, no-mayo chicken salad, grass fed steak, sustainable tuna or a curried quinoa and shiitake mushroom patty. Let's start with the pesto harvest skillet, a mixture of green and yellow squash, cauliflower, red onion, portobello mushroom, red pepper, carrots, shredded parmesan, and baby heirloom tomatoes tossed in an almond basil pesto dressing. The cook on each of the vegetables was exactly how I like it — roasted to the point where they are soft, but not mushy, and still have a little bit of bite to them. There was a generous portion of parmesan cheese sprinkled throughout, that added a really pleasant amount of saltiness to the dish, and that pesto dressing had me swooning.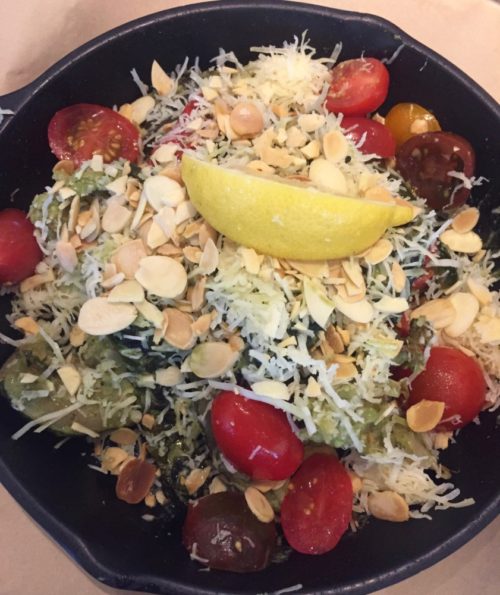 We were certainly on a veggie kick, and the curry roasted vegetable bowl was another hit. It's a heartier dish with quinoa, green and yellow squash, red pepper, portobello mushroom, cauliflower, carrots, red onion, edamame, basil and a coconut curry sauce. While the veggies are the same as the pesto skillet, the addition of quinoa and edamame kick up the protein game and that sauce was even better than the pesto. I've said it many times over, a sauce can make or break a dish. and American Harvest sure knows how to sauce things up!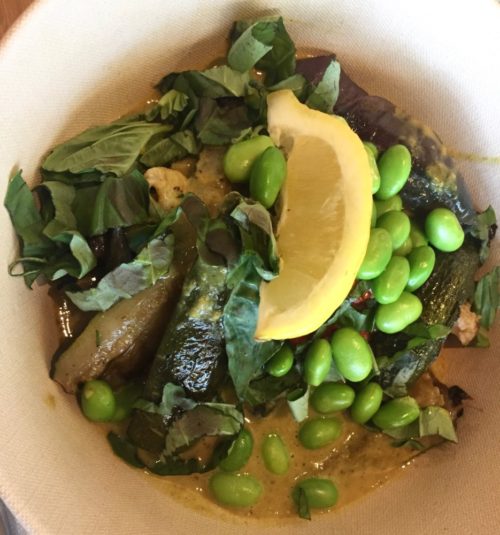 Because we hadn't already consumed enough cauliflower in the other two dishes (note the sarcasm, haha), we also ordered the cauliflower skillet with a Greek yogurt sauce, roasted garlic and kimchee Brussels sprouts and fresh herbs and citrus. Adding the tuna was a great idea, because it was super fresh and delicious. Yet again, another fabulous sauce. And the Brussels sprouts? Just as amazing as the others we had! You'd think flavors such as roasted garlic and kimchee would be a bit overwhelming, but they were surprisingly subtle, and again, let the vegetable be the true center of the dish. I honestly can't choose a favorite between these three dishes — all of them were fantastic and are meals I could eat for lunch or dinner any day of the week.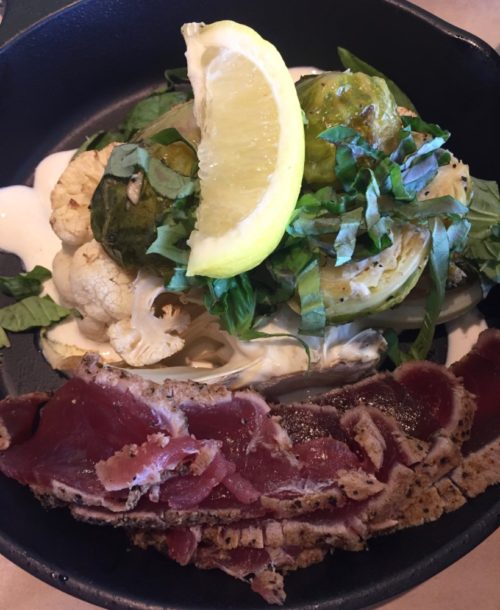 The menu at American Harvest is extremely approachable and well-priced. They also have a small selection of beer and wine, unsweetened iced tea and organic cane sugar soda.
American Harvest is located inside Brickell City Center at 701 South Miami Ave., Suite 339B in Miami.