Never miss a bite! Sign up here to receive new recipes and reviews straight to your inbox.
Narrowing down our choices for food in Tampa was hard. We were getting recommendations left and right, and every place had good reviews. There was one place that we kept hearing about over and over, so it was obvious we had to give it a try. Columbia, the oldest building in the city, was our first stop for the evening. The menu is full of classic Spanish tapas and paellas and everything sounded incredible. We really just wanted to have a drink at the bar and share a couple of appetizers. There's only one kind of drink to get at a place like this — Sangria! They're known for their red sangria made with Spanish red wine, brandy and fresh citrus juices. It was cool and refreshing and made me want to be outside lounging on the beach. Sangria tends to do that to me. I just feel like I should be drinking it while in a bathing suit, basking in the sun, with a big bowl of fruit.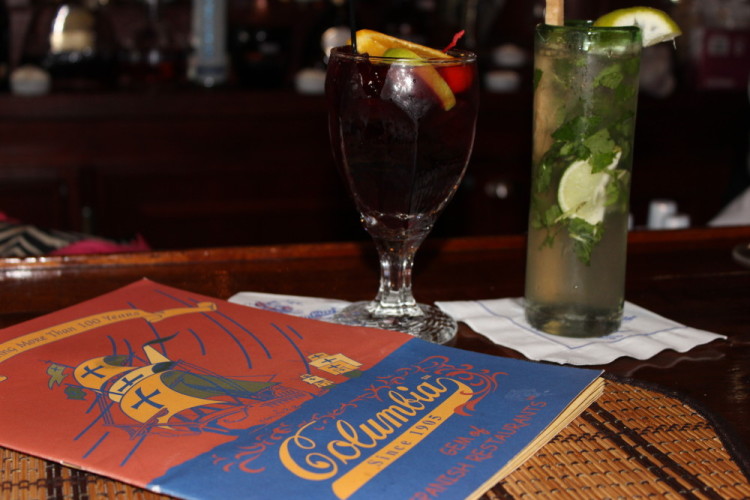 Sangria doesn't do that to you…? No…? Okay, anyway…
Denise had their signature mojito and we chatted at the bar, watching as the groups of people trickled in to listen to the live music and mingle among friends. It attracted both an older crowd there with friends or family, and business-like types maybe meeting with co-workers for after-work drinks or maybe a networking event. Either way, the place got pretty packed right around dinnertime. Thankfully we got there a little earlier and were able to snag some seats at the bar before it got really busy.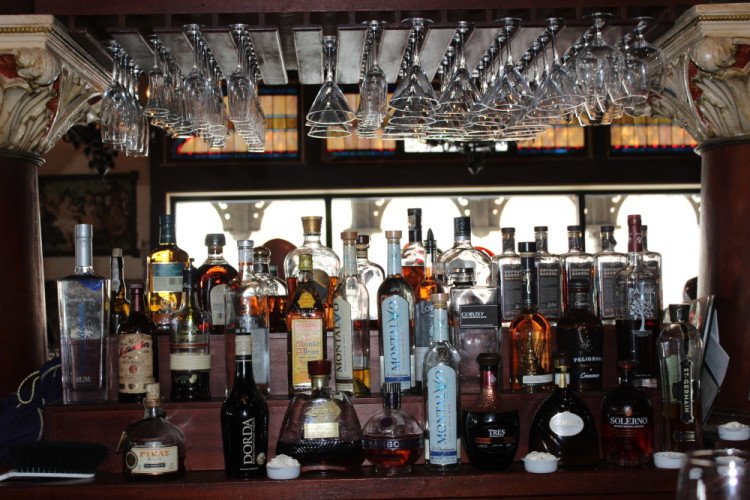 It was hard to choose what appetizers to order. For some reason, the two of us were seriously craving some salt… The first thing that came to our minds was one of my favorite things about Spanish cooking — tostones! If you aren't familiar with these, they are fried green plantains. Sometimes they are served topped with pulled pork or another protein, but we just wanted them by themselves. We couldn't find a simple side dish of tostones on the menu, but we knew they obviously had them, so we asked the bartender. Of course! he exclaimed, and within minutes we were happily chowing down on perfectly crisp and salty tostones.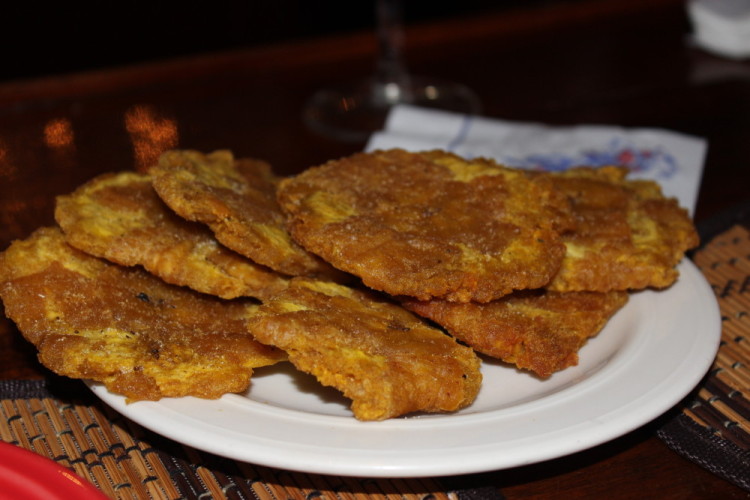 We also ordered the Champiñones Rellenos, baked silver dollar mushrooms stuffed with baby spinach, artichoke hearts, garlic and cheese, drizzled with olive oil and lemon. One look at that description and there was no question — we knew we were going to love it. There are so many yummy combinations of ingredients you can stuff into a mushroom, and this one right here is definitely up there as one of the best.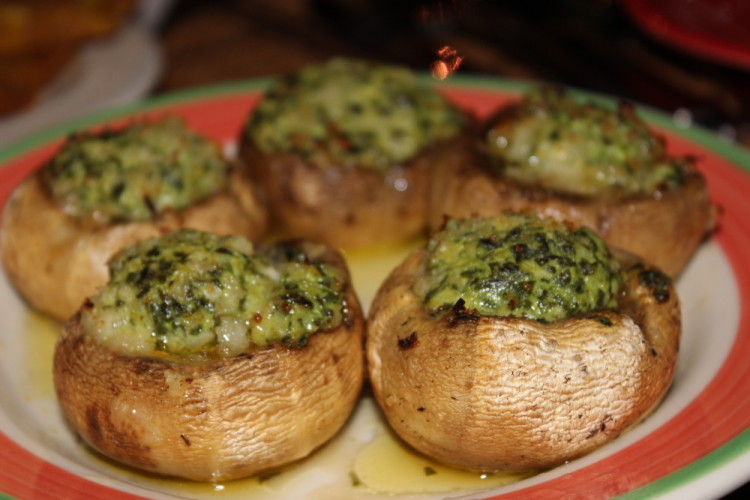 After getting our fill at Columbia, we headed out to walk around and see what else Ybor City could throw our way. We stopped into a few different places just to check out the scene. A short stint in Tampa Bay Brewing Company had us sampling a beer flight of their current brews on tap, and loud music led us upstairs into a fun looking outdoor cantina where live trivia was going on, so we joined in on the fun.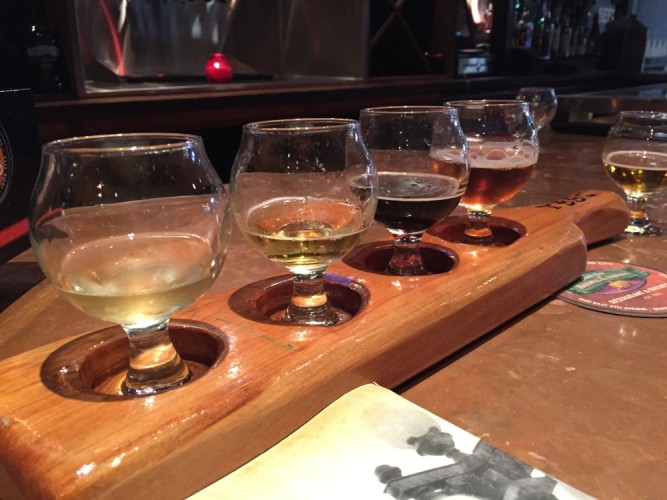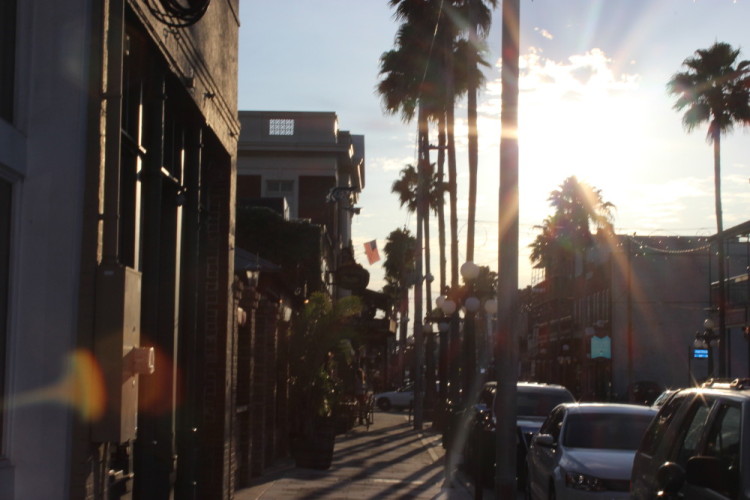 We didn't fill up at Columbia on purpose — we knew we wanted to try the food over at Edison Food + Drink Lab, a place that sounded very much in line with the gastropub trend that's found all over the South Florida restaurant scene. We were definitely interested in their menu and overall vibe and knew that's where we'd be ending our night.
We sat at the bar and got to talking with the couple next to us, who just happened to be from Delray! What a small world. This is definitely the kind of place I'd hang out in regularly, especially with their super innovative food and drink menu. There's a reason why it's called a "Lab." Everything looks and sounds like such an experiment!
Their featured cocktails are made with fresh, seasonal fruit and vegetable juices, house-made tinctures and craft sodas and syrups. Names like Ol' Donkey and Smashed Rickey are made with ingredients I've never had like bitter lemon soda and allspice liqeuer, leaving me totally intrigued as to what they taste like. Denise chose a tequila drink called El Matador which consisted of Milagro Reposado tequila, Art in the Age (Ginger) Snap, lime juice, jalapeño-infused simple syrup and Fever-Tree ginger beer. It was a bit spicy, even for me, so you can take a guess at how much of that she actually drank (hint: very little). I immediately noticed a drink on the menu called Emerald City that was made with my favorite combination ever — St. Germaine and Prosecco, as well as vodka, citrus flavors, cucumber and mint syrup.
Then the fun began! Edison's food menu is like nothing I've ever seen. As much as I want to explore new places when I go back to Tampa, I think I will need to make it back here just to try a few other menu items that sound too good to pass up. But again, we just wanted to share 1 or 2 items, so we went for the Potato-Crusted Oysters with dill pickle nectar, house-made dijonnaise and micro djon. These babies were hard to put down. I could have eaten a zillion of them!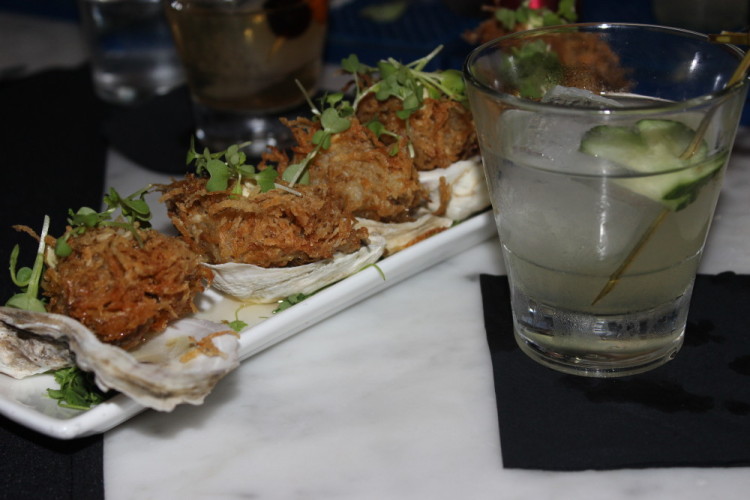 We saw octopus was on the menu, prepared with ingredients we'd never had in an octopus dish before, so of course we ordered this too. The Charred Octopus Tiradito came with fresh jicama, avocado, yuzu, serrano and crispy tortilla chips scattered about the plate. SO good. I'm getting hungry just thinking about it! My dad and my roommate Trish always make fun of my love for octopus — but seriously, it is just TOO good!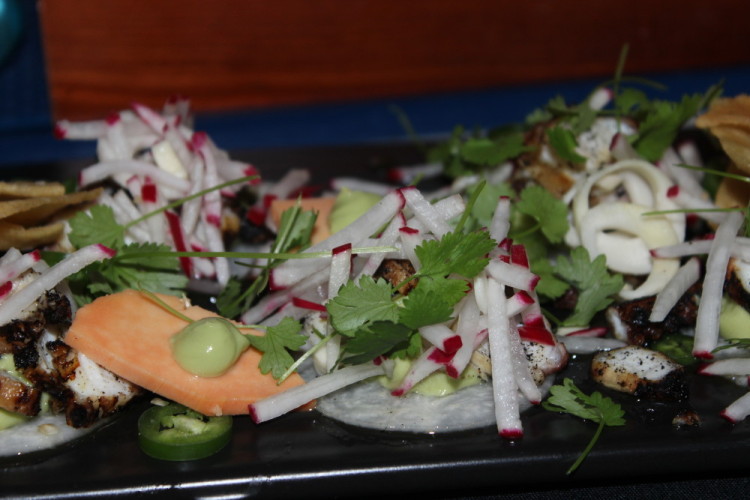 We were glad we had the chance to explore a little bit of Tampa nightlife, but there is still so much to see and do. Before heading back to Boca, we did take advantage of the bikes available for Epicurean's guests and took a long ride on Bay Shore Blvd. right along the water. This was the perfect way to start the morning — the sky was a gorgeous mix of blues, purples and pinks, the sun was shining and there was a slight breeze in the air. With the water to my right and huge, beautiful homes to my left, I was in total, complete bliss.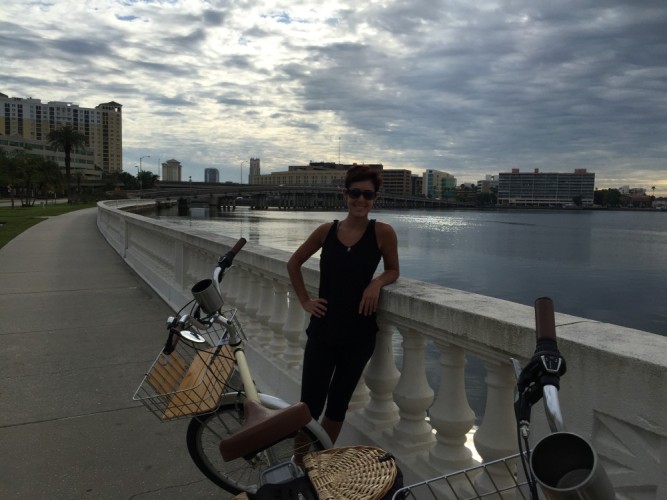 After our invigorating bike ride, we headed back to Élevage for breakfast and shared the most delicious bowl of yogurt, fresh berries, honeycomb and sesame granola. The kitchen was nice enough to split the one order into two bowls for us — a half portion was plenty for one person, I can't imagine having the whole thing for myself!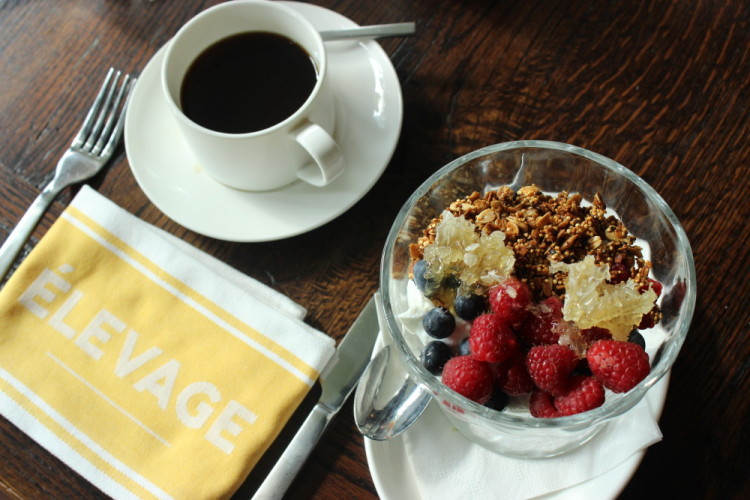 And then we were on our way. Back to Boca we went, leaving Tampa behind…but not for long. We will see you again soon, West Coast!