Never miss a bite! Sign up here to receive new recipes and reviews straight to your inbox.
I'm not sure how to start this post. I kind of wish you could just take a little trip into my mind and relive my mini vacation in Tampa as though you were there with me. If that kind of technology exists somewhere, I don't think I can afford it — so you're stuck with a good old fashioned play by play right here. Get ready for it — it's going to be a tasty trip!
Denise and I were invited to stay at the Epicurean Hotel — an upscale foodie's paradise located on South Howard Avenue in the trendy historic Hyde Park District (also called SoHo), just a short drive away from Downtown Tampa. The hotel is right across the street from this little old restaurant you may have heard of called Bern's Steak House. Yep, the Bern's Steak House. The Epicurean is a collaboration of the legendary steakhouse and Mainsail Lodging & Development. It's Tampa's one of only a handful AAA Four Diamond hotels (however, it is the only Four Diamond "food-focused"hotel). It is also the first newly constructed hotel property in the United States to join the prestigious Autograph Collection® of Marriott International, Inc. An "AAA Four Diamond" rating means that the establishment has met a certain level of upscale requirements in hospitality, service, and attention to detail.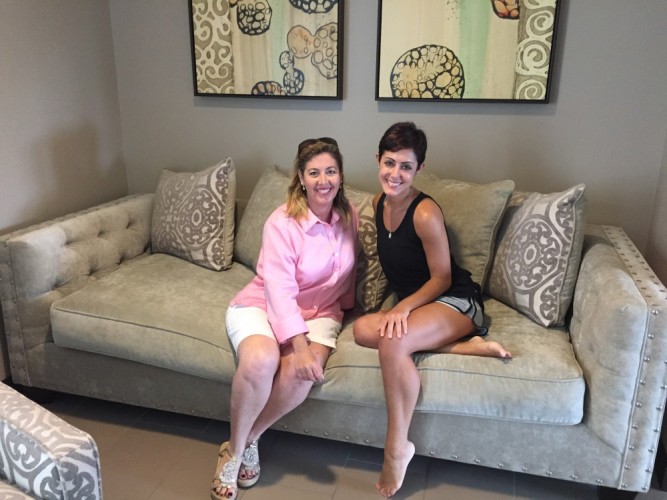 Yep, we were travelin' in style. Life is pretty good.
Right from our arrival, we knew things at the Epicurean were different. The concierge, Eric, took us straight from our car to our room. No waiting in line to check in for our reservations. No waiting for the room to be ready. A super modern iPad system allows for 85% of hotel guests to totally bypass that annoying check-in process (depending on the time of your arrival, how many other guests are arriving at the same time, etc.). Eric was really helpful as we picked his brain on local hot spots and restaurants we had to see before heading back to the east coast.
After figuring out our itinerary with Eric, Denise and I were ready for a little R&R after that 4-hour drive. I have a thing for hotel bath robes, so I slipped mine on and we popped open a bottle of champagne. What? We're on vacation! We hung out in our gorgeous Executive Suite for a bit before heading downstairs to tour the property with the hotel General Manager, Tom Haines. There are 137 guest rooms at the Epicurean, each curated with fun food-centric wall art, complimentary wireless internet, 42" HDTVs,  luxurious bath products, in-room laptop size safe, rain shower heads, and a bar and pantry full of carefully selected wine and other beverages and unique and tasty snacks. Our suite had a separate seating area complete with a second HDTV, huge sofa and additional comfy chair. My two favorite things about the room were the fun silverware pillows and the ultra-retro rotary phones. Oh, and the bed. I've always loved the beds at any Marriott hotel — I don't know what kind of mattresses they use, but they are so crazy comfortable. It makes getting up in the morning really difficult.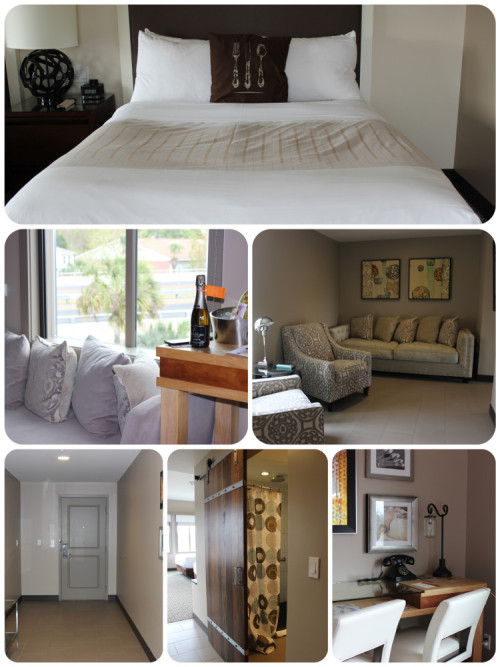 I could go on and on about how amazing the room was, but the rest of the hotel is even better! Tom gave us an incredible walk-through tour of the place, touching on every single detail he could recall. From the lobby walls created entirely out of Bern's Steakhouse wine crates to the fresh garden herbs grown right inside the hotel for restaurant use, our heads were crammed with "Epicureanisms" by the end of the hour. We visited the dessert shop Chocolate Pi, and took in the sweet aroma of handcrafted sweets and treats from Executive Pastry Chef Kim Yelvington, quietly strolled through Spa Evangeline where the walls are made of wine corks and the fruit scrubs, lotions and oils are made from the herbs grown on site and each signature service uses ingredients selected especially for you, and visited the Wine Shop managed by Kevin Pelley who gave us the lowdown on their super-popular weekly event, Crush Hour, where anyone can come in from 6:30-8:30 on Friday nights and get specialty wines for only $25.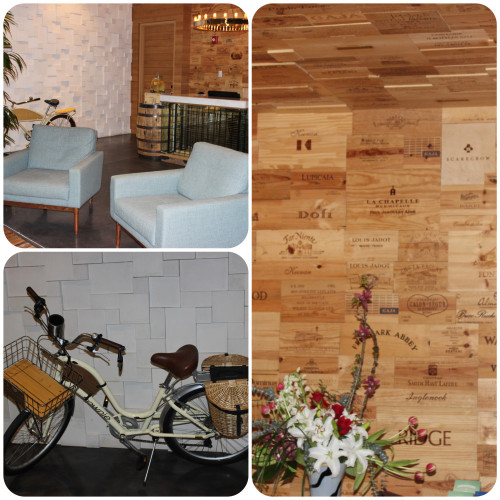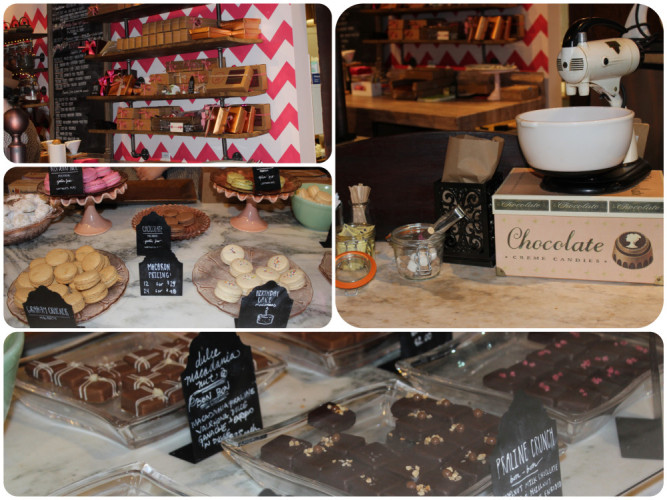 Tom really stressed the importance of the Epicurean being a "non-hotel hotel," what with it's ultra-chic and modern decor, fast and friendly check-in process, relaxed casual employee vibe (no uniforms!) and red and green lights outside each guest room replacing those cheeky "Do Not Disturb" doorknob hangers that usually result in loud, obnoxious knocking from housekeeping early in the morning.
Everything about the Epicurean is geared toward the food and wine lover. The dimly lit library and lounge area is adorned with TVs tuned to Food Network, shelves and shelves of cookbooks and an array of interesting antique cookware — one in particular that I noticed was an old fashioned malt milkshake maker, something that my dad actually has at home! The Epicurean is also home to the Epicurean Theatre where celebrity chefs make appearances and classes ranging in cultural trends to the art of mixology and cooking techniques take place. I wish there had been a class scheduled while we were there — next time, for sure!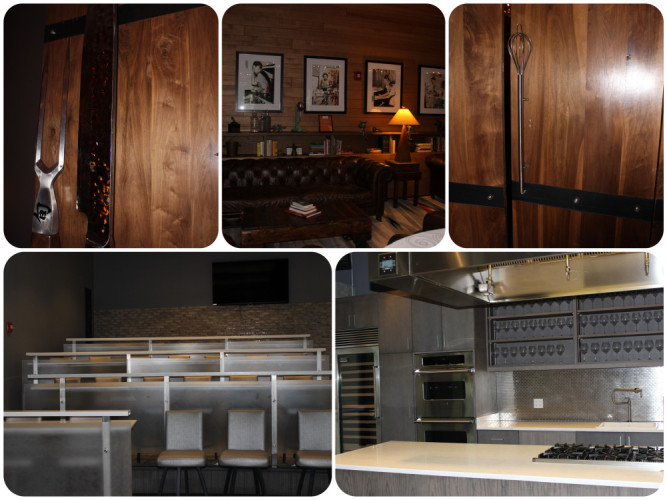 By this time, we had certainly worked up an appetite and were super excited for our dinner reservations at the hotel restaurant, Élevage. The Epicurean is all about crafting the perfect dining experience for the "Epicurean." Foodies and wine-lovers are able to experience modern classics prepared by James Beard Best Chef: South Semi-Finalist (2012, 2014) Chad Johnson and his Chef de Cuisine, Jonathon Atanacio. Unfortunately we were unable to meet the chefs during our visit. They were beat from a busy busy weekend — Bern's Winefest had just wrapped the day before we arrived, and the chefs definitely needed (and deserved!) a little time off!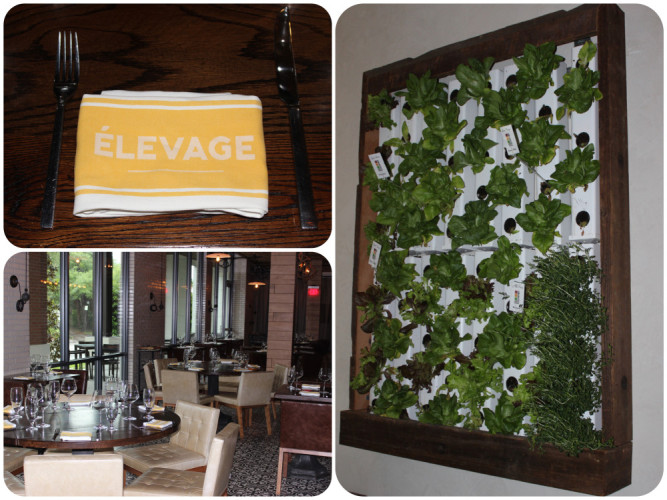 Before heading in to our table, Denise and I stopped at the bar where we were greeted by Jack. Jack was the first of about 50 other good looking men we would find wearing blue checkered shirts. It became a running joke throughout the weekend. Oh look, another blue checkered shirt…on a good looking business man. Seriously — they were everywhere. I figured out why I can't meet a decent man in Boca — they are all in Tampa.
I digress.
We started with a couple hand crafted cocktails. Élevage believes that the right cocktail or glass of wine can really help to elevate a dining experience — and we 100% agree. Denise went with her favorite, the classic Moscow Mule, served in its proper vessel, a copper mug. I opted for their newest cocktail on the menu, the Watermelon Pisco Sour made with Kappa Pisco, lime juice and house-made watermelon syrup. I've been on a watermelon kick lately, and this totally hit the spot! It was very refreshing and so simple, with just three ingredients. I'm not one for cocktails with an ingredient list down to the floor. Give me good, fresh flavors and I'm a happy girl.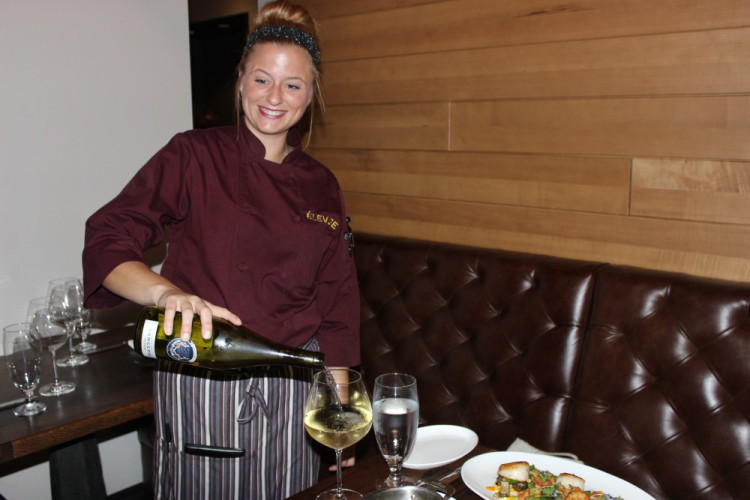 We ventured into the dining room and met our server, Kylie, and the restaurant manager, Joshua. Both chatted with us throughout the evening and were really personable, and once we got to our main course, they carefully selected a wine for each of us that would complement our choices. We started with the Horiatiki Salad consisting of watermelon, feta, cucumber, pickled onion and spicy greens tossed in a cracked olive vinaigrette. For two gals who aren't too fond of olives, we were happy to see that the kitchen had done well with our request to leave out as many olive chunks as possible. The vinaigrette did not have an overpowering olive-y taste, surprisingly. In fact, we both really enjoyed this salad and never would have thought olives had a presence at all had we not seen the menu description. The mix of watermelon, feta and cucumbers is one of my favorites. It's light, bright and very refreshing — just like my watermelon cocktail! See? I told you I'm on a watermelon kick!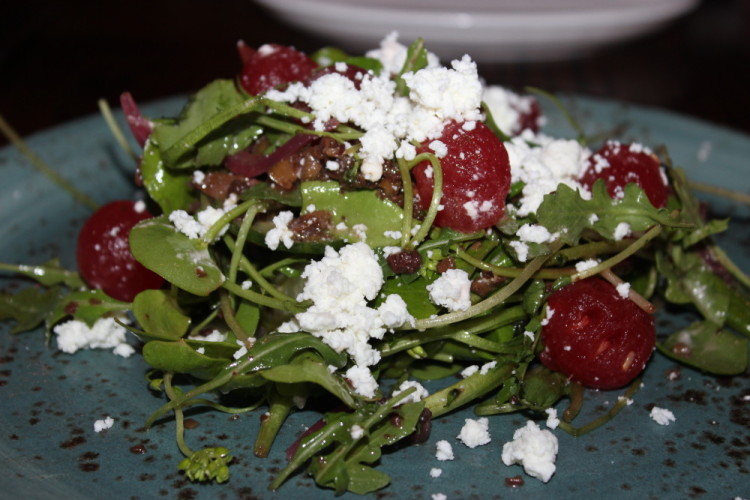 The list of side dishes was very interesting — one item in particular stood out to us as something we had never heard of before. Fiddleheads. Have you ever tried these? They are fern fronds, and apparently have a very short season and are extremely hard to find. Their texture is much like a blanched green bean — they have that crunchy snap — but the flavor is bitter. These were sautéed with garlic, shallot and chili flakes — a delicious combination of flavors that really gave us something to talk about. According to all of the social media responses we had, we were very lucky to get a taste of this vegetable during its prime!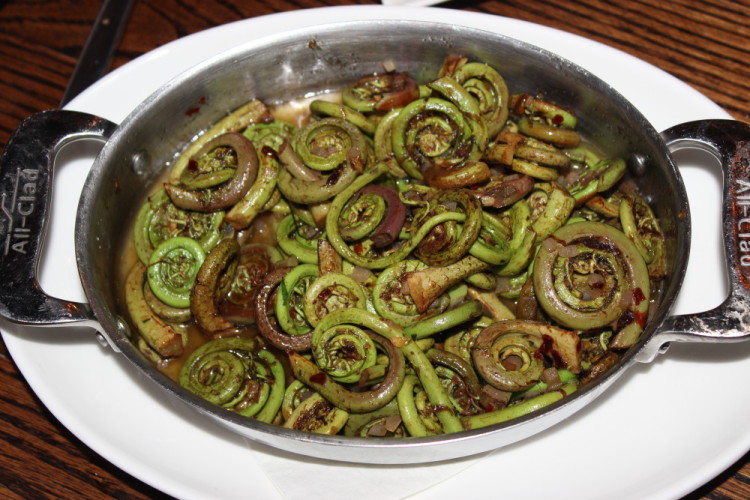 Another side that Denise and I shared was the Smashed Cauliflower with farmhouse cheddar and breadcrumbs — a seemingly simple dish that seriously wowed us. I am dying to recreate this at home, and I definitely will soon, so stay tuned! This was easily my favorite thing I had all night. It was creamy but still had a great amount of texture. You'd never be able to tell from the photo just how tasty this dish was. I almost didn't want to share. I found myself sneaking in little bites without even realizing it!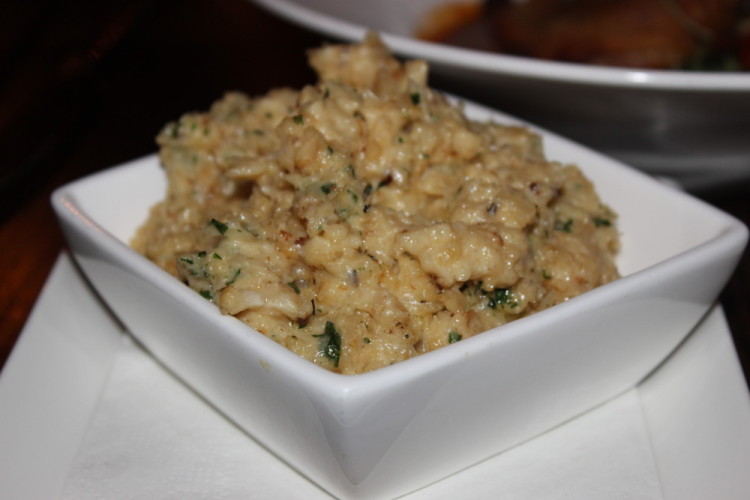 Denise and I each ordered our own entrees. She went with the Duck Paprikash made with crispy duck confit, buttermilk dumplings, kale and spicy paprika cream, and enjoyed a smooth and tasty Pinor Noir along with it. I opted for the Scallop a la Greque with artichokes, sunchokes, asparagus, licorice herbs and saffron vinaigrette. Again, the kitchen was really great with our requests — I'm not a fan of licorice flavors and asked for them to go very light on the herbs. I hardly could taste the licorice at all! I sipped on a delicious Sauvignon Blanc from New Zealand (of course!), and loved how it complemented the dish. There was a lot going on on that plate of mine, but every element worked beautifully together to create one totally cohesive and incredibly delicious dish. I only wish we could have expressed our gratitude to Chefs Chad and Jonathon. At least they can read about it here!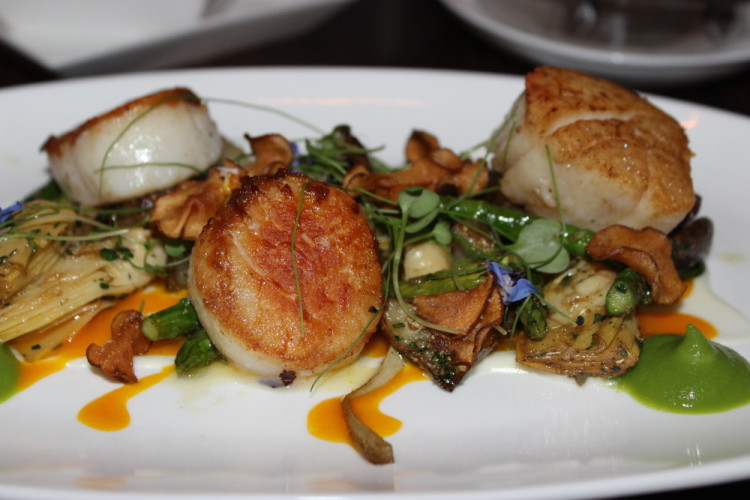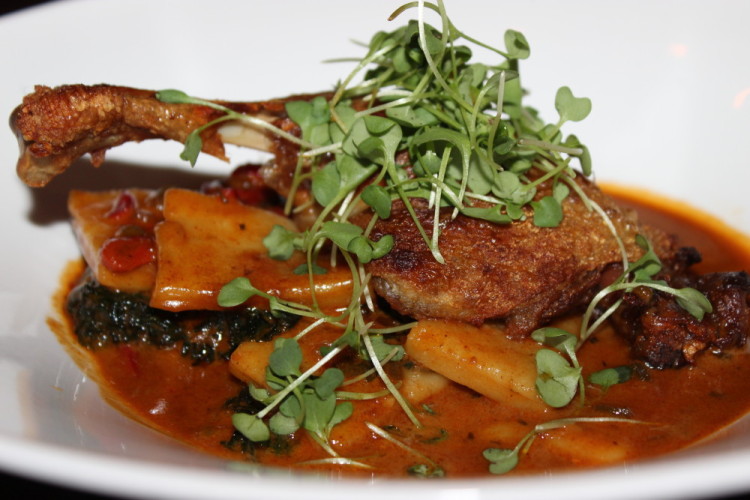 The meal didn't end there. There had to be dessert! We went with the pecan chocolate brownie, topped with a chocolate ganache and crumbled pecans served with a side of salted caramel gelato. The brownie was insane — so rich and fudgy. The ganache was just the icing on the cake (literally) and had my tastebuds going wild. Coupled with the salty sweetness of the gelato, this was dessert heaven on a plate. Denise is a sucker for anything and everything salted caramel, and she's pulled me along for the ride many times — not that I ever resist!
Élevage was quite the experience, and I highly recommend it as a dining destination for anyone traveling to Tampa. Even if you aren't staying at the Epicurean, you must still stop in for dinner. Élevage is open to the public, and serves breakfast Monday through Friday from 7-10 am, lunch Monday through Friday from 11 am to 2 pm, and dinner Sunday through Thursday from 5:30 to 10 pm, Friday and Saturday from 5:30 to 11 pm. Brunch is also served on Saturday and Sunday from 9 am to 3 pm. The lounge menu, featuring a limited variety of snacks, is available Monday through Sunday from 11 am to 11 pm.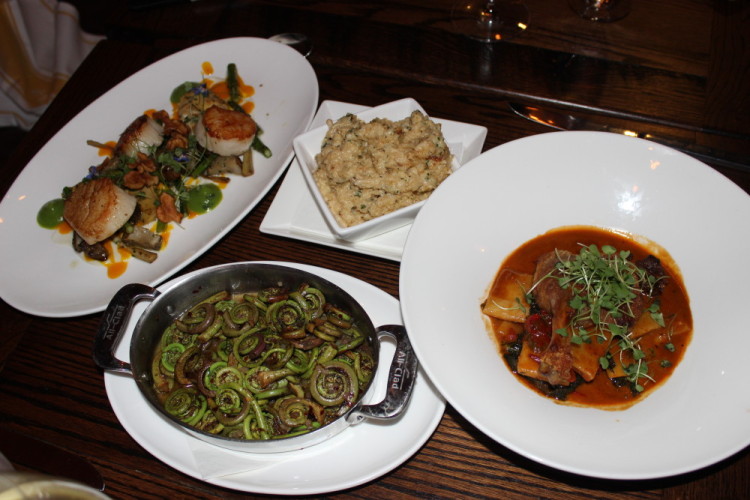 In addition to Élevage, there is also a rooftop bar, EDGE, that serves craft cocktails, beer and wine as well as a selection of light bites and appetizers Sunday through Thursday from 5 pm to 11 pm, and Friday and Saturday from 5 pm to 12 am.
There's plenty more to tell about the rest of our stay in Tampa, but you'll have to come back for it another time! Stay tuned…