Never miss a bite! Sign up here to receive new recipes and reviews straight to your inbox.
NOTE: This restaurant has since closed and reopened as Indian Harvest.
Disclosure: I was invited to dine as a guest of Tanjore Indian Cuisine. No monetary compensation has been received for this post. As always, all opinions are 100% my own. 
After twelve years of testing recipes and honing cooking skills, Chef Yogi Dhwale and restaurateur Chris Corda have come together to bring South Florida a true taste of their home — India. Tanjore Indian Cuisine opened its doors in October 2017 in Royal Palm Place. Its location's previous resident was another Indian restaurant, and although I'd never been there, I have a feeling Tanjore will be around a lot longer.
Tanjore's menu offers a modern twist on traditional Southwest Indian cuisine. Chef Yogi takes his inspiration from this part of his country where fish, meat and game ingredients are typically used, but he also incorporates a lot of vegan and vegetarian options as well. I couldn't wait to get a taste of Tanjore, as Indian food has always intrigued me. Plus, I visited during my birthday month with great company — Jill (duh) and one of our favorite friends and local bloggers, Jennifer from Beaches and Baubles.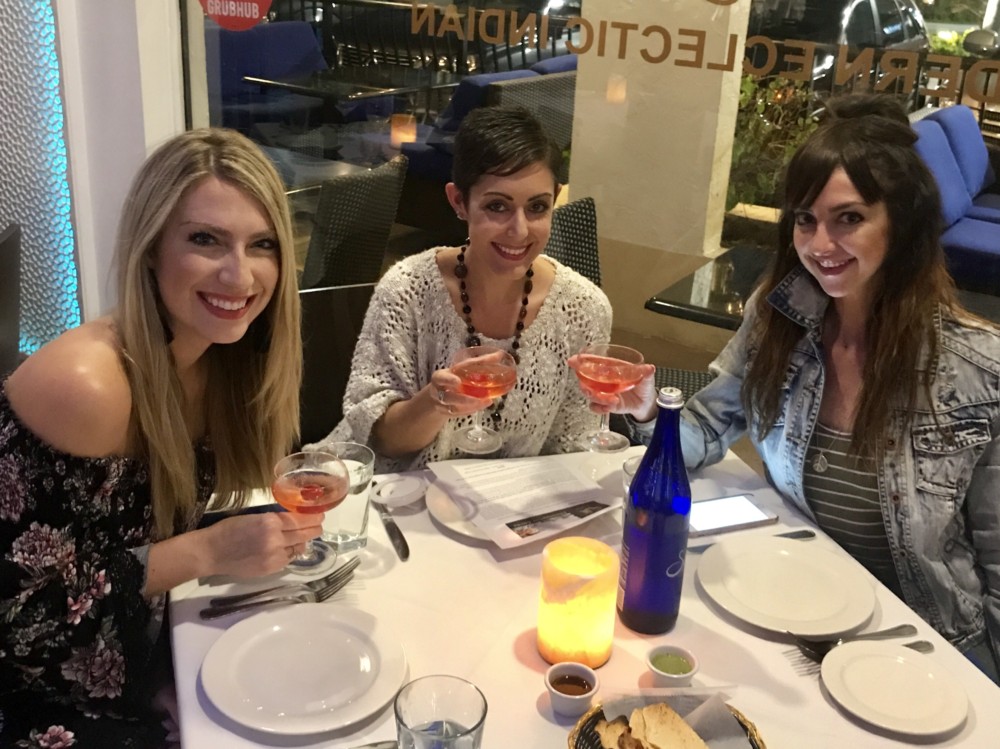 Chris and Chef Yogi treated us to an incredible meal, start to finish. We were welcomed with a delicious cocktail that had my name written all over it — fitting, seeing as though it was basically just another birthday celebration for me (turning 30 definitely deserves multiple celebrations). This bright red, sparkling drink is called the Boca Sunset and it's made with champagne, elderflower and blackberry liqueur, and garnished with a maraschino cherry.
Along with our welcome cocktails, we were greeted with a basket of lentil crackers called Idly, which are vegan and gluten-free. These thin, crispy crackers have a subtle yet very good flavor, and were the perfect vehicle for shoveling copious amounts of two insanely delicious sauces into our mouths. These sauces ranged from sweet to spicy, the former being an Indian-style BBQ sauce and the latter much like pesto with quite the kick. The BBQ sauce stayed close by my plate for most of the evening, and complemented a few other things that hit the table.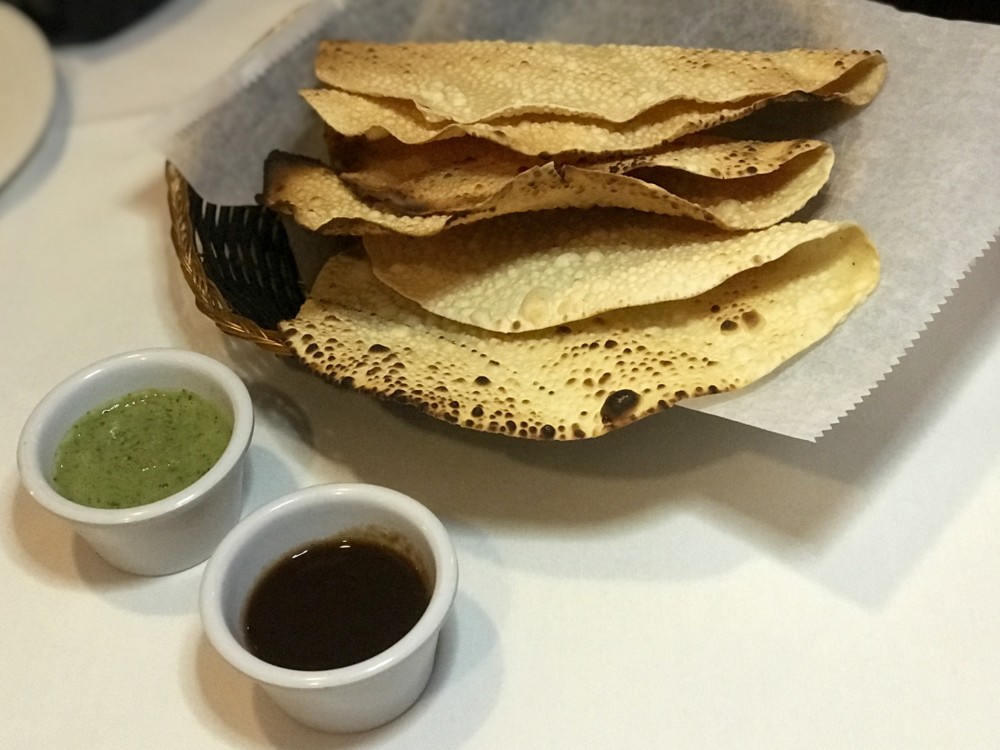 Chris prepared an appetizer sampler plate for each of us, which included a little bit of everything. Mine had a colorful sprout salad with green lentils, onions, tomatoes, mango powder, black pepper sea salt and pomegranate seeds; Tandoori prawns marinated in cumin, coriander, cinnamon and caraway seeds; and Bhel Poori, a puffed rice salad with onions, tomatoes, cilantro, crisp chickpea noodles, tamarind, mint, mango powder and black salt. Jill and Jennifer's also included two varieties of chicken kebabs — Murgh Le Tikkey (red) with yogurt, garam masala, jalapeños and roasted chiles and Malai Kebab (white) with yogurt, mace, cardamom and cheese; Bhatti Di Paneer, a Traditional Indian cheese that has been pressed and marinated in olive oil, royal cumin, roasted coriander and red chiles; Tawa Machli, tilapia that has been breaded and crisped with lemon juice, curry leaves, turmeric and tamarid; and Pani Poori, chickpea puffs stuffed with potato and caramelized onions, served in a shot glass of tamarind juice and chili.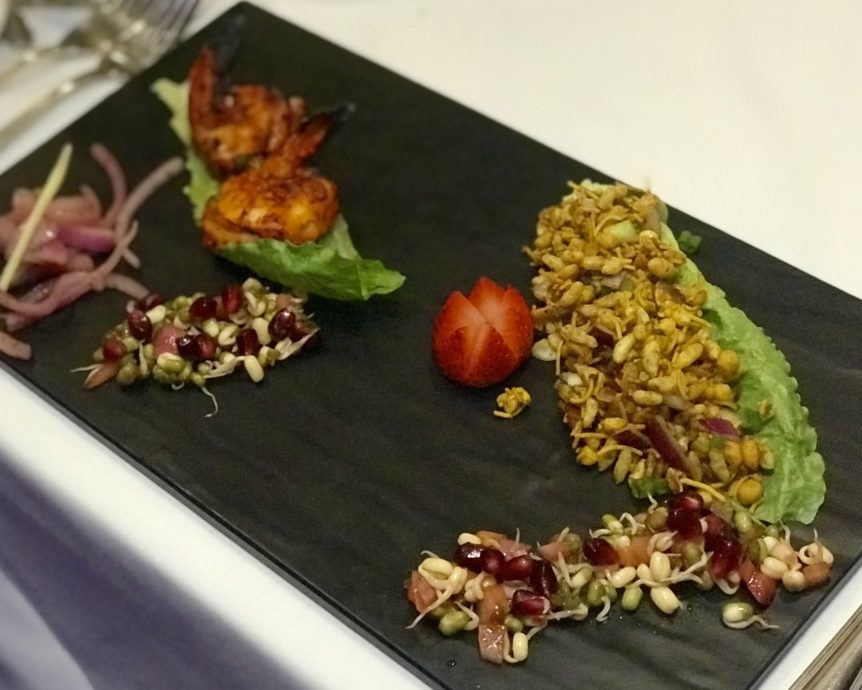 Then we moved on to entrées, with seafood being the main attraction. The first was the Pompano Bajlele, grilled pompano tempered with coriander, fenugreek and lime zest. When I tell you this fish was full of flavor, you'd better believe it. Seeing a whole fish used to freak me out, but now I find the presentation really impressive. You just need to know how to filet it, or better yet, have someone else do it for you. Thankfully, Chris took care of that for us so we weren't fishing for bones (see what I did there?) while eating. On the side, we got a taste of another appetizer called Crab Limbu Rubiyan, a velvet-smooth mixture of lump crab meat, coconut cream, honey, lime zest and mustard seeds, served inside an Idly cone.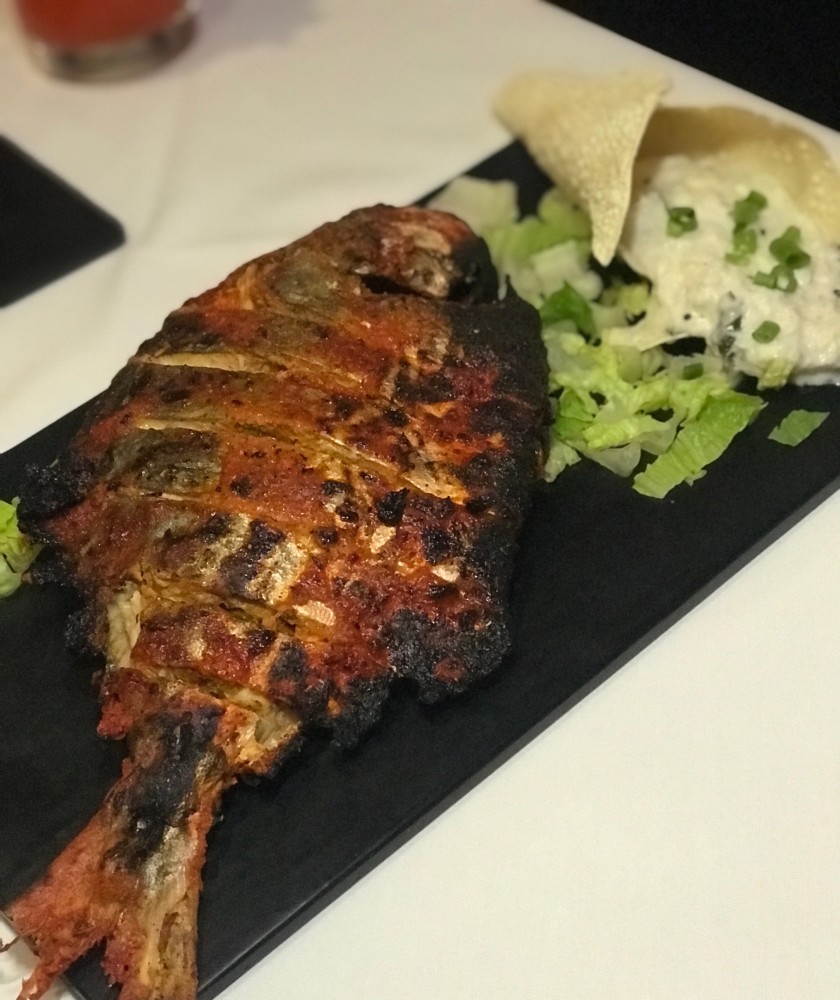 The Noorani Branzino came out next, which has been seasoned with cumin, coriander, turmeric, malt vinegar, and red chilies, and cooked in a clay oven. Once again, the flavor was spot on. I can't decide which of the two whole fish I liked better — good thing there were a few other dishes on the table for Jill and Jennifer, because I definitely had more than my fair share of both fish. Speaking of which, they got to try the mushroom truffle Naan. All I could do is sit there and take in the intense aroma of truffle that completely filled the air as soon as the bread left the kitchen. If it tasted as amazing as it smelled (and I'm sure it did), then this is a must-try.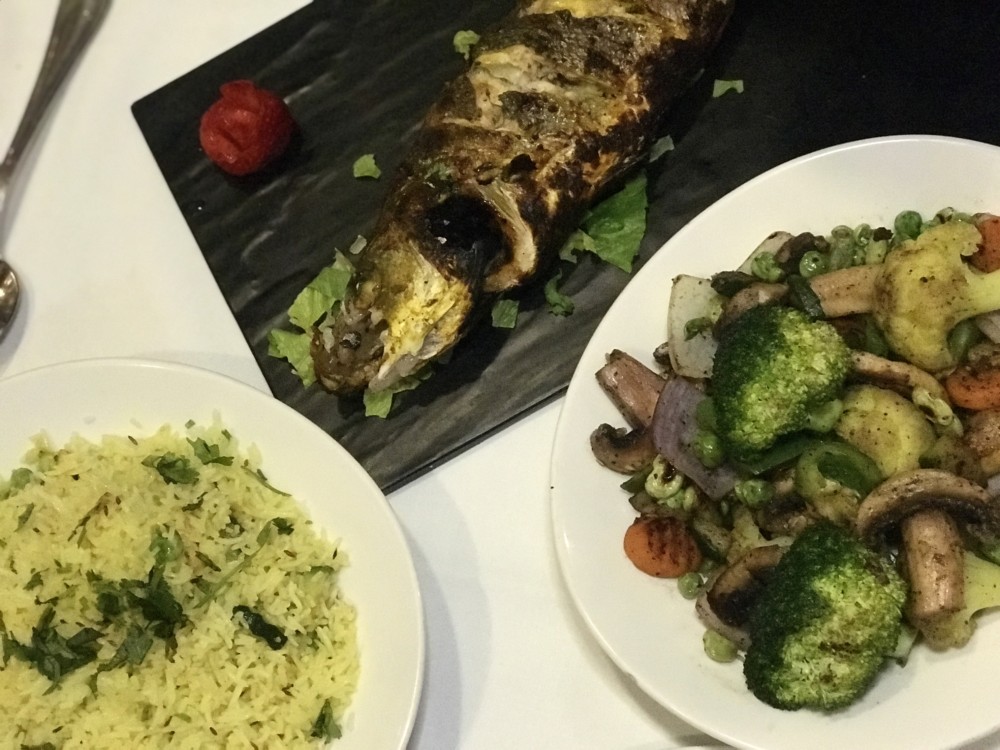 Jill and Jennifer also tried one of Tanjore's many lamb options, as well as the classic samosa, filled with potatoes and green peas, black salt, cumin, and coriander, I was interested in trying more of the vegetarian options. I requested the Navrattan Korma, a medley of fresh vegetables cooked in a mildly spiced almond and cashew sauce. This dish stood out to me when I first looked at the menu, and I couldn't get that sauce out of my mind. It was just as good as I expected — creamy and nutty, enveloping each of the cooked vegetables in every which way. Although it wasn't the most photograph-worthy dish, it is definitely worth tasting.
We also tried the Baingan Saraf, Japanese eggplant cooked in mustard seeds and curry leaves. Another fabulous dish that I would order again for sure. Even a simple side of saffron rice with peas had incredible flavor. Indian spices are so bold and sometimes seem intimidating, but the team at Tanjore does a really great job at keeping things balanced and approachable, and can easily adjust based on the customer's preference. Indian food does not have to be super spicy! If you think you don't like this type of cuisine, I encourage you to visit our friends Chris and Chef Yogi at Tanjore, and sit back and enjoy while they totally change your mind.
Even dessert will have you licking the plate clean. I certainly almost did, even with something as simple as mango and coconut sorbet. It's served inside half of a coconut shell, giving it a thumbs-up for presentation. Classic Indian dessert options include Kulfi, traditional Indian ice cream, in pistachio or mango flavor; Gajrela, caramelized carrot pudding with pistachios, cashews, vanilla ice cream and raspberry coulis; Rasmali, pressed Indian cheese made with reduced milk and rose water syrup; Shahi Tukda, bread pudding with golden rum-soaked raisins, toasted cashews and a bourbon saffron sauce (um, that sauce sounds out of this world!); and Gulab Jamun, dried milk pastries soaked in a honey and cardamom syrup. For those who may not be as adventurous when it comes to sweet treats, there is also rice pudding, chocolate cake and regular ice cream in lychee, Tahitian vanilla, rum raisin, and mango flavors.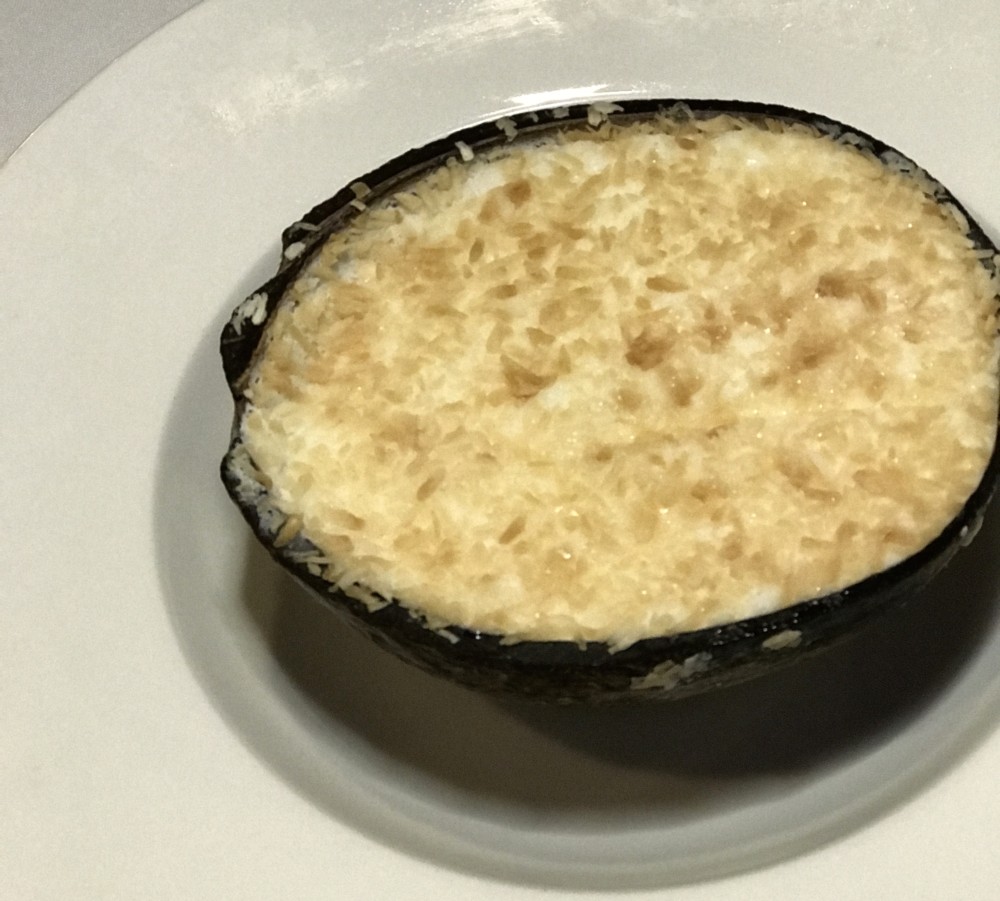 Tanjore Indian Cuisine is located in Royal Palm Place at 500 Via de Palmas in Boca Raton. The restaurant is open for lunch everyday from 11:30am to 2:30pm and offers $10 lunch specials and a prix fixe option. A Weekend Brunch Buffet is offered during this time on Saturday and Sunday. Dinner is served Sunday through Thursday from 5-10pm, and Friday and Saturday from 5-11pm.