Never miss a bite! Sign up here to receive new recipes and reviews straight to your inbox.
Disclosure: I was invited to a dinner and a movie as a guest of Tanzy Restaurant and iPic Theaters. No monetary compensation has been received for this post. As always, all opinions are 100% my own. 
Whether it's Date Night, Girls Night, or even just a Me Night, the combination of dinner and a movie at Tanzy Restaurant and iPic Theaters will never let you down.
Before this recent visit to the movies, I can't even remember the last movie I saw in theaters. However, upon seeing the trailer for the comedy, Blockers, starring Leslie Mann, John Cena and Ike Barinholtz, I knew I had to get back into the habit of movie-going ASAP. I won't give anything away in case you haven't seen it, but the basic premise of the story is that Leslie, John and Ike (after this movie, I feel like I can totally be on a first-name basis with them) find out through some serious iChat message snooping that their daughters plan on giving up the V card after senior prom. In short, the anxious/nervous/upset/scared-to-lose-their-kids-to-college-and-adulthood parents show up to prom and follow them around all night being complete idiots, and I don't think I stopped laughing through the entire movie. I also had no idea that John Cena could act, let alone be hilarious.
What does this have to do with anything? Nothing really, except for the fact that Jill and I worked up quite the appetite from laughing for almost two hours straight. Thankfully we were at the iPic in Boca Raton where Tanzy Restaurant is located right downstairs, and we could go straight from our comfortable, reclining chairs to a comfortable booth for dinner. We wasted no time ordering appetizers…
The grilled calamari with marinated artichoke hearts, capers and roasted tomatoes was the highlight of the evening. Jill and I feel the same way when it comes to capers — they make everything tastier. Capers lend the perfect amount of brininess to a dish without making it too salty, and here, they married well with the acidity and sweetness of the tomatoes. There was a generous portion of thick-cut calamari steaks that I couldn't get enough of. I'd order this again 100%.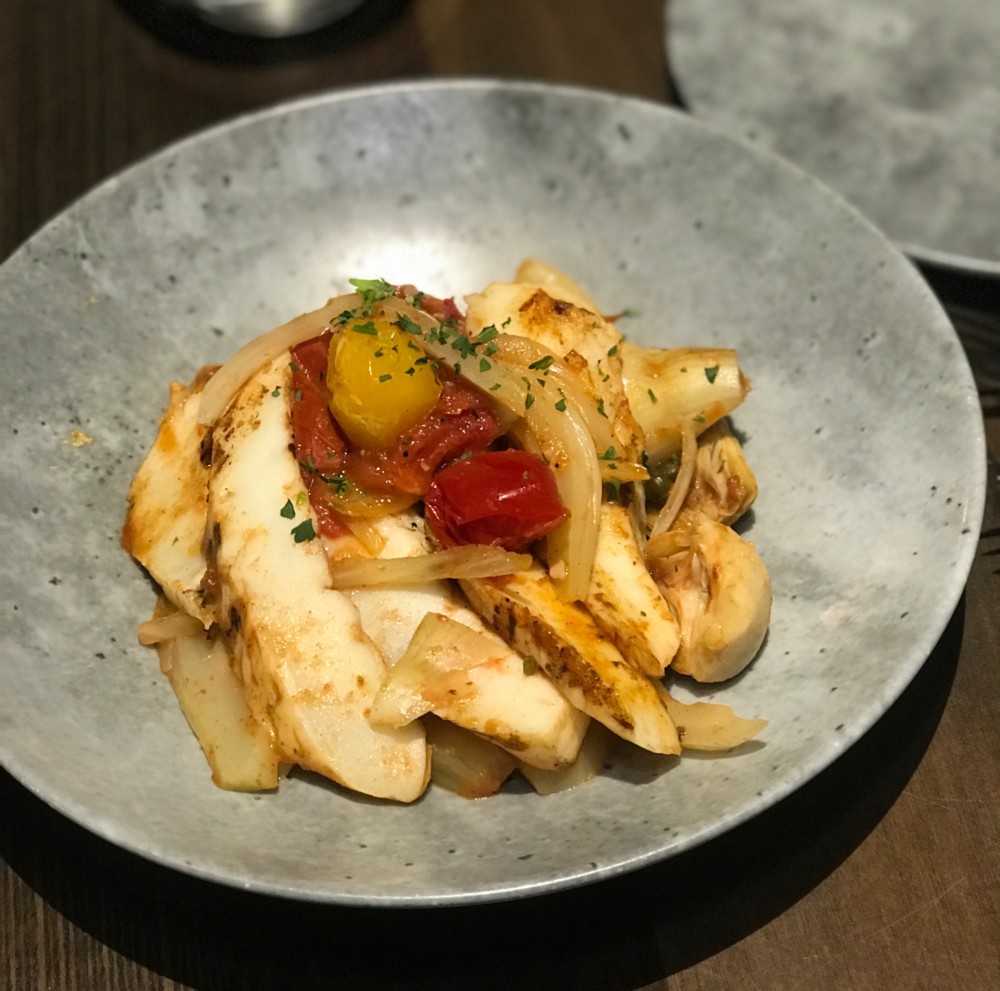 We also tried the yellowtail crudo with passionfruit splash, crispy shallot, radish, micro cilantro and grapefruit, drizzled with herb oil. There were so many appealing elements about this dish, from the bright, beautiful pink colors to the crunchy radish and flavorful herbs. If crudo is your thing, Tanzy also offers one with tuna, meyer lemon vinaigrette, dehydrated kalamata olives, picked cucumber and frenso chile.
And because there are some serious buzz words in this menu description, Jill just couldn't resist ordering the beef carpaccio all for herself. Black truffle aioli, cured egg yolk, parmesan, capers, cipollini onion, calabrian chile — even as a non-meat/egg/dairy eater, I couldn't blame her. Plus, it made for a gorgeous photo op!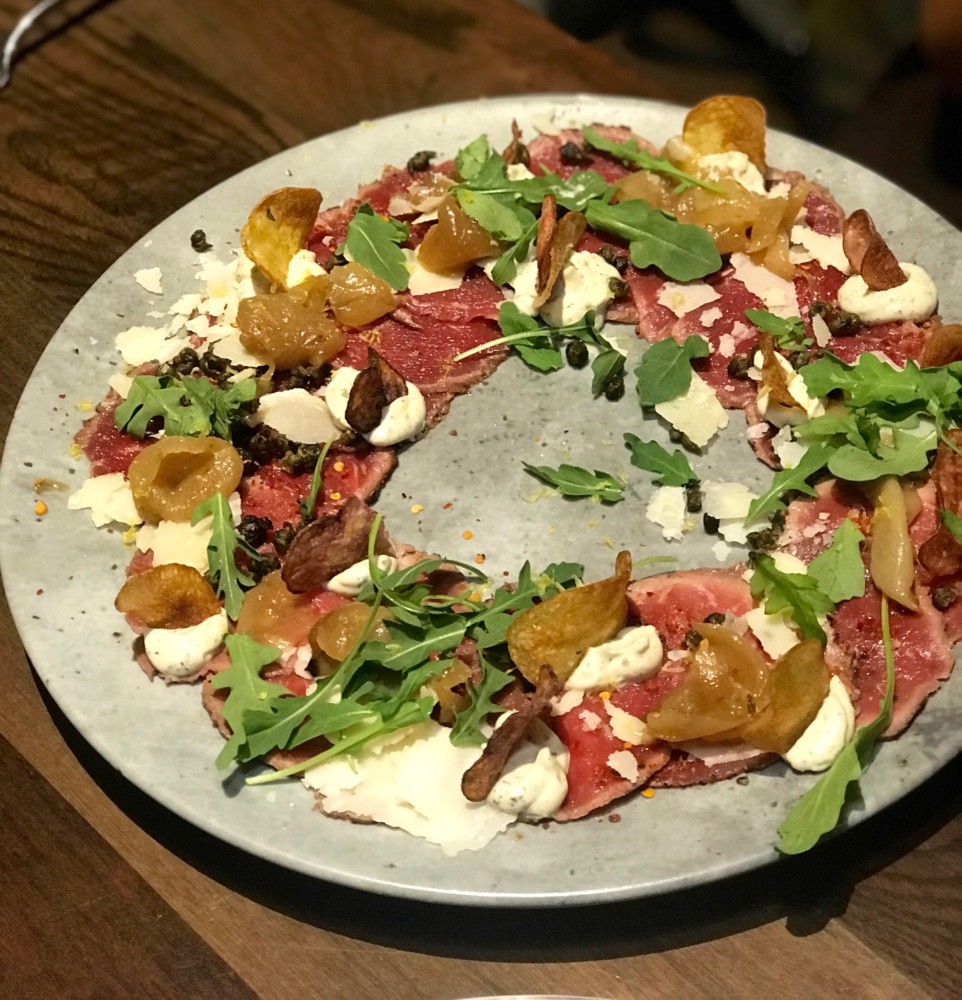 When it came to entrées, I was teetering back and forth between some of the fish dishes, but ended up going for the seared Atlantic salmon with charred cabbage, créme fraiche, horseradish and fingerling potatoes (chef left out the créme fraiche for me). The cabbage was the most interesting part of this dish, as I've never seen it plated as a whole leaf. I mean, it sort of looked like I was about to eat a turtle…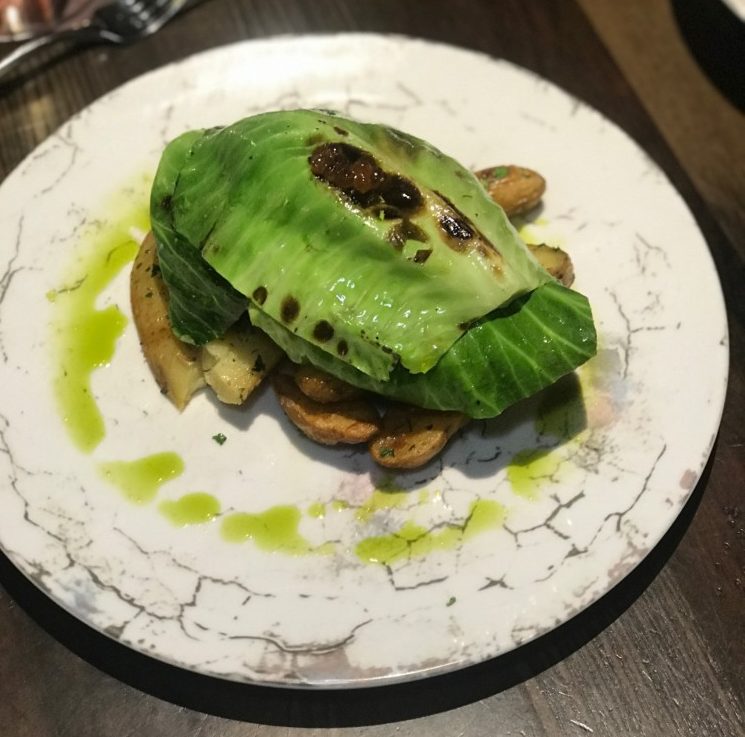 But underneath, lay a beautifully cooked piece of salmon with perfectly crispy skin, and a bed of herb-roasted potatoes that I could tell would be delicious just by first glance. Oh, and I did really enjoy the cabbage too, despite it reminding me of Crush from Finding Nemo.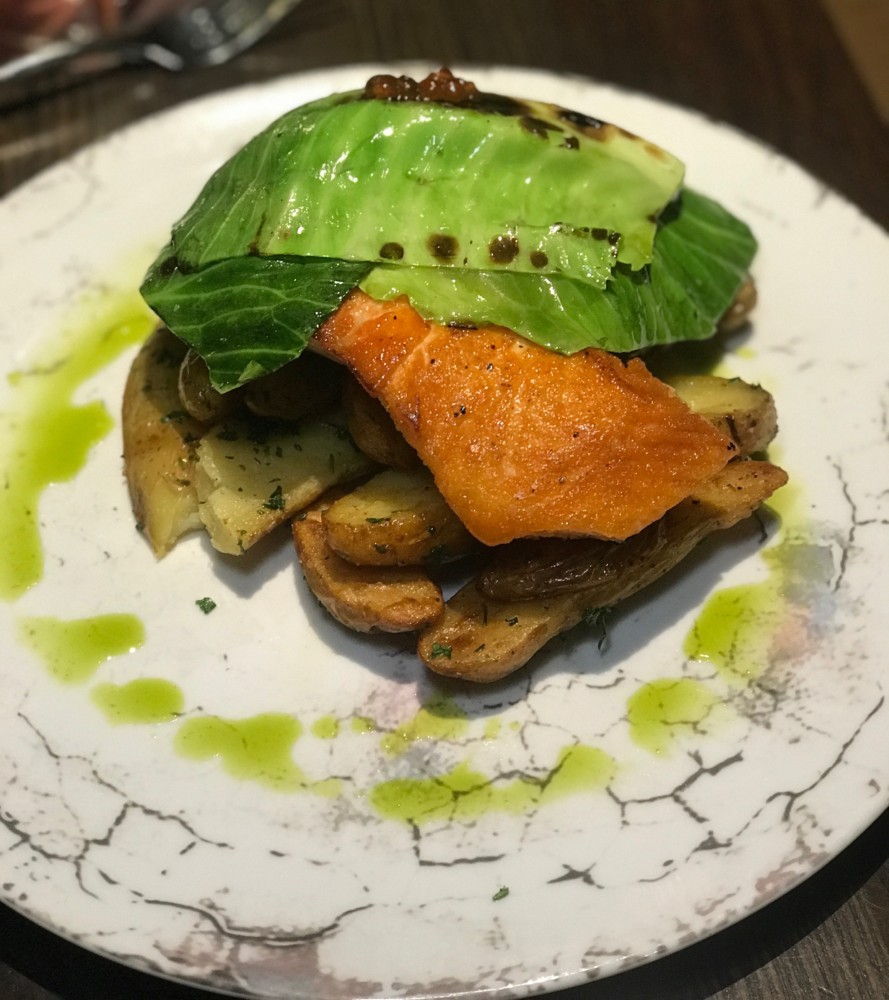 Jill went a totally different route and chose one of Tanzy's house-made pastas. But this was not just any ol' pasta, it was beet agnolotti. Agnolotti are similar in appearance to ravioli, but a little smaller. These were filled with mascarpone and potato, and swimming in a saucy sea of beet, poppy seed, black winter truffle, and parmesan. The sauce was a deep, rich hue that reminded me of the holiday season. The essence of truffle jumped off the plate as soon as our server set it down. I may not have been able to taste it, but from Jill's reaction, I have a feeling this is one dish you'll definitely want to try.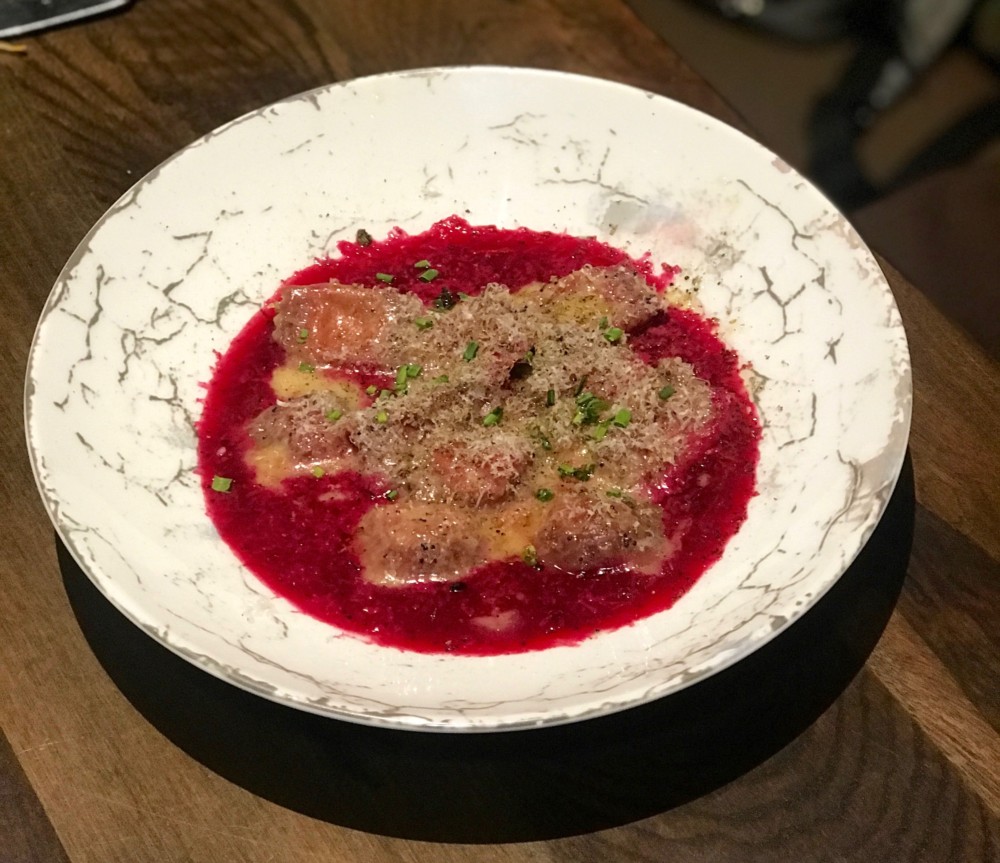 Take our advice — go see a comedy at iPic, laugh until your face hurts, and then feed that face with aaaall of the food at Tanzy.
Tanzy Restaurant and iPic Theaters are located in Mizner Park at 301 Plaza Real in Boca Raton. The restaurant is open Monday through Thursday from 11:30am-10pm, Friday from 11:30am-11pm, Saturday from 11am-11pm and Sunday from 11am-10pm. Brunch is served Saturdays and Sundays from 10am-3pm and featues $14 bottomless mimosas. Tuesdays are Ladies Night, when all ladies receive complimentary house-infused vodka cocktails and other drink specials include $4 select draft beers, $5 select wines by the glass and $8 select appetizers. On Wednesday, enjoy half-priced bottles of wine and $5 wines by the glass.