Never miss a bite! Sign up here to receive new recipes and reviews straight to your inbox.
Disclosure: I was invited as a guest of the restaurant to preview the menu at their Friends and Family event before the official grand opening. No monetary compensation has been provided for this post. As always, all opinions are 100% my own.
The much-anticipated arrival of Fort Lauderdale's popular gastropub, Tap 42, to Boca Raton has finally come! Last weekend, Tap 42 opened up in Town Center Circle where The English Tap used to be. The entire space was gutted and totally remade into a huge open-air restaurant with spacious indoor and outdoor seating and a fairly large two-sided bar that seats guests both inside and out. Tap 42 is known for their extensive craft beer list, innovative cocktails and super creative menu.
Tap 42 officially opened to the public on Saturday, July 11th, but I was lucky enough to be invited to the Friends and Family Preview event the night before. I and two friends, Nancy and Julia, were seated at one of the outside high tops and prepared ourselves for what was to come.
We were greeted almost immediately by one of the managers, Patrick. Later on, he brought over Tap 42's mixologist, Leah, for us to meet as well. Leah's extremely out-of-the-box cocktail menu proves she knows her stuff and isn't afraid to try something new. We really enjoyed The Mad Apple made with Angry Orchard apple cider, Absolut vodka, organic basil, grapefruit bitters, raspberry and house-infused beer syrup. This beer syrup really had us intrigued, so Leah brought us a small glass of it to taste on its own. The consensus? We'd all gladly pour this over ice cream for a boozy dessert treat!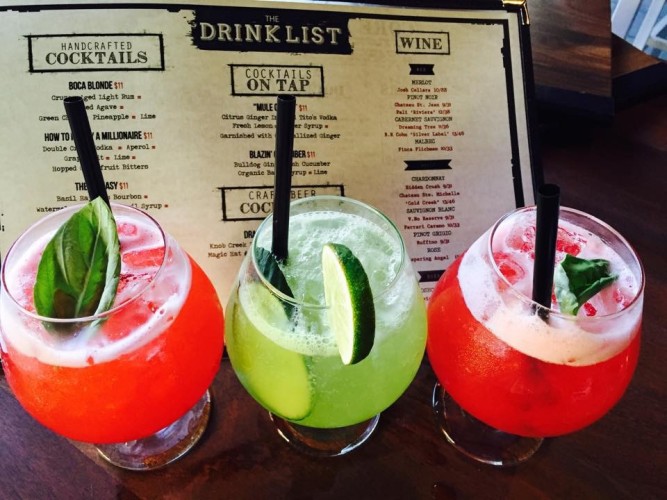 While Julia and I sipped on our Mad Apples, Nancy opted for a lighter, more refreshing cocktail — the Blazin' Cucumber with Bulldog gin, fresh cucumber, organic basil syrup and lime. Another excellent drink! As amazing as the cocktails were, Tap 42 should be noted for its handpicked list of independent, craft and artisan beers on its non-rotating draft list. There are so many to choose from. Just in case you're totally indecisive like we were, you can get a flight of three 6 oz. pours of any drafts for only $14. All three of us were instantly drawn to the Miami Brewing Company Coconut Blonde, but after that, our tastes went in totally opposite directions. I stuck to lighter beers and opted for an Orange Blossom Pilsner and a Blackberry Sour. All were good, but the coconut was definitely the winner!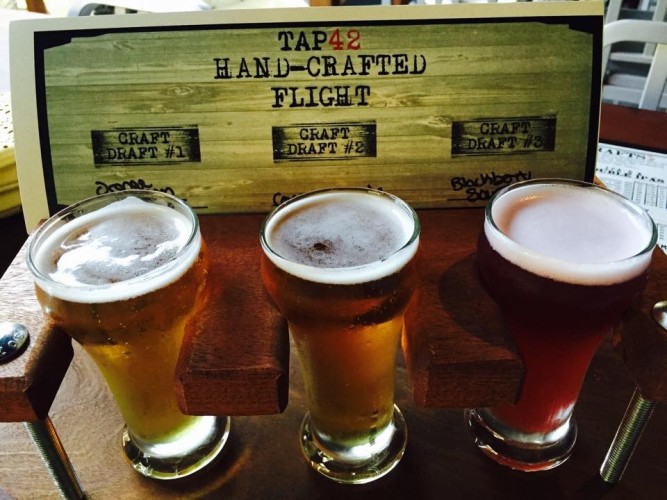 Onto the food… We started off with a fun appetizer called Two Hot Dates — crostini topped with whipped goat cheese and a jam made from the fruity-style beer, Abita Purple Haze Raspberry. These were so good. The tangy goat cheese and sweet raspberry jam played off one another very well.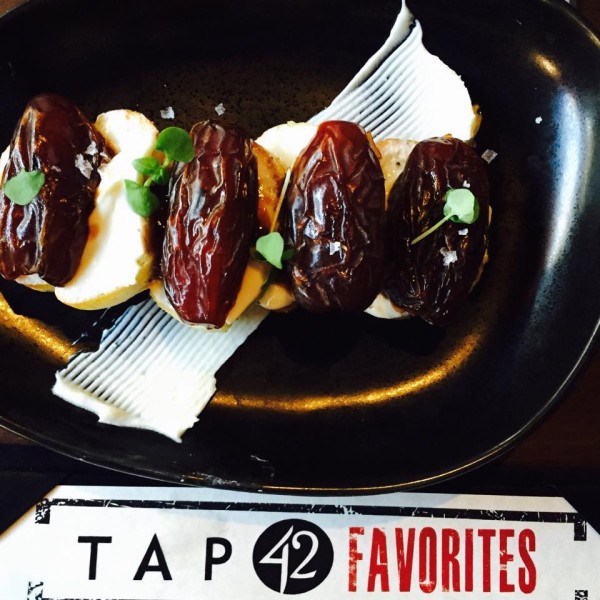 We also got the UFO White Beer Braised Mussels which come in a incredibly flavorful broth filled with citrusy orange, chiles and herbs. Normally the dish also includes Spanish chorizo, but it's no problem to get it without. While we agreed that we've had better mussels elsewhere, that broth was definitely memorable. We made sure to ask for plenty of bread to soak it alllll up!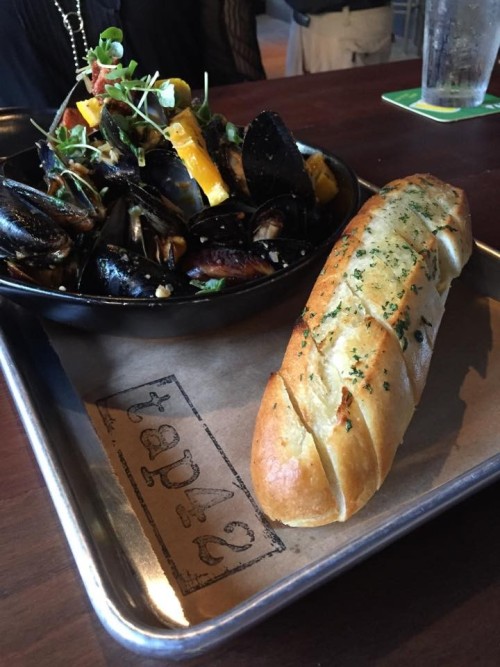 For our entrees, I ordered the Grilled Salmon Zen Bowl. A colorful, veggie-packed dish with pan fried brown rice, a green stir-fry, truffle miso glaze and toasted sesame. To say this was amazing is an understatement. The flavors were incredible and every single component of the dish just got better and better as I ate. I would 100% order this again.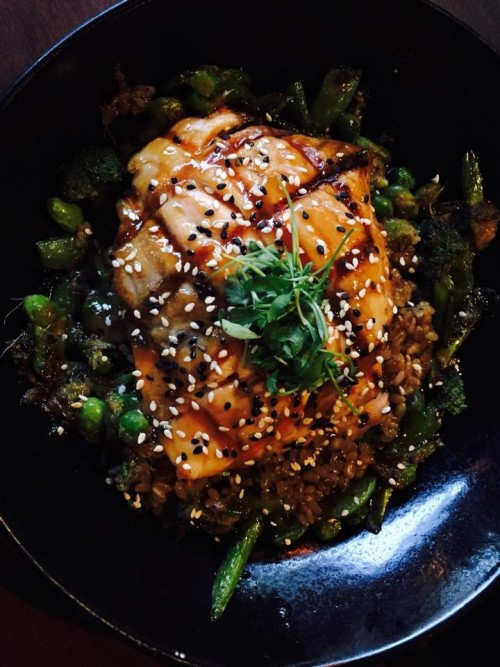 Nancy opted for the Oven Baked Shrimp Mac & Cheese (without bacon). It's made with cheddar and jack cheese, roasted mushrooms and has a parmesan-herb crust baked on top. Mac & cheese is such a guilty pleasure dish, and not something I ever really order since it's usually pretty heavy. But of course I had to steal a couple bites of all that ooey, gooey, creamy deliciousness filling the bowl. The mushrooms added a nice depth of flavor and texture — that was my favorite part.
We also ordered a couple veggie sides to nosh on — the Sesame Roasted Asparagus and Roasted Brussels Sprouts with maple, mustard and thyme. Both of these were bursting with bright, bold flavors. The Asian-inspired asparagus really delighted our palates, especially alongside the Salmon dish. But the sauce on those Sprouts? So much sweet, tangy and zesty goodness in every bite!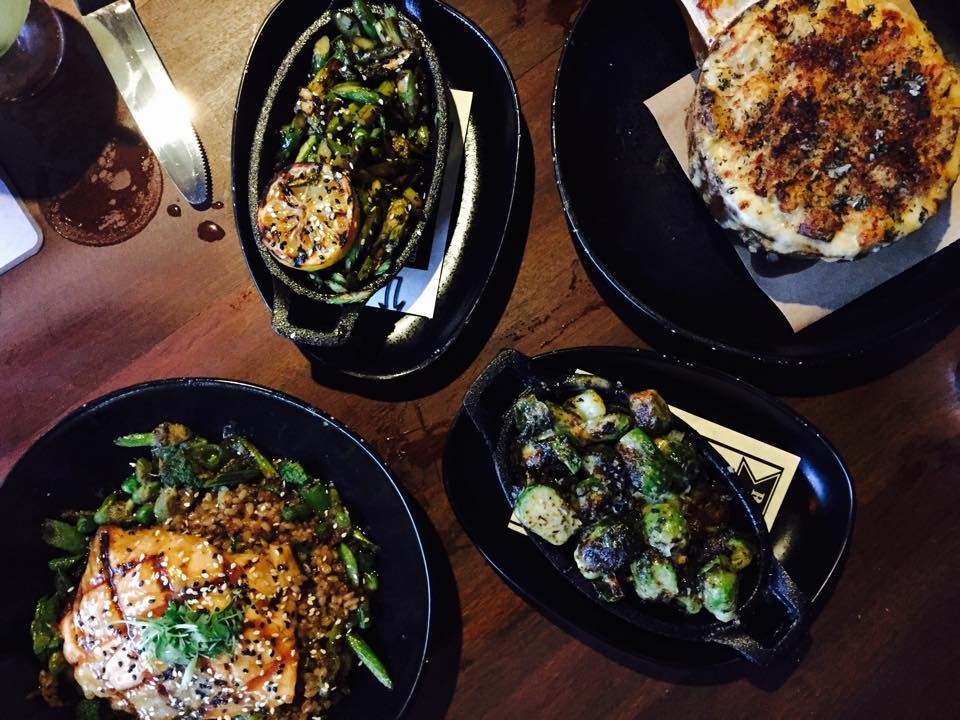 Julia went for The Drunken Goat burger, made with a lamb and beef blend, topped with whipped goat cheese, arugula, tomato, onions, dijonnaise and that same Abita Purple Haze Raspberry jam from the date appetizer. Her burger came with a basket of fries, from which you can either choose cajun spiced or parmesan and herbs. The parmesan and herbs was a wise decision — crispy, crunchy and addicting, as all good fries should be! Julia's take on the burger? Flavors were totally on point, but it was a bit messy to eat. Ask for extra napkins if you order this one!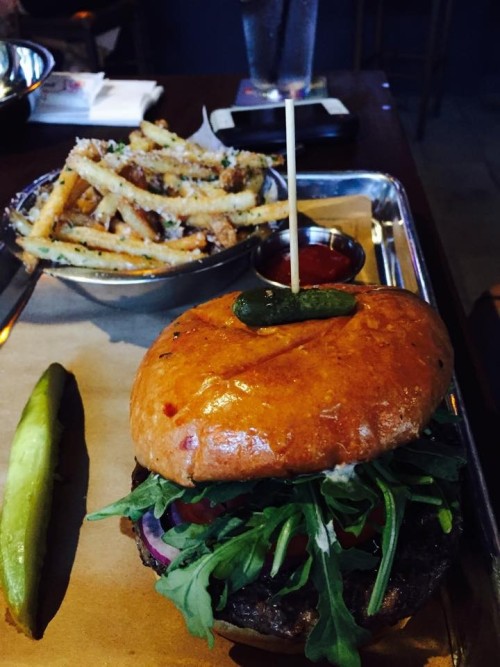 Although the staff raved about the dessert offerings, we were all way too full to indulge. Just another reason to go back again! There's plenty going on at Tap 42 for you to check out. Happy hour is from 4 to 7 p.m. Monday through Friday and features $3 off all drinks, Monday is $5 burger night, and Bottomless Brunch is served on Saturdays and Sundays from 11 a.m. to 3 p.m. serving bottomless Bloody Mary's, Mimosas and Funky Buddha Floridian beers.
Tap 42 is located at 5050 Town Center Circle in Boca Raton.