Time for another Tapas Party dish! These Grilled Veggie and Goat Cheese Quesadillas were a handful. Had I not had Zach's help, I don't think these would have gone out to the party guests. I sliced up all the veggies during my prep night to avoid that time-consuming job on the day of the party. Thin slices of eggplant, zucchini and squash were all ready to go… I anticipated these Grilled Veggie and Goat Cheese Quesadillas to be a quick and easy dish to put together: smear some melted goat cheese on a corn tortilla, arrange pre-sliced vegetables on top of the cheese, cover with another corn tortilla, and throw on my stove-top grill-pan for a few minutes. Voila! Quesadillas!

Uh. Right. If only things were ever as easy as you think they'll be…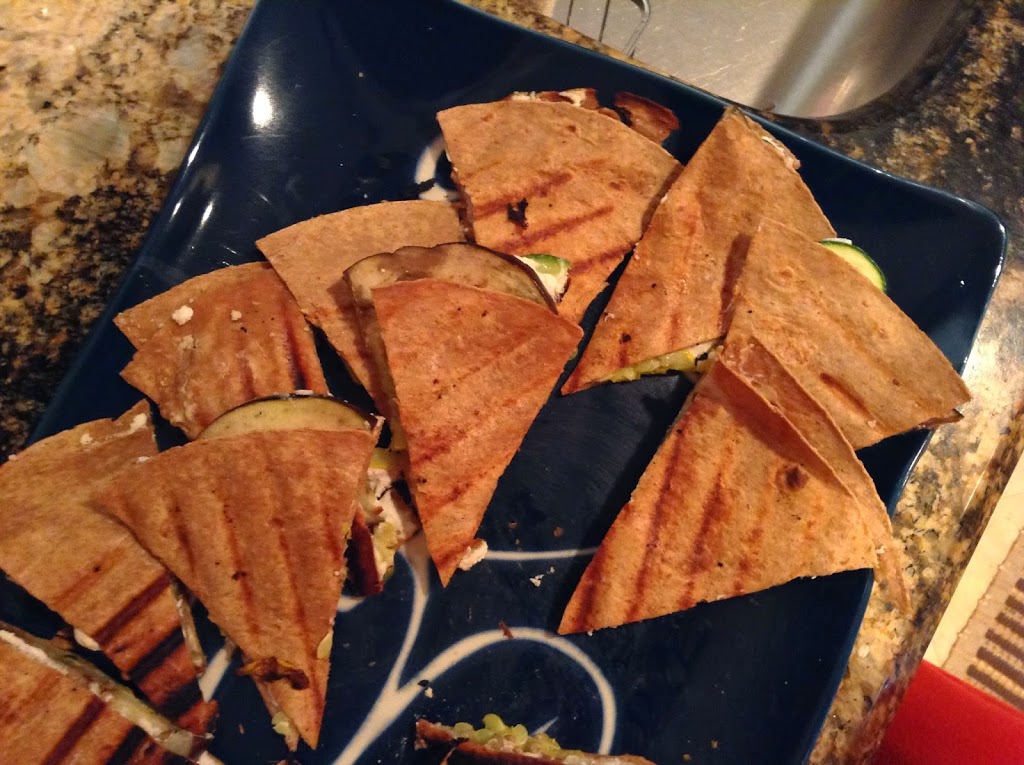 Instead, the tortilla cooked way before the veggies inside were fully cooked and started to burn. The oven was too hot. The cheese was too melty. Oy, it was just not as smooth-sailing as I was hoping for. But then magic ensued and Zach suggested that instead of rushing to finish them, we try cooking "low and slow." Which totally, completely worked. Yay! The quesadillas turned out just as I had envisioned. I cut them into small triangles, the perfect size for a handheld appetizer. The vegetables were soft but not mushy. They still had a slight crunch. Paired with the creaminess of goat cheese, it was a tasty combination.

Of course it was. Everything is better with goat cheese.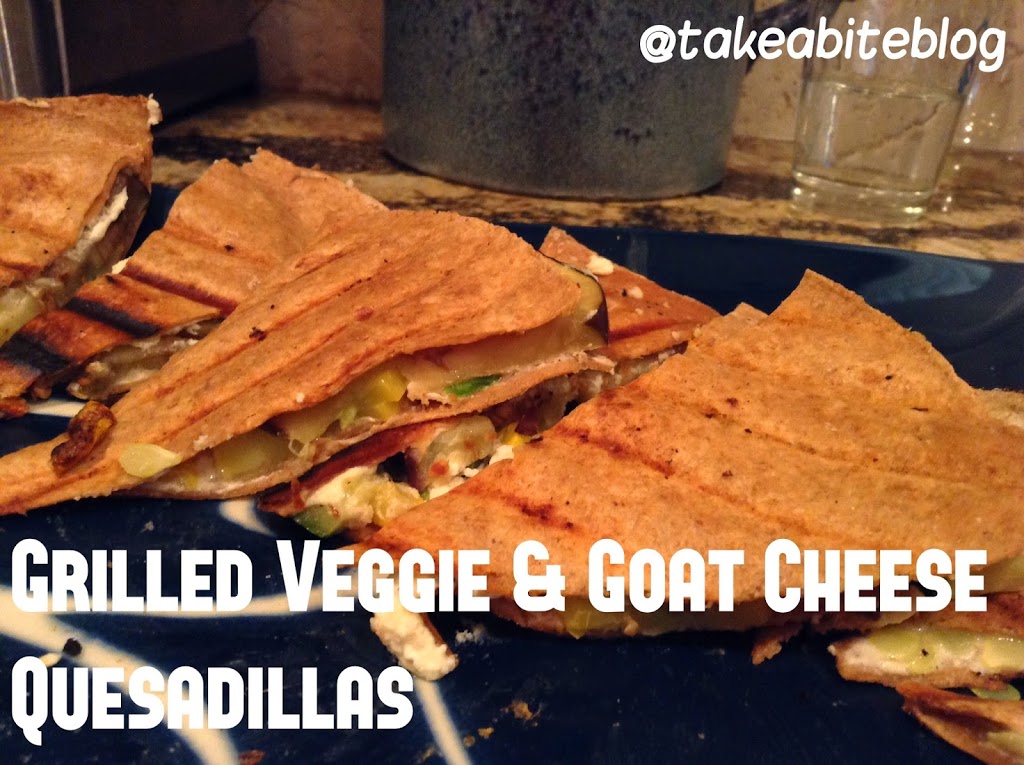 Grilled Veggie and Goat Cheese Quesadillas

1 package 10-inch corn tortillas
1 large eggplant, sliced in 1/4-inch rounds
2 medium zucchini, sliced in 1/4-inch rounds
2 medium squash, sliced in 1/4-inch rounds
1 large log goat cheese
salt and pepper

Heat a grill-pan over low-medium heat on the stove. Do not use cooking spray, butter or oil on the pan.

Make sure to take the goat cheese out of the refrigerator at least an hour before making the quesadillas so it softens. Smear one corn tortilla with a generous amount of goat cheese. Arrange the sliced vegetables on the goat cheeses. Sprinkle with salt and pepper. Lay another corn tortilla over top.

Place onto the grill-pan and cover with lid. Cook until grill marks appear on the tortilla and vegetables inside appear to soften. Use a wide spatula to flip the quesadilla to the other side and continue to cook until the vegetables are cooked through.