These Mini Salmon Cakes were responsible for another one of my proudest moments of
the night,
when I realized I'm totally and 100% capable of throwing a bunch of things in a bowl, mixing them together and creating something totally
crave worthy.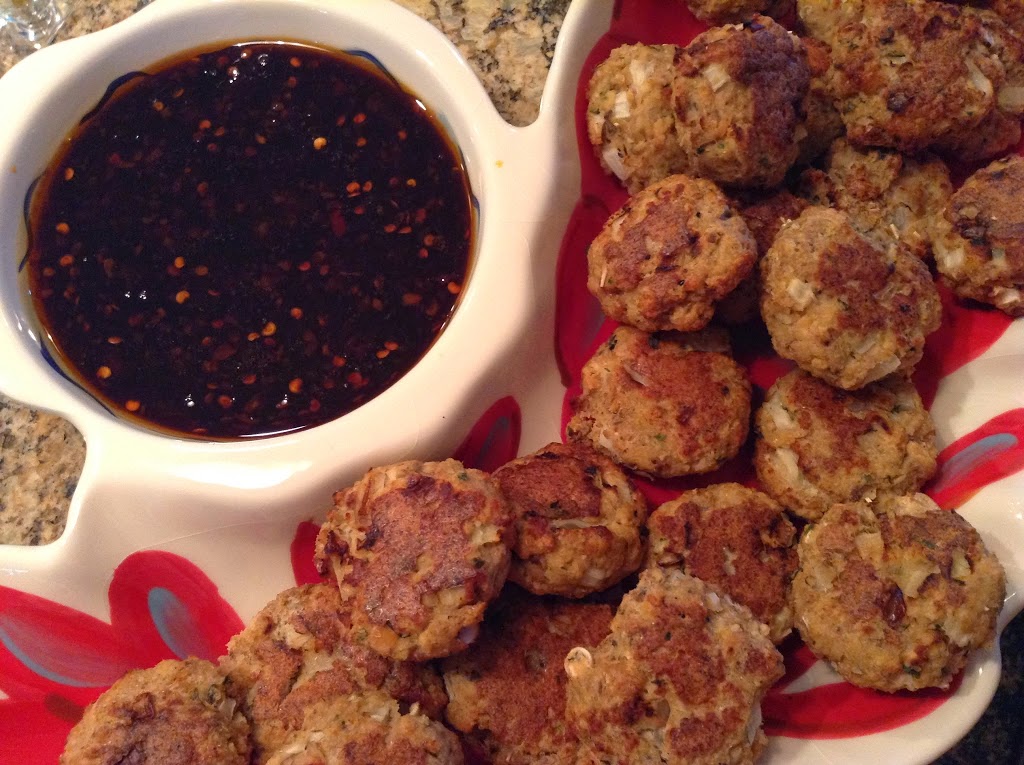 And I know they were craveworthy because they were gone pretty fast. I'm glad I grabbed one early on in the night!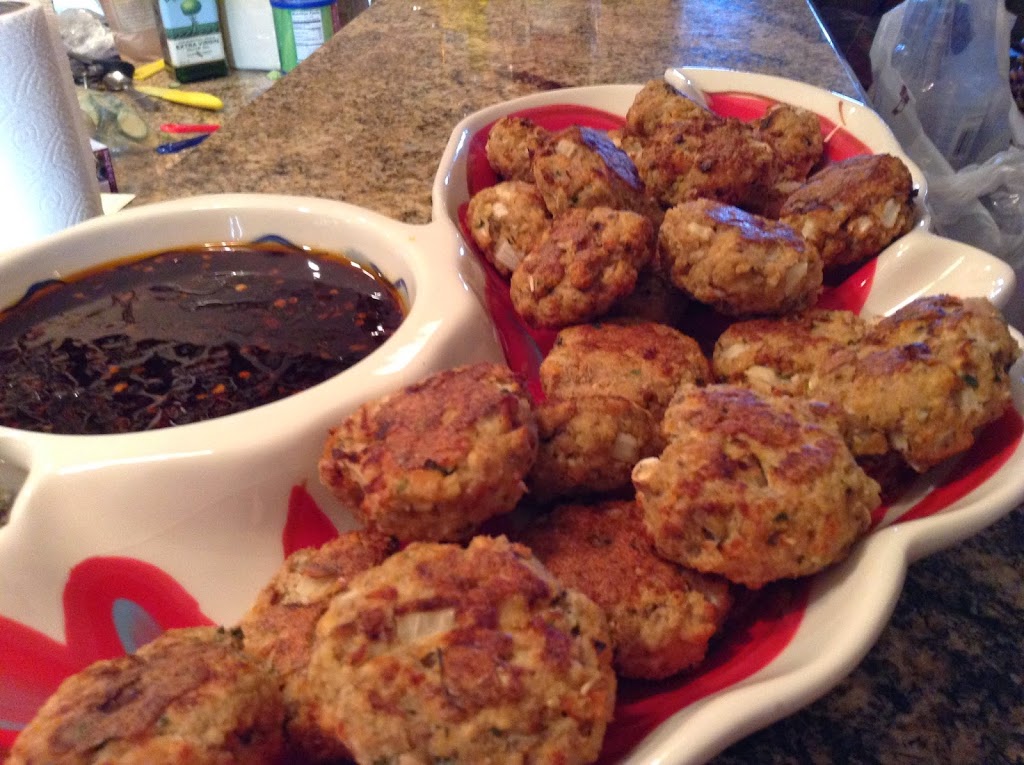 I love this Chili Garlic Sauce and have made it many times. The originally recipe is from Chef Rey over at Publix Aprons, but I have done little things here and there to make it my own — adding a pinch of Sriracha, some red pepper flakes, and a little honey to balance out all that heat. The salmon cakes were a total experiment for me; I've never made 'em before. I figured it would be very similar to the way Amy and I have made turkey meatballs at home, so I followed similar suit. The end result was way better than I expected. I actually didn't think I was going to like them, but when I sliced into that mini cake and dipped it into the sauce, I couldn't contain myself from smiling ear to ear. The sauce may have been a bit spicier than I intended it to be, but it doesn't matter — the salmon cakes did something to calm the spice down a lot. It was a match made in foodie heaven.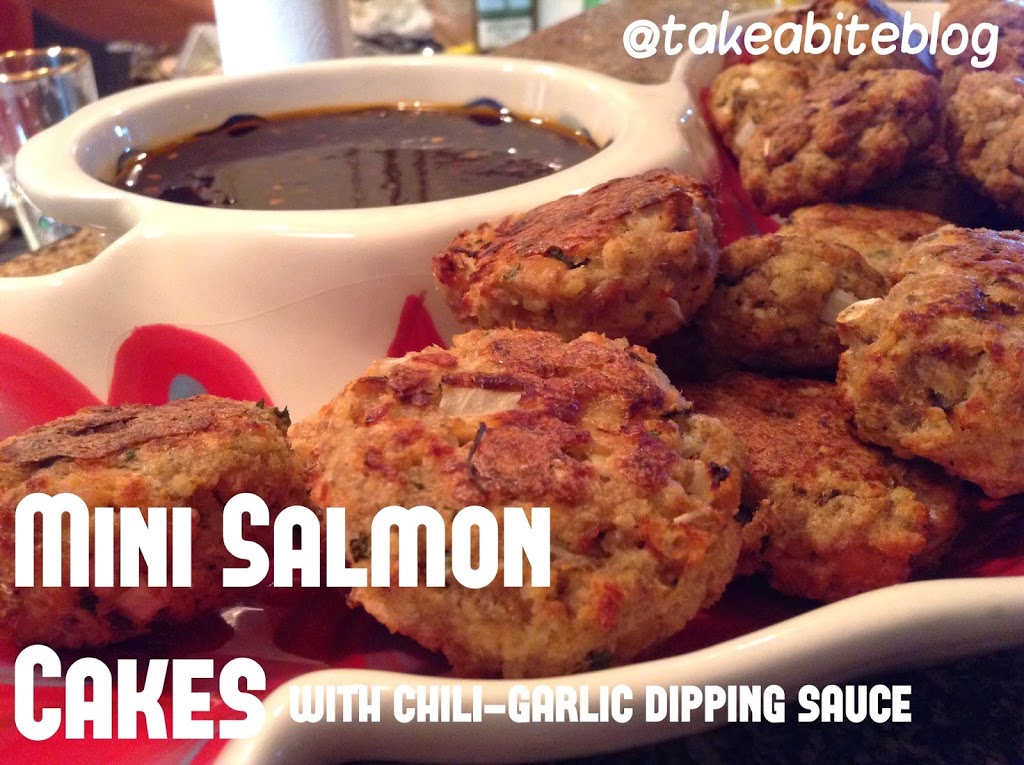 Mini Salmon Cakes with Chili Garlic Dipping Sauce
Makes ~30 mini cakes

For the sauce
2 tbsp olive oil
5-6 garlic cloves, minced
1 cup soy sauce
2 bottles Thai Kitchen Sweet Chili Sauce
1/4 cup sesame oil
1/2 tsp red pepper flakes
1 tbsp honey
1 tsp garlic powder
salt and pepper

For the salmon cakes
2 (13.5oz) cans wild Alaskan salmon, well-drained and flaked
3 large eggs, lightly beaten
1 cup Panko breadcrumbs
1 tablespoon fresh lemon juice
2 tbsp minced garlic
1/2 medium onion, finely diced
3 teaspoon Dijon mustard
dried parsley
salt and pepper
In a small sauce pan, heat olive oil over medium-high heat. Add garlic and cook until fragrant.
Add soy sauce and sweet chili sauce and stir well. Mix in sesame oil. Add Sriracha and red pepper flakes a tiny bit at a time, to taste. Stir in honey.
Reduce heat to low and continue to cook, covered, for about 20 minutes or until sauce has thickened. Keep refrigerated until ready to use. This will allow the sauce to thicken even more. Heat on the stove or in microwave when ready to serve.
Preheat the oven to 400 degrees.
To make the salmon cakes, combine all ingredients in a large bowl and mix well. Prepare a baking sheet with parchment paper or a silicone baking mat. Use your hands to form small 2-inch wide balls of the salmon mixture. Arrange on the baking sheet.
Bake for 10 minutes. Flip each salmon cake to the other side and continue to bake for another 10 minutes.