There is something to be said about simple meals that require you to just throw a bunch of things in a bowl and call it a day. They are always crowd pleasers, easily adaptable to just about any occasion, and full of so many different textures and flavors, it's hard to stop shoveling forkful after forkful into your mouth.
I know this, because I do it a lot.
The last time I visited home, I made this Quinoa Salad with Roasted Butternut Squash, Dried Cherries, Pomegranates and Pepitas with a honey-citrus dressing (recipe adapted from Two Peas and their Pod) and it was a hit with my mom and my sister while we watched the Winter Olympics Opening Ceremony. When my boss told me I could make whatever I wanted for his Tapas-style birthday party menu, I knew a version of this dish would make the cut. But I wanted to change it up a bit. I really hate to make the same thing twice. Instead of butternut squash, I used kambocha; instead of pepitas, I toasted some pine nuts; instead of the citrus dressing, I simply tossed it in a little aged balsamic vinegar. And I left out the pomegranates. Because, well, honestly? I forgot to add them to the shopping list.


I liked using kambocha squash better than the butternut because you don't have to peel it! Kambucha skin is so thin that it softened perfectly while cooking and is totally okay to eat. It also is a beautiful shade of green so it gave the dish another layer of color among the bright orange squash, deep red cherries, and the charred beige pine nuts. I could sit down to a bowl of this Quinoa Salad with Roasted Kambocha Squash, Dried Cherries, Toasted Pine Nuts and Balsamic any night of the week.

The measurements below are meant for a side dish for a large party, but you can easily make less. Please adjust accordingly!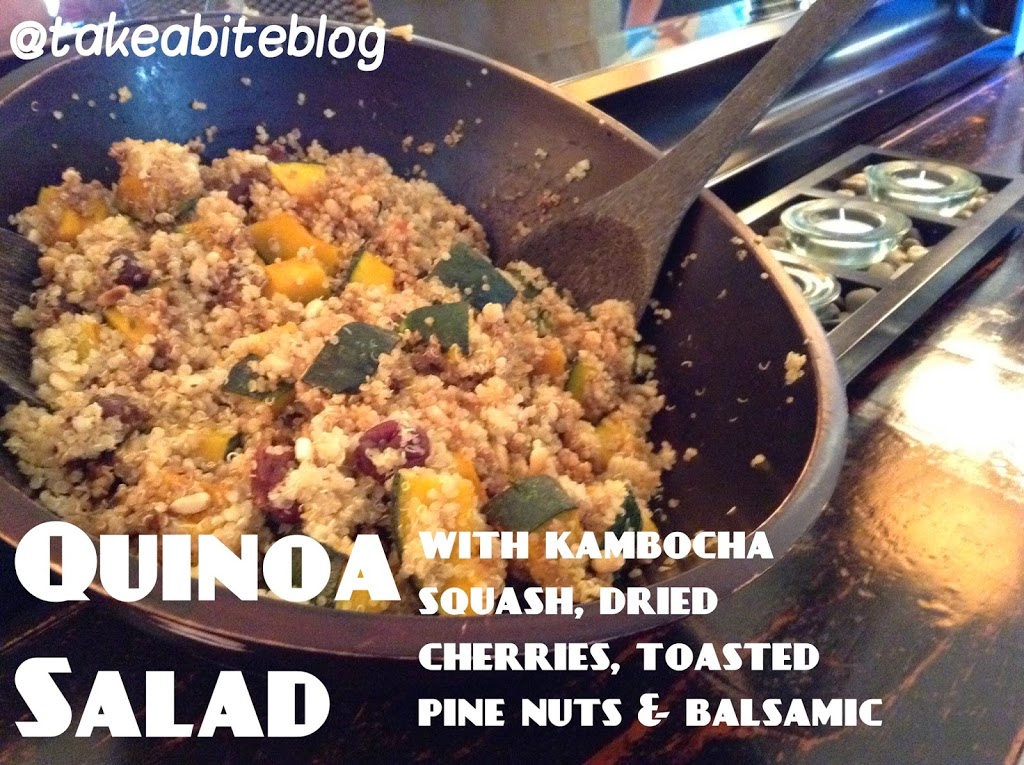 Quinoa Salad with Roasted Kambocha Squash, Dried Cherries, Toasted Pine Nuts and Balsamic

1 medium kambocha squash, seeded and cut into 1-inch dice
1 tbsp olive oil
3 cups quinoa, cooked according to package directions
1/2 cup pine nuts, toasted
1 cup dried tart cherries
garlic powder, salt, pepper
1/4 cup balsamic vinegar
Preheat the oven to 425 degrees. Toss diced squash with olive oil, salt and pepper, and arrange on a baking sheet lined with parchment paper or a silicone baking mat. Bake for about 30 minutes or until squash is tender.
Combine cooked quinoa, pine nuts and cherries in a large bowl. Add squash. Sprinkle garlic powder, salt and pepper to taste. Toss with balsamic vinegar. Serve warm.