I get star-struck around chefs the way other people get around celebrities from their favorite TV shows. When I met Jose Andres at South Beach Food and Wine, I couldn't even put into words how excited I was. I'm so inspired by him and his techniques, recipes, and electric personality. When putting together my Tapas Party menu, I knew I had to include the quintessential tapas dish: patatas bravas. I also knew the only person I could turn to for a recipe is none other than the man who spearheaded tapas in America — Jose Andres!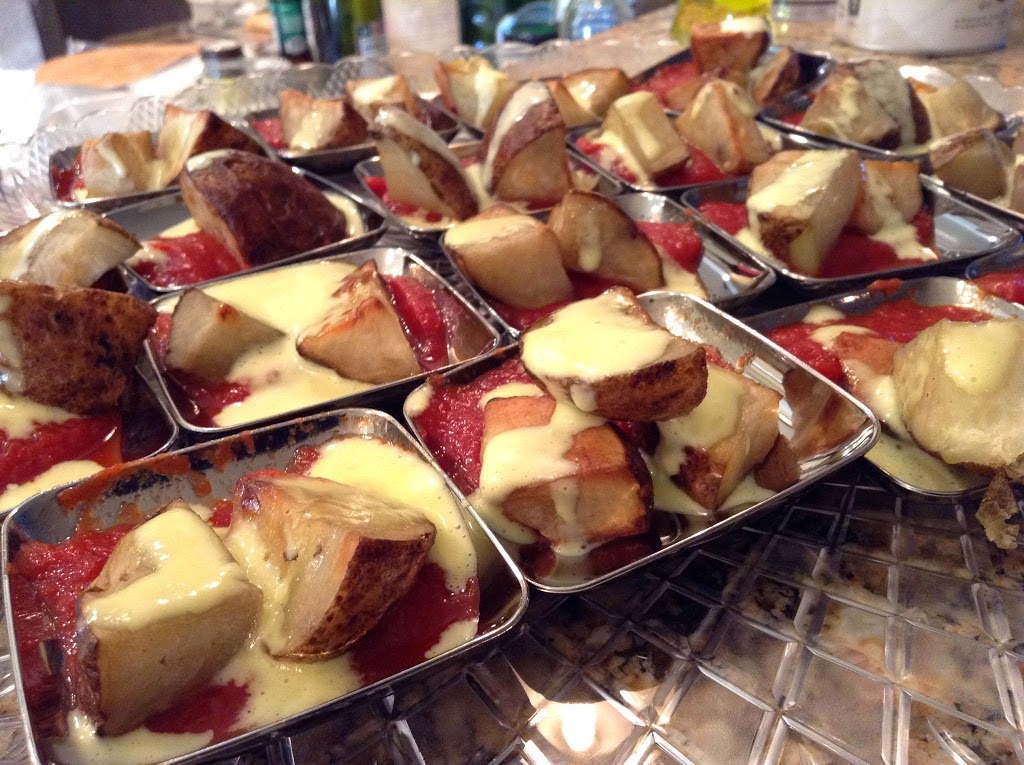 As I was making the sauce and aioli, I was extremely nervous. This is a lot to live up to, and I wanted everything to be perfect. The only thing I did differently was roast the potatoes instead of frying them, but those sauces…I followed Chef Andres to a T. And guess what? Both were PERFECT. Not only did the taste-testers before the party approve, but all the guests did too. I was ecstatic. I made a Jose Andres recipe and people actually ate it! Yay!
2 lbs russet potatoes, cut into 2-inch cubes
For the brava sauce
1 12 oz. can tomato puree
3 tbsp Spanish extra-virgin olive oil
2 tsp sugar
1 bay leaf
1 tsp Spanish paprika
1 pinch cayenne peppe
r

For the aioli
1 small egg
1 cup Spanish extra-virgin olive oil
1 garlic clove, peeled
1 Tbs. Spanish Sherry vinegar or lemon juice
Salt to taste
Preheat the oven to 425 degrees. Toss potatoes in olive oil, salt and pepper and arrange on a baking sheet lined with parchment paper or a silicone baking mat. Bake for 30 minutes or until browned and crispy.
To make the brava sauce, warm olive oil into a small sauce pot over low heat. Add the tomato puree, sugar, bay leaf, paprika, and cayenne.
Raise the heat to medium and cook until the mixture reduces by 2/3 and becomes a deep red color, about 20 minutes.
Remove from the heat. Add the vinegar, add salt to taste, and reserve.
To make the aioli, b
reak the egg into a small bowl. Add 2 tablespoons of the olive oil and the garlic cloves, along with the vinegar or lemon juice.
Use a hand blender to mix at high speed until the garlic is fully pureed into a loose paste. Little by little, add what's left of the olive oil while blending.
Add 1 tsp of water if the mixture appears too thick. Continue blending in the oil until you have reached a rich, creamy texture.

To serve, spoon brava sauce onto a plate and top with 3-4 potato cubes. Drizzle the aioli over top.