Never miss a bite! Sign up here to receive new recipes and reviews straight to your inbox.
Disclosure: I was invited to dine as a guest of the restaurant. No monetary compensation has been received for this post. As always, all opinions are 100% my own.
Temper Grille gets its name from the spicy attitude that its chef had in the kitchen when it first opened in Indiana back in 2010. Now, about seven years later and a second location under his belt, his hot head has gotten a little cooler and the name serves as a reminder of who he was when this all started, and a nod to the big, bold flavors he serves on a plate.
Founders Chef Sean Kelly and Erick Guerra brought their upscale American fusion tapas concept down to South Florida and found a spot tucked away in West Boca. Each dish is cooked to order, plated and served as it's ready — there are no heat lamps or microwaves. The two like to say that their food has "attitude." They've brought in Executive Chef Ryan Emmons for the Boca location, who adds his own style and flare to the menu with special features that will rotate every Wednesday. He works with local farms and purveyors to bring in fresh ingredients daily to really enhance the quality and flavor of every dish.
I always enjoy a tapas-style meal, as you can order a bunch of different dishes and try a little of everything. After a brief introduction from the founders, executive chef and general manager, it was time to dig in… We started with seared Ahi saku tuna, coated in sesame seeds and soy Asian ginger glaze, served with a soy wasabi sauce. The tuna was cut thick and very fresh and the sauce packed a punch. I would have liked the addition of fresh greens on top, maybe scallions or cilantro, and some kind of crunch factor, but I did really enjoy the flavors.
One of my favorites of the night was the chopped salad — a beautiful mix of sliced strawberries, Mandarin oranges, candied almonds, bleu cheese crumbles, dried cherries and parsley tossed with a blood orange vinaigrette and topped with green onions. A salad as refreshing as this could satisfy me any time of day. While I do love a veggie-heavy salad, a light and sweeter fruit-forward salad always hits the spot, especially when there are so many different textures and flavors balancing each other out.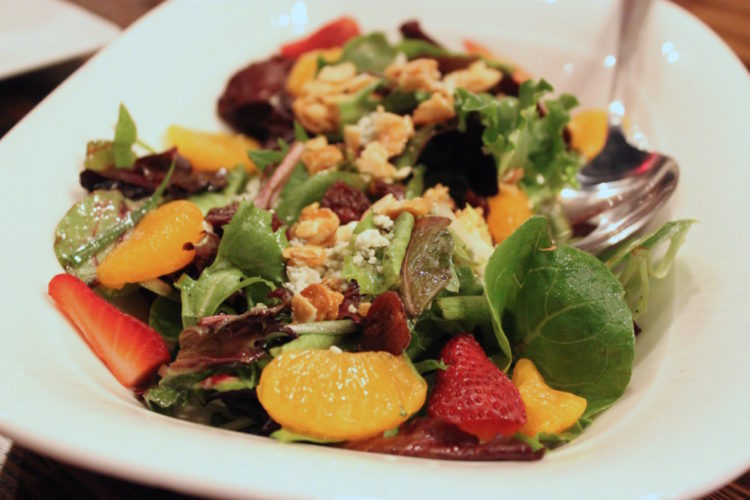 The meat-eaters got a taste of one of their signature dishes, the mini steak chimmi's — sliced steak with tomatoes and avocado served with crostini and a chimichurri sauce unlike any other I've ever tried. It was thick and creamy and bursting with bright flavor, whereas others I've tasted resemble more of a looser pesto. A sauce can really make or break a dish, and even though I wasn't having the steak, there was no reason I couldn't scoop out a spoonful (or two) to taste! Other meat-centric dishes our group got to try included the steak and duck bites, both dishes feature bite-sized pieces of seared meat served with a remoulade sauce.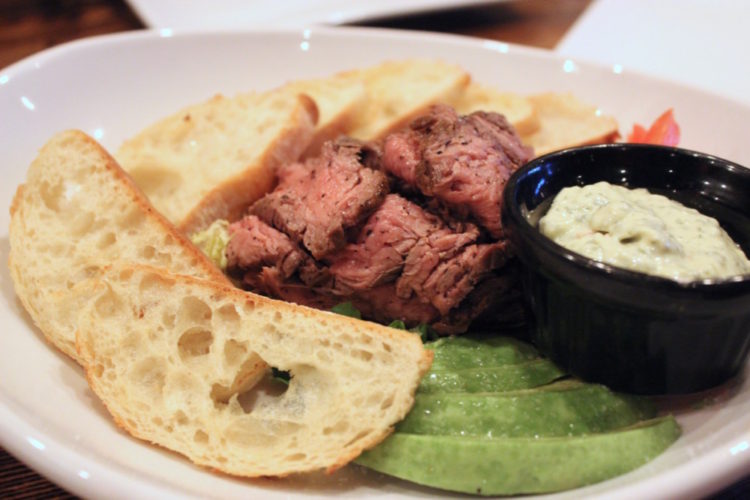 Onto the next course — big, beautiful U10 sea diver scallops, blackened and seared, served with a mango chutney. These were heaven. The crust on each of the scallops was sheer perfection, and the flavors were spot on. Sean and Erick are right about their food having attitude.
Speaking of attitude, the mac & cheese has plenty of it. Two versions graced our table — one with shrimp and one without. Both are made with four cheeses and topped with a buttery crumb. I know, I know, I'm not supposed to have more than a couple bites of pasta (starch) but I couldn't resist all of that ooey, gooey cheese and crispy topping. I went back for way more forkfuls than I should have, but it was just too good to resist. (Side note: if you're curious about what happens when I fall off track with this whole sucrose/starch thing, send me a private message and I will explain.) I'm pretty sure everyone at the table agreed that the mac and cheese was the night's MVP.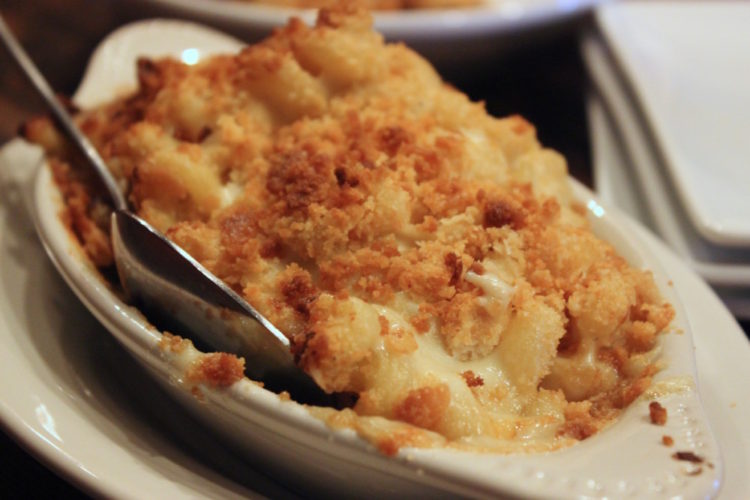 The third course of the night included another one of Temper Grille's signature "bites." The lobster bites come sauteed and finished in a garlic cream sauce on a bed of smashed potatoes. I was looking forward to this dish, but it fell a bit short for me. The chunks of lobster got kind of lost in the cream sauce and started to blend in with the potatoes — I wasn't sure what I was eating at one point. The flavors were there, but maybe a little less sauce and we'd be able to differentiate between the stars of the dish. And don't ask me why there was pita on the plate. It didn't really make sense to me either. Another dish we got to try was the creamed corn with red pepper sauce. Like I mentioned before, a sauce can make or break a dish — this red pepper sauce gave the creamed corn just the right amount of bold flavor it needed, otherwise it would have been a little lifeless. It wasn't as thick and creamy as I'd prefer my creamed corn to be, but the addition of the red pepper sauce definitely helped raise its points in my book.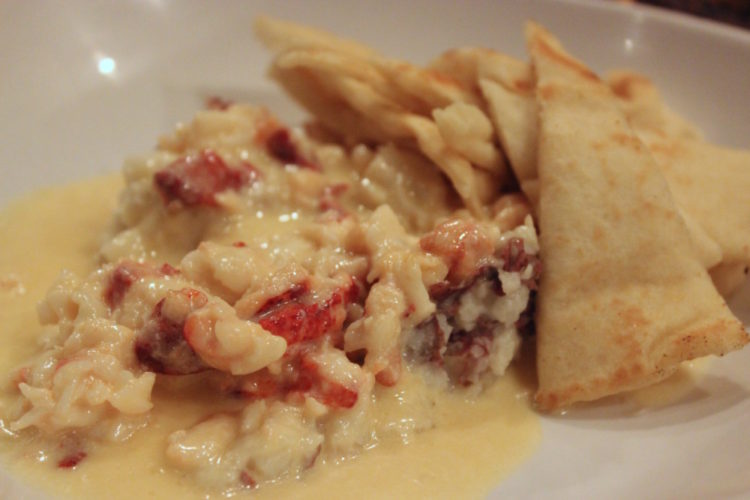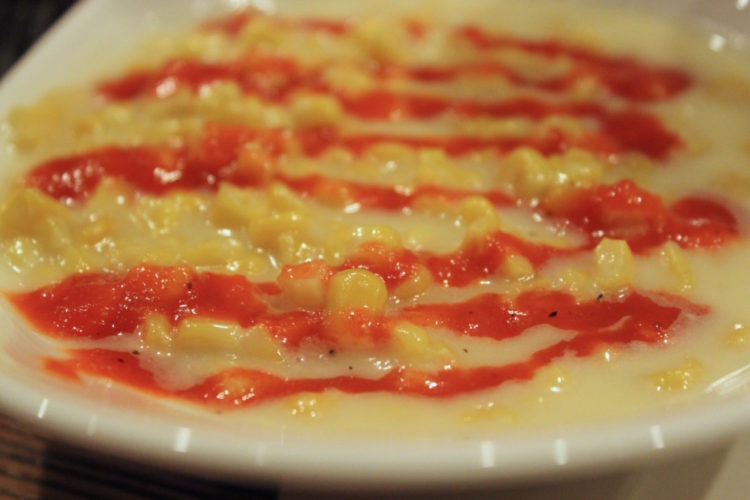 The Temper noodles, an Asian fusion dish of yaki soba noodles sauteed with a blend of veggies, seasoned with a Korean teriyaki sauce and spices and topped with a fried egg, was a welcome vegetarian-break from the meat and seafood. There was a little bit of heat, but not so much that it overwhelmed any of the ingredients. I dove in mostly for the veggies and was happy to find they were cooked very well and seasoned nicely.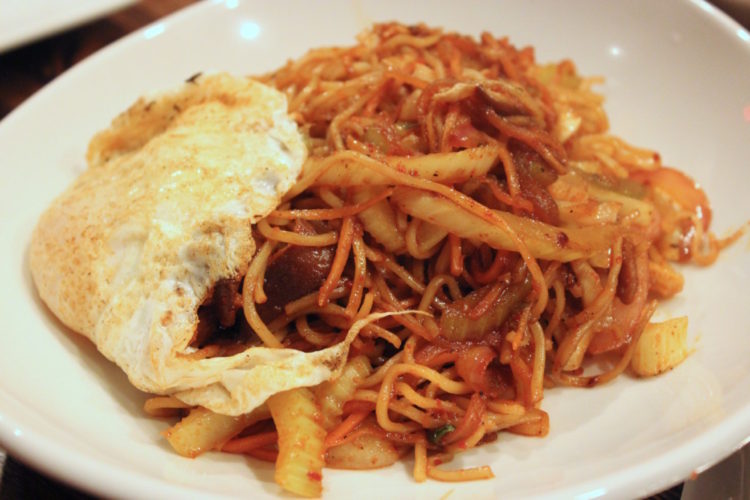 And then there was dessert… The chocoholic in me went crazy for the chocolate truffles dusted in cocoa powder. So rich and fudgy, so dense and decadent that the chocolate sticks to your teeth as you bite in and you almost want to keep it there to save for a late night treat…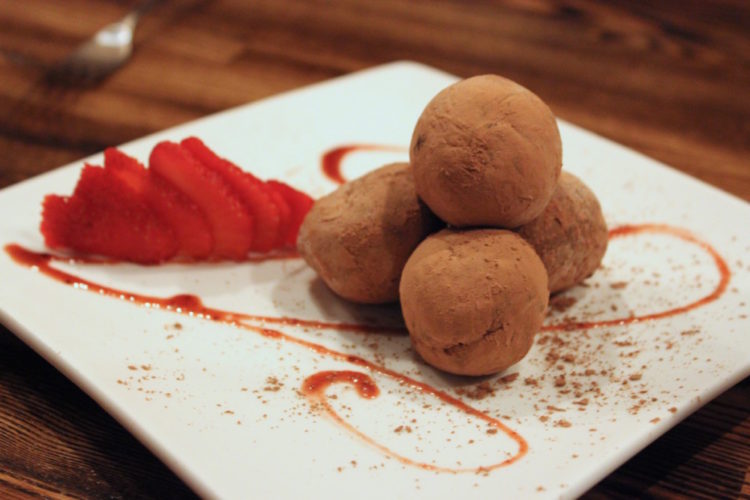 On the lighter side of things, we also tried the strawberry shortcake. Homemade grilled angel food cake is topped with balsamic fig strawberries and house-whipped cream. The cake was so light and fluffy, it was almost as if you were eating air, and the strawberries? You might as well have given me a whole container of them to finish off. The depth of flavor from the balsamic and figs was incredible. This might have been a lighter dessert than the truffles, but it was still just as indulgent and delicious.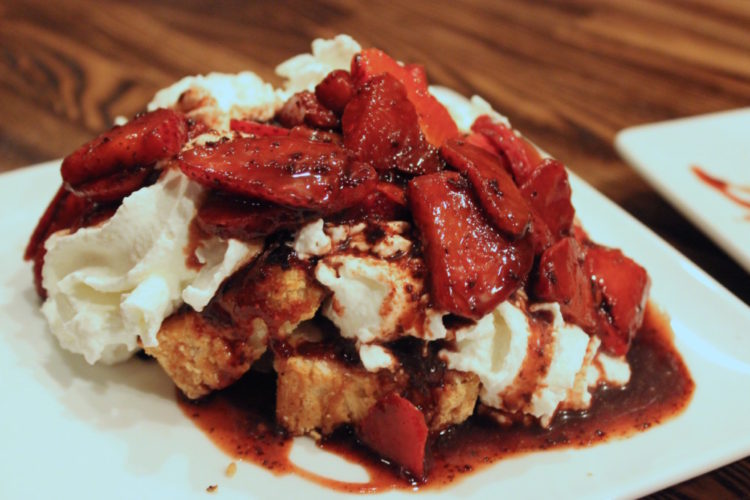 Temper Grille has a daily happy hour from 4-6pm, half-priced bottles of wine ($100 or less) every Tuesday and DJ entertainment on Friday and Saturday.
Temper Grille is located in The Reserve shopping center at at 9858 Clint Moore Rd. in Boca Raton.