Take A Bite Out of Telluride: A Weekend in the Mountains
Colorado is pure magic. Sometimes when I look at photos, it's truly hard to believe it's real. I recently spent a long weekend in Telluride, and had the best time. This small mountain town is surrounded by 13,000- and 14,000-foot peaks, with hiking and skiing galore, and plenty of restaurants and bars to keep my foodie self happy and full.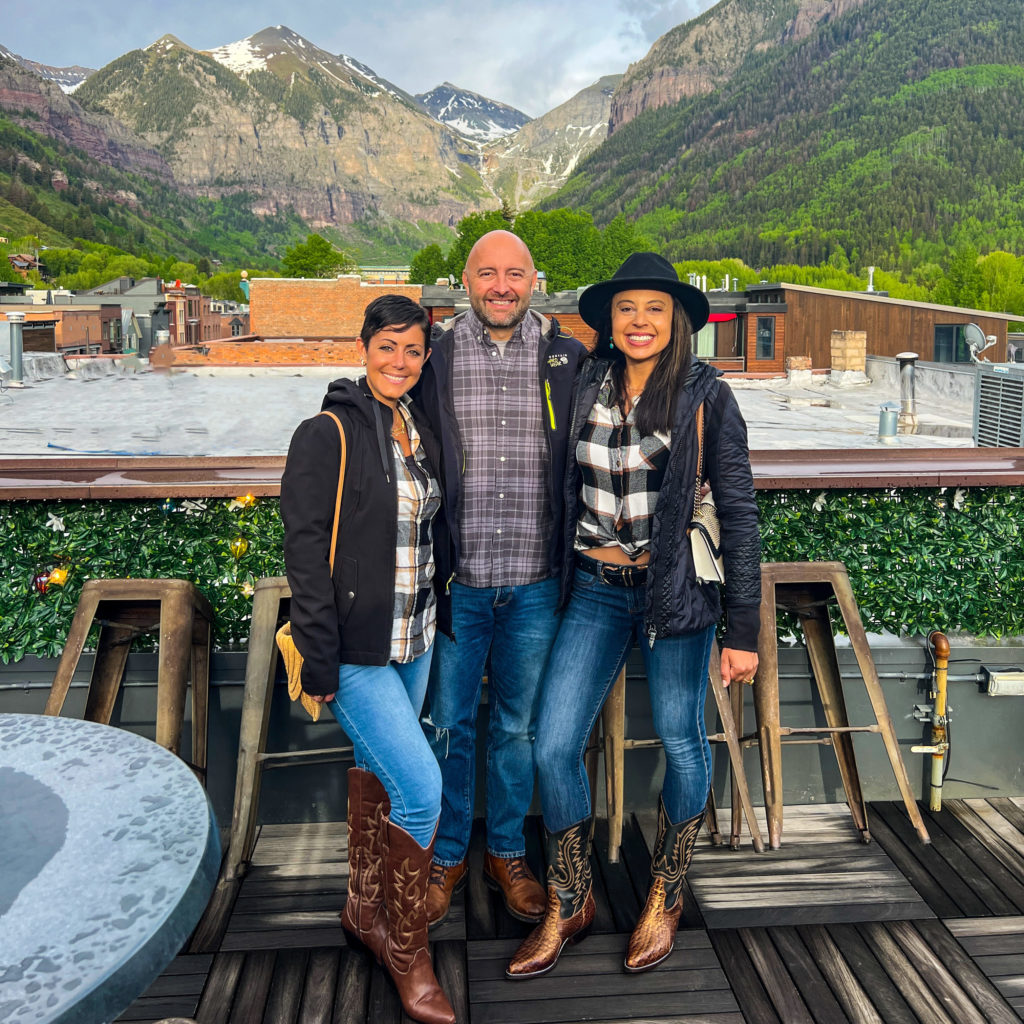 Telluride is also known for having played a big role in the history of the American West, and was designated National Historic Landmark District in 1964. (Source: Telluride Tourism Board)
I loved Telluride so much, I just had to share the full experience with you!
Where to Stay in Telluride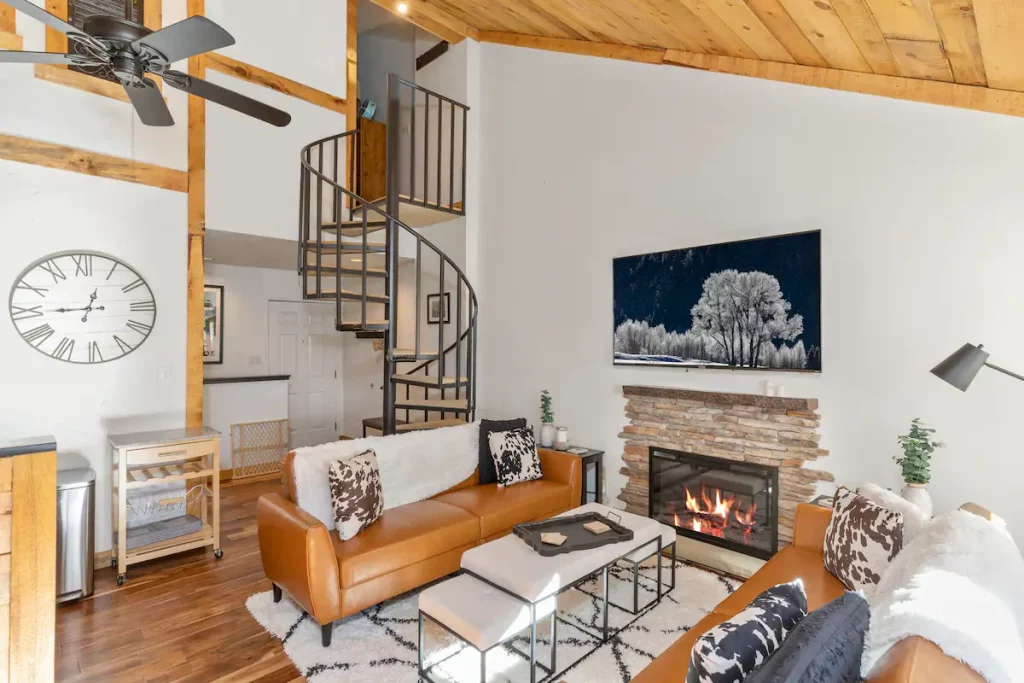 There are a few beautiful hotels and resorts in Telluride, but it seems like the majority of available lodging are short-term rentals. Roger and I stayed at a 3-story Airbnb on the west side of town. It's within walking distance of all the restaurants, shops, and festivals in downtown Telluride, including the Gondola base, where you can catch a ride up to Mountain Village where there are more shops, dining, resorts, events, etc.
It's also super convenient for those visiting during ski season. Chair Lift 7 is just footsteps away, and there is a ski locker available to use.
Even better, the condo is a block from one of the town shuttle's pickup stops. The shuttle, the Galloping Goose, takes you pretty much anywhere you want to go downtown. Even though everything is walkable, sometimes having a ride from one end of town to the other can be a huge lifesaver, especially in the cold and/or rainy weather.
This Airbnb has two rental options:
Entire condo rental: Sleeps 8 guests (1 bedroom with king bed, 2 bedrooms with queen beds, and 2 sofa beds in the living room), 2 bathrooms, full kitchen, laundry. View full details and amenities, and book here.
Private 1/1: Sleeps 2 guests (1 bedroom with queen bed), bathroom, kitchenette, private entrance, storage area. View full details and amenities, and book here.
Both rental options come with covered parking and access to a community area with a heated pool, hot tub, grill and patio furniture.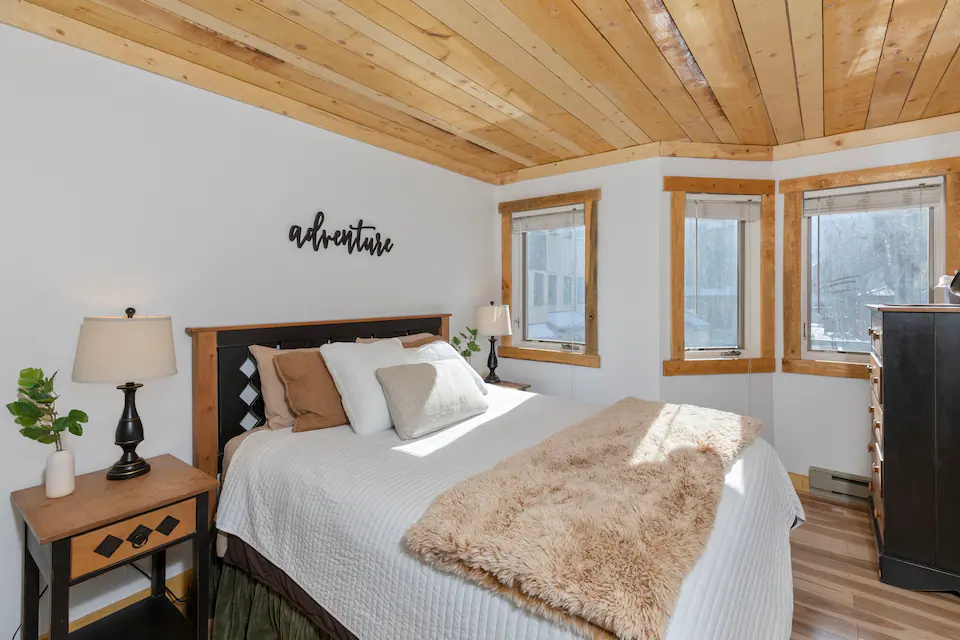 Where to Eat and Drink in Telluride
The restaurant scene in Telluride is booming, and there is no shortage of places with plenty of Shaina-friendly dishes. Just about everywhere we went featured lots of gluten- and dairy-free options. The majority of the restaurants here use locally sourced meat, dairy and produce, and make most — if not all — menu items from scratch.
Our first night in town, we had dinner at Floradora Saloon, a family-owned-and-operated restaurant that has been in business since 1973. As soon as I looked at the menu, my eyes immediately went to the butternut squash fries with chimichurri. I also had the ramen with salmon, mushrooms and bok choy for my main dish. Loved both, but those fries… I could eat those every day!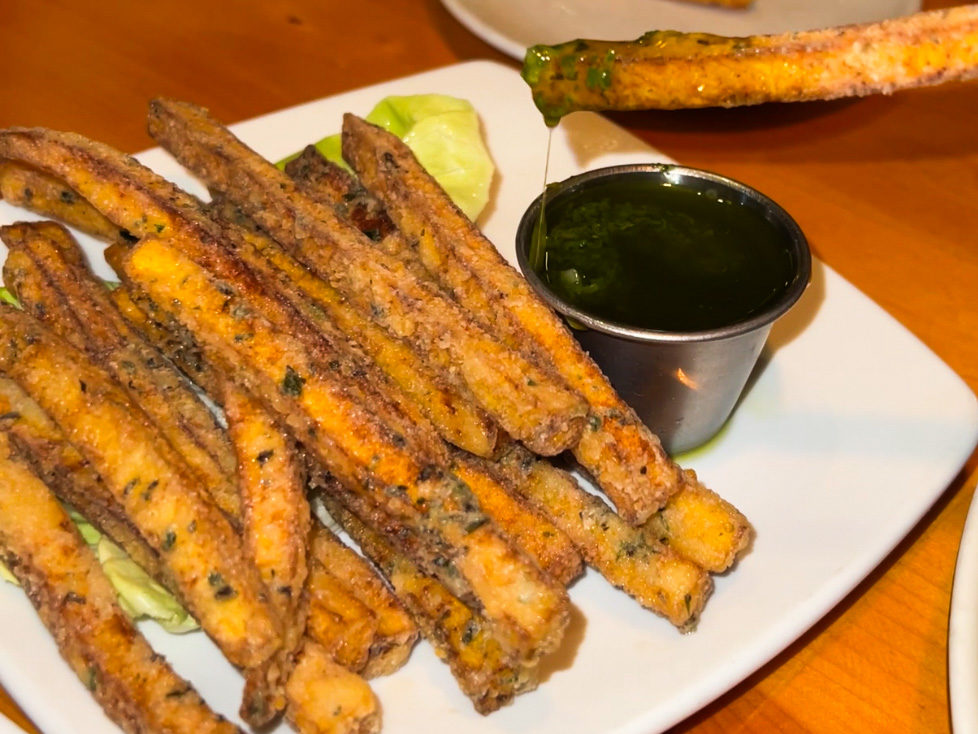 My favorite meal of the trip was at Petite Maison, a super cute and cozy "chalet" style restaurant with contemporary, elevated French cuisine. I started with the coriander-crusted ahi tuna with cucumber gazpacho, grilled asparagus and sun-dried tomato. This was a really bright and refreshing dish, and a good size to share as an appetizer.
My main dish, though…wow. The steak frites: an 8 oz hanger steak served with an arugula salad, crispy fries, and au poivre sauce. The dish was gluten free, and they were able to omit the compound butter so it was dairy free as well. The steak was cooked to perfection, which is sometimes an issue for me at restaurants. I'm picky. The sauce was a whole 'nother level of delicious. I poured it all over the steak and dipped all the fries in it.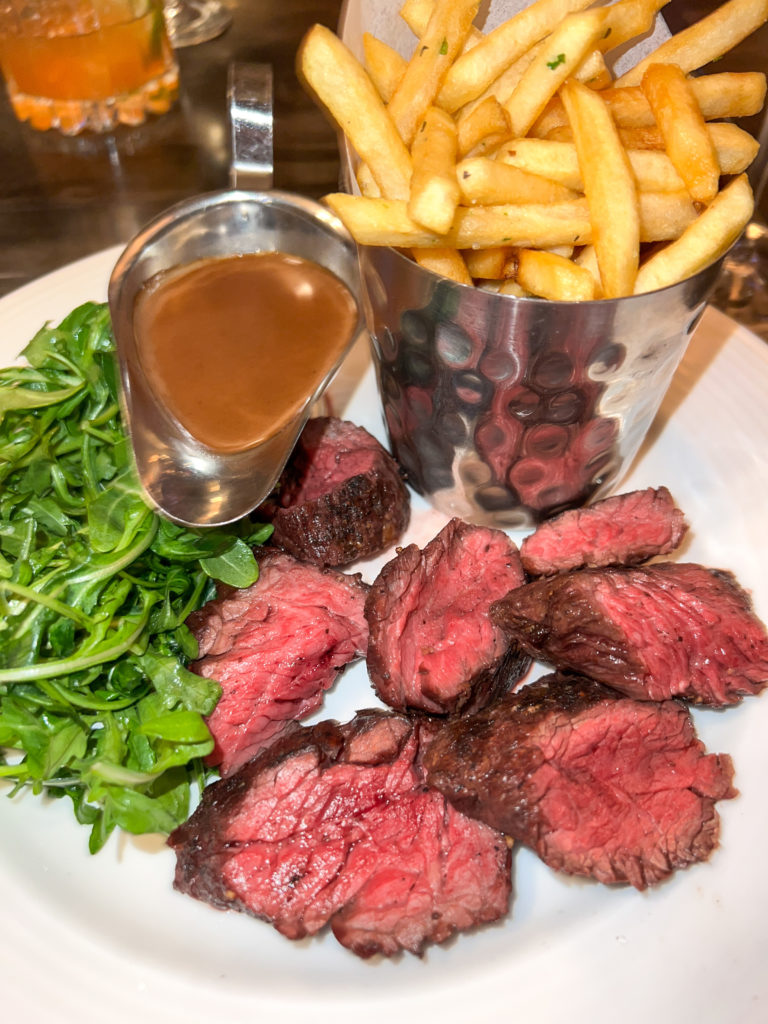 I really liked the vibe at The National, which is the sister restaurant to Petite Maison. Both restaurants do a great job with their beverage programs, not to mention also having delicious food at each establishment. A couple dishes to note include the Brussels sprouts with fresno chili, tahini-parsnip purée and shallot gastrique; and the salmon with cauliflower mousse, snap peas, bok choy and miso-ginger sauce.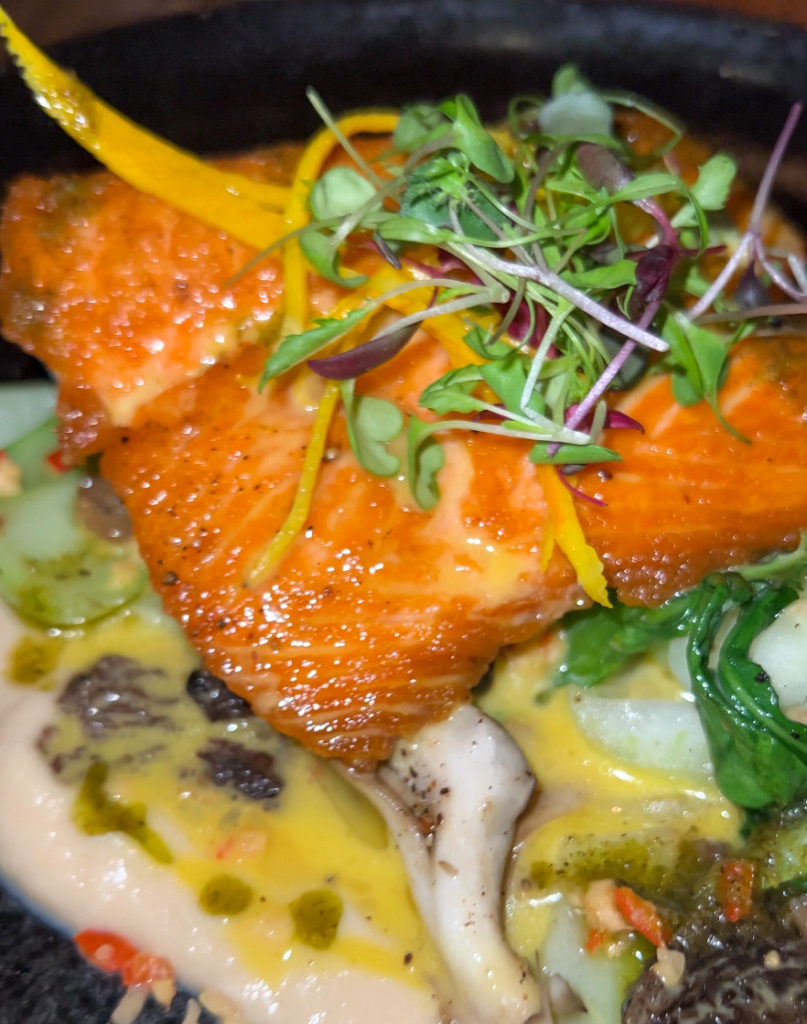 We also checked out 221 South Oak for the Sunday Brunch. I got an omelet with spinach, avocado, scallion and local chevré (goat's cheese). The watermelon mimosas hit the spot on what was the hottest day of our visit. The vibes here were really warm and friendly. I'd love to go back for dinner next time we're in town (and there will be a next time).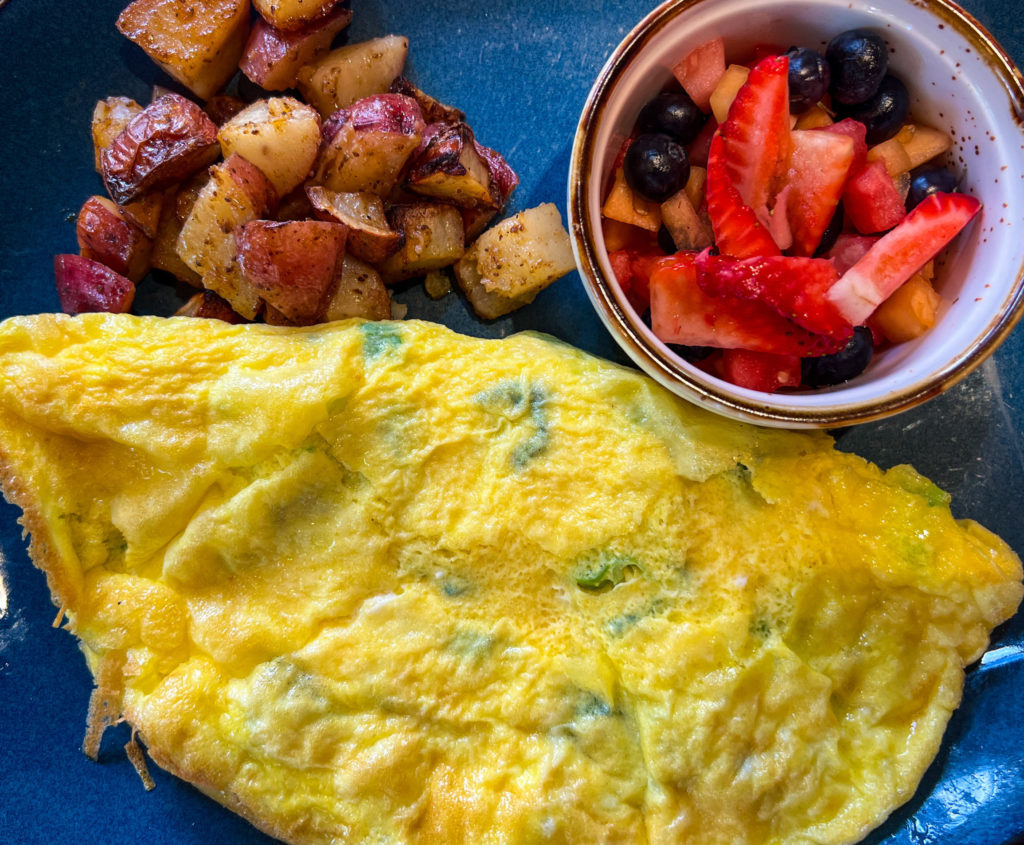 The Colorado lamb burger at Smuggler Union Restaurant and Brewery was one of the best burgers I have ever had. It came with pickled red onion, arugula, cucumber, roasted pepper aioli and local goat cheese (swapped for feta) on a gluten-free bun. We stopped here on a whim, and I am SO glad we did.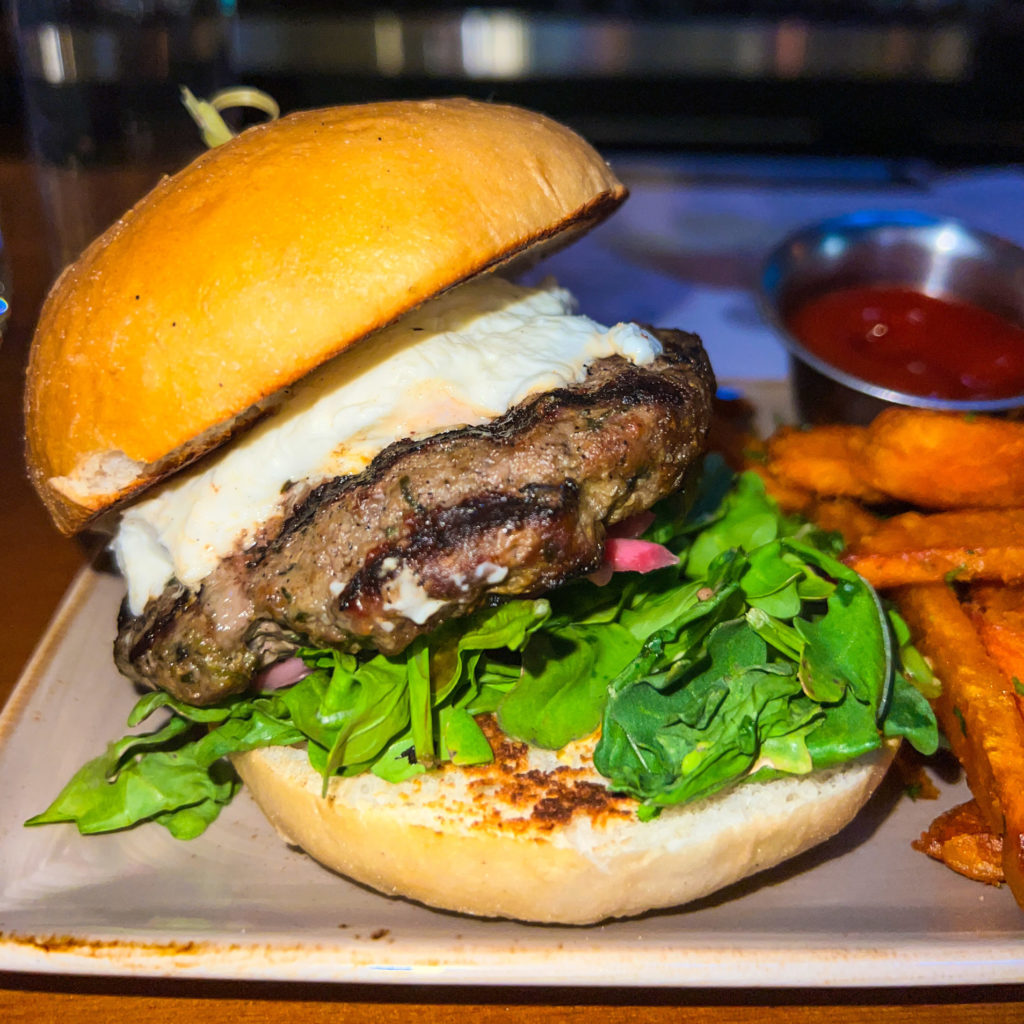 We loved the cocktail bar There. It was here that I discovered my favorite new drink, simply called 'Grapefruit.' It consists of dry gin, fresh grapefruit, St. Germaine elderflower liqueur, lime and lime zest. Yes, Roger and I have already recreated this at home.
A few other bars we enjoyed over the weekend were the Last Dollar Saloon, a historic building loved by the locals, and the bars at the New Sheridan Hotel. There's a casual rooftop bar there, and a really cool historic bar inside the hotel that has been around since 1895.
Things to Do in Telluride
Telluride is widely known for its incredible skiing in the winter, but summers are just as popular. There are countless festivals and outdoor events. Music, food, cars, art, film, comedy, sports… Everything!
Here is a full list of Telluride's summer festivals. We were there for the annual Bluegrass Festival, which takes place mid/late June. It was held outside at Town Park and was an absolute blast. Beware though. June can be tricky with weather. One minute it's raining or hailing, then it's freezing, then it's warm enough to throw on a sundress and sandals. Pack accordingly…which means like, three outfits per day.
You can't visit Telluride without getting in some hiking! The views are incredible, and there is nothing quite like seeing a 365-foot waterfall up close. That would be Bridal Veil Falls, where climbers can witness the tallest free-falling waterfall in Colorado. It was breathtaking, to say the least. I found the climb challenging — we did about 2.5 miles total with an 800-ft elevation gain. I did have to stop and catch my breath every once in a while, but overall it wasn't too bad.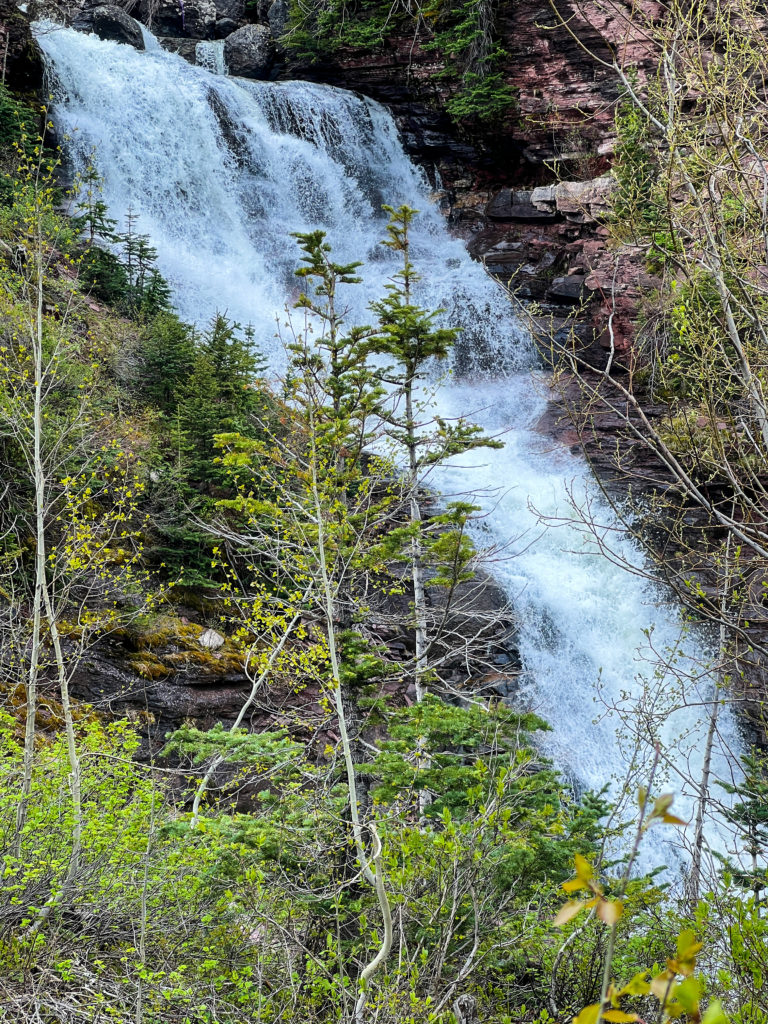 We also hiked through Bear Creek Trail, which is one of the most popular hikes in the area. It's about a 2-mile steady climb up through the preserve, with lots to see along the way. Beautiful mountains and falls, and we could also see down into Town Park where the festival was going on and people already had their tents pitched and were listening to the music.
Roger booked a fly fishing guide while we were there, and had a hugely successful morning catching fish. He booked through Telluride Outside, which is said to be the region's most experienced guide service offering fly fishing, 4-WD tours, whitewater rafting, snowmobiling and SUP tours.
Book Your Travels to Telluride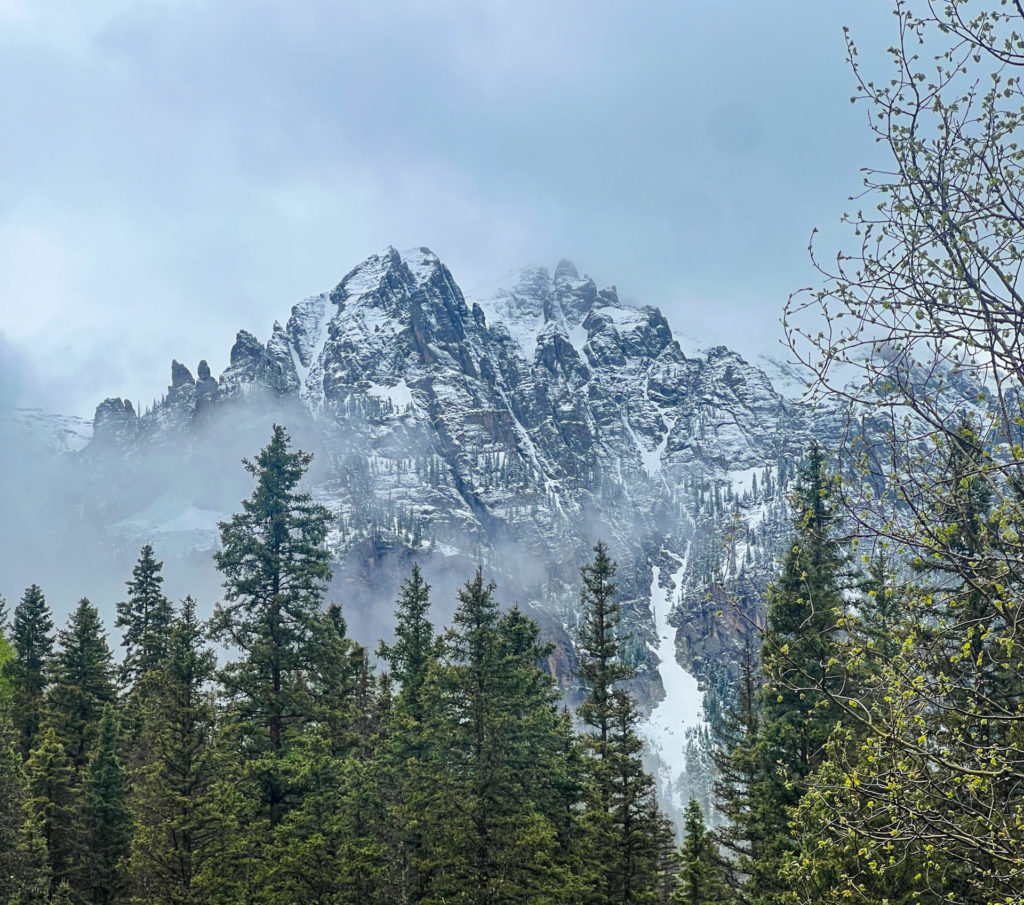 I am already thinking about our next visit to this adorable little mountain town. I'd even be ok with visiting in the winter, even though I don't ski or like the cold all that much. There is enough to see and do that I could stay warm and occupied indoors.
One thing to note: if you fly into Montrose (MJT), it is about an hour-and-a-half drive to Telluride. You really do not need a car in Telluride, so to avoid having to get a rental, there is a shuttle service that will pick you up at the airport and drop you off exactly where you're staying. It can also pick you up at your Airbnb, hotel, etc. and bring you to the airport. Here's more info on the Telluride Express.
If Telluride has been on your travel list, now's the time to do it. If this blog hasn't convinced you enough, just shoot me an email or a DM on social media and I'm happy to provide lots more insight.