Never miss a bite! Sign up here to receive new recipes and reviews straight to your inbox.
Disclosure: I was invited to dine as a guest of Terra Mare. No monetary compensation has been received for this post. As always, all opinions are 100% my own.
Fort Lauderdale Beach welcomes new dining spot, Terra Mare, where guests can experience the best oceanfront 'land and sea' dining with fresh, locally sourced ingredients.
The restaurant is led by Swedish-born Executive Chef Johan Svensson, whose culinary career was spent largely under the mentorship of the well known chef and restaurateur Marcus Samuelsson at Aquavit in New York City. He's also worked at Bond Street New York and Nobu of London, and alongside celebrated chef Laurent Tourondel at BLT Steak and BLT Market in Waikiki. Chef Johan's talent comes across very clear in his menu at Terra Mare, where full plate sharing is encouraged, rather than individual bites, to highlight the communal dining experience.
I had the opportunity to experience Terra Mare not long after its opening at the end of September, and I have just one minor complaint… Timing. The restaurant has a beautiful outdoor dining area with a perfect view of Fort Lauderdale Beach. Unfortunately for me, daylight savings time took over and it was pitch-black outside when we arrived for dinner. I may not have gotten to experience the oceanfront dining that the restaurant will undoubtedly become known for, but the inside dining area is just as special. It's a gorgeous space with natural materials making up the unique decor — think real driftwood and sea coral, and the beautiful colors of the ocean. The atmosphere can be described as sleek and modern, but also very organic and earthy. I felt comfortable the moment we walked in, and couldn't wait to try the food!
But first, a cocktail! The cocktail menu at Terra Mare features drinks using cold-pressed juices, traditional favorites, tiki-inspired drinks and twists on classic brunch cocktails. I tried the Pimm's Fizz made with Pimm's, St. Germain and prosecco. I love my bubbles, but the Pimm's was a bit strong for me. Check out the Jessica Rabbit with Avion silver tequila, combier, carrot, fresh OJ, lime, cilantro and jalapeño or the Curious Colada with Baileys, Myer's rum, banana liqueur, coconut syrup and banana.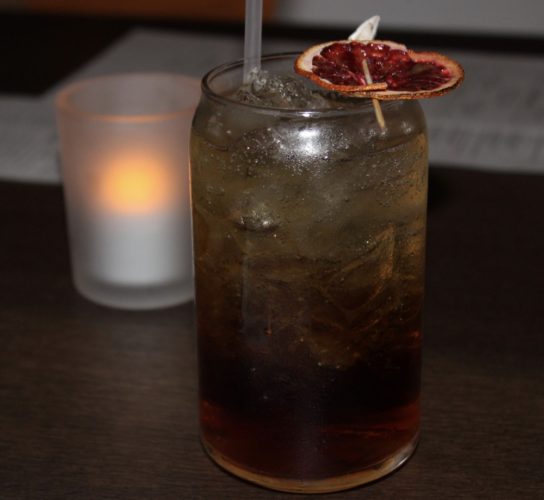 The menu is split in half — the left side with the 'land' dishes and the right side with the 'sea' dishes. While the majority of my dinner came from the right side, there were a few left side dishes I just couldn't go without. The first? Blistered shishito peppers with a lemon saffron crème fraîche. Shishitos have become one of my favorite appetizers. They were so perfectly charred, and the light, citrusy lemon saffron crème fraîche really helped to balance any spiciness from the peppers. This is literally the first item listed on the left side of the menu, and I guarantee it's the first item anyone who sits down will order every single time they visit.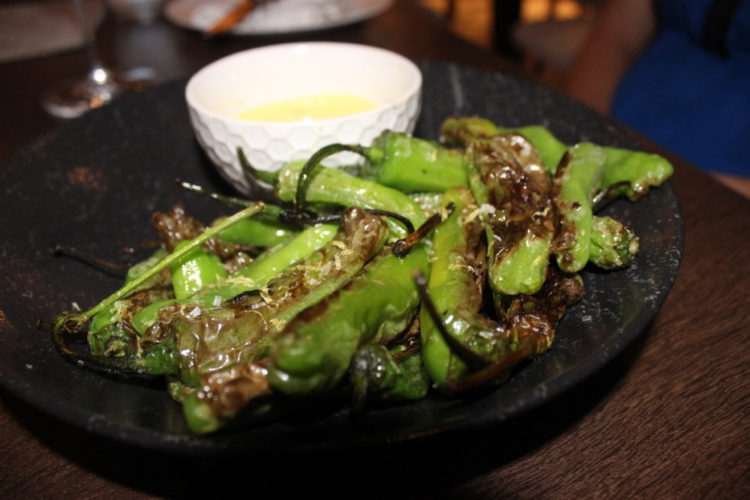 I physically cannot visit a restaurant that offers a fresh seafood platter without ordering it. It's just not possible — and seems like it should totally be against the law. At Terra Mare, the platter consists of half a Maine lobster, jumbo shrimp, crab cocktail, snapper ceviche and a half-dozen oysters, with cocktail sauce, yuzu butter and spicy dijonaise. First off, we need to discuss just how insane the spicy dijonaise sauce was. I love any kind of mustard sauce with fresh crab, and this was the perfect partner for the crab cocktail. I know cocktail sauce is traditional for the shrimp, and butter for the lobster, but can we stray from traditional for just one second? I dipped everything into that spicy dijonaise — and I have no regrets! Every piece of seafood was incredibly succulent and fresh. The ceviche was a nice touch — it's not always something that is included in a seafood platter, but instead only offered separately. You get a little bit of everything in Terra Mare's seafood platter. After this and a bowl of shishitos, you might think you're full… But don't let your stomach trick you. There is still plenty more you need to try!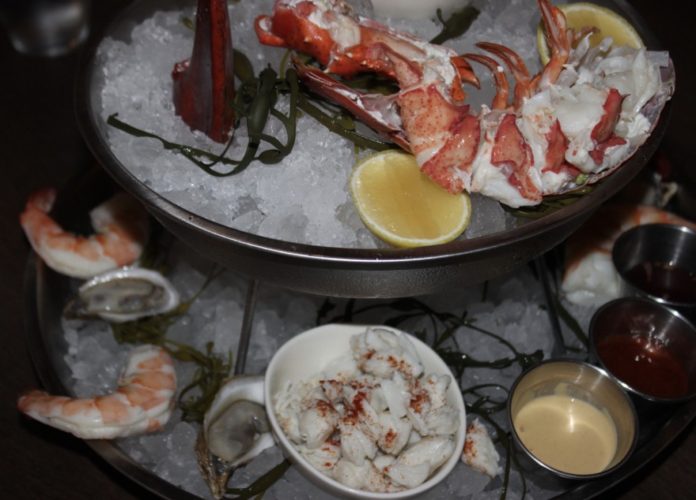 The small plates section is full of goodies, but one in particular you must try is the heirloom tomato salad with stracciatella, crispy prosciutto and basil vinaigrette. Obviously you know I didn't have any of the prosciutto, but I imagine its saltiness was a welcome flavor enhancer of an already yummy plate of food. Unfamiliar with stracciatella? Prepare to have your mind blown — stracciatella is the ooey, gooey, creaminess you find at the center of a ball of burrata cheese. It tastes just as amazing as it sounds, I promise. The basil vinaigrette drizzled on the plate added a hint of sweetness to bring the dish way over the top.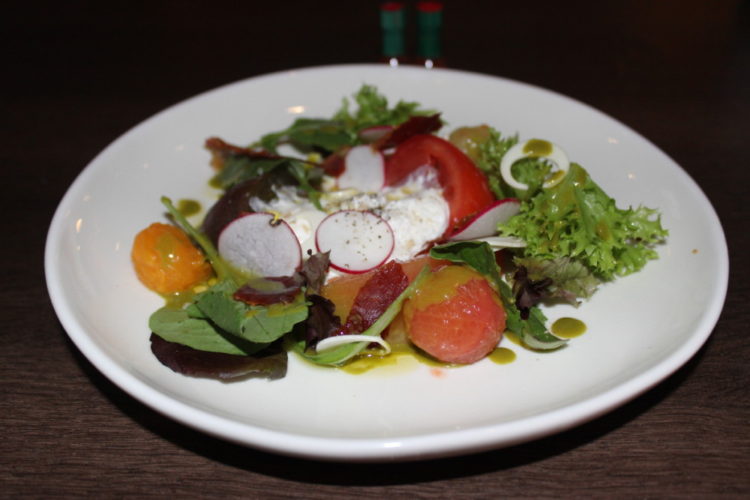 For our entree, we chose the salmon, prepared two ways — seared and as a tartare with cucumber, avocado and soy beurre blanc. The piece of seared salmon was expertly cooked, exactly the way I like my salmon cooked. Its sear was the definition of perfection, and the simple yet explosive flavor had me going back for bite after bite. The tartare was creative and presented beautifully — I only wish there had been more of it!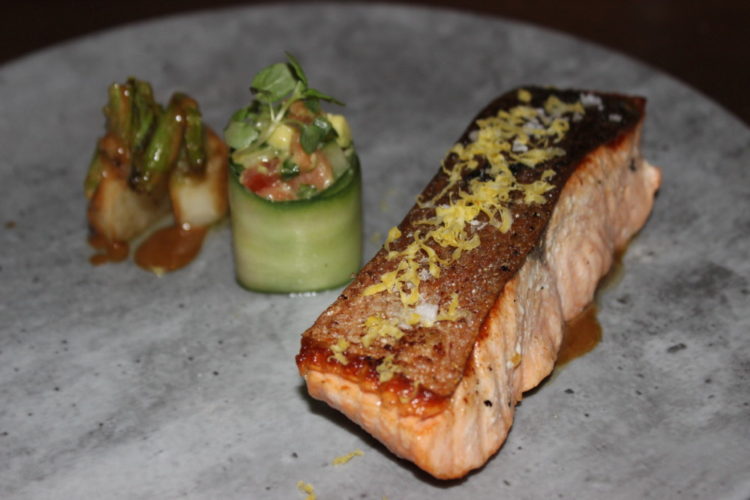 You can never have too many vegetables, right? Choose from one of the Terra Mare's sides to accompany your entrees. We chose the roasted root vegetables, because this time of year always has me craving all of the root veggies.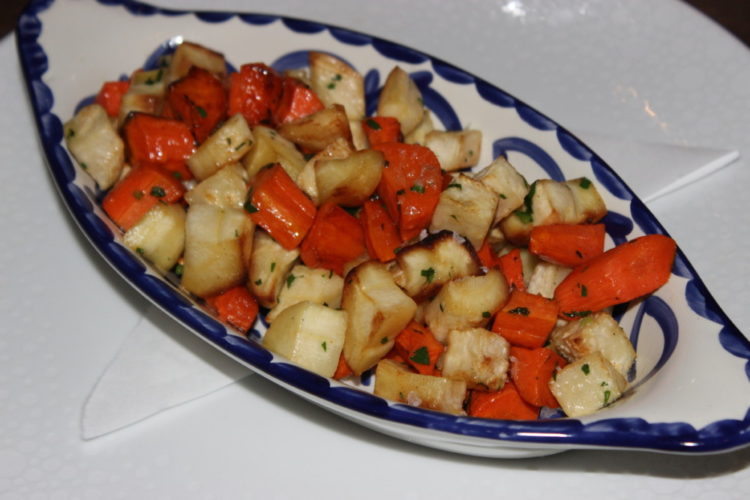 No dinner as delicious as this one could ever be complete without dessert. If I didn't already blow your mind with the definition of stracciatella, I'm going to make up for it here… Terra Mare offers a tableside build-your-own ice cream sundae cart, complete with everything from Swedish Fish and brownie bites to berries and nuts. You'll be served a bowl with three scoops of ice cream that is just screaming at you to fill it up with all of the yumminess on the cart. Don't forget the chocolate fudge and cherry on top!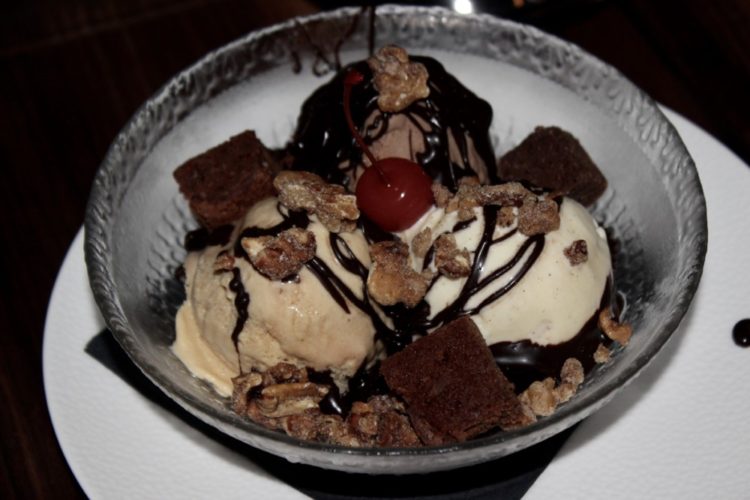 But why stop there? There are other desserts to indulge in, like the Nutella chocolate mousse with pecans, sesame tuile and caramel ice cream. I'm not sure how it could get any better than this. I have no words. Just know that it was too good to leave one drop on the plate, and I pretty much had to be rolled out to the car. Like I said earlier… No regrets.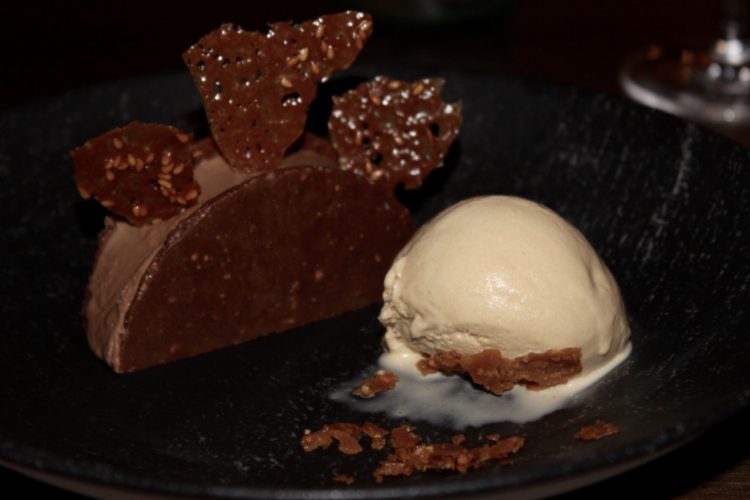 Terra Mare is open for breakfast Monday through Sunday from 7-11am, lunch Monday through Friday from 11am-5pm and dinner Monday through Thursday from 5-11pm, Friday and Saturday from 5pm-12am and Sunday from 5-10pm. Brunch is served Saturday and Sunday from 11am-5pm. Terra Mare is located at 551 N. Fort Lauderdale Beach Blvd. in Fort Lauderdale.