Aside from watching just about every cooking competition on TV, I've also got a pretty lengthy list of shows that I watch religiously. During the summer, my DVR is no where near as full as it is during the fall/winter season, but there are still a few shows I can't do without. One of which is Pretty Little Liars. Yes, it's totally unrealistic and dramatic, but I can't get enough! I love the main characters — whoever did the casting for the show is brilliant, and the stylist is even more amazing. Anyway, Tuesday nights are dubbed Pretty Little Liars night in my apartment and lately, my friend Lindsey has been coming over and we'll cook or bake and watch our show. Linds loves Nutella and has been begging me for months to bake something using it. I found a crazy-simple recipe on Pinterest a while back, but
never
have gotten around to it. Well, what better occasion than one of our PLL nights to bake these delicious cookies? We grabbed dinner from a deli nearby, Two Jays (if you live in Florida, you must know and love Two Jays!) and then headed back to my apartment to bake!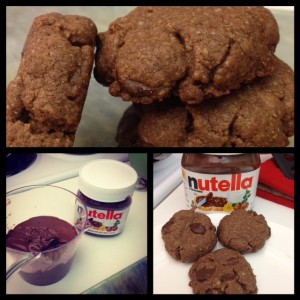 If you aren't familiar with this creamy hazelnut spread, you need to get acquainted with it very, very soon. It's rich, creamy and chocolately with a nutty zing to it. The recipe is from Tasty Kitchen and all it requires is 1 egg, 1 cup of flour, 1/2 cup of sugar and 1 cup of Nutella. We thought to add in Ghirardelli bittersweet chocolate chips for an extra punch of chocolate — you really can never have too much chocolate!
The batter made a pretty large batch of cookies, but that didn't matter at all; they were still gone in a day. I brought them to work and one by one, each of my co-workers snuck into the kitchen to take a cookie… and another… and another… 
When Lindsey and I first tried them, we didn't even have words for how good they were. We both took a bite and were just silent. The chocolate chips were perfectly melted inside so each bite oozed with chocolate. They were soft and chewy, but still crisp.
I bet the same recipe could be altered using peanut butter or any other nut butter for that matter, and of course more chocolate chips or other flavored chips, for the same chewy, crispy cookie that satisfies a sweet tooth with minimal ingredients and takes less than 20 minutes from prep time to cool down.
Next time you have a craving for food, these cookies will be your best friend. They are delicious and nutritious, and will satisfy your hunger without making you feel guilty. So go ahead and indulge yourself in these yummy cookies!