Never miss a bite! Sign up here to receive new recipes and reviews straight to your inbox.
Local chefs, restauranteurs, foodies and anyone looking for a good time have dedicated the past 15 Wednesday nights to a series of cooking competitions held at Max's Harvest between the best of the best. Chef vs Chef has been one of the most successful weekly events to hit Delray Beach — it has brought the community together in so many ways. The finale was this past Wednesday, September 23rd. We all watched James Strine from Cafe Boulud in Palm Beach and John Thomas from Tryst in Delray Beach take on the secret ingredients, gator, sunflowers (their seeds, oil, and shoots), and whole coffee beans, ground espresso, and cold brew. In the end, James Strine came out on top! Read the full recap from Claudia Dawson/Broward Palm Beach New Times here.
It's bittersweet to see Chef vs Chef come to an end… BUT, don't you worry — the Wednesday night fun isn't going anywhere, except, well, a few blocks down the road. The battle between the best will continue at Max's Social House with BAR BRAWLS!
I'm super excited to be a sponsor for Bar Brawls, and can't wait to see what kind of crazy, inventive concoctions these bartenders will whip up. I'll be posting the winning cocktail recipe on Take A Bite Out of Boca each week, so make sure to check the blog, Facebook, Twitter, Instagram and of course, sign up for my weekly newsletter so you don't miss it!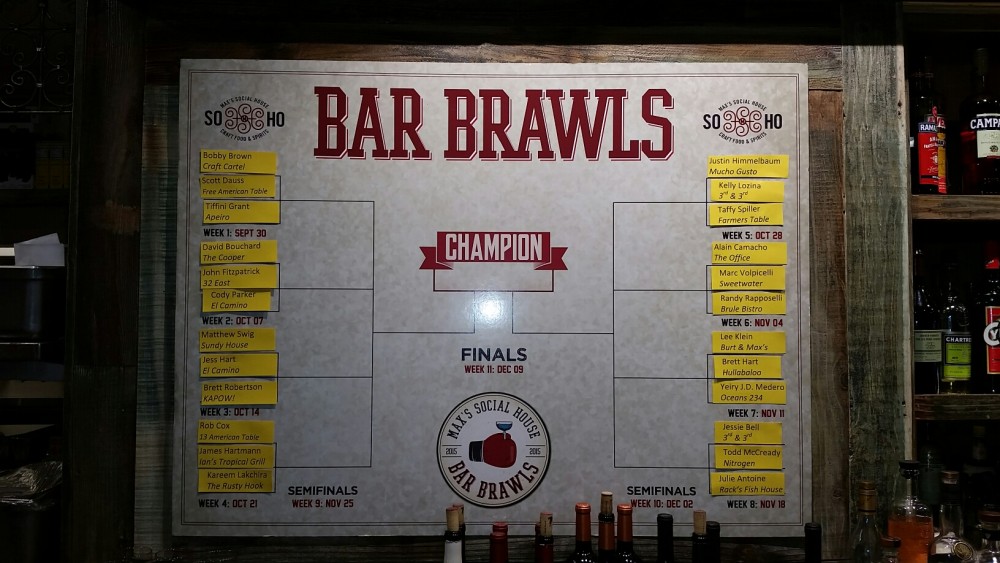 Press Release via The Buzz Agency:
Bar Brawls, an 11-week single elimination competition, includes 24 of the best bartenders from Stuart to Ft. Lauderdale.  The event starts next Wednesday, September 30th, and continues every Wednesday through the finals on December 16th.  Admission will be $10 and will benefit Richard David Kaan Melanoma Foundation.
"Our food and spirit purveyors have really stepped up to provide unique and enticing ingredients for our bracket-style competition," said Bob Higgenbotham, general manager of Max's Social House. 
Sponsors include RNDC, Damage Studios, Kelly Coulson Photography, Custom DJ Services, Premier Beverage, USBG of Palm Beach, Lee Cohen (1-800-CALL LEE), Gelato Petrini, Juice Buzz, New Times/Nicole Danna, Farmer Jay's Organics, Far From Boring (promotional products), UBER, The Palm Beach Chapter of the United States Bartenders Guild, Savor Tonight and Take a Bite Out of Boca.  
Bar Brawls will launch on the heels of the Max Group's Chef vs. Chef competition, which has seen record crowds at its sister restaurant, Max's Harvest.  A late night happy hour at SoHo will follow each competition.  
Brawling bartenders include:
Alain Camacho of The Office, Brett Hart of Hullabaloo, Brett Robertson of KAPOW!, David Bouchard of The Cooper, James Hartmann from Ian's Tropical Grille, Cody Parker of El Camino, Jess Hart of El Camino, Jessie Bell from 3rd & 3rd , John Fitzpatrick of 32 East, Julie Antoine of Racks Fish House and  Oyster Bar, Justin Himmelbaum of Mucho Gusto Delray, Kareem Lakchira from the The Rusty Hook , Kelly Lozina from 3rd & 3rd, Marc Volpicelli of Sweetwater, Matthew Swig of Sundy House, Lee Klein of Burt & Max's, Bobby Brown of Craft Cartel, Randy Rapposelli of Brule Bistro, Taffy Spiller of Farmers Table, Rob Cox of 13 American Table, Tiffini Grant, of Apeiro, Todd McCready from Nitrogen, Scott Dauss of Free House American and Yeiry Medero of Oceans 234.
The first round of the competition will be eight weeks long, with three bartenders competing weekly. Each match starts with the competitors being given a spirit and a short amount of time to create one specific classic cocktail. The judges will then "strain" (eliminate) one bartender. 
During the second part of the match, the remaining two bartenders will be given two mystery ingredients (one will be a spirit and the other will be a fruit, vegetable, ice cream or other item).  These competitors will be given 30 minutes to use the mystery ingredients and the spirit from the classic cocktail earlier in the evening to create unique, new cocktails. 
Contestants will have access to a smoker, the kitchen and the bar pantry.  A bartender from Max's Social House will serve as an assistant and the competition will become progressively more difficult throughout the evening.  Full table service will be available during the event at both the inside and outside tables and outdoor bar area until 11:00 p.m.  Late night street food will be available from 11:00 p.m. until closing and the outdoor bar will be open during the competition and afterwards. The winning cocktail will be featured on Max's Social House menu for the coming week.
The grand prize will be an all- expenses paid trip to the iconic New Orleans cocktail event, Tales of the Cocktail 2016, highlighting what's now, next and new in the spirits industry.
About The Max Group
The Max Group partners are Dennis Max, Fred Stampone and Executive Chef Patrick
Broadhead.   The Max Group owns and manages Max's Grille at Mizner Park in Boca Raton, Max's Harvest in Delray Beach's Pineapple Grove District, and Max's Social House in Delray Beach.  In addition, The Max Group manages restaurant establishments and provides consultation services for independent restaurant owners, including concept/menu development; site location; store design; operational, investment and financial management; forensic accounting; as well as broad-based legal and insurance/risk management services.
About Max's Social House
For more information, please like SoHo on Facebook or follow on Twitter: @maxssocialhouse or call 561-501-4332.