This is a Sponsored post written by me on behalf of STOLI® Vodka for SocialSpark. All opinions are 100% mine.
Squeeze the most out of summer with a refreshing lemonade cocktail featuring Stoli® Vodka, the must-have drink of the season!
When it comes to traditional summer drinks, lemonade is one of the first things that comes to my mind. A little bit sweet, a little bit sour, and always a refreshing choice to beat the heat. I'm sure we all have memories of selling lemonade out on the sidewalks of our neighborhoods when we were kids — and probably drinking most of it ourselves. There's nothing quite like a thirst-quenching beverage to cool you off when you're out all day in the sun. Now, years later, we're adults. And while we all still love that same glass of lemonade, it's time to kick it up a notch, don't you think?
Stoli® Vodka, the original premium vodka, is launching it's "100 Days to Squeeze" campaign to highlight some of their most popular flavors — Stoli® Oranj, Stoli® Razberi, Stoli® Citros, and Stoli® Blueberi — to make that classic lemonade we all know and love just a little bit better.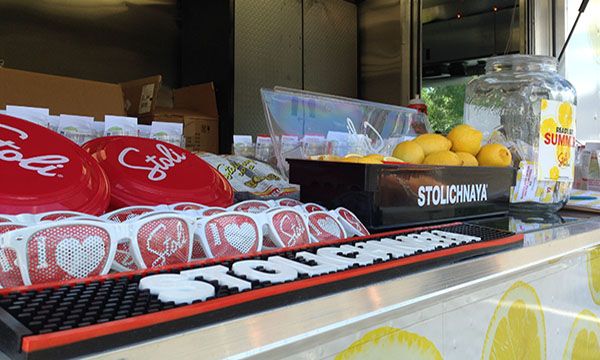 To kick off the campaign and really get into a summer state of mind, Stoli® Vodka is bringing the cocktails to you! You can find Stoli® branded "limo-nade" trucks riding all over the country to sample Stoli® Lemonade cocktails select accounts. They'll also serve lemonade ice-pops and feature fun games and challenges for guests to win Stoli® prizes. If that wasn't enough, Stoli® will also host over 300 bar events at 12 cities across the country including Boston, Chicago, Dallas, Denver, New York, and New Jersey.
Aside from giving you an awesome recipe for a killer cocktail, Stoli® has also put together unique value-added packs that include a 750mL bottle of Stoli® Vodka, a glass mason jar, and a lemon squeezer, making it super easy for you to make these drinks at home during your summer soirees. These VATs are available at off-premise sites across the nation. Okay, I'll stop my blabbering for a moment to let you in on the "Hero Recipe" for the Stoli® Lemon-ade. It's super easy! All you need is an ice-filled mason jar or highball glass. Fill it with 2 parts Stolichnaya® Vodka and 4 parts lemonade. Stir and garnish with lemon wheels. Nothin' to it!
The smooth, grain taste of Stoli® pairs perfectly with the tart, sweet notes of a crisp, cold lemonade. Keep it simple with Stoli® Premium Vodka or have a little fun by mixing it up with one of their many available flavors. This sounds like the perfect kind of drink to have by your side as you're lounging by the pool or getting some sun at the beach — a daytime drink, for sure. Ah, the sweet tastes of summer…
What flavor Stoli® vodka would you use in your #StoliLemonade?
Squeeze the most out of summer with Stoli®! Follow Stoli on Twitter and Instagram. Join Stoli on Facebook.