Never miss a bite! Sign up here to receive new recipes and reviews straight to your inbox.
Disclosure: I was invited to dine as a guest of the restaurant. No monetary compensation has been received for this post. As always, all opinions are 100% my own.
The Little Chalet is known for wowing guests with its unique charm and decor as soon as you walk through the door. It's almost as if you've been transported from sunny South Florida into the crisp, cold Alps, where a comforting meal awaits. I first visited The Little Chalet when it opened last year. It's actually a Brazilian concept, introduced over 35 years ago, that has been recognized as one of Brazil's top 10 restaurants. The Boca Raton location is the US flagship, and as I described it in my previous post, the restaurant is European in its essence, resembling a Swiss cottage with a warm and welcoming atmosphere.
Although the Executive Chef and the menu have changed a bit, that same inviting atmosphere still stands strong. Walking inside, I immediately felt cozy — and when a welcome glass of prosecco was presented, I immediately felt welcome. A small group of local influencers were invited for a private tasting. Chef Dominic Diodata stays true to The Little Chalet's original concept of being a prime steak and fondue house, but he's livened things up by adding more seafood options — which, of course, makes me very happy. The Little Chalet is more than just steak and fondue. Sure, there are the traditional fondue options for appetizer, entree and dessert, but we were there to check out what's beyond the fondue.
The appetizers started to roll out, all presented beautifully with lots of vibrant colors. The Brussels sprouts were the first to catch my eye — the bright red pequillo pepper vinaigrette glowed from within the bowl and really made it stand out. Roasted Brussels sprouts are mixed with red and yellow beets, manchego cheese and chorizo (Chef was kind enough to bring one out without the chorizo for me), and tossed in that gorgeous vinaigrette. It's a great dish for sharing, but I wouldn't be opposed to ordering one all for myself.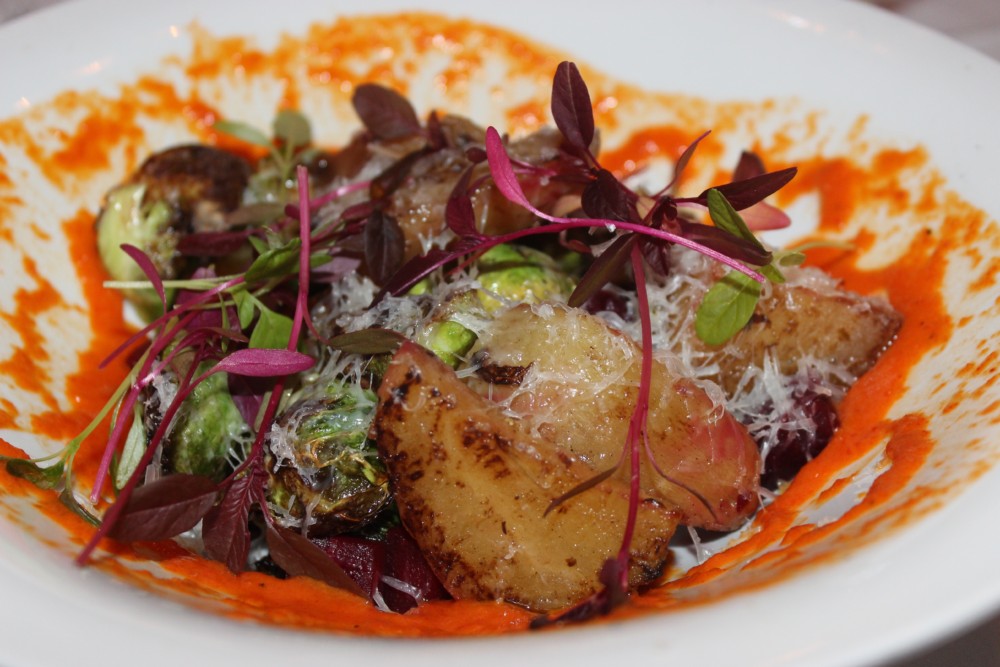 The scallops were another hit — and also another dish that does have meat in it, but Chef brought a second meatless one. Three large, gorgeous and perfectly seared scallops sit on top of a bed of sweet corn and lima bean succotash (this is where the crispy pancetta comes in) and a lemon jalapeño butter. This I loved. The scallops were cooked just right and all of the flavors played beautifully together.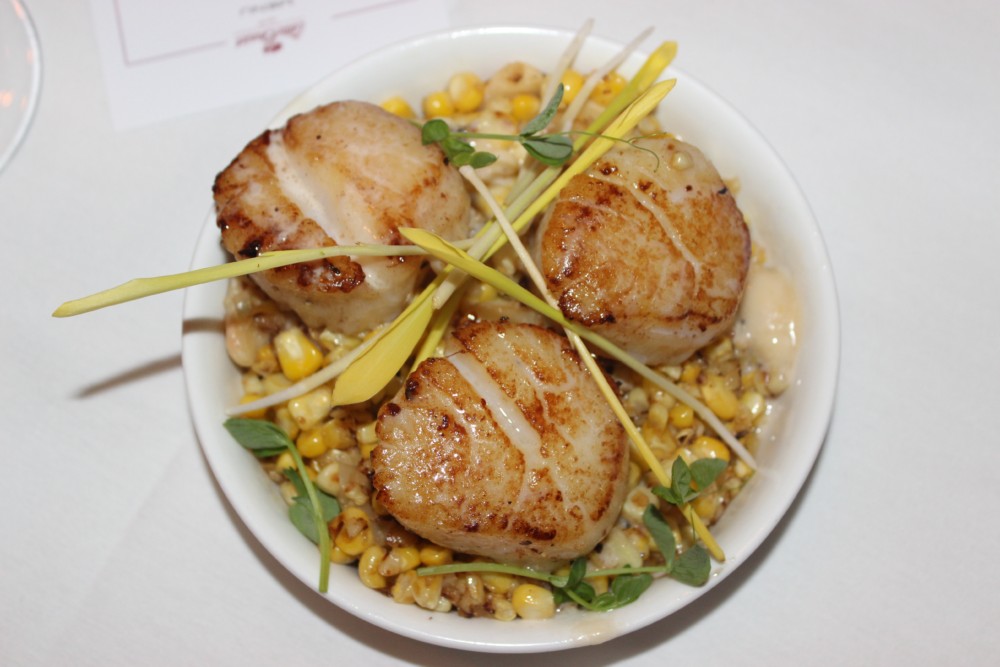 The third appetizer we tried was the crab cake made with shredded shrimp and a crispy corn nugget crust, served with a shallot and caper tartar sauce. The flavor here was so different from other crab cakes I've had in South Florida, and I really enjoyed every bite. The sauce was bursting with that saltiness from the capers and it complemented the delicate crab cake very well. The appetizers may have been my favorite part of the meal, as I can't decide on a favorite! They included some of my absolute favorite things — Brussels sprouts, scallops and crab cakes. Each was unique and showed off Chef Dominic's creative talent in the kitchen.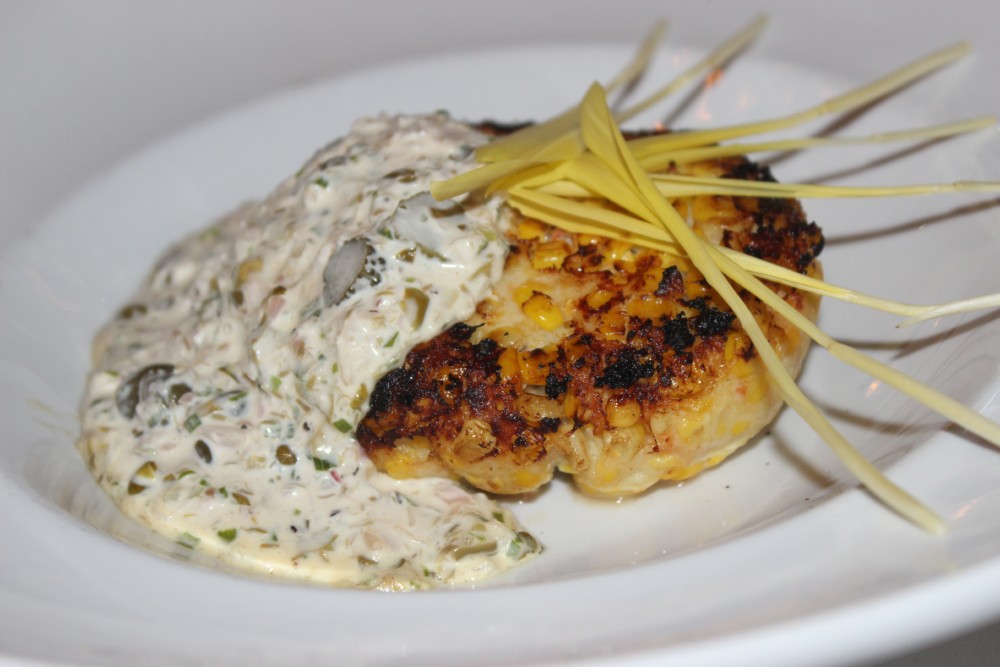 To give our palates a little cleanse before the entrees, we got a look at the charcuterie and cheese platter available at The Little Chalet. While I obviously wasn't too concerned with the meats, I was definitely interested in the cheeses — Barbers White Cheddar, Asher Blue Cheese, Green Hill Camembert, Lil Moo (a spreadable cow's milk cheese) and Idiazabal (a sheep's milk cheese). The platter is served with artisan crackers and breads, as well as a variety of other accompaniments — red olives, sun dried tomatoes, fruit preserves, mixed nuts, seasonal fresh fruits, house-made pickles and whole grain mustard. For those who are curious about the meats they serve, here you go — Finocchiona, Hot Coppa, Mortadella, Wild Boar, Salami and Barolo.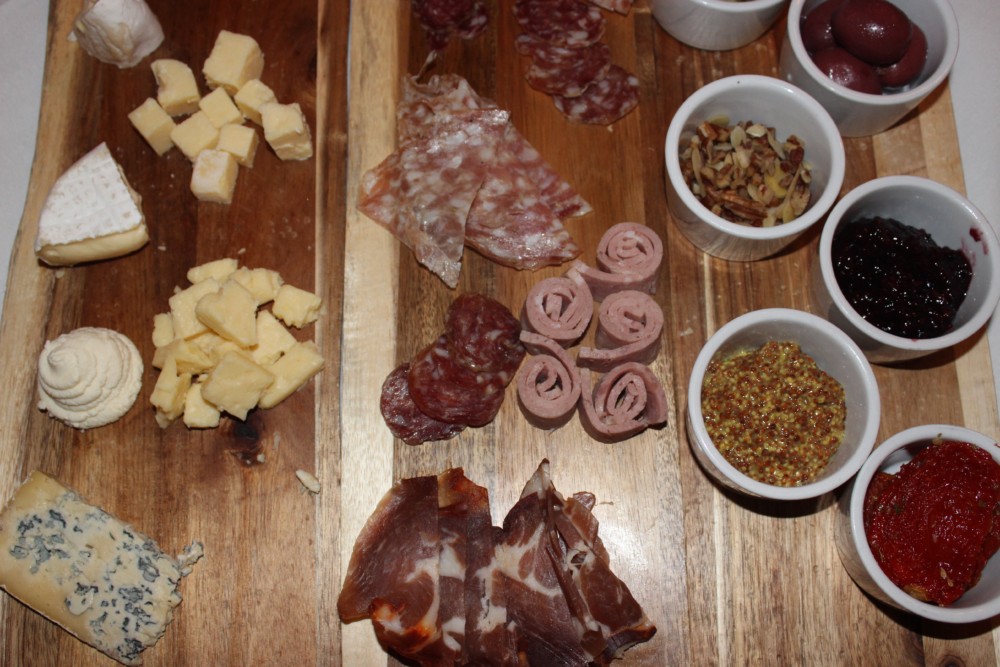 There was plenty of meat served to the others throughout the course of the night, including the dry aged burger made from a blend of short rib and brisket with bacon jam, gruyere cheese, fried cipollini onions and smoked aioli; the confit of duck leg with cauliflower puree, broccoli rabe, port and cherry sauce and a fried duck egg; red wine marinated basil crusted lamb loins with cranberry scallion couscous, farm vegetables, fennel pollen and lamb jus; and the 16oz. T-bone with brown butter, roasted red peppers, salsa verde and butter-braised new potatoes. I did taste some of the sides, mainly the cranberry scallion couscous (SO good!) and the butter-braised potatoes because if I couldn't have duck fat fries, I could at least get my potato fix there!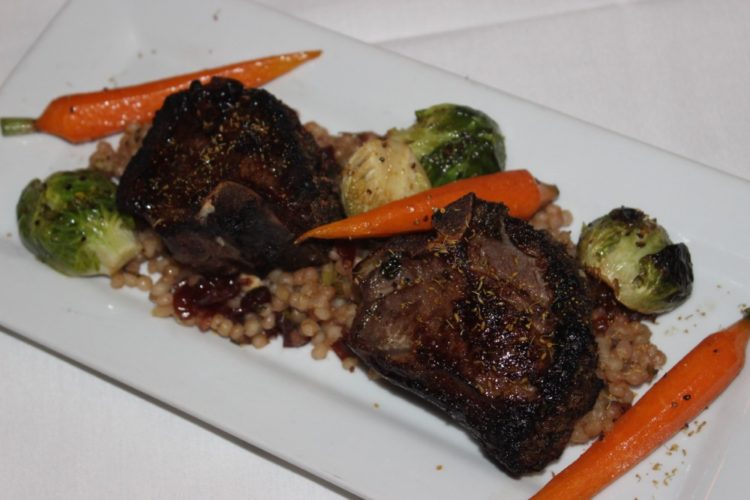 Two seafood dishes came out — the Faroe Island salmon with roasted asparagus, apples and beets, yogurt and goat cheese crema and dill; and the flounder en papilotte, spinach & black olive wrapped flounder with cucumber mint slaw, sundried tomatoes and tzatziki sauce. The salmon was cooked very nicely and I really enjoyed the accompanying apple and beet salad with the crema.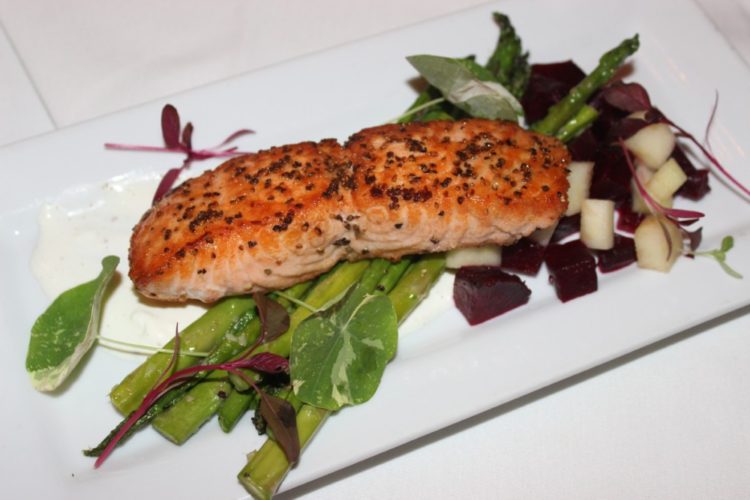 As for the flounder, I wasn't a huge fan. Olives are not my thing, as I've mentioned many times before. Their super strong taste can ruin almost anything for me — and unfortunately, it kind of ruined the flounder. However, if you're an olive-lover, this has your name written all over it! I did like the cucumber mint slaw though. The bright flavors were a welcome element to the dish.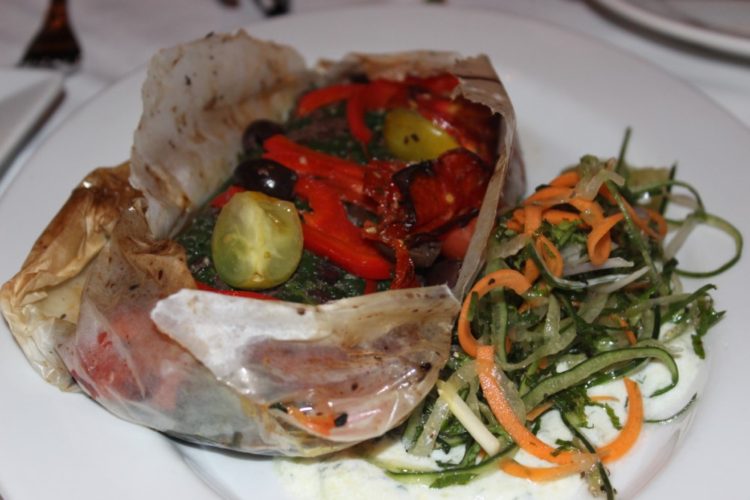 Now comes the kicker — my favorite dish of the night was something I have never seen or heard of in my life. Chef Dominic has knocked it out of the park with this one, and I'd gladly go back for it again and again. Onions a la carbonara — a play on the classic pasta dish, but this had no pasta. It's made with all onions, cooked al dente, and smothered in a creamy egg sauce with egg yolk and parmesan. There's normally bacon in the dish, but Chef brought me out a bacon-free version and I pretty much inhaled the entire bowl. There was no sharing that.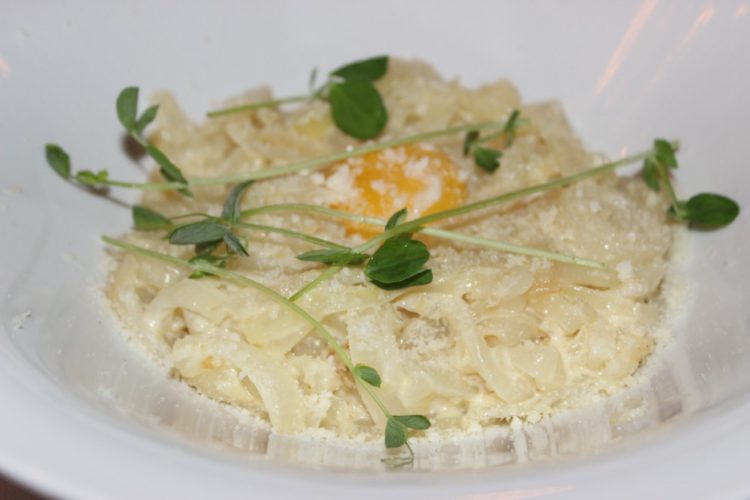 There are so many options at The Little Chalet, and the atmosphere makes it an ideal place for date night or special occasion dining. They've got a great happy hour too. Every day from 5-7pm, guests can enjoy a special bar bites menu and half price drinks and wines by the glass. On Wednesdays, get half price bottles of wine priced up to $100. You can even bring your own bottle in with no corkage fee. AND for those who crave a nice dinner out but have little ones, kids 6 and under eat FREE on Sundays.
The Little Chalet is located 485 S. Federal Highway in Boca Raton.