Never miss a bite! Sign up here to receive new recipes and reviews straight to your inbox.
Disclosure: I received a complimentary picnic from The Little Gatherings, a cheese board from The Grazing Girls, and dessert from Two Fat Cookies. As always, all opinions are 100% my own. Discount codes available include takeabite to save 10% on all bookings with The Little Gatherings, biteoutofboca to save $10 on all Basic Box orders from The Grazing Girls (valid through 2/28/2021), and Shaina15 to save 15% on your first order from SYLTBAR.
Picnic in Style with The Little Gatherings
If you're going to have a picnic, you'd better do it right! The Little Gatherings is a boutique picnic and small events styling company owned by sisters Lauren and Ashley, who both clearly have a knack for design and detail. These girls can create a unique and memorable experience in any location, whether it be on the beach, in a park, or in your own background. Their boho-chic style pop-picnics are perfect for any occasion, especially during a time when socializing and spending more time outdoors has definitely become the preferred norm.
Regardless of what you're celebrating, The Little Gatherings can provide everything you need. I hosted a fun Galentine's celebration with three of my besties on the beach in Downtown Delray, and we all agreed that this was one of the most fun and out-of-the-box things we've done in quite a while. Lauren set everything up to perfection, making sure to include Valentine's Day themed decor wherever she could.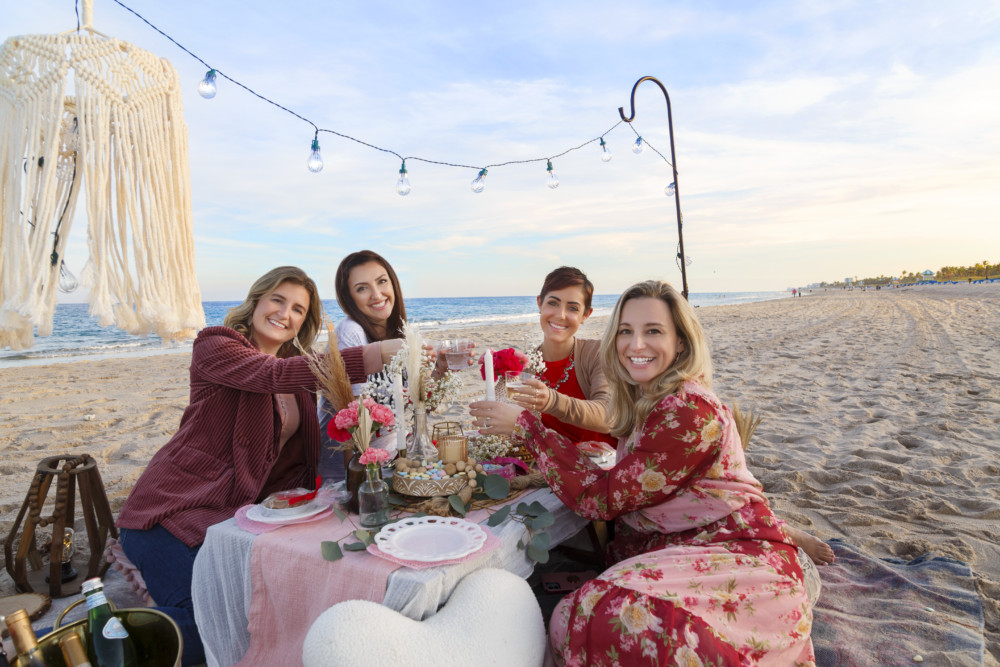 What's Included in Your Picnic?
Set-up (event rental, creative services, styling and decor) and break down
Decor such as low-style tables, rugs/tapestries, cushion/pillow style seating, live greenery, table lighting, bistro lighting for nighttime events, candles, and dried florals
Bluetooth speaker
Instax camera and film
Individual onetime use plates, cups, napkins and flatware
Ice bucket with one bag of ice
Choice of sparkling or flat water, tea or lemonade.
The Little Gatherings partners with other local vendors and companies to provide an array of add-on options, such as charcuterie boards, desserts, wine, photography, additional floral or balloon arrangements, and more. Of course, you can also bring along whatever you want! We noshed on fish dip and guacamole from my favorite waterfront restaurant in Delray, Deck 84 courtesy of Amber, Destiny's homemade Brussels sprouts salad, and Jill's homemade vegan spinach and artichoke dip and peanut butter hummus. We also enjoyed this gorgeous spread created by local woman-owned company, The Grazing Girls, that included an assortment of (Shaina-friendly) goat's and sheep's milk cheeses, charcuterie, fresh and dried fruit, jams, spiced nuts, and crackers.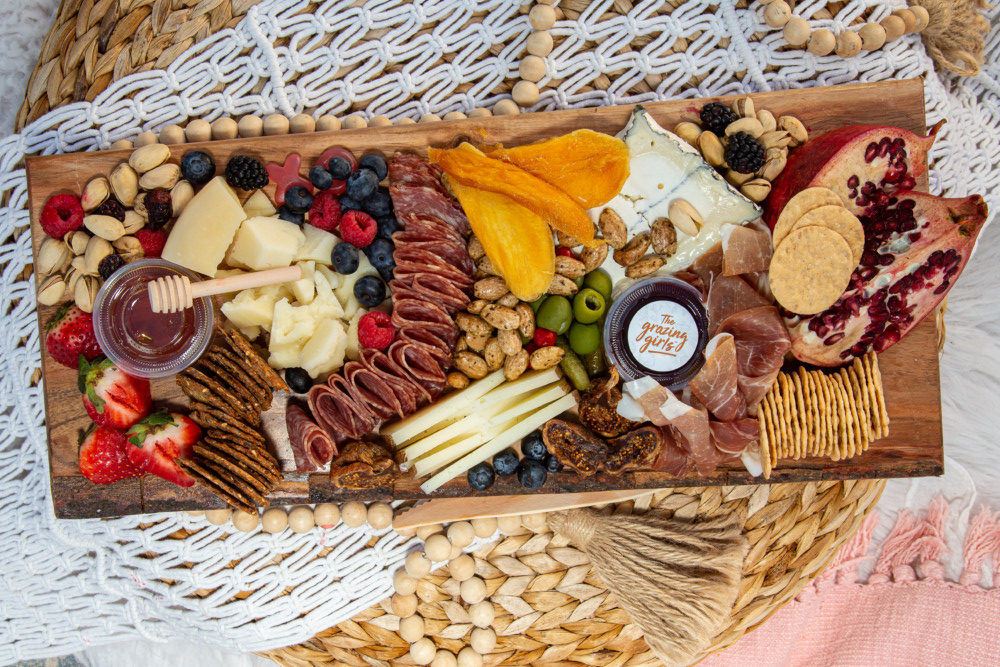 The Grazing Girls creates custom grazing boxes, boards and complete table spreads for any occasion. The Grazing Girls is offering all Take A Bite Out of Boca followers $10 off Basic Box orders now through February 28, 2021. Use the code biteoutofboca when ordering! The Basic Box includes 2 gourmet cheeses and meats, fig jam, honey, assorted dried and fresh fruits, crackers, nuts and olives, and a sweet bite.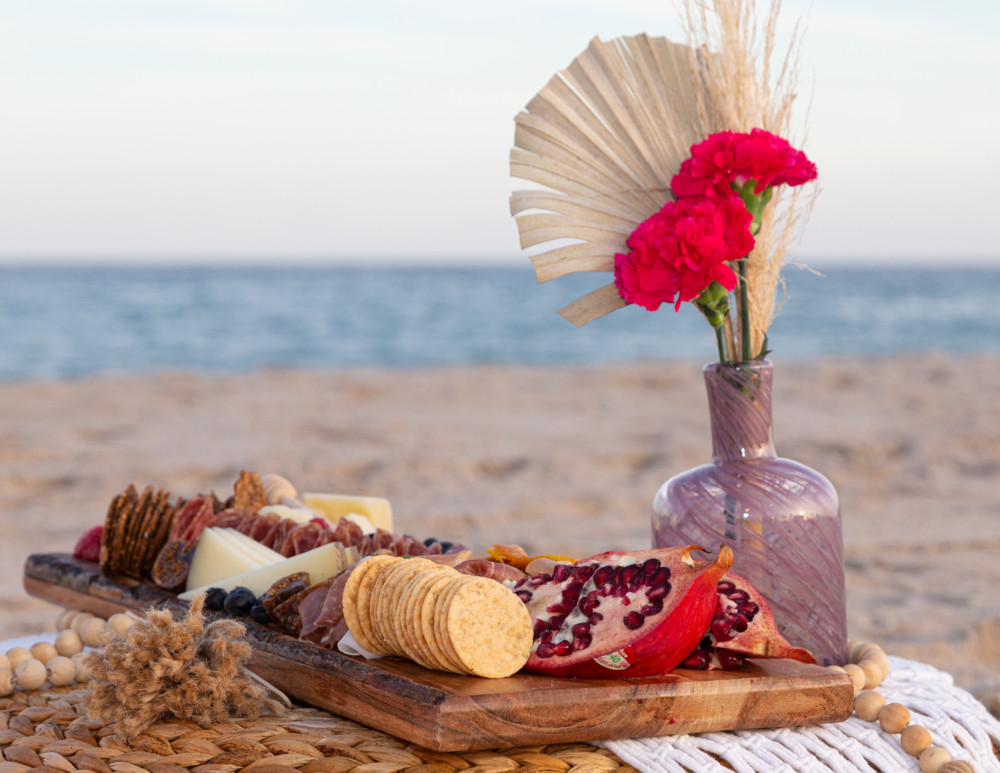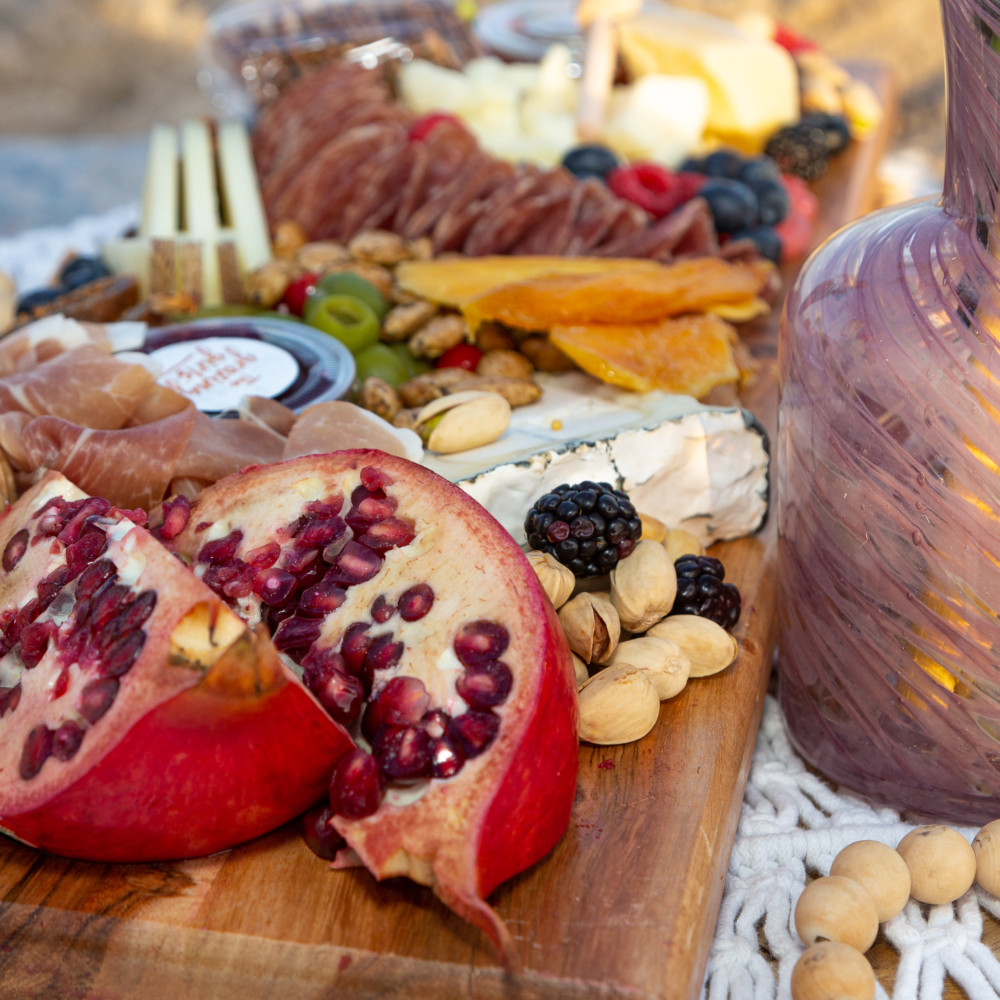 Of course, no cheese and charcuterie spread is complete without wine, am I right?! I brought my absolutely favorite low-sugar, low-sulfite, vegan, all natural Prosecco to kick off the night: SYLTBAR! And of course, as usual, I have a discount code, Shaina15, that will save you 15% on your first order from SYLTBAR!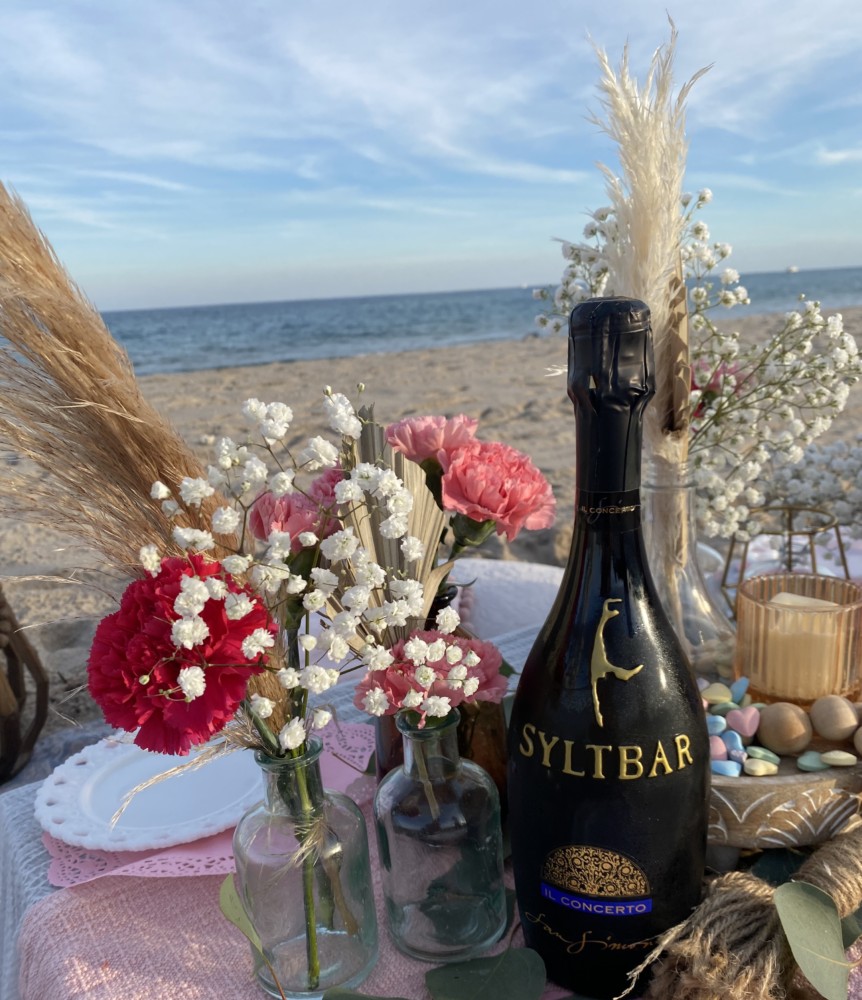 We also sipped on my favorite rosé wine, Bodvar, and ended the night on a sweet note with a special dessert from Two Fat Cookies. Owner Zooey made the most adorable cookie pies for my girls, and for me, her addictingly delicious, gluten- and dairy-free walnut chewy cookies that have the most perfect fudgy, brownie-like texture.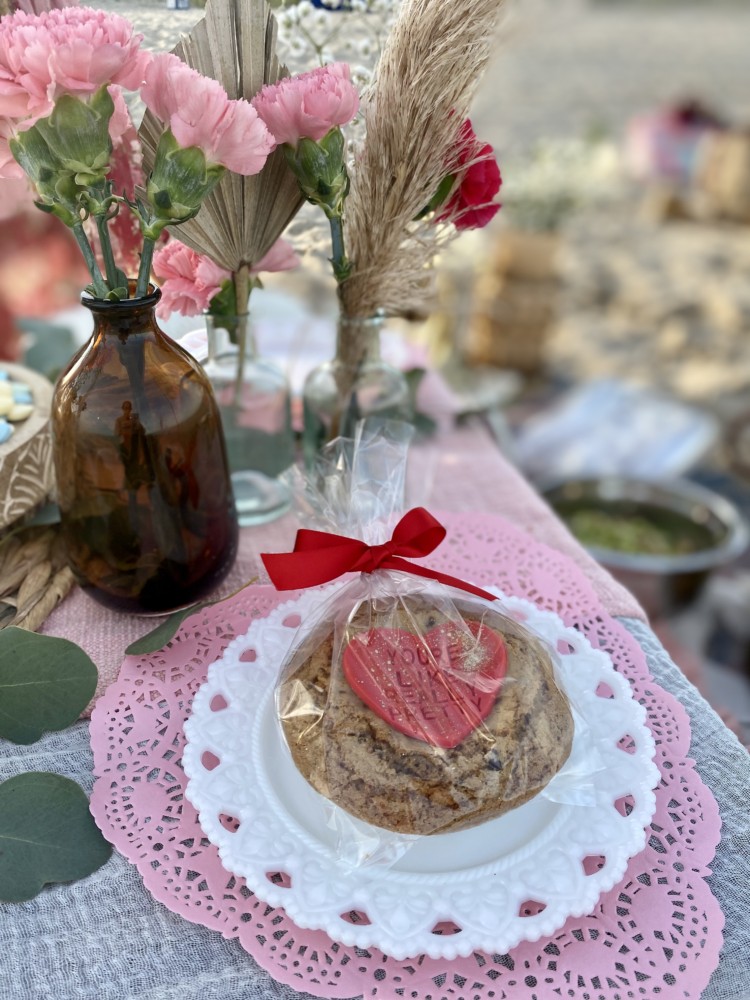 As if the night wasn't perfect enough, we even had our own paparazzi to capture photos! Special thanks to my good friend Emiliano Brooks, owner of local photography, print, and design compay, Studio B2.
It was truly a night to remember, and I was so happy to share it with three of my absolute best girlfriends.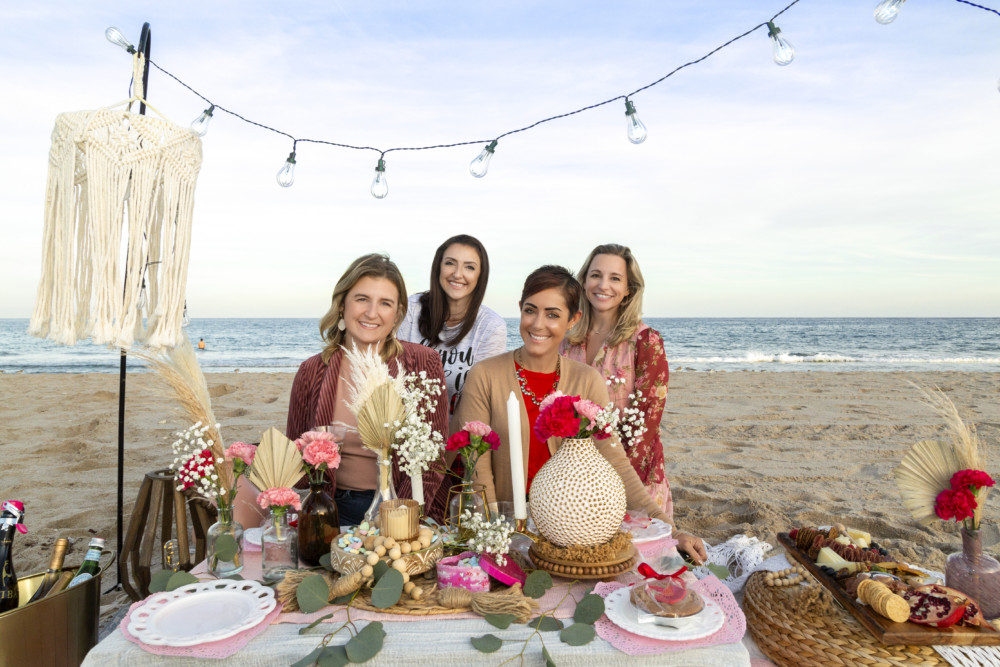 Book Your Picnic with The Little Gatherings
If you are interested in booking The Little Gatherings, act fast! Although the company is just a few months old, they have been booking up quickly, and recommended submitting a deposit to hold your picnic or event date at least one month in advance.
Picnic set ups start at $200, but lucky for you — I've got a discount code to offer! When booking, use the code takeabite to save 10% on your event! Visit The Little Gatherings for more information and to book your pop-up picnic with these fab ladies!
It would mean so much to me if you showed some love to all of the incredible local companies that participated in this fun Girls Night Out and give them a follow on social media!
The Little Gatherings: Instagram
The Grazing Girls: Instagram
Two Fat Cookies: Instagram / Facebook
Studio B2: Instagram / Facebook
Deck 84: Instagram / Facebook
SYLTBAR: Instagram / Facebook
Bodvar Rosé: Instagram / Facebook