Never miss a bite! Sign up here to receive new recipes and reviews straight to your inbox.
Disclosure: I was invited to dine as a guest of the restaurant. No monetary compensation has been received for this post. As always, all opinions are my own.
It's not everyday that a restaurant goes through a $1.8 million renovation, revamps their menus and wine program in three short months. Locals have been anticipating the reopening of Oceans 234 in Deerfield Beach, and the wait is finally over — the New 234 is here! Owner Danielle Rosse, Chef Victor Franco, and the whole team at Oceans 234 have certainly created quite the wow factor with the redesign. My jaw practically fell open the moment I stepped through the doors and saw a glimpse of the South Florida lifestyle I don't see too much of. The restaurant is situated only footsteps away from the sand, with the most amazing ocean view you can easily see from just about anywhere in the restaurant. Now this is what you call beachfront dining!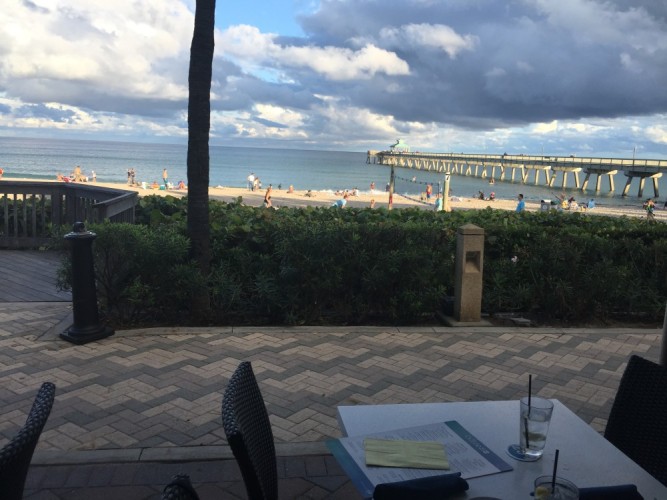 Aside from a complete overhaul of its look, Oceans 234's menu has gone through a facelift as well. You'll still find the classic Oceans favorites, but 75% of the menus are totally new. New appetizers, entrees, sides, bar bites, desserts, cocktails and wine, as well as a new Sunday brunch menu and a gluten-free menu. To celebrate these new menu items, I and a group of local media were invited to give 'em a try. To say I was excited is an understatement. I've been just as eager to see the New 234 as all of its loyal patrons, and couldn't wait to see what Chef Victor and his team have been working on behind closed kitchen doors all this time.
We were treated to tastings of new items, described to us in detail by our knowledgable servers. First up was a dish that seems to be a staple in most South Florida restaurants — the Tuna Stack. Layers of extremely fresh and tasty diced tuna and avocado with fresh lemon juice and extra virgin olive oil. The fun part? The crispy plantain chips served alongside. This small detail is what gives Ocean 234's Tuna Stack a one-up on all the others. Plantains are a nod to Floridian food culture, and well, just really, really good. To drink, we were served the Moet Ice Mojito, a refreshingly sweet drink that, appropriately, made me feel as though I was relaxing on the beach. This cocktail is exclusive to Oceans 234 — they are the only bar in Broward County serving Moet Ice Champagne.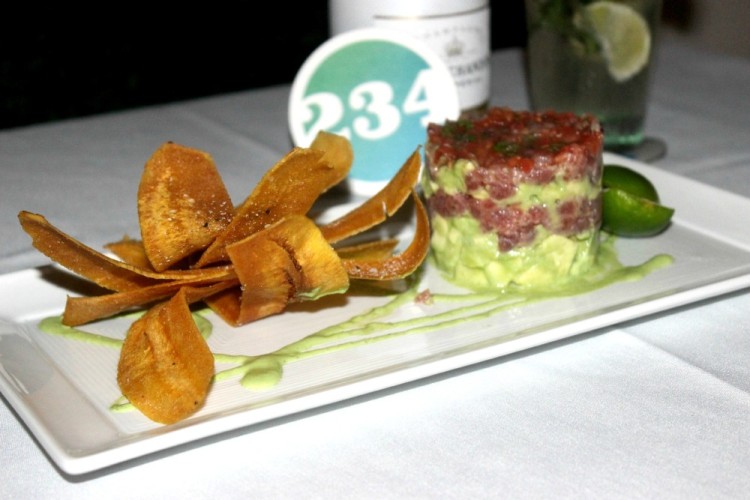 Next up was a dish I had been dying to try since I saw a picture and description on social media — the Lobster Potato Skins. A crispy potato topped with creamy spinach, Vermont white cheddar, and truffle salt. As soon as the plate hit the table, the truffle aroma filled the air and it took all of my self-control not to dive right in! This truly decadent and delicious appetizer has quickly become a top seller, surpassing the calamari as most popular. I can't imagine why…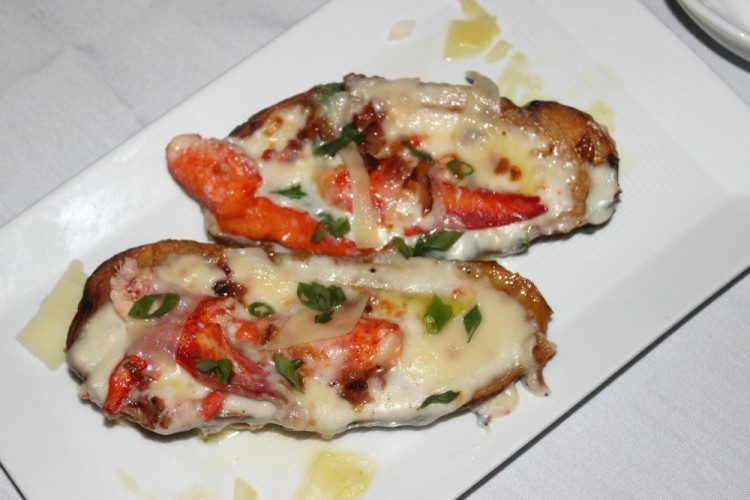 As a non-meat eater, I've never been able to enjoy a traditional Reuben sandwich — until now. Oceans 234 has a Blackened Snapper Reuben! The concept is perfect for a Florida restaurant where seafood is your main attraction. I loved the combination of flavors and textures — the crisp purple cabbage, the assertive swiss cheese, the soft yet sturdy marble rye bread and the creamy, tangy thousand island dressing. I'm not usually a sandwich-person, but this was hitting all the right spots!
Now it's time for a little sushi! The chopsticks came out, and we were served two of Ocean's top rolls. The Surf & Turf, a clever twist on the popular dinner combination of steak and seafood, tops a roll of soft shell crab tempura, cucumber, cilantro and sesame seeds with thinly sliced strips of filet mignon. Obviously I didn't try this, but from the looks on everyone's faces, it was a winner. I did, however, get to taste the Tropical Shrimp Tempura Roll with coconut, macadamia, and  tropical fruit salsa — again, a perfect concept for a beachside, South Florida restaurant.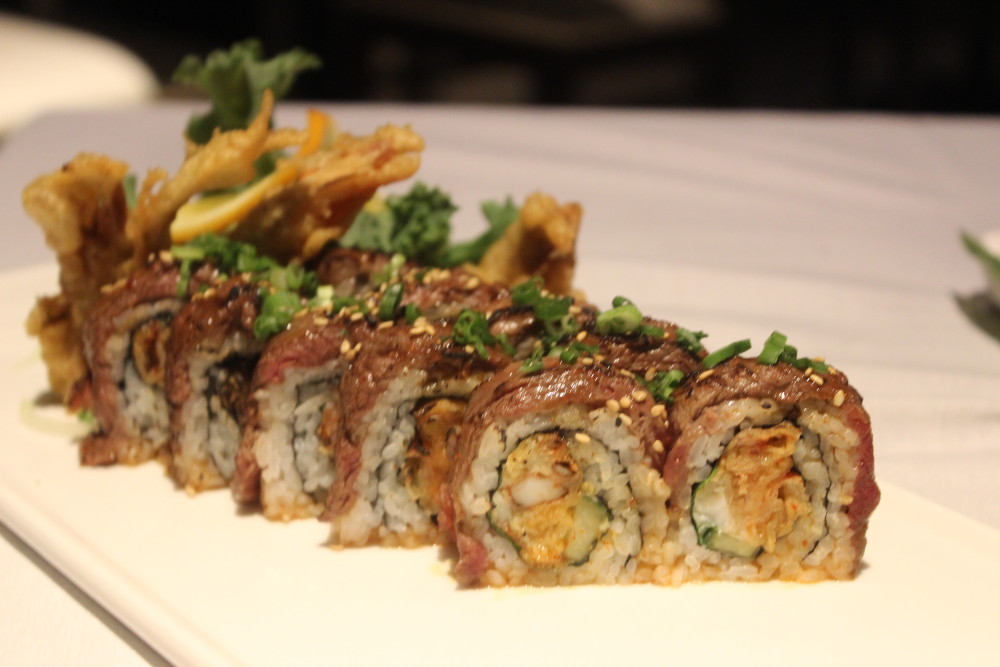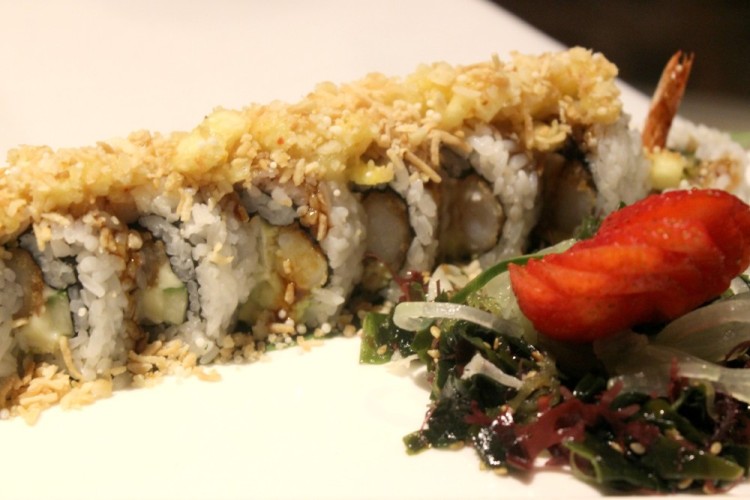 Now for the entrees… The main dish served was the grilled skirt steak with plantain mash, roasted corn with asparagus, toasted garlic and lime reduction. It's hard to make steak look pretty, but this was a beautiful presentation! More plantains — more yumminess!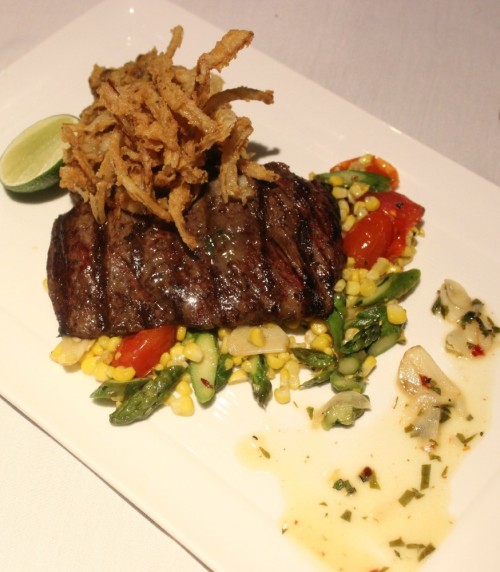 I tried a bite of the mash — I couldn't resist — and was served my own separate entree that I almost wish everyone could have tasted, but I was not sharing. It was way too good! The coriander-dusted yellowfin tuna — you absolutely cannot go to Oceans 234 without ordering this dish. That is an order! It's served with a warm kale salad with tuscan white beans and cherry tomatoes, a beautiful, bright english pea puree, and topped with crispy fried leeks. It's unique, flavorful, perfectly texturized, and just an all-around incredible plate of food. I was legitimately sad when I took my last bite. Even more sad when I realized I ate the entire thing before taking a picture. I was so enamored by the dish, I broke the cardinal food blogger rule: Don't eat until the pictures are taken!
But, moments later, my frown was turned way upside down when the next dish was brought out. Since the brunch menu is completely new, Chef Victor couldn't let us leave without tasting one of his favorite dishes. Appropriate for brunch and even more so for dessert, the Cap'n Crunch banana Nutella French toast. I'm not a sweets eater when it comes to brunch, but as a treat to end the night? Oh yes. It's the perfect bite — pillow soft French toast coated in crunchy cereal, creamy Nutella and peanut butter spread, and the banana rounds everything out. It may sound like breakfast food, but this is all dessert for me. This dish, unfortunately, is not offered on the dessert menu and is only available for Sunday brunch. All the more reason for a Sunday trip to the beach — with a stop at Oceans 234!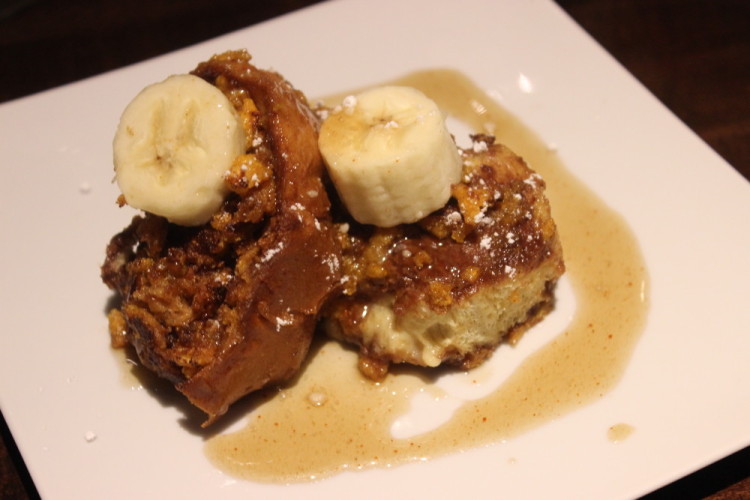 Oceans 234 is located at 234 North Ocean Boulevard, Deerfield Beach, FL.