Never miss a bite! Sign up here to receive new recipes and reviews straight to your inbox.
Disclosure: I was invited to dine as a guest of The Poke Company. No monetary compensation has been received for this post. As always, all opinions are 100% my own. 
As the fast casual restaurant trend continues to rise, poke is taking over. The new normal is seeing poke shops opening up all over, making it crucial for each of these places to find a way for their bowls of deliciousness to stand out.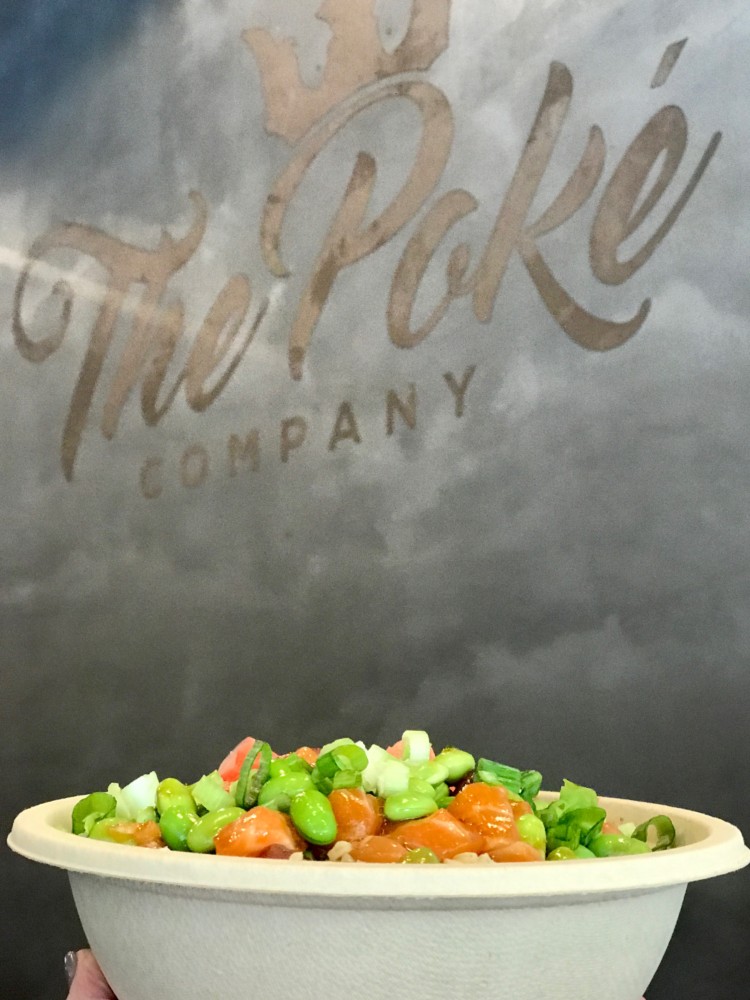 In March of 2017, The Poke Company opened its doors to give Boca Raton residents a taste of one of the hottest food items on the market — poke. The traditional poke-style dish originated in Hawaiian cuisine, and consists of raw fish salad. The flavors of the dish are Asian-inspired with ingredients like soy sauce, green onion, sesame, furikake (a mixture of dried fish, sesame seeds and dried seaweed), fish eggs, wasabi, sweet onions, edamame and more. Additional mix-ins might include something sweet like pineapple or mango, and the most common fish used are tuna or salmon, but I've also seen different types of shellfish or yellowtail used as well.
The Poke Company offers five pre-set options of bowl variations, but the real draw to the menu is being able to build your bowl from scratch. First, choose the size of your bowl based on one, two or three protein options, including Ahi tuna, Scottish salmon, spicy tuna, steamed shrimp and tofu. Next, pick from white or brown rice, baby kale or cauliflower rice (for an additional cost) as the base — choose one or mix and match! Then it's time to pile on all the add-ins. There is a variety of ingredients to mix with your choice of protein, tons of fun and flavorful sauces to blend in; and plenty of choices with which to top it all off. There are lots of options — but do make sure to let the team members know if you have a gluten allergy or sensitivity, as some specific ingredients are not made gluten-free. However, they DO offer a gluten-free version of their signature Company Sauce, which is super yummy and will definitely do the trick for any gluten-free guest of Poke Company. There are extra add-ins for an additional cost as well, which include masago (fish roe), seaweed salad, krab (imitation crab) salad and avocado. Bubble tea is also available.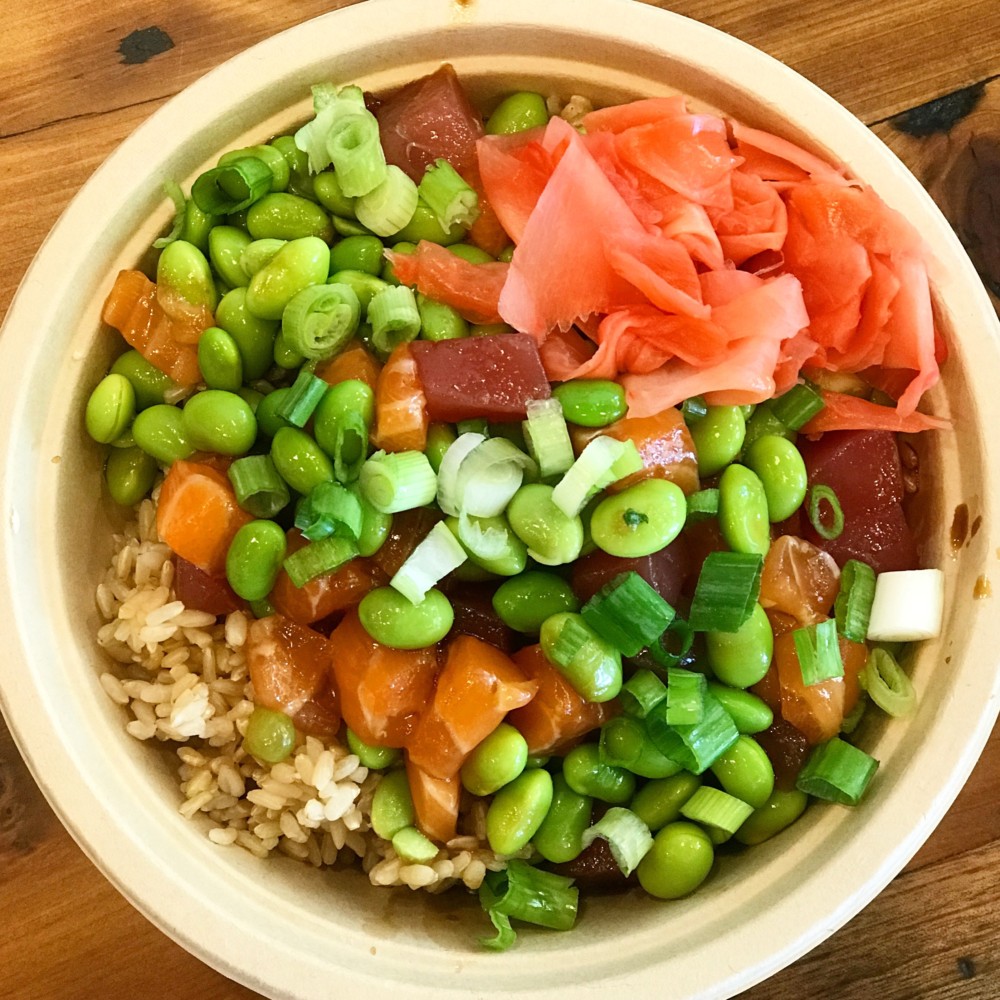 The owners take great pride in sourcing only the best when it comes to fresh fish served at The Poke Company, so you know you're in for some quality food — and they don't skimp on quality service either. The vibe is fast-paced, in a relaxed and friendly way. The staff works diligently to get your orders done in a timely fashion and are extremely knowledgable about the menu. Jill and I visited for lunch one afternoon before heading across the street to iPic for a movie, and our every expectation was met, and exceeded.
The fact that cauliflower rice is a menu option made me so happy. I mixed it with brown rice for a hearty base combination, and chose the Ahi tuna and salmon tossed with a generous helping of edamame, cilantro and the gluten-free Company Sauce, and topped it with scallions and pickled ginger…and some more sauce for good measure. You can taste just how fresh the fish is. I went light on the add-ins so as to keep each ingredient from fighting one another, and was incredibly satisfied with every single bite.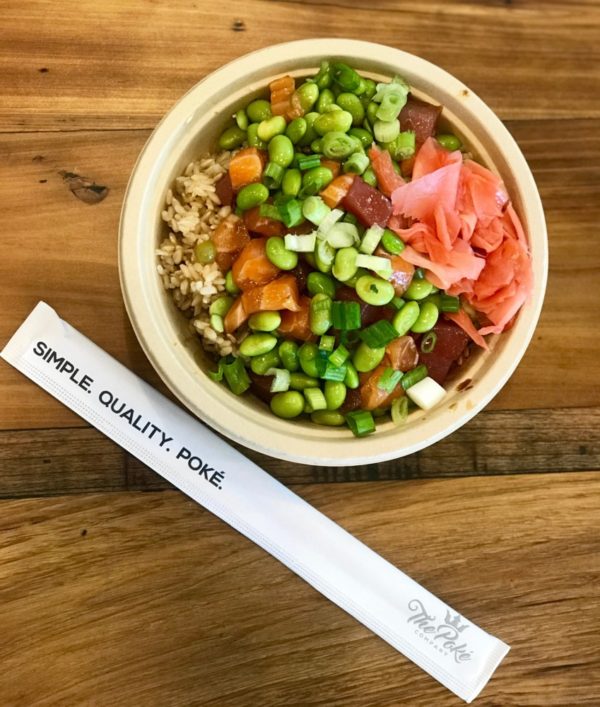 Jill, on the other hand, dove head first into it all — and it made for one gorgeous bowl of food. She started with the same base as I did — cauliflower and brown rice, but opted for the steamed shrimp and tofu mixed with cucumber, sweet onion, edamame, cilantro and the sesame shoyu sauce, topped with sesame seeds, wasabi peas and eel sauce. Although I didn't taste hers, she assured me it was a double thumbs up. I think we'll both be back again very soon for a second helping.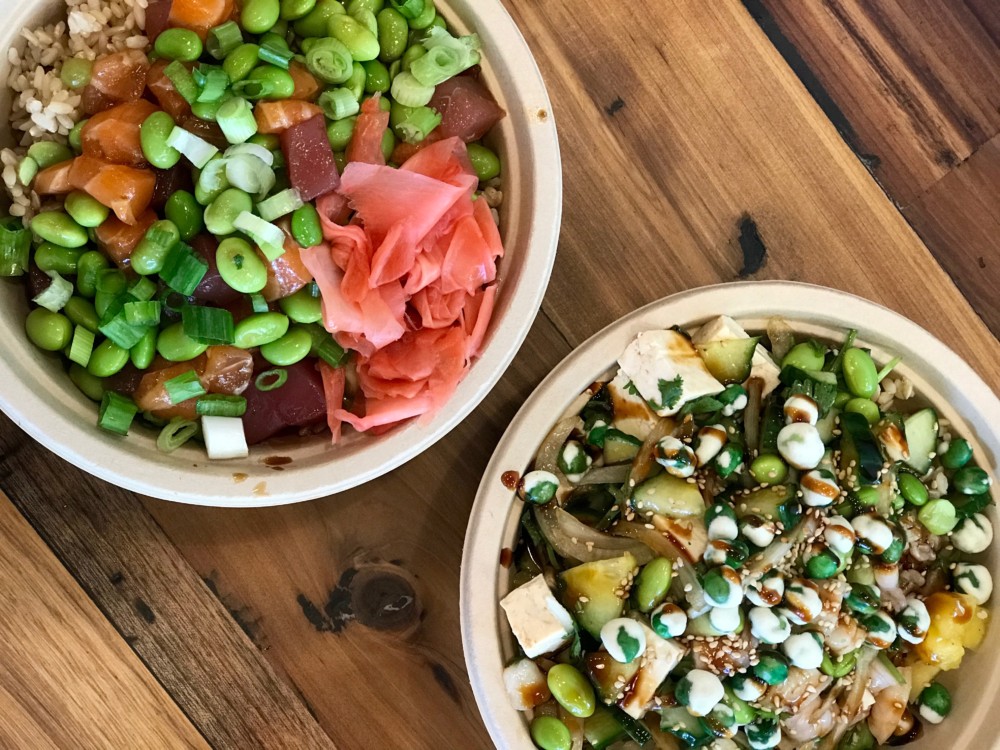 The Poke Company is located at 555 North Federal Highway in Boca Raton. The restaurant is open Monday through Friday from 11am-9pm, and Saturday and Sunday from 12-9pm. Franchise opportunities are available, and new Florida locations are currently in the works for West Boca and West Palm Beach.