Many restaurants are following the trend of providing the nutrition facts for some of their dishes often on separate menus labeled "Skinny" or something of the sort. It's a pretty smart idea to offer patrons lower calorie meal options, since restaurant dishes have such an awful reputation for having way too many calories to consume in one sitting. I recently went to dinner at The Cheesecake Factory. Since I knew I would be devouring a delicious piece of cheesecake at the end of my meal, I was absolutely delighted to see there was a "Skinnylicous Menu" featuring drinks, appetizers, salads, sandwiches and full dinners. Now I could enjoy my meal without feeling terribly guilty when I ate that cheesecake afterward; what a win-win situation!
I had a Skinny Sangria, made with red
wine
and fresh fruit, and it was pretty good. There was a natural sweetness to it, and the fruit added an even more natural sweet taste that amped it up a bit. For dinner, I got the Tuscan Chicken, which was seriously so good. It was grilled chicken with tomatoes, artichokes, capers, tossed in a fresh basil and balsamic vinaigrette and served over fresh veggies and farro, which is very similar to couscous. I ate half and brought the rest home to eat the next day. I never eat leftovers; I never really like to eat the same thing two days in a row, but this dish was so good, I was completely content with reheating it for dinner the next night. Although The Cheesecake Factory is a chain restaurant, I was pretty satisfied with my dinner. My friend ordered one of the pasta dishes, which of course I had to try. I'm not a big pasta eater, but this entree had way more to it than simply being a pasta dish. It was hearty and had a lot of sharp flavor to it. It was called "Evelyn's Favorite Pasta." Not sure who Evelyn is, but she sure knows how to put together a meal. Penne pasta tossed with broccoli, oven-dried tomatoes, roasted eggplant, peppers, artichokes, Kalamata olives, garlic and pine nuts — delish!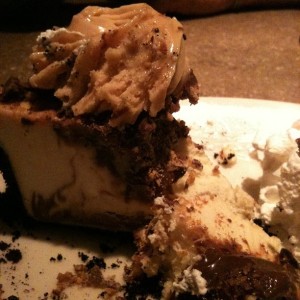 The best part about going to The Cheesecake Factory is the cheesecake of course! There is no skimping allowed here. You either go big or go home when it comes to this decadent dessert choice. My friend and I split the Adam's Peanut Butter Cup Fudge Ripple. Another dish named after someone; this person clearly knows their desserts. If the name alone doesn't make your mouth water, the description most definitely will. Creamy cheesecake swirled with caramel, peanut butter, Butterfingers and Reese's Peanut Butter cups, with a chocolate cookie crust, topped with a big glob of peanut butter and whipped cream on the side.
Are you salivating yet? Yeah I thought so.
The name of the dessert got me thinking about what my own cheesecake would be. It's extremely difficult for me to just pick one combination of flavors to use since I like so many, so I came up an extremely rich chocolately one and a lighter, fruitier one. The so-good-you-better-wear-your-fat-pants cheesecake would be mocha cheesecake swirled with dark chocolate and peanut butter, topped with crumbled Oreo cookie and drizzled with mocha sauce on an Oreo cookie crust. The so-tropical-you-feel-like-you're-on-vacation cheesecake would be pineapple cheesecake swirled with strawberry and mango, topped with coconut flakes on a graham cracker crust with a big piece of pineapple sticking out of the top. Now if only I had the skill to create these masterpieces…