Never miss a bite! Sign up here to receive new recipes and reviews straight to your inbox.
Disclosure: I was invited to dine as a guest of the restaurant. No monetary compensation has been received for this post. As always, all opinions are 100% my own.
Tucked in the corner of a North Miami Beach shopping plaza is The Tuck Room, a restaurant from renowned chef Sherry Yard, who most notably worked for Wolfgang Puck and has been a judge on several Food Network cooking shows. The atmosphere can best be described as dark and moody, yet still comfortable and inviting. It definitely prepares you for sitting in a movie theatre for two afters post-meal. Speaking of which, The Tuck Room is situated inside the iPic, a revolutionary movie theater concept that makes you feel as if you're sitting home on your own comfy couch watching a movie — that is, if you have your own waiter service and surround sound in your living room… After experiencing a movie at the iPic, there's no going back to just any old theater.
But before you head on into the movie, The Tuck Room awaits. Make sure to give yourself plenty of time because this is one dinner you do not want to rush through. Start things off with one of the craft cocktails created by the one and only Master Mixologist Adam Seger. The Tuck Room is known for their mojitos made with fresh juiced sugarcane, nitrogen-muddled mint and organic agave — or if you're feeling ambitious, try something a little more out-of-the-box like the Mojitonico made with fresh herbs, gin, cucumber, tonic and cracked pepper. And if you want to "Look Better Naked," might I suggested ordering the cocktail by the same name, made with Camarena Reposado organic tequila, agave, citrus and stevia. Think of it as a totally upscale skinny margarita. Cheers!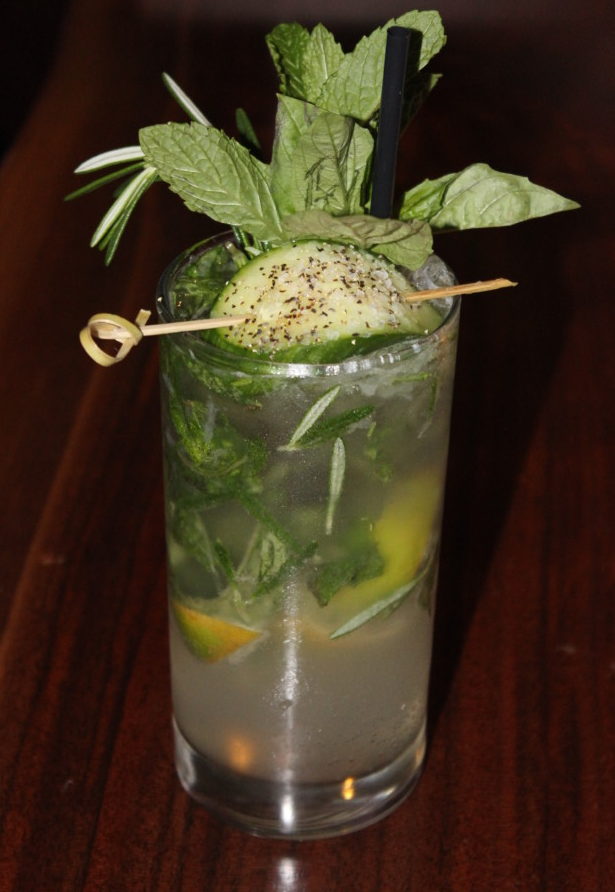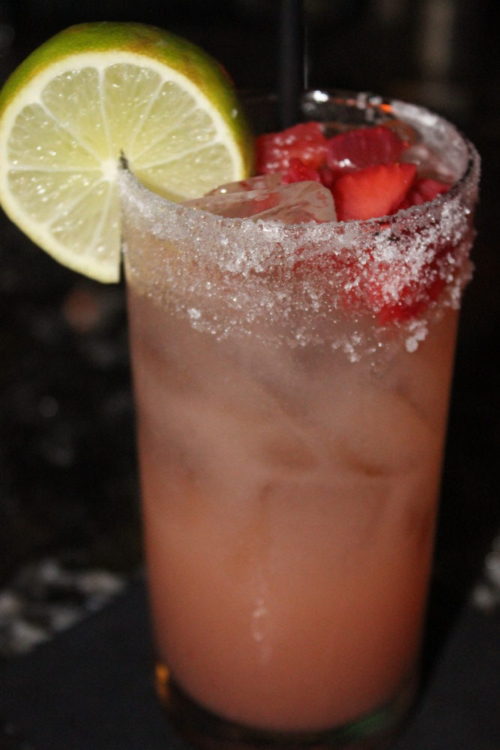 Once you've gotten past the bar, which might I add, has both indoor and outdoor seating. If you're lucky, you can get an up-close-and-personal look at how those signature mojitos are made… Anywho, let's move onto the food, shall we? You can't pass up the popcorn of the day. I mean, this is a restaurant at the movies. During our visit, the featured flavor was ranch, and while I couldn't partake in the popcorn party, it seemed like the rest of the table couldn't get enough. Instead, I feasted on the crispy Brussels sprouts with caramelized apples, miso-tahini dressing, toasted cashew, shaved pecorino and togarashi (a Japenese seasoning). The flavors and textures were so on point — I couldn't put my fork down! So many sprouts are paired with combinations like maple and bacon, making this a refreshingly unique take on the popular side dish.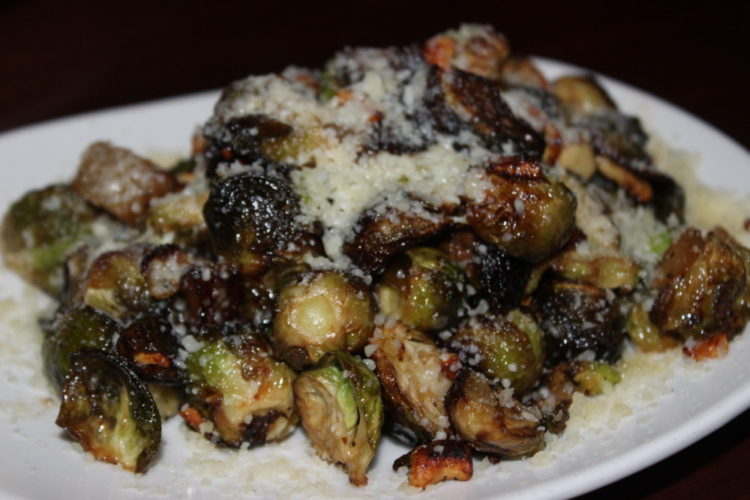 The Tuck Room takes another traditional appetizer and gives it a twist — calamari. This was not your ordinary fried calamari with marinara sauce on the side. This was hot pepper calamari fritti with gochujang glaze, lime and cilantro. Gochujang is a red chili paste popular in Asian cooking, and it gave the calamari a mouthful of sweet, spicy and savory elements all wrapped into one super unique flavor. Give me calamari with a yummy sauce like this one and I'm all in — especially if I can have all the tentacles!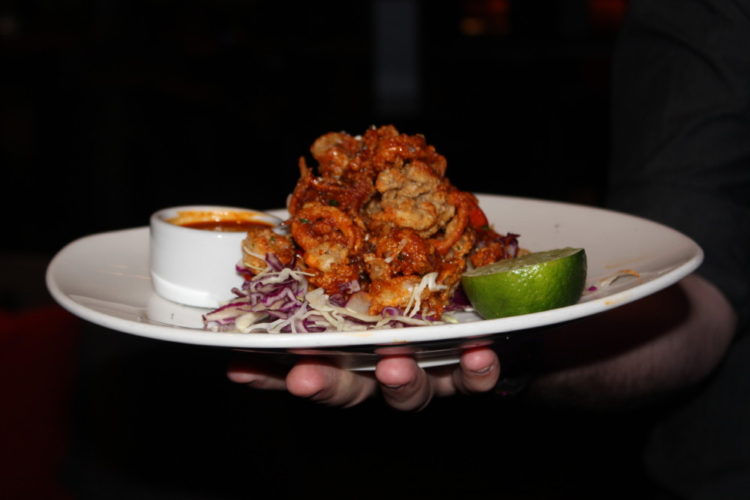 We also had our eyes on the Ahi tuna poke with soy, sweet onion, ginger, sesame, edamame, and macadamia nut crunch — that's the part that made me do a double take. Macadamia nuts are so buttery and delicious, and they go so well in Asian-style dishes like poke. This dish is filled with umami flavor, and the large chunks of Ahi tuna were incredibly fresh and tasty. It's served with tortilla chips on the side, but really, all you need is a fork for this one…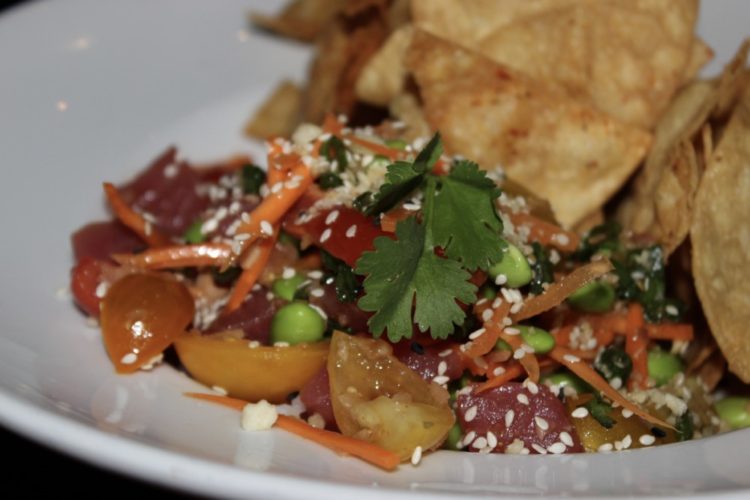 As for the entrees, the roasted veggie kabobs were practically screaming my name. The plate includes four kabobs, each completely filled from end to end with perfectly tender roasted vegetables — tomatoes, peppers, onions, zucchini and squash — with a house-made sweet chili sauce on the side for drizzling, dipping, or just spooning right into your mouth. A side of tempura green beans rounds out the dish, which the sweet chili sauce worked wonders with as well.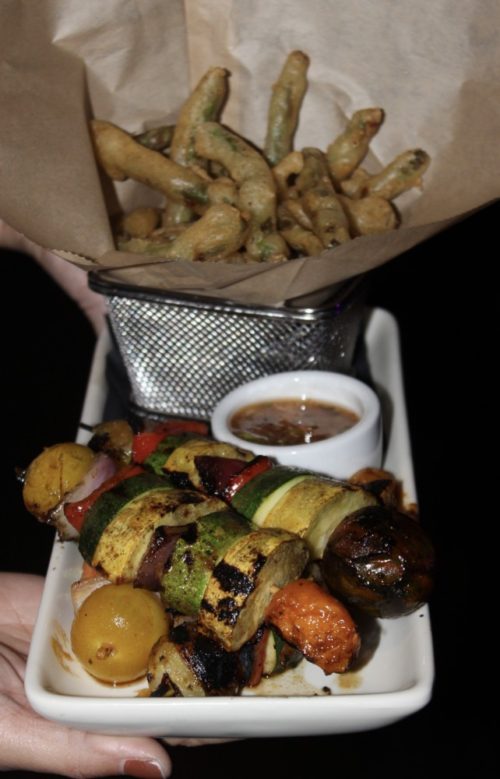 We also tried the grilled salmon, which was cooked exactly how I like it — medium well with a super crispy skin. It's served over a bed of caramelized sweet corn and toybox tomatoes with fresh tarragon on top. The dish was a little heavy-handed on the corn. I didn't touch it, but even for someone who does eat corn, it was a bit much. The salmon was extremely tasty, but the rest of the dish just seemed to be missing…something. Potatoes? Crispy onion strings? Mmm…crispy onion strings actually sounds really good.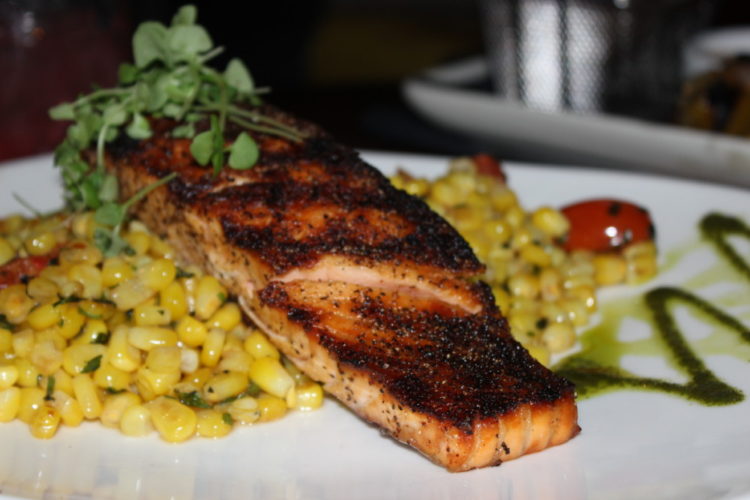 Lobster lovers, you need to check out the lobster roll. Poached knuckle and claw meat has been smothered in a pink chili dressing and served with Old Bay potato chips on the side. IMO, there is no better spice mixture than Old Bay. It's the perfect combination of sweet and spicy and can work with just about anything. I regularly use it on fish and shrimp, and it's definitely fitting on any kind of potato.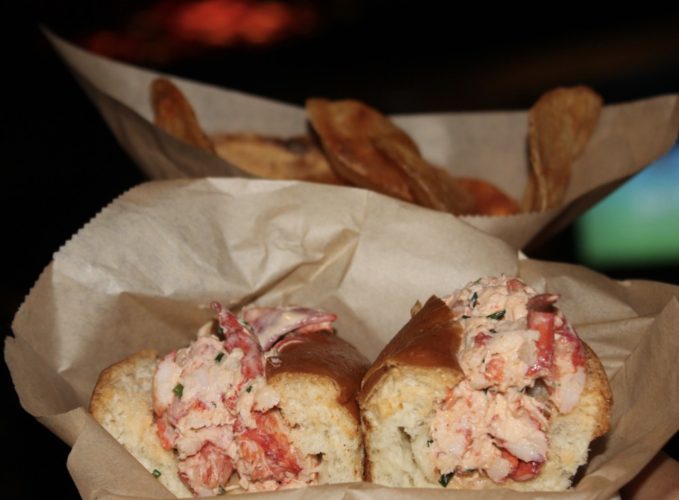 Sure, we had Old Bay potato chips on the table — but that doesn't mean we gave up on the french fries. I was dining out with Ms. French Fry herself, Jill. This time around, we said See Ya to the truffle parmesan fries on the menu, and opted for the sweet potato fries, served with curry ketchup. This ketchup had such an interesting flavor, but it worked incredibly well with the sweet potatoes. I'm not so sure I'd like it as much with regular fries — so bring on the sweets! Truth be told, I'd actually take sweet potato fries over most regular fries any day.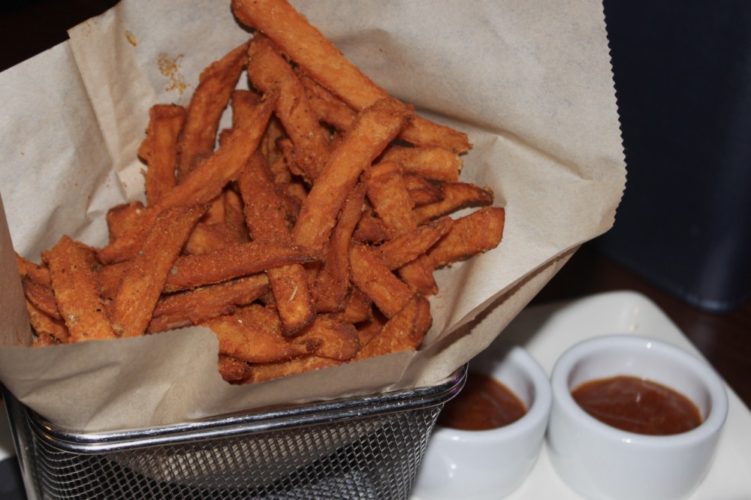 Did we finally make it to dessert? Since Sherry Yard is the brains behind The Tuck Room, it's no surprise that the desserts are incredible as she is pretty well known for her pastry skills. Let's start with the caramelized apple pot pie. A dessert version of pot pie? Genius! Flaky puff pastry is filled with caramelized apples, ooey gooey butterscotch and a rich and creamy crumble swirl ice cream with candied pecans. This dessert is very much meant for fall… BUT there's no chocolate. And let's be honest — dessert should always include a little bit of chocolate.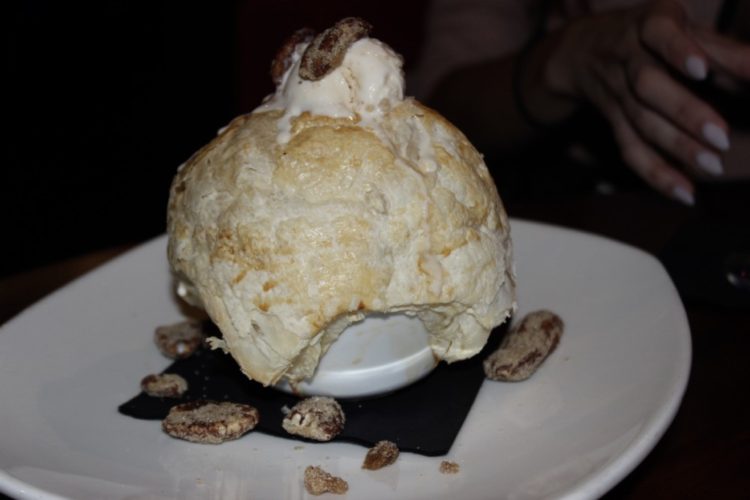 Or, in this case, a lot of chocolate. The chocolate s'mores cake is rich, fudgy, full of that chocolatey deliciousness that chocoholics need at the end of every meal. It's topped with toasted meringue, and surrounded by graham cracker crumble, little chocolate beads and whipped cream. This dessert really did capture every element of a s'more. The deep, decadent chocolate bar… The charred, sticky marshmallow… The crunchy, sweet graham cracker. All this s'mores cake was missing is a camp fire.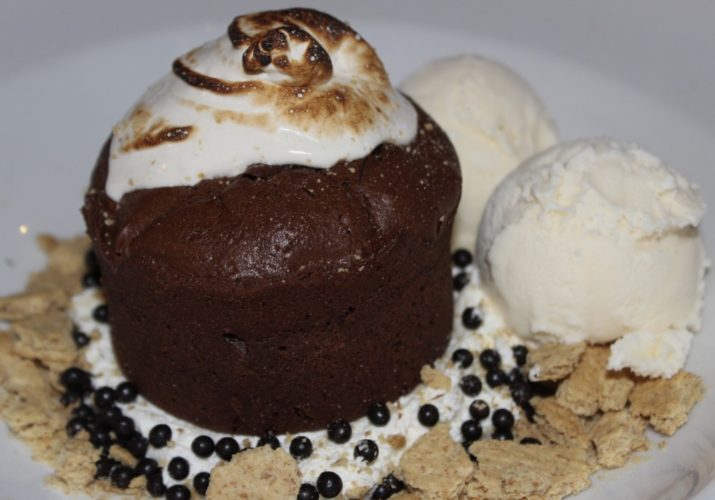 Now that you've successfully made it through drinks, dinner and dessert, you're ready to head into your movie — that is, unless you've fallen into a serious food coma.
The Tuck Room is open Sunday through Thursday from 11am to 11pm, and Friday and Saturday from 11am to midnight. It's located at 3701 NE 163rd St. in North Miami Beach.