Never miss a bite! Sign up here to receive new recipes and reviews straight to your inbox.
NOTE: This restaurant has since closed.
Disclosure: I was invited to dine as a guest of The Venu. No monetary compensation has been received for this post. As always, all opinions are 100% my own.
What do you get when you combine a restaurant with a chef-driven menu, a wrap-around bar with tons of seating, and a 22′ x 20′ stage with state-of-the-art sound and lighting systems? The Venu, that's what. The newest dining and entertainment destination to hit South Florida has made its home way out west in Boynton Beach, but I promise you — if you're someone who tends to stay east, it's worth taking a trip out there to experience this unique venue and all it has to offer.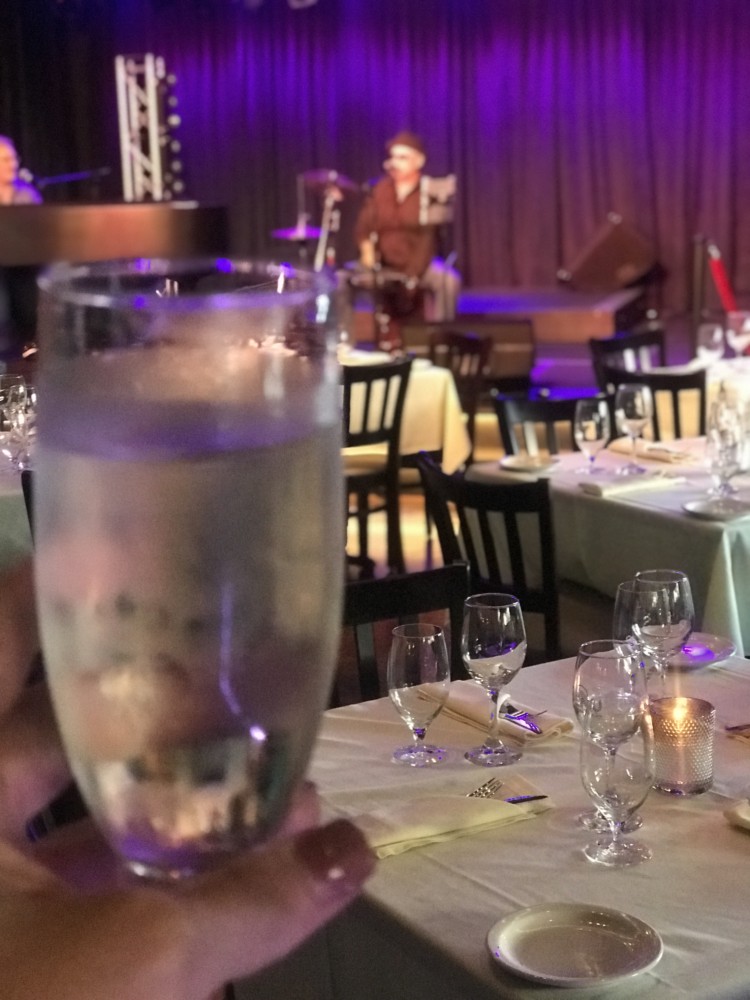 The brains behind this new establishment are longtime South Florida residents Terry and Nicole Woods, who have teamed up with General Manager Reed Demos and Executive Chef Kelley Randall, both previously of Vic & Angelo's in Delray Beach, to bring a one-of-a-kind atmosphere marrying cuisine, culture, and performing arts. Anyone who is familiar with Chef Kelley's farm fresh cooking style won't be surprised to find the same imaginative menu items as he presented at both of his former places of employment, Vic & Angelo's and The Office. The Venu's menu is a mix of Italian and modern European featuring house-made pastas and desserts made fresh daily.
It was quite the treat for us local influencers to get a taste of this hot new restaurant right after it officially opened to the public on August 6, 2018. Chef Kelley's creations were nothing short of impressive — and I was especially lucky to get one dish in particular all to myself — one that you'd have to pay me to share, and one that I happily devoured all on my own. Guess what it was? If you immediately thought octopus, you know me too well.
Chef Kelley prepares his grilled octopus with potato, castelvetrano olives, artichokes, 'nduja (spicy, spreadable pork salumi) and a cilantro-scallion vinaigrette. Clearly, he left the 'nduja off my plate, and instead added sliced cashews. I actually hoped that this would be part of the regular dish, because it added the perfect element of texture to it. The octopus, which had quite the visual appeal with its perfect plating and right on point char marks, was incredibly tender and full of flavor. The vinaigrette is something Chef should consider bottling and selling — it was so tasty!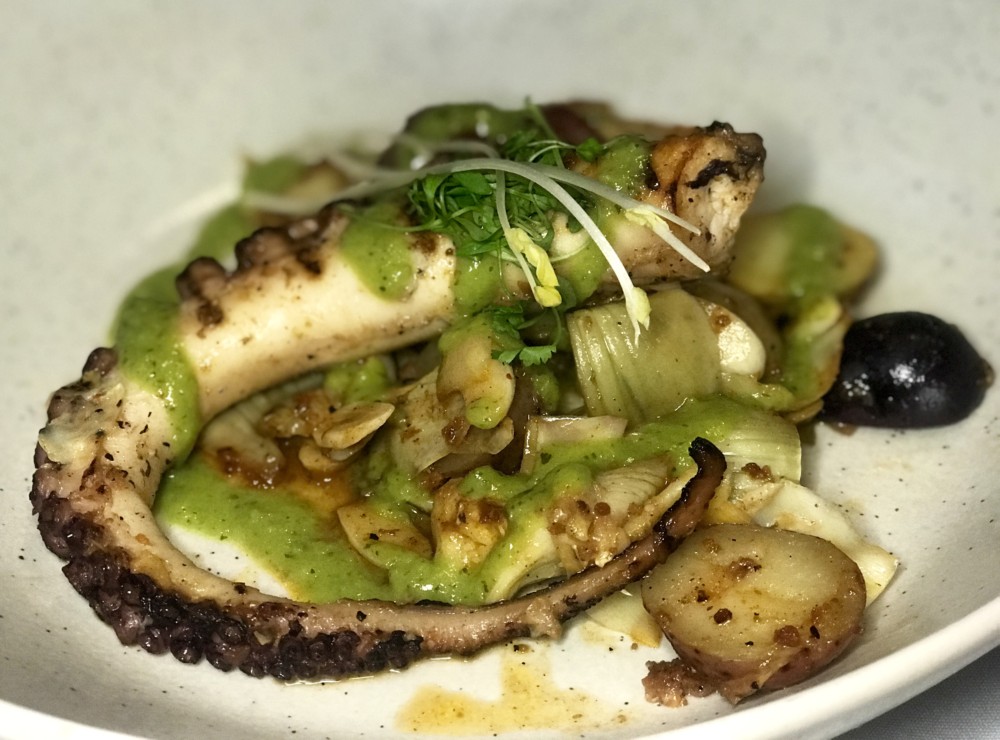 Eyeballs were all on me, wondering once again #WhatsShainaEating, as I happily enjoyed my dish in lieu of what the rest of the diners were served during this course of the meal — 14-hour braised wild boar pappardelle with Italia feta and citrus. It still kills me that I can't have regular pasta any more. Even though I wasn't jumping at the opportunity to try wild boar, the fresh pasta, made from scratch earlier that day, was almost too tempting. Lucky for me, the grilled octopus held my attention.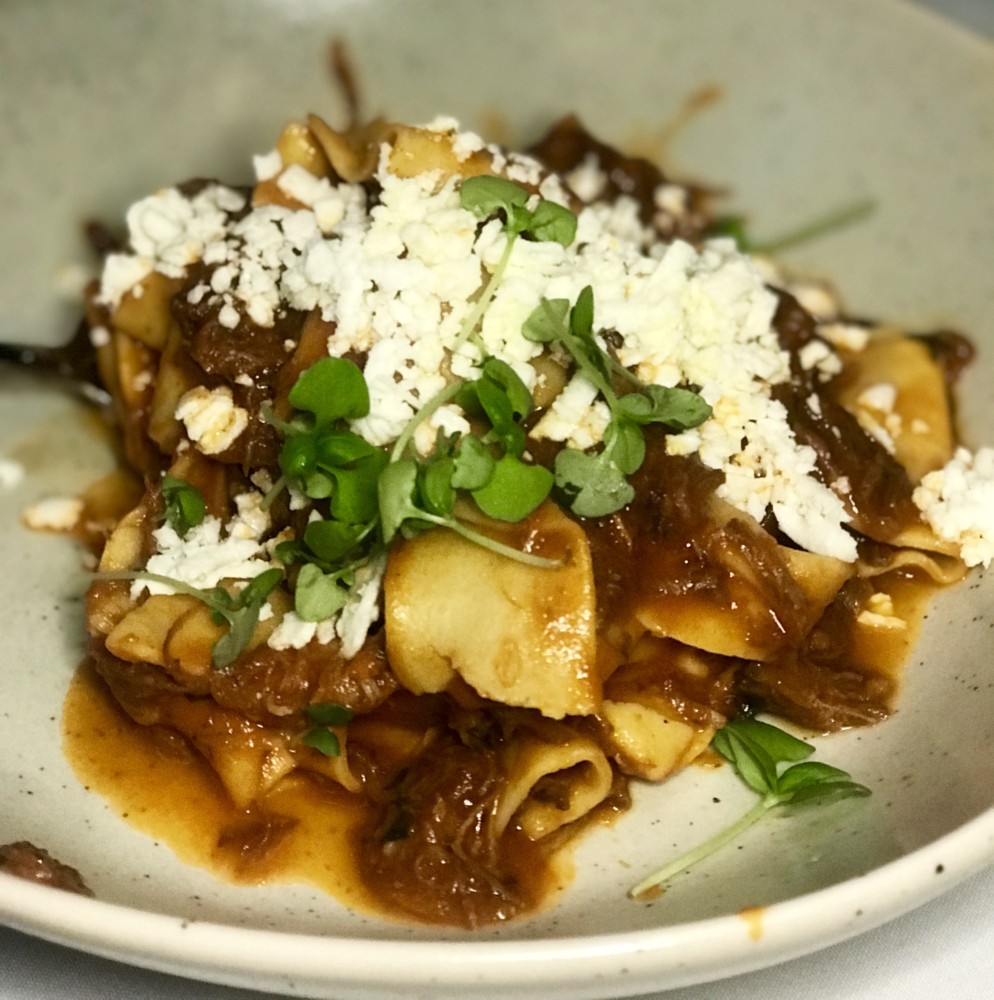 Speaking of meat… If you've been following along with my social media, you'll see that I have started re-introducing meat back into my diet (stay tuned for an eventual post explaining all of this further.) When Chef Kelley heard the news, he was all too excited about the first course of the evening — wagyu beef carpaccio. The dish is normally served with a fried caper aioli, baby greens, Parmigiano-Reggiano and grilled bread, but he made mine with a simple topping of baby greens and capers. Even when I did eat meat, I never had carpaccio, so this was a major first for me. The consensus? Delish. A little salty, but that's what gave it so much flavor. You'd think being new to this whole meat-eating thing that I'd shy away from a raw dish, but I was excited to give it a taste, and am happy to report back that it's definitely something I would have again.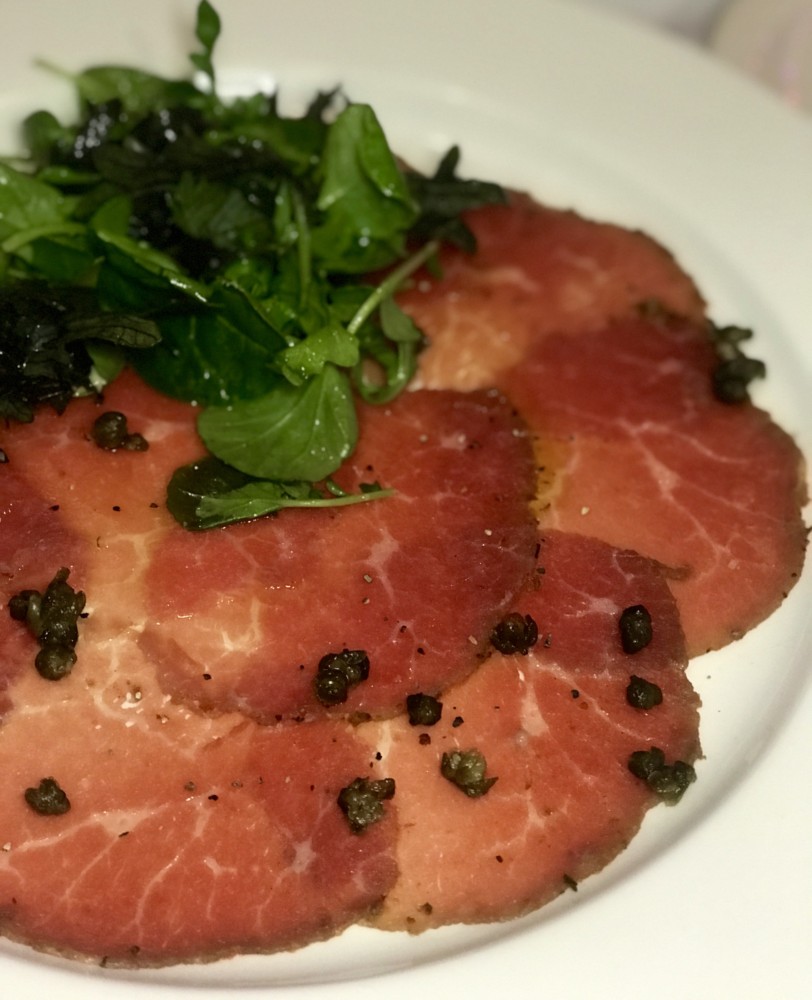 Following the carpaccio course was the meatballs a forno, made from a mixture of bison and pork, topped with ricotta salata and fresh garden basil, served in a San Marzano tomato sauce. For me, Chef kept things light and fresh with a Shaina-friendly version of their grain salad, minus the grains. It consisted of fresh greens, toasted pine nuts, juicy strawberries, creamy goat cheese and a saba vinaigrette. The salad was simple, yet satisfying. I mean, seriously, you could add goat cheese to anything and I'll be happy.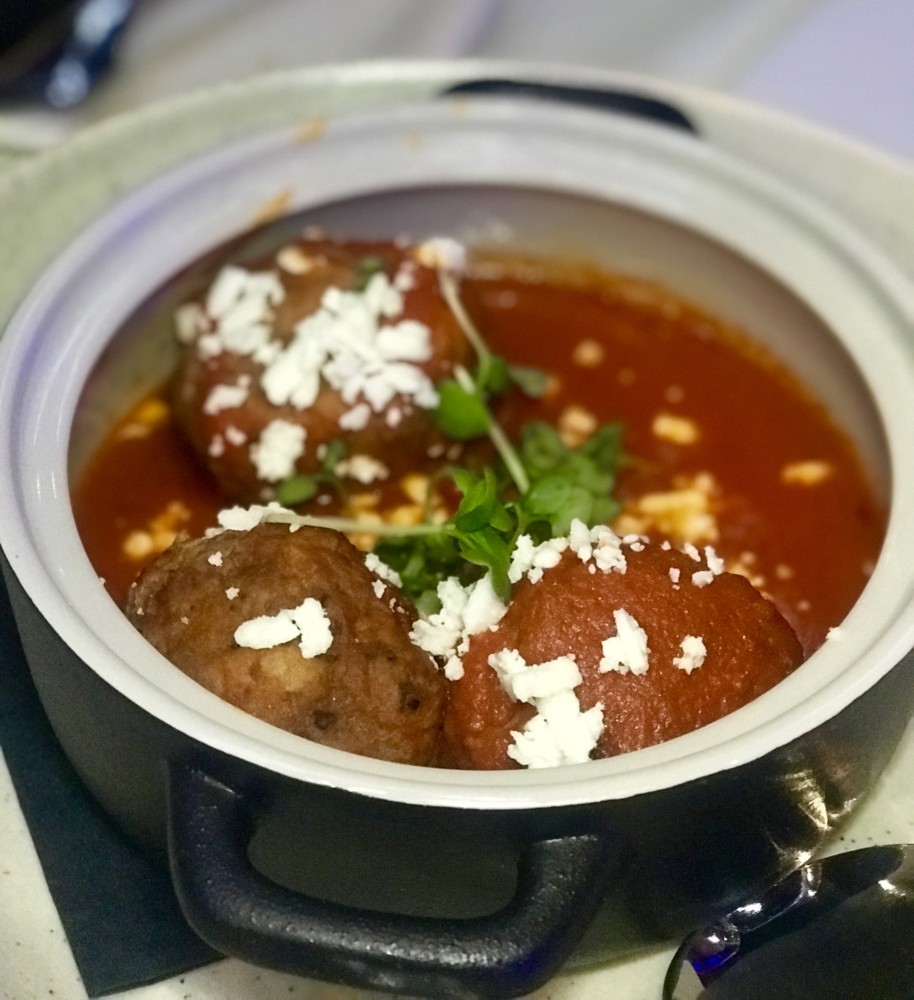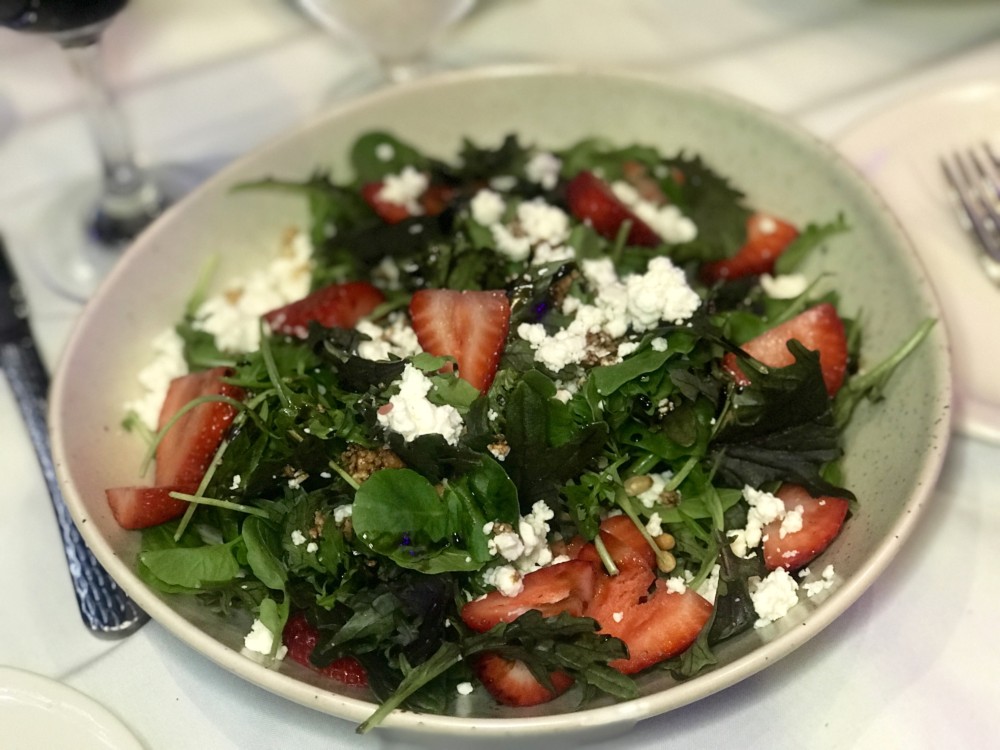 While I happily chomped away at my salad, the pear & cream salad came out — burrata, poached pear, baby greens and balsamic of Modena. Burrata is definitely my most missed cow's milk cheese, so watching others dig their fork into that creamy, dreamy ball of deliciousness hurt my heart. However, it was nothing that a few bites of sweet, tangy poached pear and sips of crisp, white wine can't cure…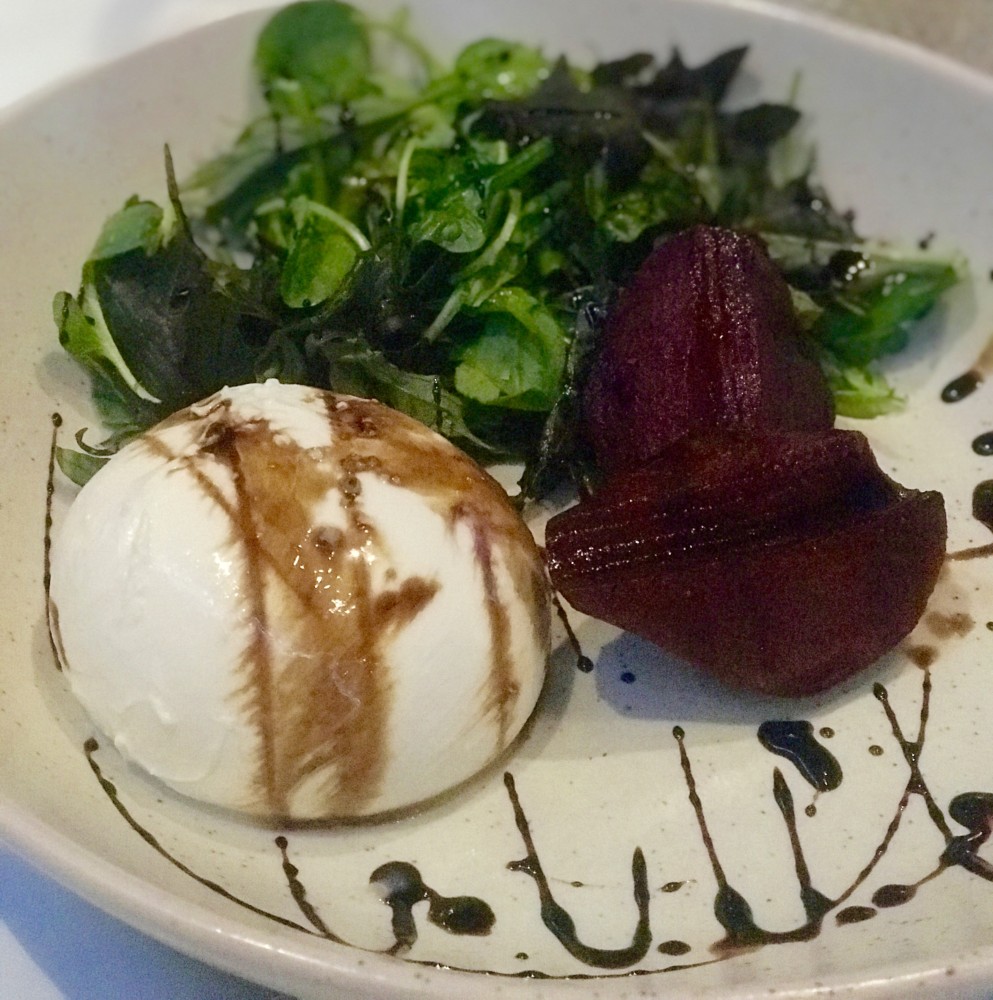 As we dove into the entrée course, I was itching for some more seafood. Good thing the next dish was seared sea scallops, which were served over velvety smooth summer carrot purée with fried artichokes and a white wine reduction. The scallops were the definition of perfection. Seeing a sear like this puts a smile on my face because I know just how delicious it's going to be before I even take a bite. All expectations were met and then some!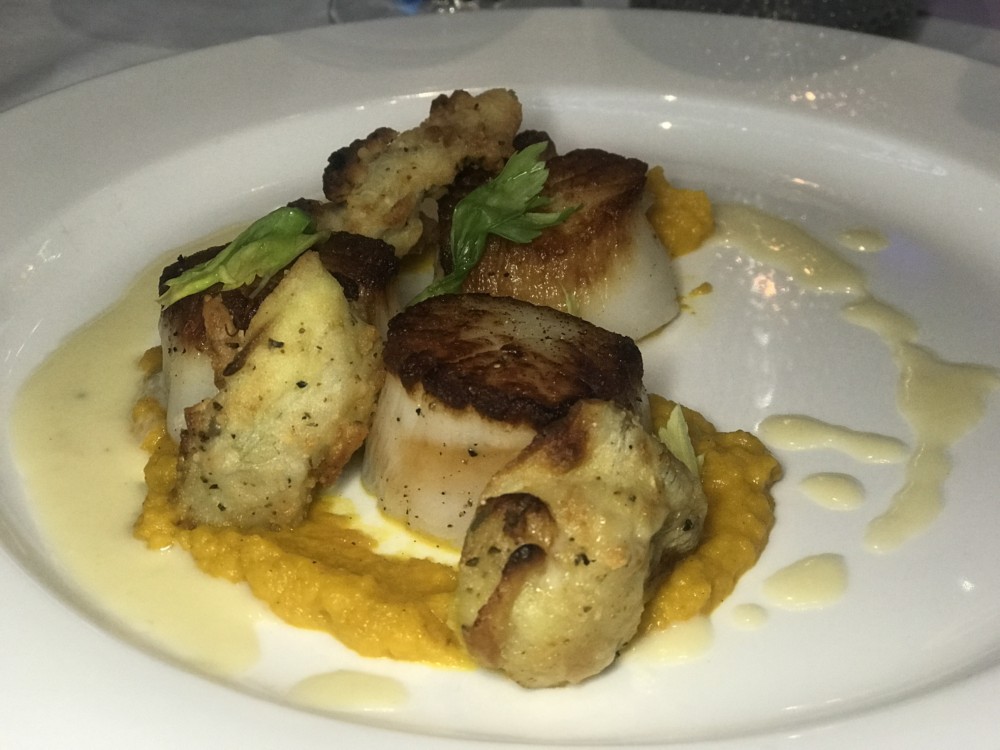 Following the scallops was a dish that I'd imagine would quickly become a house favorite. Chicken francaise, an already popular Italian staple, but with The Venu and Chef Kelley's twist, it's bound to be even better than you could imagine. The chicken is swimming in a luscious lemon-butter sauce with artichokes, capers and tomatoes and just by looking at the house-made linguine, you can tell how fresh and perfectly it's been cooked. It was definitely a dish I wish I could have partaken of — instead, I stole someone else's unfinished scallops. Yeah, I have no shame.
For dessert, fresh Italian classics hit the table and their sweet aromas filled the air. As mentioned, The Venu's desserts are all made fresh daily so we all knew these were going to be good — and you know how much I wish I could have tasted them!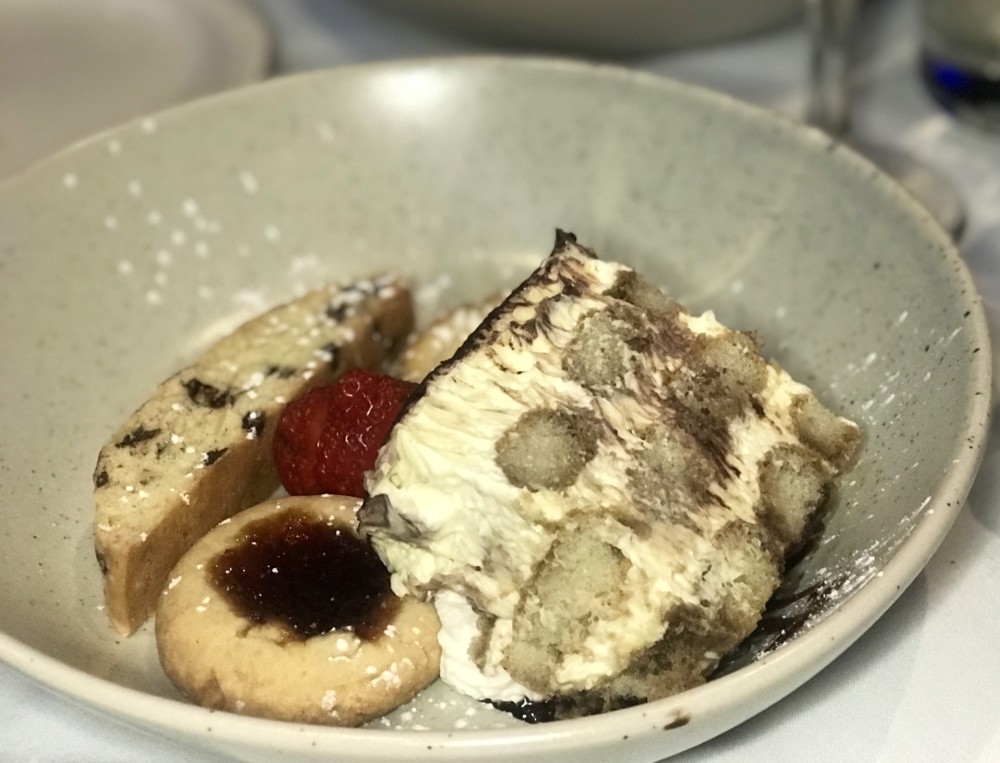 The Venu Restaurant and Bar is located at 8794 Boynton Beach Blvd, Suite 101 in Boynton Beach. The restaurant is open daily for lunch and dinner from 11am-3am. Happy hour is from 4-7pm every day and features $6-$7 select wines by the glass, $9 cocktails, $4 draft beers and $3.50-$4 bottles, as well as half-priced appetizers and salads and discounted prices on all liquor. Brunch is served on Sunday from 11am-3pm and features All-You-Can-Drink Mimosas for $14 and $8 Bloody Marys. There is also a special Showtime menu available during performances. A full list of upcoming entertainment can be found here.