Disclosure: I received a complementary room at The Westin Fort Lauderdale and dined as a guest of the restaurant. There was no monetary compensation received for this post. As always, all opinions are 100% my own.
Hotel restaurants sometimes have quite the stigma. But that game has changed in recent years as more and more hotels are realizing that their guests' experiences should extend past the comfortable rooms, complimentary continental breakfast, and state of the art fitness centers — it should 100% include dining in-house, a mere elevator ride away from their cozy beds.
I recently had the opportunity to stay at The Westin Fort Lauderdale, only 10 minutes from downtown restaurants, shopping, and entertainment. There are 298 spacious guest rooms, as well as 45 luxurious suites. Their 5,049 square-foot Florida Grand Ballroom can accommodate up to 600 attendees and the smaller 2,571 square-foot Keys Ballroom can hold up to 250, making this a great spot for business meetings and corporate events.
Guests are in for a treat when they find out they can leave their workout gear at home and opt to participate in the RunWESTIN program. I found this feature of the hotel really awesome, and it's something I would definitely use! For just $5, you can basically rent a pair of sneakers and work out clothing from New Balance® during your stay. I seriously love this idea! Packing gym clothes can sometimes be a pain when you're on vacation — you can only pack so many things into a suitcase! The Westin has helped to solve this problem! While my stay wasn't long enough to warrant a visit to the gym, it's great to know that this is an option for the future.
Now for the real reason behind my visit to The Westin Fort Lauderdale — the food! Alfiére's Mediterranean Bistro recently went through a menu renovation and now features a SuperFoods menu with dishes made from healthy ingredients rich in nutrients and antioxidants — not to mention they taste freaking good too! My guest and I were treated like absolute royalty from the moment we walked into the restaurant until our very last step out the door. Aside from all-star service and the chef personally preparing each of our courses for us, we were treated to wine and cocktail pairings too! Our favorite drink of the night definitely had to be the Rosemary Pineapple Margarita — a mix of Milatro tequila, cherry heering, agave simple syrup, lime, and orange bitters.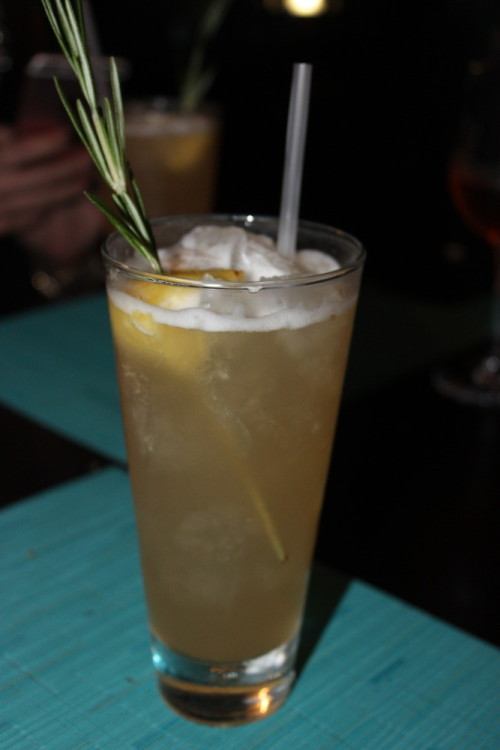 We started with a classic trio of dips — hummus, tabbouleh & babaganoush served with grilled pita points. The hummus was super smooth and creamy, and we both really enjoyed it, as well as the babaganoush. If you're an olive lover, you'll definitely want to try the tabbouleh; however, for non-olive lovers, you may want to stay away. There is a very overpowering olive flavor and there's really no getting around it. Believe me, we tried. The grilled pita points were, well, totally on point. You can't go wrong with freshly baked pita…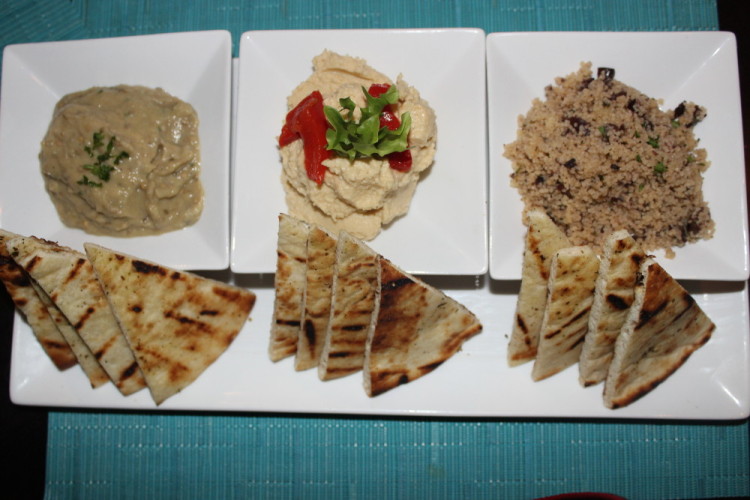 We made sure not to fill up on too many pieces of hummus-loaded pita points — there was a jumbo lump crab cake on the way! Both my guest and I are from up north, where crab cakes are plentiful and always delicious. We're pretty picky when it comes to the crab-to-filler ratio. Basically, get rid of the filler! You don't need it, and it makes such a difference in the taste and texture. This pan-seared crab cake fit the bill, and was especially delicious thanks to the accompanying lemon garlic aioli. It was a perfect flavor pairing!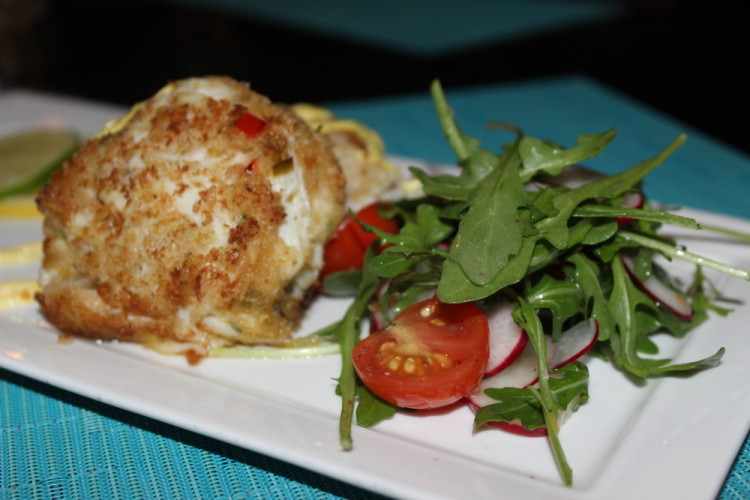 Next course was one of the most interesting and delicious salads I've ever tasted — sesame soy glazed Ahi tuna with young spinach, edamame, tear drop tomatoes, and diced sweet potatoes, all tossed in a pomegranate ginger dressing. Every bite we took was followed by some kind of exclamation about how much we loved it. It was a perfect marriage of ingredients — the flavors, the textures, and even the colors. It was just absolutely beautiful, and tasted just as amazing as it looked. I could eat a salad like this every day and not be bored.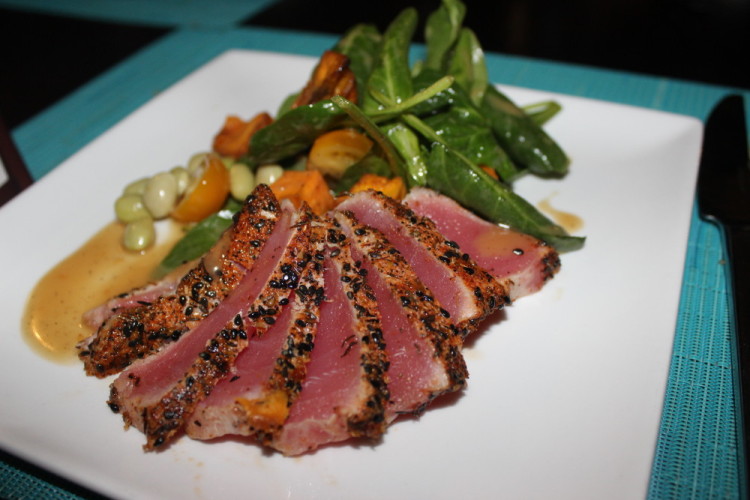 My guest's entree was the quinoa-crusted chicken breast with roasted root vegetables and sautéed spinach in pomegranate sauce. Just the description alone sounded so intriguing and yummy that I just had to try a bite… It's been a long time since I've had chicken, but this was one of the most moist and tender chicken breasts I've had to date. The flavors were great — a winning dish, for sure. I had the grilled mahi-mahi with a mango and pineapple salsa, and sautéed haricot verts and carrots. Again, a wonderful balance of flavors, textures, and colors — but I found the chicken dish to be the more interesting of the two.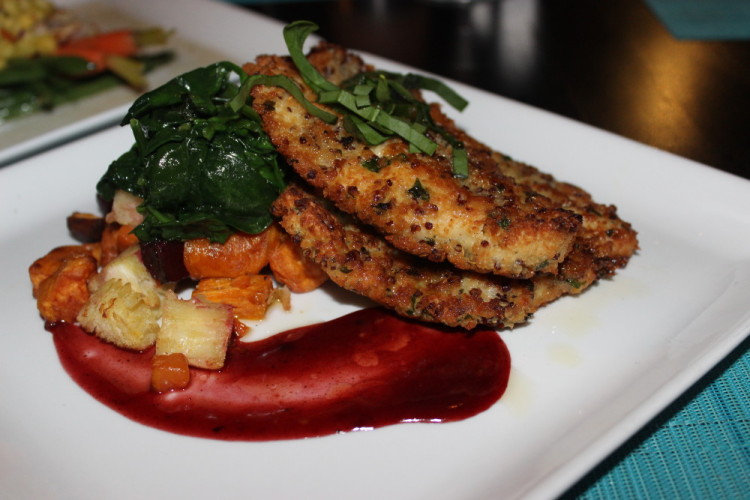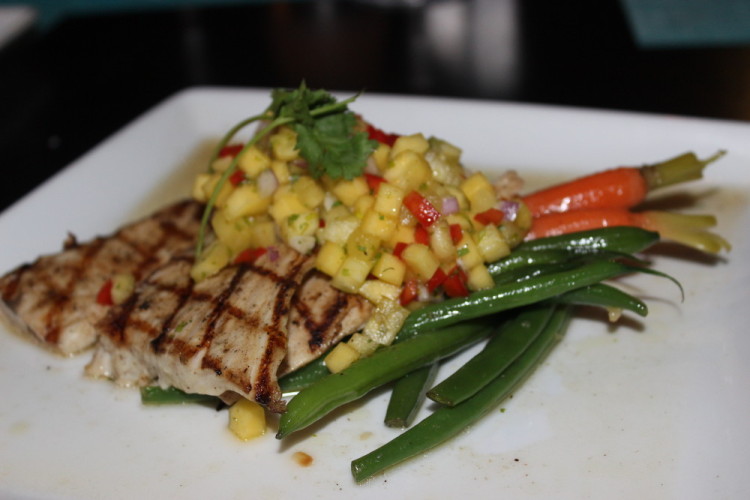 Dessert was a sampler platter of key lime pie, tiramisu, a chocolate torte, and the Paradiso — vanilla sponge cake with mango, coconut and passion fruit mousse. Surprisingly, my favorite was the tiramisu, a dessert I don't often love. There was just something about the espresso-soaked lady fingers and sweet mascarpone mouse that reeled me in and had me totally hooked.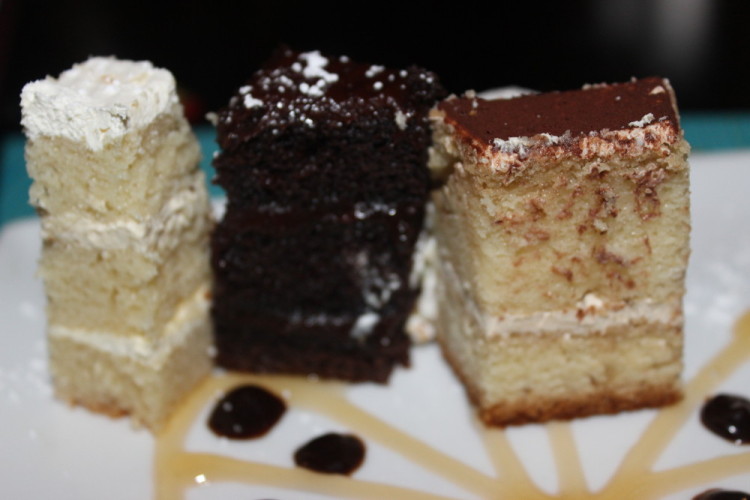 All in all, I thoroughly enjoyed my experience at Alfiére's. I must have that Ahi tuna salad and the Rosemary Pineapple Margarita again, for sure. I would dine here even if I wasn't staying at The Westin — but maybe I should, since I didn't get a chance to try the RunWESTIN program…
The Westin Fort Lauderdale is located at 400 Corporate Drive in Fort Lauderdale.