The pumpkin craze started as soon as September fell upon us. I don't know what I've been doing all this time, but it's taken me almost two months to bring you a pumpkin recipe! Where have I been??? I apologize for being a horrible food blogger and not filling you up with pumpkin like the rest of my blogger friends have been doing. Shame on me.
The cans of pumpkin purée were yelling at me through the cabinet doors and I finally listened. I didn't go crazy with a bunch of different ingredients; I wanted my first pumpkin recipe of the season to be something simple and straightforward. Something with lots of pure pumpkin flavor to satisfy that craving we all get this time of year. I found a recipe for plain pumpkin bread from King Arthur Flour. With a few adjustments to the ingredients to make it more of my own, I made a perfectly pumpkin-y bread that can easily be enjoyed for breakfast, brunch, or dessert. I followed Sally from Sally's Baking Addiction's excellent lead and topped the bread with a pumpkin spice glaze using pumpkin spice coffee creamer. That glaze was a genius idea. Thanks, Sally! I don't think the bread would have been as moist as it was without that glaze seeping through all of the nooks and crannies.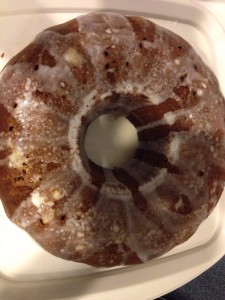 I think this was my best pumpkin bread attempt since I started baking. I had a slice because well, duh, I have to try out my own baking. But then I had another slice because I just had to be sure it was really that good before anyone else tried it. You know, because sometimes that first taste just isn't good enough…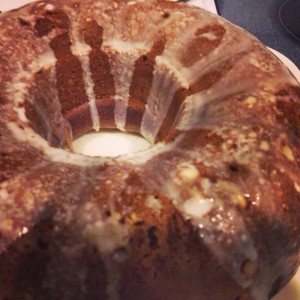 Now that I started with the pumpkin, it may be hard to stop.

Pumpkin Bread with Pumpkin Spice Glaze
Adapted from King Arthur's Easy Pumpkin Bread and Sally's Baking Addiction's Iced Pumpkin Coffee Cake (for the glaze)

1 cup vegetable oil
2 cups dark brown sugar
2/3 cup granulated sugar
4 large eggs
1 15 oz. pumpkin purée (NOT pumpkin pie filling)
2/3 cup water
3 1/3 cups all purpose flour
1/2 tsp baking powder
2 tsp baking soda
1 tbsp pumpkin pie spice
1 tsp vanilla extract
1 cup confectioner's sugar
2 tbsp pumpkin spice coffee creamer

Preheat the oven to 350 degrees. In the bowl of a stand mixer, beat together the oil, sugars, eggs, pumpkin purée and water. Add in the flour, baking powder, baking soda, pumpkin pie spice and vanilla. Mix until well combined. Pour the batter into a prepared bundt pan and spread evenly. Bake for 60 minutes or until a toothpick inserted comes out clean.

To make the glaze, whisk together the confectioner's sugar and creamer in a small bowl. Add more creamer to thin, or more sugar to thicken. When you've reached your desired texture, drizzle over the top of the cake.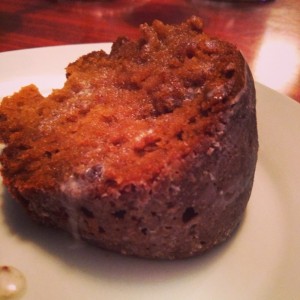 Posted with Blogsy