After moving into my own place, one of the things I was most excited for was entertaining and having guests over for dinner. I don't do much cooking on the weekend since I usually go out to dinner, but recently I thought it would be fun to cook dinner and invite a few friends over. I'm not sure if I've mentioned it before, but I got involved with the Kabbalah Center here in Boca not too long ago and really love all of the people I've met. I have been experiencing so many new, exciting things and it has really opened my eyes. I've made some great friends even in the short time I've become a part of the center, one of which is my supervisor at work, Tyler, who is the one who introduced me to Kabbalah and the center in the first place. I am so thankful to him for bringing me there and showing me this amazing side to life that is so positive and full of love, light and energy. He connected me to the center and through that, I've made new friendships that I foresee as being as long-lasting as those with people I've known for years.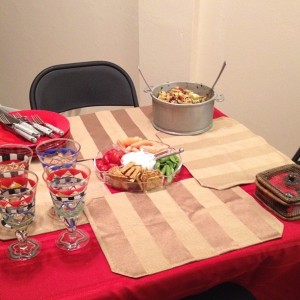 So it was some of my friends from the center, Tyler, Lauren and Jaime, who joined me for my little dinner party on this random weekend night — it also happened to be the night of the Olympic Closing Ceremony. We had that on all night and although we were talking over the TV for the majority of the night, as soon as the Spice Girls hit the stage, it was silent. Tyler ran and sat down in front of the TV and we all traveled back in time to when we were in middle school and loved this badass girl group. I can't believe how great they all look. I was always a Posh fan, and even dressed up like her for my Spice Girls-themed 9th birthday party. I wish I had a picture to show you. Priceless!
Anyway, back to the food, I put together a plate of carrots, cucumbers, grape tomatoes, snap peas and pita chips with Tzatiki sauce and set that out for a little nosh before our meal. Tyler brought my new favorite red wine – Yellowtail's Sweet Red Roo, and Lauren brought Magic Hat #9, a beer that I actually liked. I'm not usually a beer drinker, but this had a really light and crisp taste to it that I didn't mind.  For dinner, I whipped up a whole wheat pasta dish filled with spinach, artichokes, sun-dried tomatoes, and feta cheese. Everyone had seconds, and if we all hadn't of been so full from the crudites and dip and all the beer and wine, we probably would have gone for thirds too!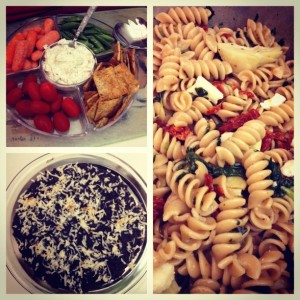 Of course I also had dessert made…baked oatmeal pie! This recipe was adapted from a healthy cookie recipe I found on Pinterest. After mixing together all of the ingredients, I thought it would be a cool and different idea to scoop out the batter into a pie dish instead of making cookies out of it. This pie was so rich that Jaime didn't believe me when I told her there was NO actual fudge in it, just cocoa powder! We had a really good time just sitting around my table talking and laughing about things going on in our lives and discussing our relationship woes — perfect post-meal discussion. Lauren and I talked about doing this more often since she loves to cook and bake, too, so hopefully there will be lots more get-togethers like this one soon!
Pasta with sun-dried tomatoes, artichokes & feta
1 box whole wheat pasta of your choice
1 1/2 cups canned artichokes in olive oil
1/2 cup julienne cut sun-dried tomatoes
reduced fat crumbled feta cheese
Cook pasta in a large pot. Once the pasta starts to soften, add in the frozen spinach. Continue boiling until pasta is completely cooked. Pour the pasta and spinach over a strainer and then return it to the bowl. Add in the artichokes and sun-dried tomatoes. Pour in the red wine vinegar and sprinkle in oregano. Mix everything together. Add in the feta cheese and continue to stir until well-combined.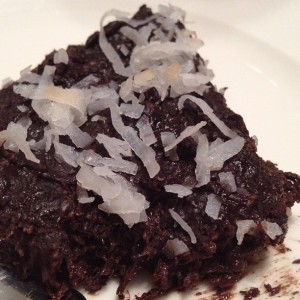 Baked oatmeal pie with toasted coconut
1/4 cup Better'n Peanut Butter
1/4 cup unsweetened cocoa powder
1/3 cup unsweetened applesauce
1/2 cup unsweetened shredded coconut flakes
Preheat oven to 350°F.  In a large bowl, mash the bananas. Using a hand or stand mixer, stir in the remaining ingredients. Spoon the batter into a round baking dish. Sprinkle the top with unsweetened shredded coconut. Bake for 10 minutes.