Unless you have been living under a rock, you are aware that today is Super Bowl Sunday! Tonight around 6pm, the Seattle Seahawks and Denver Broncos will fight to the finish – in New Jersey! Why on earth someone thought it would be a good idea to have Jersey host the game is beyond me. It's February. It's freezing. It's probably even snowing. I feel bad for those guys. I hope someone has a really huge vat of hot chocolate waiting for them post-game, and seat warmers while they're out onthe field, and … well, you get the picture.
Anyway, thankfully we can all celebrate game day from the comfort of our own warm homes (or a bar) and not have to deal with the harsh winter weather outdoors. And what better way to celebrate than with an entire list of amazing recipes perfect for any viewing party. Sunday Supper is bringing your Super Eats for Game Day hosted by Heather of Hezzi-D's Books and Cooks. This is seriously one of the most mouth-watering compilation of recipes I've ever seen. I want everything. On a plate. Right now.
I usually gravitate toward the salty things: chips and dips are my weakness and probably most of yours, too. All that salt is going to make us eventually crave something sweet, right? By the end of the night, after we've all had our fill of chicken wings, potato skins, jalapeno poppers and whatever else, a big ooey-gooey Triple Chocolate S'mores Brownie sounds pretty awesome, doesn't it? Think sweet graham cracker crust, triple chocolate fudge brownie, and a top layer of marshmallows that have been burnt just enough to remind of you of a campfire roast.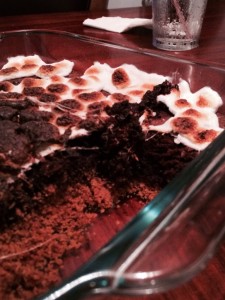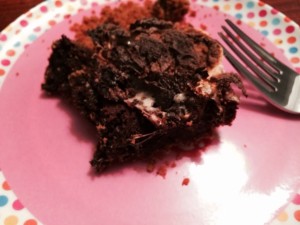 I cheated a little bit and used boxed brownie mix. But who cares? This is the ULTIMATE brownie mix, with triple the chocolate flavor. Chocolate mix, with chocolate melt-away chips, and Hershey's dark chocolate fudge. Game Day is all about indulgence, right? So live a little… Who cares how many slices of pizza you've already scarfed down or that plate of nachos you basically licked clean! There's always room for dessert, especially when it's a Triple Chocolate S'mores Brownie!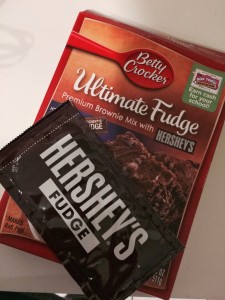 Psst…I did do you a favor and used coconut oil instead of butter or vegetable oil. So hey, there is a little bit of healthiness to these brownies!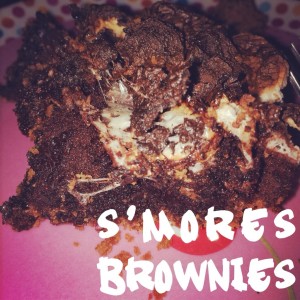 Triple Chocolate S'mores Brownie

1¼ cup Keebler Graham Cracker Crumbs
1/3 cup melted coconut oil
1 box Betty Crocker Ultimate Fudge Brownie mix
1 egg
¼ cup water
¼ cup coconut oil
2 cups mini marshmallows
Preheat the oven to 350 degrees. Spray an 8×8 glass baking dish and set aside.
In a bowl, mix together graham cracker crumbs and melted coconut oil. Press the graham cracker mix into the prepared pan and evenly cover the bottom of the dish. Bake for about 5 minutes or so just to get the crust to set.
Make the brownies according to the package directions. All you need to do is use an electric mixer to mix the mix (and Hershey's fudge), egg, water and oil until everything is well combined. Pour the brownie batter over top of the graham cracker crust. Bake for 40 minutes. At this point, you'll test your brownies with a toothpick and it may not come out clean. That's okay; take them out anyway. You want these to be a little underdone, trust me. It's what makes them so rich and moist.
Switch your oven to the Broil setting. Cover the top of the brownies with the mini marshmallows. Broil on High for about 2-3 minutes. Make sure you do not walk away from the oven! These marshmallows will get toasty very quickly, so you'll want to keep an eye on them. As soon as they reach the amount of brownness that you'd like, take them out. As tempting as they are, let the brownies cool completely before cutting.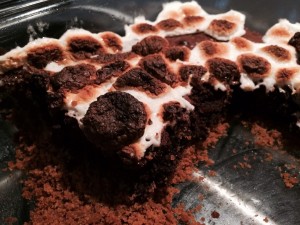 So what if the marshmallows are a little burnt? They are better that way!
See what Game Day with #SundaySupper is all about!
Game Day Appetizers:




Game Day Entrees:



Game Day Desserts: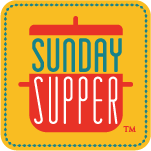 Join the #SundaySupper conversation on twitter every Sunday!
We tweet throughout the day and share recipes from all over the world.
Our weekly chat starts at 7:00 pm ET. Follow the #SundaySupper hashtag
and remember to include it in your tweets to join in the chat.
Would you like to join the Sunday Supper Movement? It's easy! You can sign up by clicking here: Sunday Supper Movement.