One of the best things about living in Florida is you know at least one person with a boat, if not many. There is nothing more relaxing than spending the day out on the water, drinks in hand, sun shining in your face, coasting down the waterway. I live right near the Intracoastal and am lucky enough that my aunt and uncle have a boat. I love going out on the water for quick rides, sometimes even heading out into the ocean too. We'll anchor in Boca Lake which is always full of boats and people enjoying the awesome Florida weather. I have decided that my future husband must be a boater. Preferably with a nice, big yacht.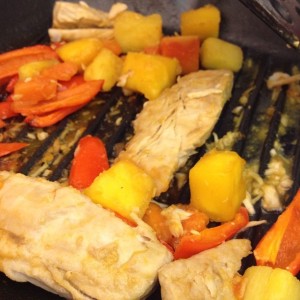 My uncle uses his boat for much more than driving around those of us who just want to relax in the sun. He often takes his boat to the Bahamas for weekend fishing getaways. Lucky for me and the rest of my family here, we get to enjoy all the fresh fish he brings back. The last time he went, he brought back mahi-mahi, which I absolutely love. There's something about mahi-mahi that reminds me of tropical locations and the flavors of fresh fruit. I opened my freezer to get out the fish and noticed the huge bag of frozen tropical fruit (used mostly for when I make protein shakes and smoothies) sitting right next to it. Bam! The "chef" in me went to work dreaming up a delicious dinner. Not only did I have tons of tropical fruit to use, but I have a mango-coconut and pepper marinade that Bubby found at Whole foods that I knew would bring the exact flavor to the dish that I was looking for. This marinade is sweet with a hint of spiciness from the peppers; perfect to achieve the tropical-inspired recipe I was trying to create.

The final meal consisted of this marinated mahi-mahi cooked on my panini grill along with pineapple, mango, papaya and some chopped up red peppers. My only mistake was leaving the fish on for a little too long, so it was slightly dried out, but now I'll know for next time. The only way to get better is to learn from your mistakes!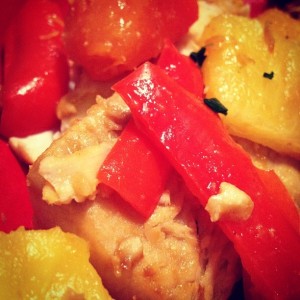 Tropical Grilled Mahi-Mahi
1 piece of mahi-mahi
Whole Foods Market mango-coconut-pepper marinade (or any brand of this variety)
1 cup of mixed pineapple, mango and papaya
1/2 red pepper, sliced
Marinate the mahi-mahi in the mango-coconut-pepper mixture. Put the fruit and pepper slices on the grill pan and heat on low for a few minutes. Add the fish and turn up to a medium heat. Continue to cook until the fish is completely cooked through and the fruit and peppers begin to show grill marks. Pour more marinade at any time if you feel it's needed.