Never miss a bite! Sign up here to receive new recipes and reviews straight to your inbox.
NOTE: This restaurant has since closed. The Deerfield Beach location is still open.
Disclosure: I was invited to dine as a guest of Tucker Duke's Boca Raton in exchange for this post. As always, all opinions are 100% my own.
Tucker Duke's is a Southern-style restaurant best known for its over-the-top, award-winning burgers — but recently, things have taken a little bit of a turn over in the land of meat and cheese. In an effort to accommodate anyone and everyone who walks through the doors at Tucker Duke's, chef/owner Christopher Cartenuto has outdone himself by adding vegan selections to the menu.
And guess what? Even meat eaters love 'em!
Now, let's get one thing straight. The menu at Tucker Duke's isn't all burgers. They do have a variety of appetizers, salads and sandwiches, and even entrée items like jambalaya, chicken and waffles and the 'Karma Bowl' featuring miso-glazed fish of the day with a vegetable stir fry and avocado purée. So yes, there have always been other options for those who don't want to sink their teeth into a juicy burger — but now there are options available for the non-meat eaters.
So even if you're craving the Tucker Duke burger, which you know cannot and will not be changed for anyone, you can still bring along your friends and family members who might want something a little lighter, or just not as meaty.
Chef Chris recently invited a group of us to come give his new vegan creations a taste, and the general consensus at the end of the night was unanimous — Tucker Duke's knows how to do vegan!
The evening kicked off with the special seasonable release from Pompano Beach's Broski Ciderworks — strawberry lemonade cider. It was sweet and refreshing, and kept with the dietary restriction theme (yanno, since cider is gluten-free).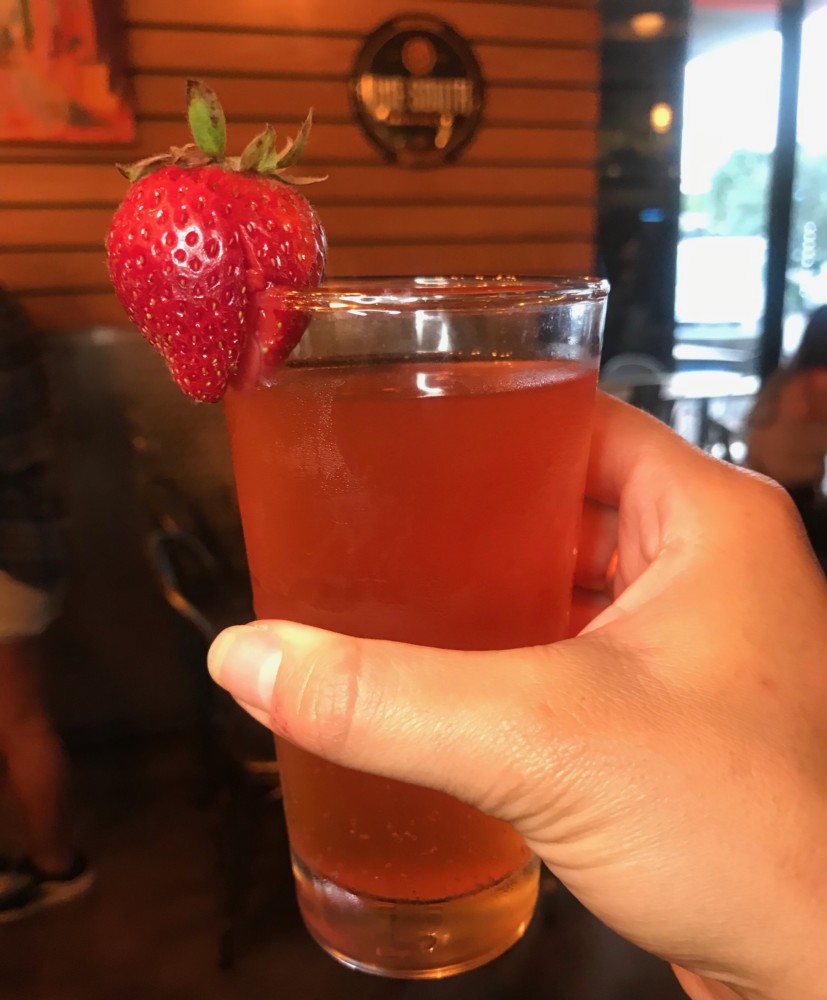 While not everything on this vegan menu was also gluten-free, Tucker Duke's does very well in accommodating a GF diet. Gluten-free buns are available for substitution for all burgers (except for the Tucker Duke, because like I said, it changes for no one) at the Boca Raton location, and many of the dishes can be made gluten-free as well.
First up were the portobello mushroom fries, a staple on the menu since the restaurant opened. These panko-crusted mushrooms were served with a vegan horseradish aioli and were a total crowd-pleaser. Crispy, crunchy, and earthy, with a hint of heat from the horseradish — sounds like a winner to me! Side note: these are not gluten-free, and served with non-vegan horseradish aioli when ordering from the regular menu, so make sure to ask specifically for the vegan sauce!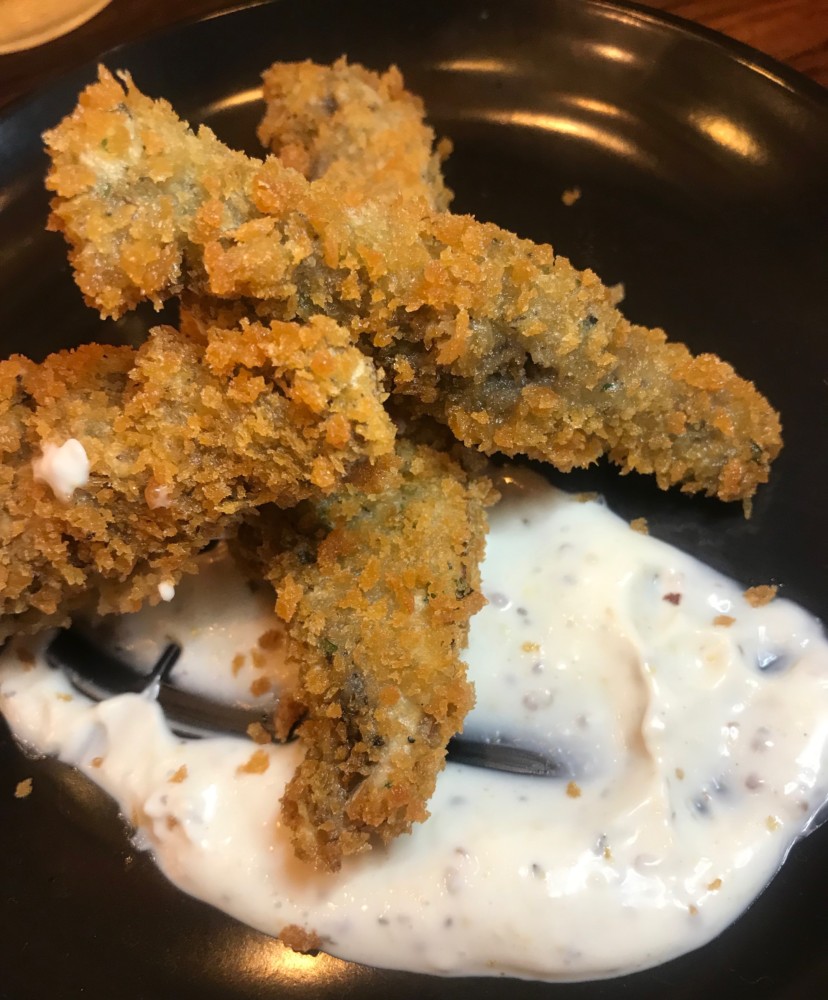 The cauliflower tots came out next, made with rice flower and served with a sweet chili dijon. These are both vegan and gluten-free, so I dug right in! No joke, these things are addictive. It might be the best recipe anyone has ever made with cauliflower as the star, and the fact that they're safe for anyone with a gluten, dairy and egg allergy takes them over the top. Chef Chris killed it with these cauli tots. Anyone who has ever tried them will 100% agree with me. These aren't actually on the menu, but I highly advise calling ahead to see if they can be made for you so you can taste the amazingness — and then begging that they be added to the menu permanently.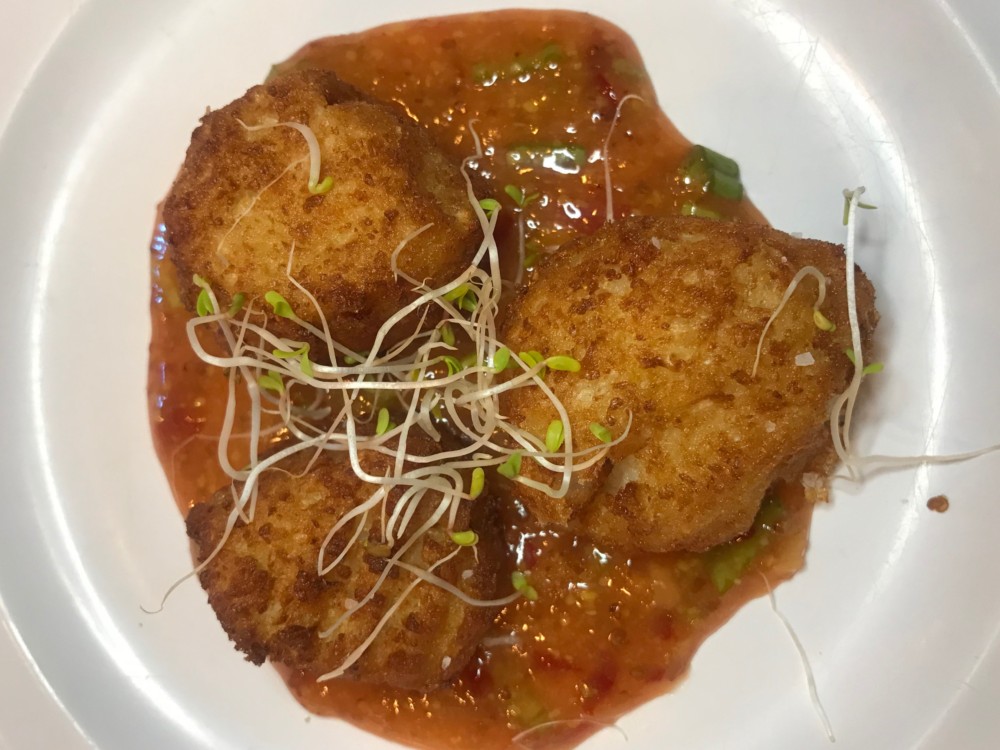 I'll start a petition. I'm serious.
The star of the evening was next — the vegan, gluten-free Toothless burger, named after the dog of a vegan staff member at Tucker Duke's. By the way, did you know that all of the burgers on TD's menu are named after employee's dogs? Love it!
The Toothless burger features the newest version of the Impossible burger (which is now soy-based instead of wheat, making it gluten-free) on a gluten-free bun with vegan cheddar cheese, spring mix, tomato, pickled veggies, hummus and vegenaise. It's amazing how much this "burger" looks, tastes, and feels like the real thing. The combination of ingredients was a total success, and even the meat-lovers in the bunch were pleasantly surprised with it. Vegan or not, the Toothless is a must.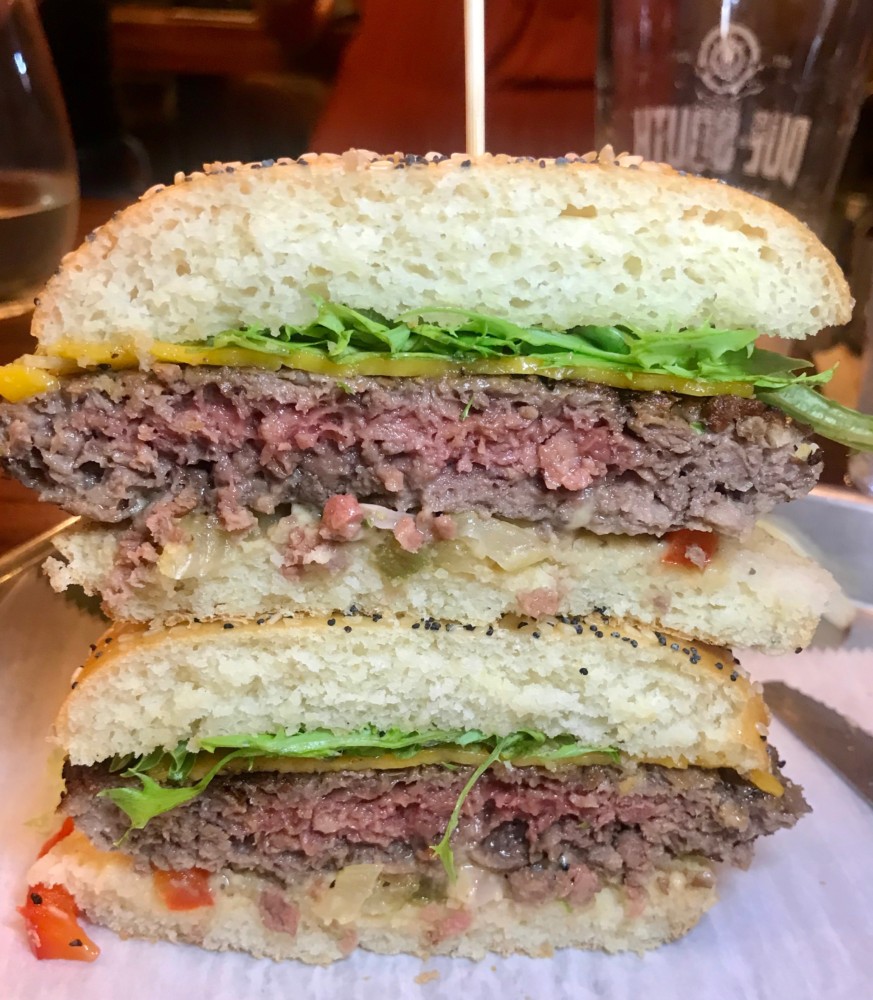 The Impossible burger can be substituted for any of the burger creations on Tucker Duke's menu (except, once again, the Tucker Duke).
Along with our burgers, we had dirty rice made up of Impossible meat mixed with peppers, onions, garlic, carrots and cajun seasoning. I would love this as a side to any protein, and especially think it'd make the perfect dish to bring to a potluck.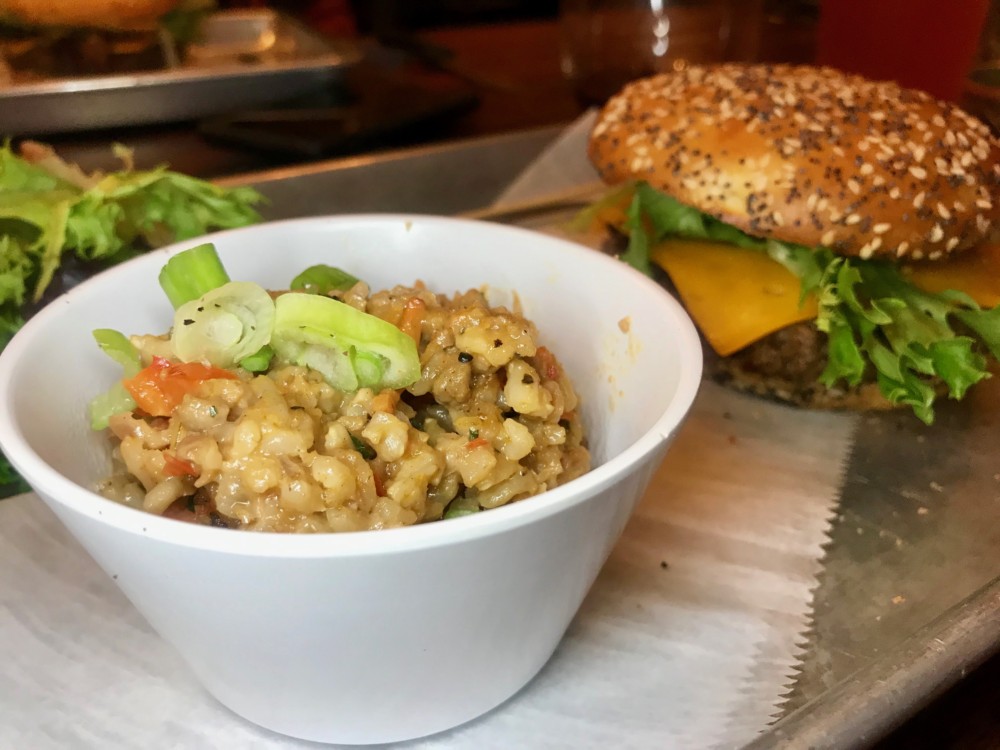 Tucker Duke's always has something unique and exciting going on, whether it's adding vegan items to the menu or having a pop-up wing shop inside the restaurant. Yep, that's a thing — Brass Rooster Wing Factory launched recently and offers boneless and bone-in wings and a variety of different sauces that can be ordered through UberEats or in store.
There are also great weekly specials. Get the signature Mondragon burger for just $10 during Mondragon Mondays, and enjoy half-priced Tucker Duke burgers with the purchase of a drink on the first Tuesday of every month during Tucker Tuesdays. On Wednesdays, it's Wooden Nickel Night, where if you buy one draft, you'll get a token for free draft, and Thursdays are all about wine — $4 house wines, $2 off all glasses and half-priced bottles.
Tucker Duke's Boca Raton is located at 1658 North Federal Highway, and also has a location in Deerfield Beach at 1101 South Powerline Road. The restaurant is open daily from 10:30am-10pm. Happy hour is Monday through Thursday from 3-6pm and 9pm-close, featuring 25% off drafts, $2 off cans and bottles and $2 off house wine.