Never miss a bite! Sign up here to receive new recipes and reviews straight to your inbox.
Deerfield Beach's newest hot spot, Tucker Duke's Lunchbox, teamed up with some of Florida's best breweries to put on a Summer Brewmaster Series complete with off-the-menu items and their perfect pairings. The second dinner of the series was with Wynwood Brewing Company out of the Wynwood District in Miami and yours truly was invited as a special guest!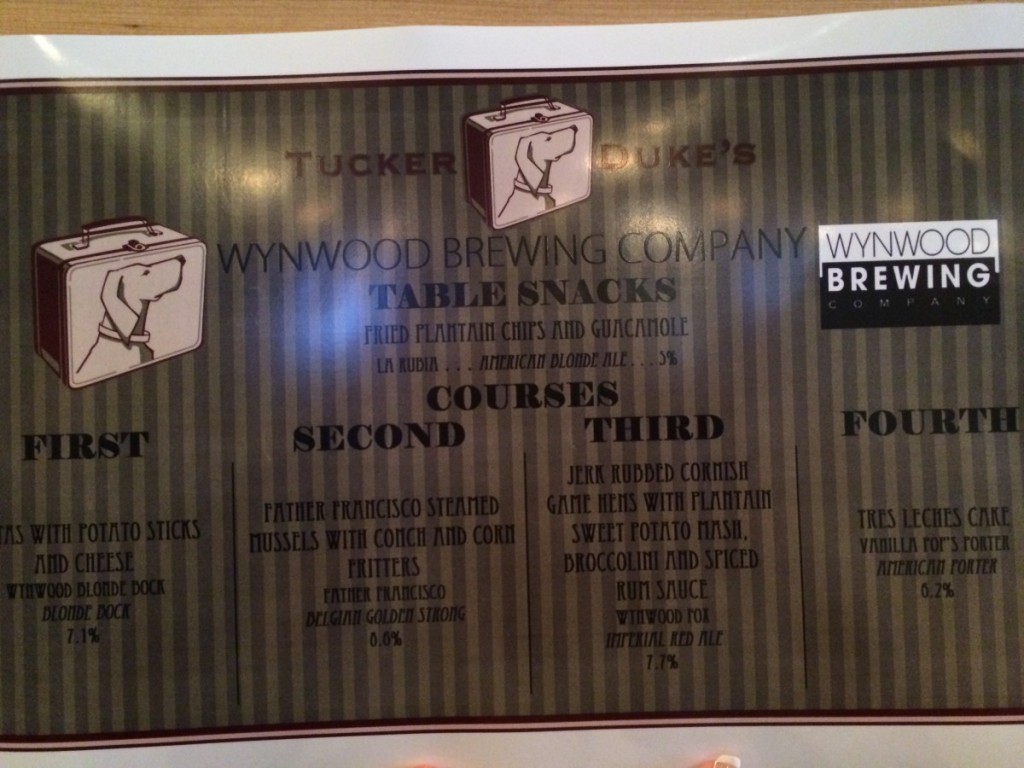 This is the third beer tasting dinner I've attend this summer. Tucker Duke's invited me to come out and join them for the second dinner of their Summer Brewmaster Series and of course I brought along my favorite foodie friend, Denise. I had heard some pretty good things about Tucker Duke's, but never really felt the need to go check it out because well, it's mostly a burger joint. Little did I know, there is much more to see behind that classic Tucker Duke's Burger. The brains behind this establishment is none other than Chef Brian Cartenuto, two-time winner of Cutthroat Kitchen. If you can withstand being in a room with Alton Brown and all his crazy antics TWICE on that show and come out on top both times, you must be doing something right. Brian went above and beyond his normal menu items and created a unique tasting menu for his guests, and of course made a few substitutions for me. I got to chat with him for a while after the dinner, especially about what it's like to be on Food Network. Ah, maybe one day… Wynwood Brewing Company hails straight outta the Wynwood District in Miami, which if you remember back when I did the tour with Miami Culinary Tours, I actually did get a chance to try one of their beers at one of the stops. These guys were such typical "beer guys" — totally tatted up, big bushy "I don't care" hair, super chill attitude… and they love their beer. The rep actually told Denise and me that he started brewing his own beer in his closet when he was 18-years-old. Then he finally came out of the closet… Ha! So the food… That's what you're here for, right? They brought out our first beer, La Rubia, and an appetizer for the table — guacamole and what was supposed to be fried plantain chips. I was actually really excited for these chips because I love plantains. However, when the basket of chips came out, we were all kind of confused.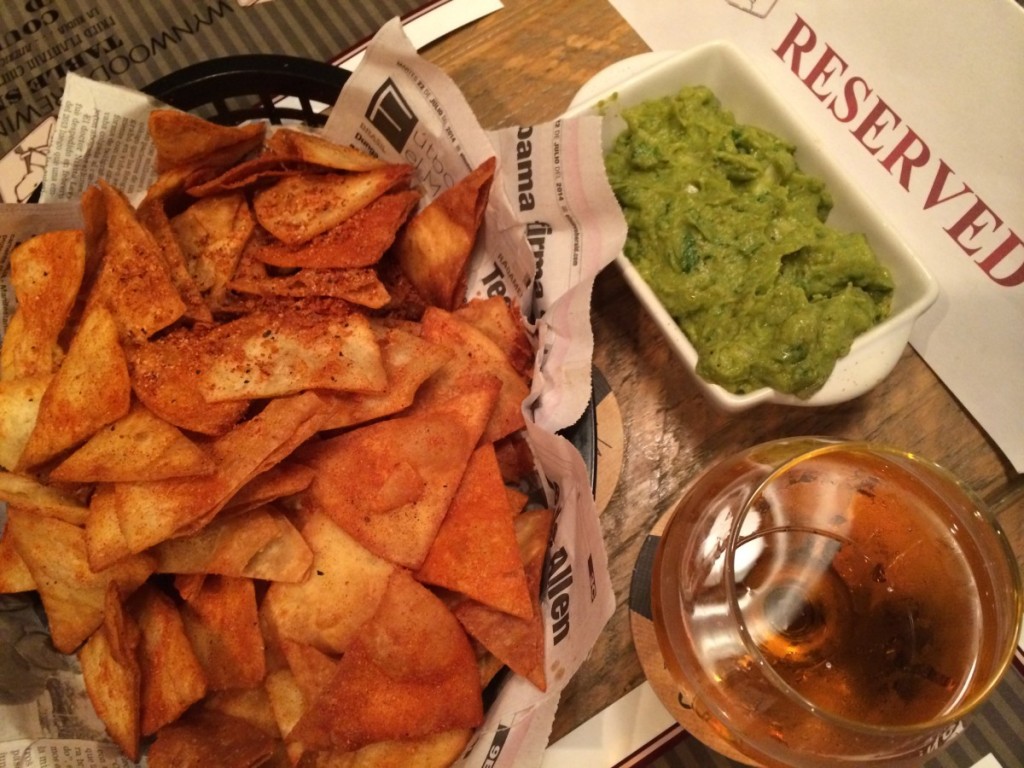 You see what I mean from the picture, right? How in the world could those be plantains? They didn't taste anything like plantains, and how do you get a plantain in the shape of a triangle…? None of us were convinced they were plantains, but that's what the menu said so we just rolled with it. Until Chef Brian came out to explain the dish and the mystery was solved. Turns out he completely burnt the plantain chips by accident and instead made us homemade tortilla chips. Our entire table burst out laughing, and then continued to stuff our faces because they were seriously delicious. You know how powerless I am around guacamole and chips. I liked the beer pairing for this, it was light and pretty refreshing, which played nicely with the spice mix that coated the chips. Next up was another lighter beer, the Blonde Bock, which I also enjoyed. It was paired with Tucker Duke's take on a dish Chef Brian had before called El Mago Fritas — a slider with fried potato sticks and melted cheese. I was served a portobello mushroom slider instead of beef. I had a bite, but didn't care for it much — the potato sticks were fine, but it was the cheese that I couldn't really handle. It reminded me of cheese whiz and that just doesn't sit well with me. That's ok, more room to shove more chips and guac in my mouth before the next course!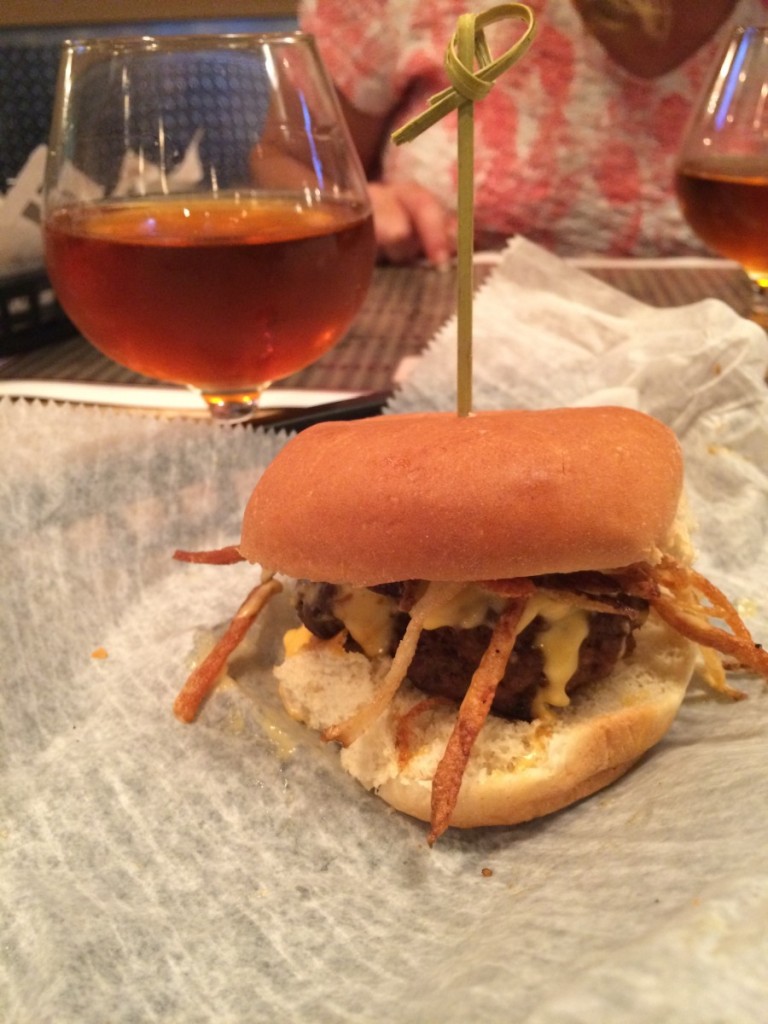 Next up was a heaping bowl full of steamed mussels and two golf ball-sized corn and conch fritters on the side. The mussels were steamed in a broth made with Father Francisco, the beer we were served along with them. The mussels were good — large and prepared very well, but I'm used to a thicker style sauce so it was definitely new for me. I like a sauce you need bread to sop up, one that if it weren't so unladylike and messy, I'd totally slurp straight from the bowl. But different is good, and hey — I guess it's better not to have a heavier sauce when you've got tons of food in front of you. The fritters were just…YUM. Crispy and crunchy on the outside, soft and chewy on the inside. The conch was very prominent in taste and texture, and the corn added just the right amount of sweetness to balance everything out. All this needed was a good dipping sauce and it'd be golden.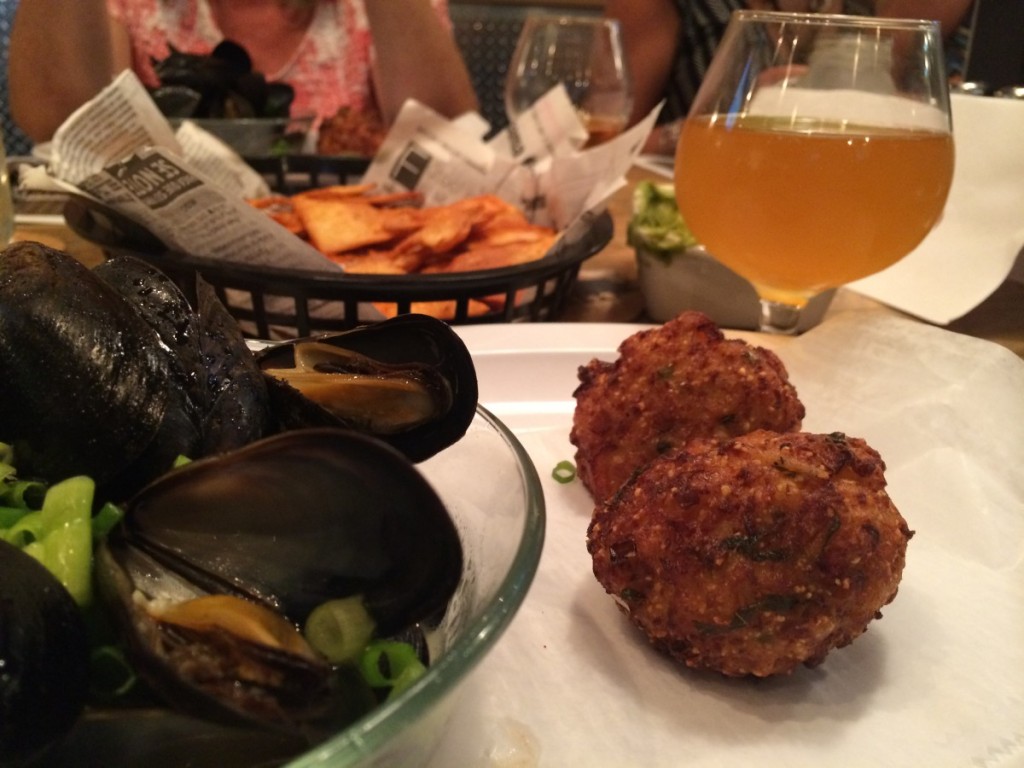 The next course was kind of funny. Actually, it was really funny. I don't think anyone really expected what came out on their plate. Or rather, on their metal half-sheet pan — a very industrial presentation, if you will. The dish was jerk-rubbed cornish game hen with plantain sweet potato mash, broccoli and a spiced rum sauce. It was paired with one of the darkest beers of the nights, the Wynwood Fox. Now picture a little tiny chicken, in its entirety, sitting in front of you waiting for you to dig in. Yep, that's what everyone at the table was served.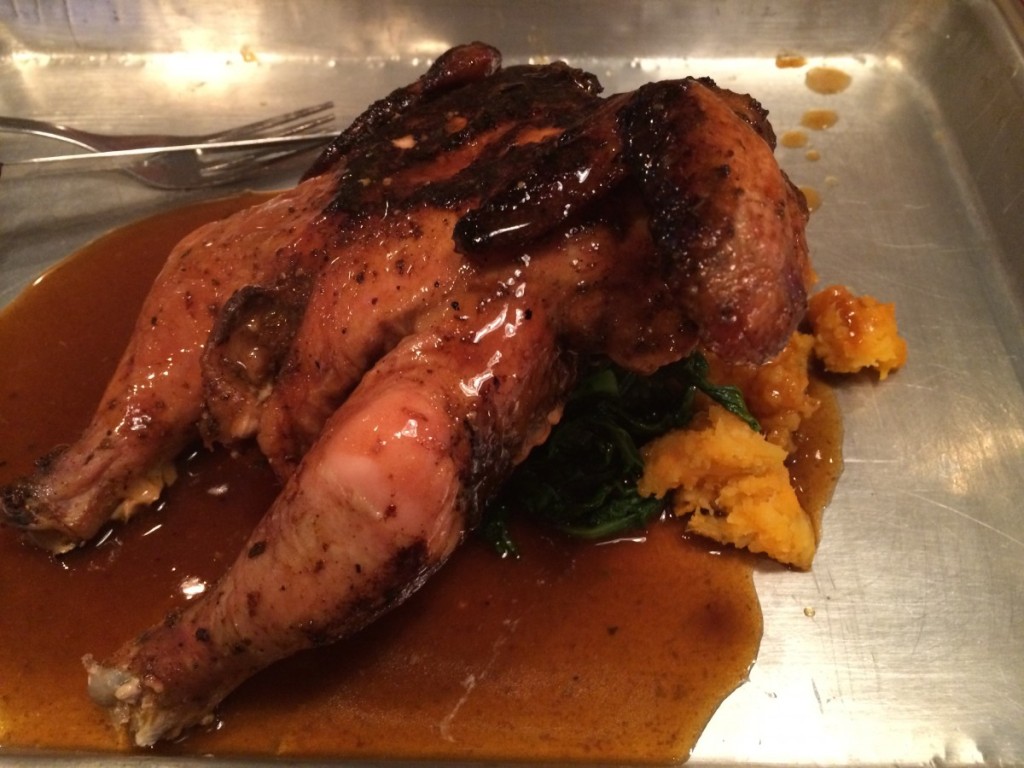 Everyone, except for me, who got a gorgeously charred grilled zucchini with roasted tomato sauce. The zucchini sat atop a bed of that same plantain sweet potato mash and broccoli but I also had caramelized onions (my favorite!), however, the rum sauce was missing. It was made with veal stock, so unfortunately, that was a no-no for me. I didn't like the beer at all, so that went untouched, but that entree? YUM. If I wasn't so full from all those freaking chips I would have probably licked my plate, err…sheetpan…clean.
By this point, as with most pairing dinners, I was too full to move. And there was still the final course, something sweet to end the night. Chef Brian made a dessert mash-up, blending the textures and flavors of a Tres Leches Cake and a Churro packed into one tasty little donut swimming in a pool of coconut sauce. I did try a tiny bite, but boxed it up to bring home for my roommate who really loves anything Tres Leches. Dessert was served with a porter, naturally— Vanilla Pop's Porter, to be exact. This is one of those beers that I can take one sip of, love it, but that's all I can take. It's thick and creamy and yummy, but just way to heavy for me to drink an entire glass.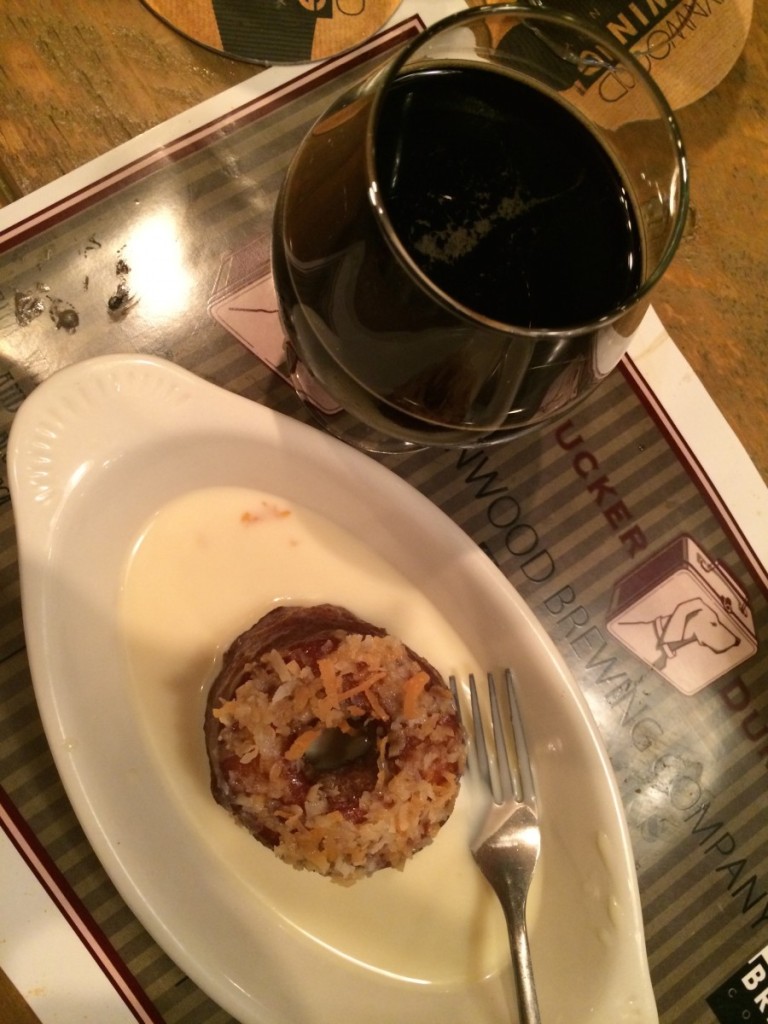 Tucker Duke's is a pretty cool spot. The atmosphere reminds me a little of Sybarite Pig, but felt more inviting. They have a killer list of beers and the chef obviously knows what he's doing with the food. So, how many of you can say a Cutthroat Kitchen champion has cooked for you? 😉
Disclaimer: I was invited as a guest of the restaurant for this event. Dinner was complimentary for myself and a guest. No compensation was received for this review nor was I required to write it. As always, all opinions are my own.