Never miss a bite! Sign up here to receive new recipes and reviews straight to your inbox.
Disclosure: This is a sponsored post by Turbo Tint Delray Beach. All service claims have been provided by the sponsor. All opinions stated in this blog are 100% my own. Use the code Shaina20 when booking your service to receive 20% off.
Turbo Tint Delray Beach: High Quality, Fast Service, Premium Protection
Turbo Tint Delray Beach is now open, offering various packages for automotive tinting with a focus on high quality service, easy and convenient online scheduling, and fast results — your car will be taken care of in just one hour!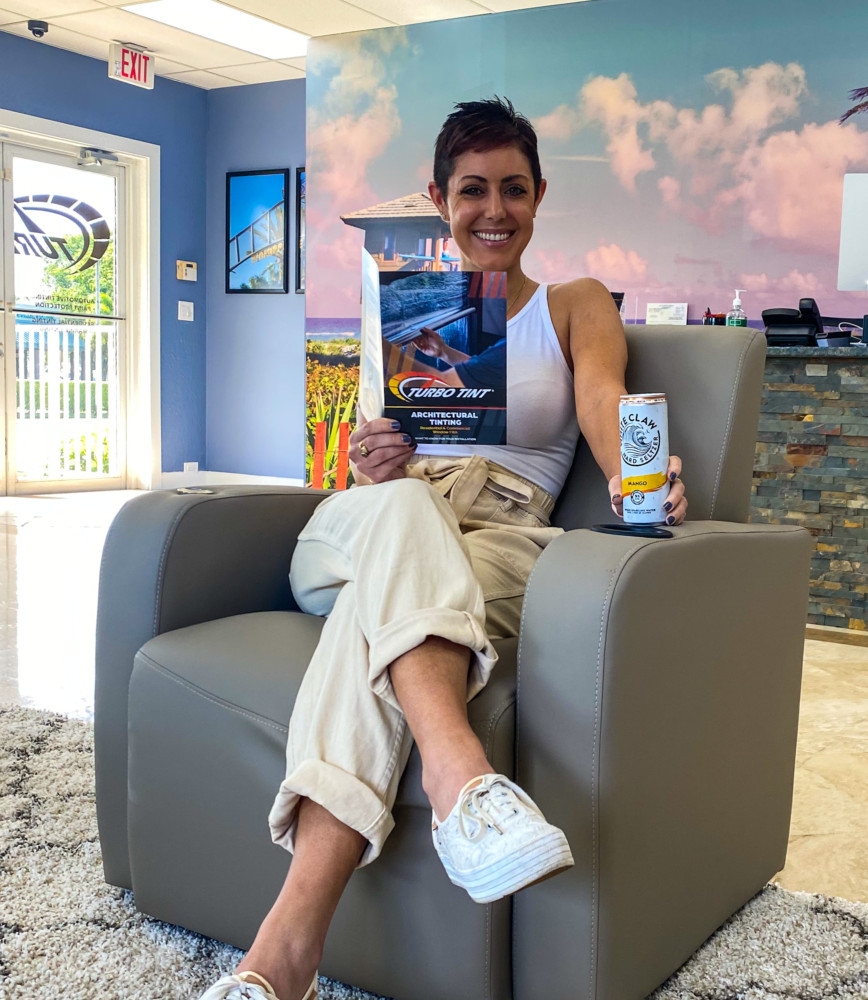 I never truly understood the benefits of automotive tinting until I was recently introduced to the newly open Turbo Tint Delray Beach. As I drove to the location to meet with the owners, I fully expected to walk into what resembled an auto body shop with loud noise, cars and tools everywhere, and basically a bunch of "car guys."
Instead, I opened the door to the complete opposite: a comfortable quiet lounge area with bright, vibrant decor, plush chairs and side tables, a television and electronic fireplace, a countertop with snacks, coffee and tea, and a fridge with non-alcoholic beverages, beer, wine and hard seltzers. Talk about being accommodating and making people feel at home! Since the window tinting only takes about an hour, it's great to have a spacious lobby where people can feel welcome to sit and hang out, read a book or watch TV, grab a drink and something to nosh on, and even get some work done while their car is being serviced.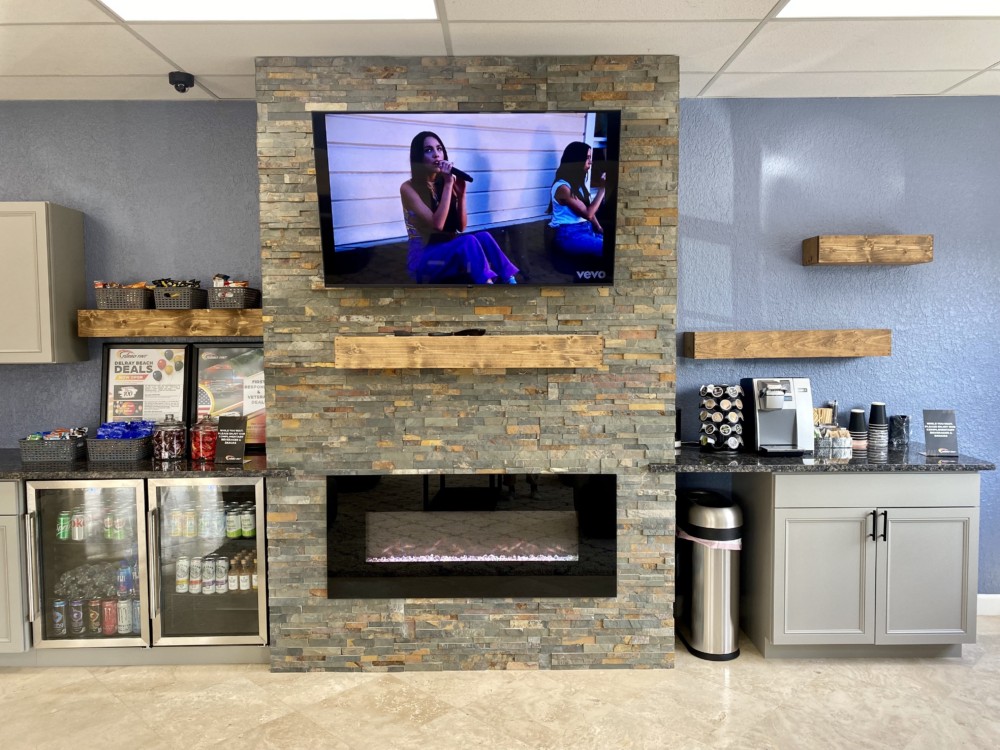 I also felt that I was being spoken to as an equal. There was no upselling or making me feel like this is a man's world and I don't belong, as can oftentimes be the feeling women get when dealing with car situations. That was another winning point for Turbo Tint Delray Beach in my book!
Benefits of Automotive Tinting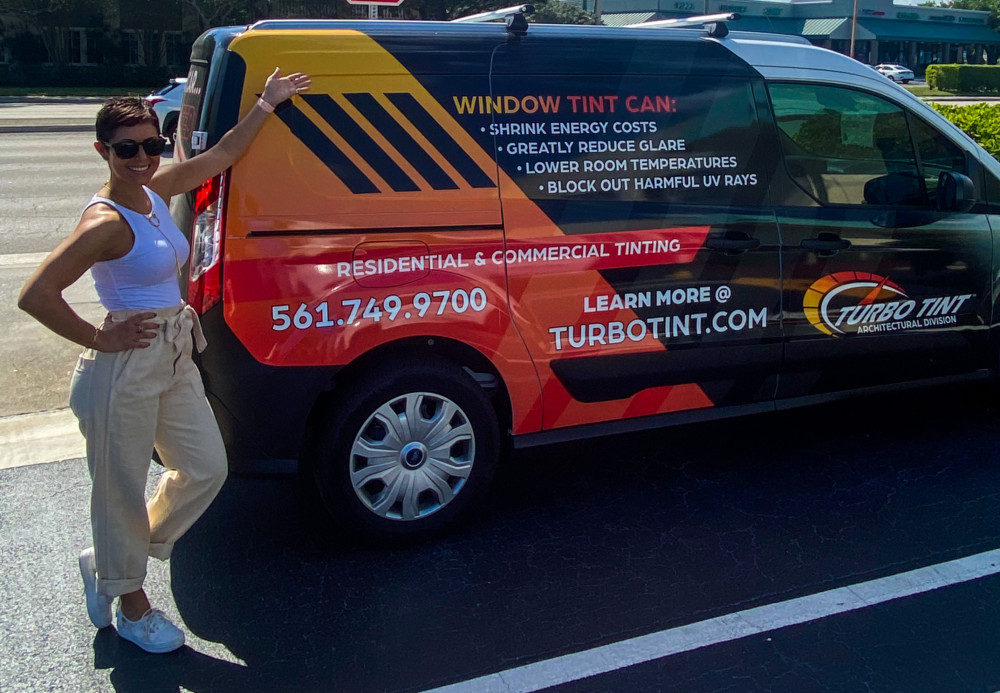 One major thing that the people at Turbo Tint Delray Beach pointed out to me is that automotive tinting is a game changer when it comes to skin protection. According to an article they sent me, US researchers found that over half the cases of melanoma and Merkel cell carcinoma, two of the deadliest kinds of skin cancer, occurred only on the left side of the body, mainly on the upper arms, which lead them to make a connection between skin cancer and overexposure to the sun while driving.
Interesting stuff, right? The Skin Cancer Foundation notes that front windshields are required by law to have a treatment that filters out most UVA rays, but the side and rear windows don't have this regulation. Window glass can block most UVB rays, but the UVA rays can still get to you, which are the ones that are responsible for those unwanted signs of premature aging you may experience from too much sun. UVB and UVA rays, however, can cause damage to the skin that can lead to skin cancer, so it's important to have as much protection as possible against both kinds, not just one. This is why the Skin Cancer Foundation recommends window film, which can block up to 99% of UV rays, as an effective solution to the problem.
Turbo Tint Delray Beach offers a few different types of films for window tinting, all of which will protect you and your vehicle's interior from 99% of harmful UV ray exposure. Each of these films can also reduce solar and/or infrared radiation (IR) heat, which helps to keep your car cool and comfortable while you are driving. For example, the metal-based film offers up to 53% solar heat protection, while the most popular choice, the ceramic film, provides up to 60% solar heat reduction and 89% IR heat reduction. There is also a hybrid-matrix dual ceramic film that provides up to 63% solar heat reduction, and up to 95% IR heat reduction.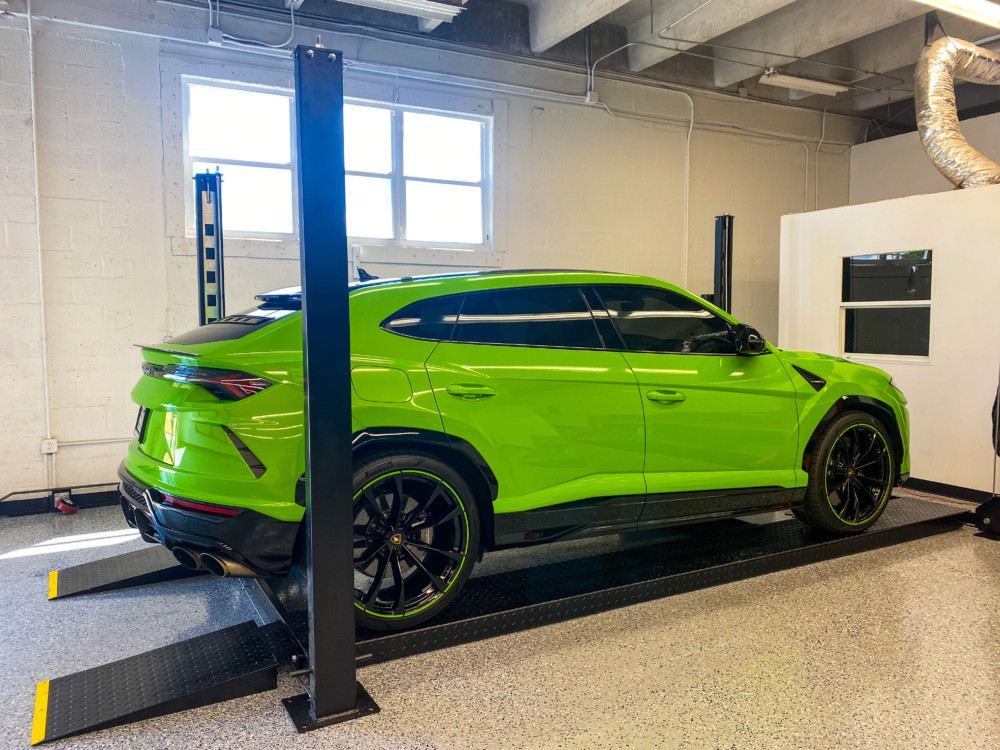 Additional benefits to automotive tinting include:
An improved look to your vehicle, giving it a sleek and sophisticated appearance.

Reduced glare from oncoming vehicles and the sun, making for a much safer driving experience.

Protection against your personal privacy and the security of your possessions inside your vehicle. 

No more feeling like you are driving "in a fishbowl" when you are stopped at a stop light and people in the cars next to you can look right at you through your front windows.
Schedule Your Car Window Tinting at Turbo Tint Delray Beach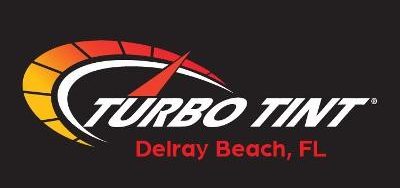 Turbo Tint Delray Beach is located at 145 S. Congress Avenue, Suite A1, in Delray Beach. Hours of operation are Monday through Friday from 9am-6pm, and Saturday from 9am-1pm. In addition to automotive tinting, Turbo Tint Delray Beach also offers architectural tinting for both residential and commercial, and paint protection to guard against chips, fading and dings. If your vehicle has existing tint, but it's bubbling, rubbing off or you'd just like it replaced, Turbo Tint can help with that too!
Visit the website to educate yourself on each of the available packages before purchasing. You'll then be directed to an easy and convenient online scheduler so you can book your own appointment at a time that works best for you. Make sure to use the code Shaina20 to receive 20% off ANY service or product!