Never miss a bite! Sign up here to receive new recipes and reviews straight to your inbox.

Summer is definitely on the horizon — and that means days are spent lounging in your backyard at the pool, sinking your feet into the warm sand on the beach or basking in the sun from the bow of a boat. At least that's what it's like for us Floridians. This past weekend was one of the biggest boat days ever in Boca and I am so glad I was able to be there for it! It's good to know someone with a boat, that's for sure. Boca Bash is basically a huge party on the water in Lake Boca. People tie up their boats, blast music, break out water games and floats and cook up yummy food all day long. Beer and cocktails also make an appearance — especially tropical flavored ones like Palm Breeze sparkling alcoholic spritz.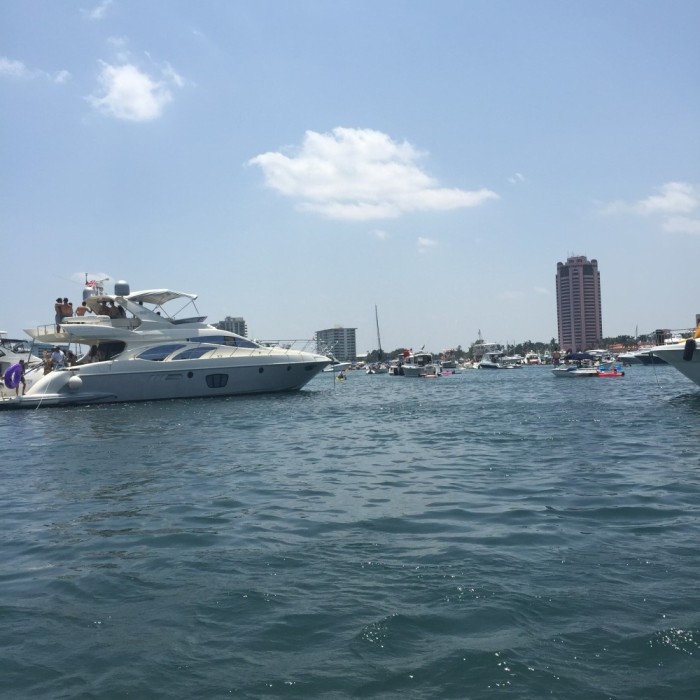 I was recently invited to try these new flavored malt beverages. They're kind of like beer, made with a malt base, but unlike beer that is mostly targeted at men, Palm Breeze is unabashedly targeted to women. It's totally fruity and delicious and right up my alley — and perfect for our day out on the boat soaking up the sun! Palm Breeze comes in two flavors: Ruby Red Citrus and Pineapple Mandarin Orange. The "Palm Breeze" girl is spontaneous, carefree, confident, social & stylish. She loves to spend her free time hanging with the girls, traveling and absolutely loves the outdoors.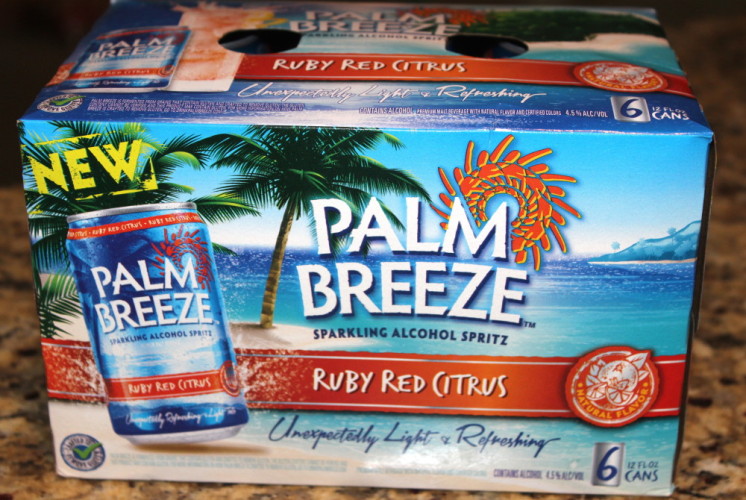 I went over to a local liquor store (which I like to call Adult Toys 'R Us), Palm Breeze hadn't even been put on the shelf yet — that's how new it is! I had the guy running all over the store trying to find it for me. He was baffled since the computer said they had 10 cases in stock, but we didn't see anywhere. Finally he spotted it way up on the shelf, still boxed up. We both thought the Ruby Red Citrus sounded pretty tasty so into the cart it went — Boca Bash, here we come!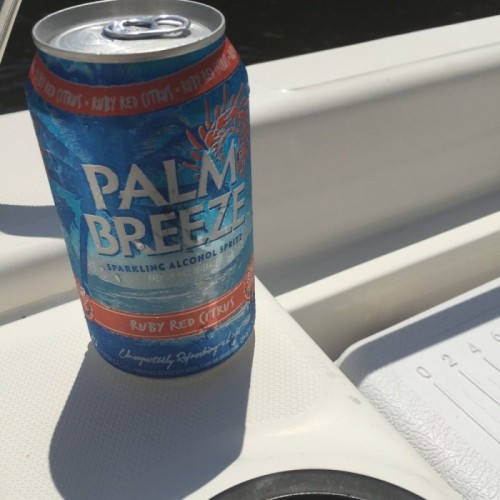 The Ruby Red Citrus flavor is just as refreshing as it sounds. Living in Florida is like having a #VacayEveryDay. The sun is always shining (well, except for those 20 minute mid-afternoon showers) and the temperatures are perfect for enjoying the outdoors. It's easy to forget you're only 10 minutes away from home when you're surrounded by beautiful water, sunshine and a crowd of people dancing and having a good time. Palm Breeze was the perfect addition to our tropical "vacation." Out on the boat isn't the only place I get to experience my own tropical-like vacations — I can enjoy the sun right in my own backyard with a refreshing drink like Palm Breeze in hand.
Your very own #VacayEveryDay is only a sip away. You've got to try Palm Breeze! You may even be able to attend one of Palm Breeze's fun girls' night out events where where you and your girlfriends will be pampered with free tropical beach-style blowouts, tasty hors d'oeuvres and Palm Breeze drinks. If you live in San Diego, Washington D.C., Austin or Dallas, you can join the fun! Click on your city to RSVP. I'm so bummed none of these parties are in my area, so if you go — have a drink for me!
I was selected for this opportunity as a member of Clever Girls and the content and opinions expressed here are all my own.