Valentine's Day wouldn't be complete without too many baked goodies and an over abundance of chocolate. You're not celebrating correctly if you don't wake up the next morning with a tummy ache from sampling every single chocolate in the box. My dad sent me a box of Ferrero Rocher chocolates, and my Valentine gave me a box of chocolates from Kilwin's. Yeah, try just eating one of those and not be tempted to go back for another. Even after having an amazing and super-filling dinner, we still could not resist the chocolates.
First, let me tell you about dinner. Attention to everyone in the Boca/Delray area: if you haven't been to Brule Bistro in Pineapple Grove, you need to go. Now. Lunch, dinner, dessert…whatever. Just go. My Bubby and I went to lunch before and really enjoyed the sandwiches we had. But this dinner went beyond that. I tried food I never would have known I'd like — escargot is surprisingly delicious and I was actually able to stomach a tiny taste of foie gras. Who knew? We got a whole slew of appetizers to share between the four of us — me and my Valentine, his best friend and his girlfriend. The escargot, foie gras, zucchini blossoms, grilled baby romaine, and shrimp and roasted corn mac and cheese. For dinner, I had lobster risotto with fresh tile fish and asparagus. Ahhhhh. Just typing those words makes me drool. I ate every last bite. I didn't care how full I was; there was no way I could leave any of that uneaten. It was too good. After all the food was gone, my date pointed out that I didn't take any pictures for the blog… Guess I was too busy eating. Oops.
Anyway, back to the main point of Valentine's Day: the sweets. Like I said, I was gifted a box of Kilwin's homemade chocolates, caramels, truffles, clusters, etc. and couldn't be happier. BUT I think my gift was pretty awesome, too — an assortment of homemade treats in a cute Valentine's Day-themed tin. These strawberry cake mix cookies were among the treats he got to devour (with my help, of course).
If you remember, I was inspired by another cake mix cookie recipe from Sally's Baking Addiction around the holidays. I turned to her blog again for Valentine's Day. These strawberry chocolate chip cookies were perfect. I have never used strawberry cake mix before and had no idea how amazing it smells. As soon as I cut open that bag of mix, my kitchen was filled with a strawberry aroma that had some serious staying power; it still smelled like the cake mix the morning after I made the cookies!
Check out Sally's blog for the
recipe
. The only thing I did differently was use egg whites instead of whole eggs, and I added in rainbow sprinkles! Cake mix cookies are the perfect kind of cookie — crisp edges and a soft and chewy center. The bright pink color was perfect for this holiday and the burst of colors from the sprinkles made them so fun.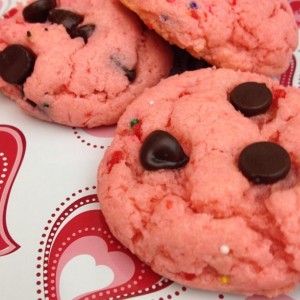 Sally — you hit it on the nose with your cake mix cookies! Next on my list to try are red velvet and snickerdoodle! I kind of want to buy every flavor cake mix in existence and just bake a million little cookies. Anyone up for a little taste testing??? 😉