Disclosure: This is a sponsored post by Naked Nutrition. Product information and recipe have been provided by the sponsor. 
Celebrate Valentine's Day with this Protein-Packed Chocolate Shake
What's pink and red, filled with hearts and flowers, and every chocolate lover's favorite day? Valentine's Day of course! This holiday, satisfy your sweet tooth with this protein-packed Chocolate-Covered Berry Shake!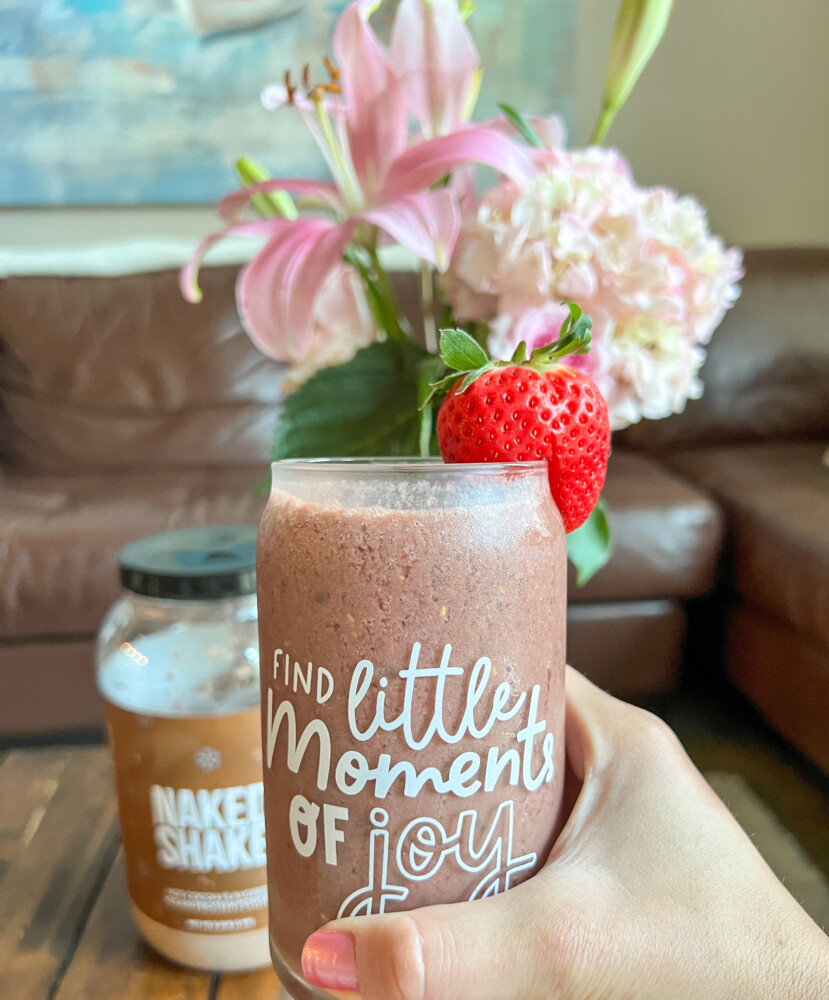 Although this chocolate shake is definitely decadent, it is a bit healthier than any traditional milkshake you'd find at your local ice cream shop. The recipe for this Chocolate-Covered Berry Shake is naturally gluten-free, can easily be made dairy-free by using your favorite plant-based milk, and because it features Naked Nutrition's Chocolate Naked Shake, it's packed with 20 grams of plant-based protein to keep you feeling full and satisfied.
Naked Nutrition Naked Shake comes in a few other flavors, including special seasonal flavors like Hot Chocolate, which would be amazing in this recipe too when available. All of the Naked Shake flavors are made with pea protein and MCT oil, and have a complete amino acid profile, containing premium ingredients that help maintain energy and manage a healthy weight. The Chocolate Naked Shake is made with alkalized cocoa, and absolutely no additives. It has only 4 grams of carbohydrates, and is certified gluten-free, dairy-free, soy-free, GMO-free and vegan.
Surprise your sweetie with this Chocolate-Covered Berry Shake on Valentine's Day — or just treat yourself! Not only is it a delicious dessert, but it's full of health benefits too.
Health Benefits of Cocoa and Berries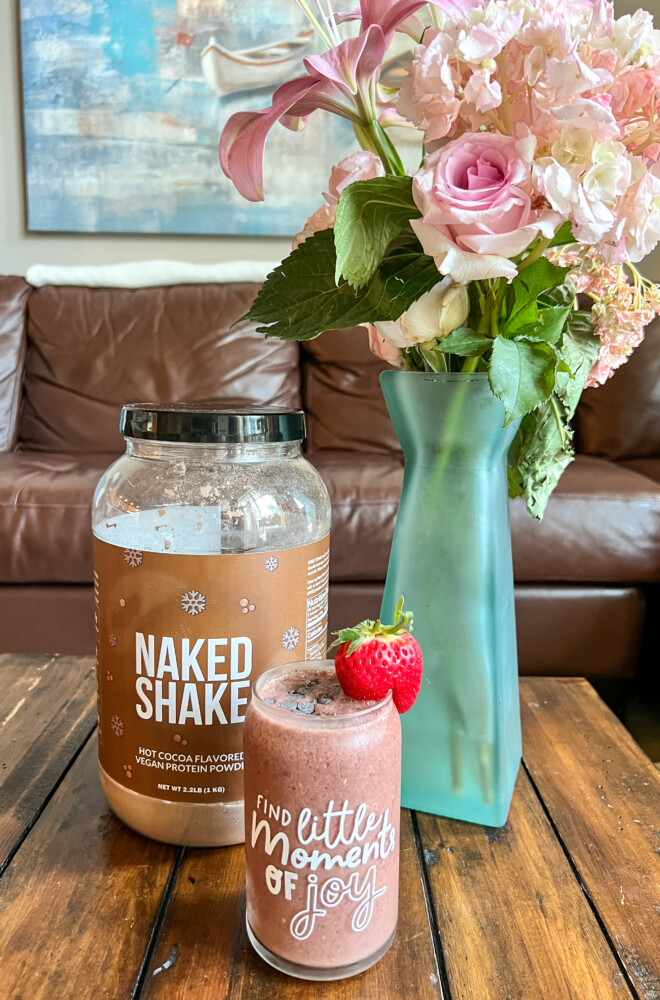 Dark chocolate (or cocoa) and berries are bursting with one very important thing for our health and wellness: antioxidants. Antioxidants are very important for protecting our bodies from disease. They help to protect cells against free radicals, which are molecules that develop when the body is exposed to harmful substances or breaks down food. According to the MayoClinic, plant-based foods are the best sources of antioxidants, including fruits, vegetables, whole grains, nuts, seeds, herbs and spices, and cocoa.
In addition to being incredibly rich in antioxidants, high quality dark chocolate contains flavonoids that can help maintain good heart health; it has properties that can promote stress relief and elevate your mood, stimulate brain activity to improve cognition and memory retention; and many of its vitamins and minerals, like copper, iron, magnesium and manganese, can have a positive effect on your skin. Dark chocolate, when consumed in moderation of course, has the ability to even curb hunger and sugar cravings, stabilize blood sugar, and aid with weight management. (Source)
But we're not only using heart-healthy dark chocolate in this recipe; we're also using strawberries and raspberries, which are nutrient-dense, low in sugar and calories and high in fiber.
Recipe for Chocolate-Covered Berry Milkshake
When Naked Nutrition sent over this recipe, I knew exactly where to go for the best chocolate ice cream to use for it — and yes, it's dairy free! Proper Ice Cream, with two locations here in South Florida (Boca Raton and Boynton Beach), but also available for nationwide shipping through Goldbelly, is my go-to when my sweet tooth is craving ice cream.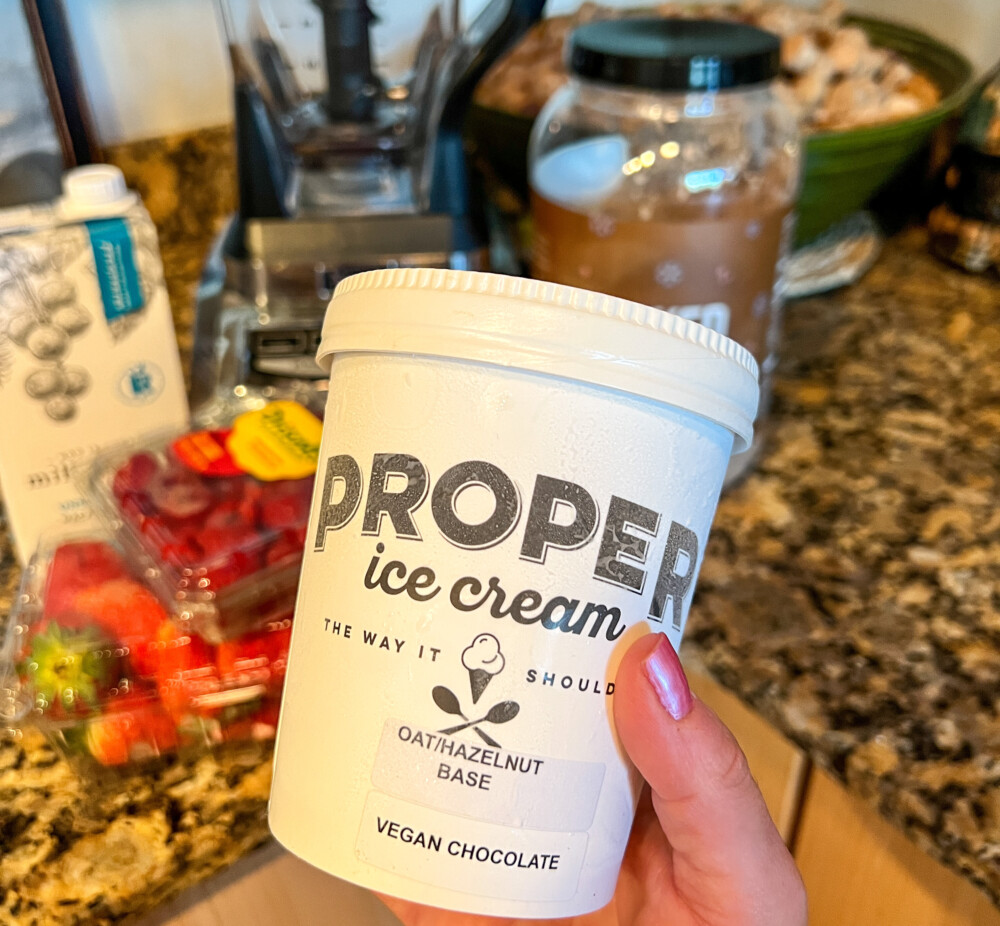 This small business artisan shop creates its product properly — with all natural ingredients, 20% less sugar than standard ice cream recipes and zero additives. Proper Ice Cream is well known for its inventive flavors like Blueberry Muffin, Chocolate-Covered Honeycomb, Sicilian Pistachio with Caramelized Fig and many others that will have you drooling all over yourself. But what I love about this place in particular is that they have an assortment of plant-based flavors, not just one or two like most other ice cream shops. The flavors rotate occasionally, but some examples include Roast Coffee, Golden Milk, Deep Chocolate Cookies and Cream, Peanut Butter, Oreo Mint, and what I used for this recipe…oat- and hazelnut-based Chocolate!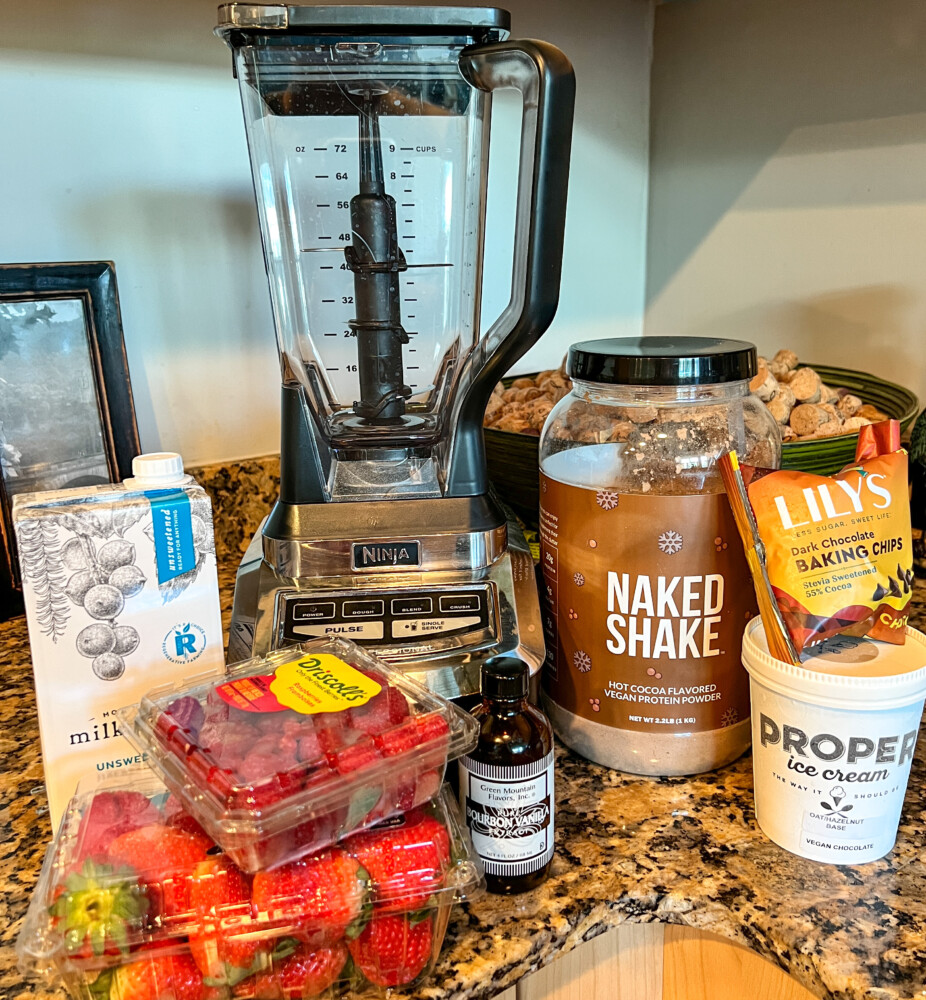 It only makes sense to pair a clean and natural protein shake mix with clean and natural ice cream, right? Of course. So, let's make this Chocolate-Covered Berry Shake, shall we?!
Ingredients:
1/2 cup strawberries
1/2 cup raspberries
1 cup preferred plant-based milk
1/2 tablespoon vanilla extract
1/4 scoop Proper Ice Cream plant-based Chocolate ice cream
1 scoop Chocolate Naked Shake (use the Hot Chocolate Naked Shake if it's in season!)
1 tablespoon organic cacao nibs or preferred dairy-free chocolate chips
Ice, use as needed
Instructions:
Add all ingredients to a blender, using a small amount of ice, and mix well.
Add more ice until the smoothie reaches desired consistency.
Optional garnish: Top with strawberry slices and cacao nips or chocolate chips.
Head over to Naked Nutrition to check out the variety of clean protein and supplement products available. For more recipe inspiration using Naked Nutrition products, check out these healthy breakfast options!