Baking for Valentine's Day is a must in my book. Having people to bake for is often the problem, but with a building full of co-workers with an appetite it's not too hard to find mouths to feed. I didn't want to be too outlandish, since I wasn't sure how daring the people I work with are when it comes to trying desserts. Out went all the healthy cooking sites, the vegan dessert recipes & the unique tastes and textures that come along with them. I went for something simple and delicious: chocolate covered pretzels coated in colorful sprinkles, and candy bar blondies.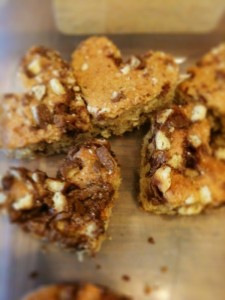 I asked a couple people in the office what their favorite candy bar was and when they both replied with Twix Bars, I knew what I would make. I found a recipe for Butterfinger Blondies on RecipeGirl, so I used Twix Bars instead of Butterfingers. I did, however, make them low fat by subbing mashed banana for butter. This actually played really well into the recipe, as everyone who tried one liked the taste of banana they got with each bite. The combination of the chocolate, caramel and cookie pieces from the Twix was also a brilliant touch. I'm sure Butterfingers would be just as delicious, or any candy bar for that matter. I bought heart-shaped cookie cutters, too. For someone who unfortunately did not have a Valentine this year, I still wanted to get into the spirit.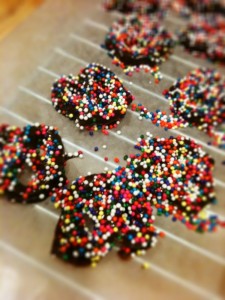 The chocolate covered pretzels were fun to make, and very easy. I had a bag of mini-pretzels left over from Super Bowl Sunday so I wanted to use them up. I tempered the chocolate on the stove and went to town dipping pretzel after pretzel after pretzel. I've gotten the hang of melting chocolate since reading the how-to in my food Network magazine. The key is to pour about 2 tsp of vegetable oil into the pot with the chocolate (I used Hershey's special dark chocolate chips). It took about a minute or two for the chocolate to melt to the perfect consistency. I laid out a long strip of wax paper to place each pretzel on after they'd been dipped in chocolate. After letting them settle for a few seconds, I covered them in sprinkles, and then put them in the freezer to harden. After about 15 minutes or so, the pretzels were perfect and I could put together my beautiful Valentine's Day display.




My mom made a spontaneous trip to visit, so I wanted to leave out a little plate for her to see when she got in. Her plane got in very late, so I knew I'd be asleep by the time she got here. Instead of having me to welcome her I figured my treats could do it instead. The blondies were a huge hit and of course, everyone loves chocolate covered pretzels. I love how something so simple can be one of the tastiest treats.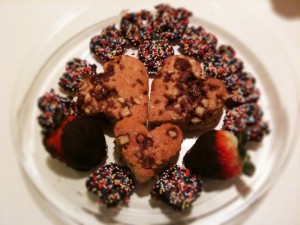 I hope everyone enjoyed Valentine's Day and was able to indulge in something delicious! 🙂