Once again I'm participating in the Great Food Blogger Cookie Swap. This is the third year that Lindsey and Julie have put together this amazing blogger event and I am extremely happy to be a part of it. By signing up for the swap, we are helping one of the greatest causes I can think of — children's cancer research. Each of us bloggers donates a mere $4 when registering, which when added to extra donations and contributions from our very generous brand partners (OXO, Gold Medal Flour, Dixie Crystals and Grandmas Molasses), eventually amounted to $13,778.40 raised. And it's all for the organization Cookies for Kids' Cancer. That is AMAZING. Thank you so much to everyone who donated, and especially to our wonderful brand partners who matched our numbers dollar for dollar!

Basically how it works is that every blogger is matched with three other bloggers – they could be from anywhere, even in a different country! We all go into insane cookie-making mode and try to come up with the perfect cookie recipe to send to our matches. You have to make sure to head on over to Lindsey and Julie's blogs on Monday to check out what everyone made! If you haven't already been bit by the holiday baking bug, you're definitely going to be filled with ideas after seeing these recipes.

This year, I was put into one of the "food allergy" categories. Since my roommate's daughter has a peanut allergy, I asked that I not be sent any cookies that have nuts in them. I wanted to make sure that Emma would be able to try all of the cookies I got from the swap! SO, I was faced with a bit of a challenge when I got my matches. Of course, all three asked for nut-free recipes, as well, but one of them also requested the cookies be VEGAN! Now I guess it isn't that hard to make a vegan-friendly cookie recipe; most healthy cookie recipes are probably vegan, and I've definitely made my share of those. Now, having to make 100% sure my recipe was vegan, I set out on a search. What I found ended up being really easy and required no ingredients that I didn't already have. It also incorporated two flavors I love – and made the kitchen smell absolutely heavenly as they were baking in the oven. I snuck a taste of the batter before putting the cookies in the oven (no raw eggs!) and it was FAB. I could have licked the whole bowl clean! Funny thing, the batter literally made JUST enough for three dozen cookies; there wasn't even enough left for me to make one for myself! So I had to use the tiny bit of batter left to make small droplets so I'd at least be able to try my cookie!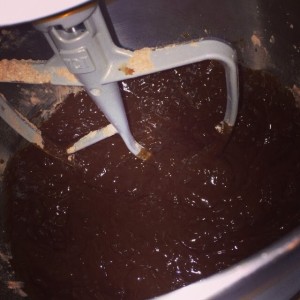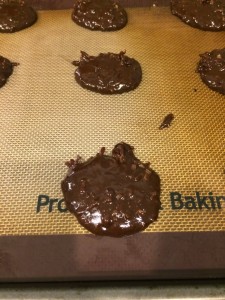 My quest to make a delicious vegan cookie was pretty successful; I would make these over and over again and I bet no one would even miss the butter and eggs! I hope Kelly of Cups + Spoonfuls, Hatsie of Two Recipes, and Marjory of The Dinner-Mom, liked them just as much as I did!

If you want to join or receive updates about the Great Food Blogger Cookie Swap, sign up here!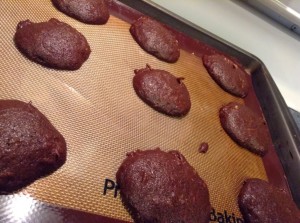 Vegan Chocolate Coconut Cookies
Makes 3 dozen cookies
Adapted from Weight Watchers

1½ cups all purpose flour
2/3 cup unsweetened cocoa powder
½ tsp baking soda
½ tsp salt
1 cup granulated sugar
1/3 cup coconut oil
1 tsp vanilla extract
¾ cup hot water, divided
1 cup dried, shredded sweetened coconut flakes

Preheat the oven to 350 degrees. In a large bowl, sift the flour, cocoa, baking soda and salt and set aside. In the bowl of a stand mixer, beat sugar, oil and vanilla until blended. Add half of the flour mixture and half of the water and beat until smooth. Add the coconut, remaining water and flour mixture and continue beating until everything is combined. The dough will appear very sticky.

Using a cookie scoop, arrange the dough balls on a baking sheet lined with parchment paper or a silicone baking mat. Bake for 8-10 minutes. Allow the cookies to cool completely on a wire rack before serving, eating, or storing in Tupperware.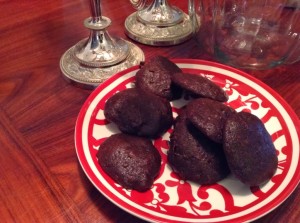 Posted with Blogsy