Never miss a bite! Sign up here to receive new recipes and reviews straight to your inbox.
Disclosure: I was invited to dine as a guest of the Rebel House. No monetary compensation has been received for this post. As always, all opinions are 100% my own. 
The menu at the Boca Raton hotspot, Rebel House, just got a lot more appealing to those looking for meatless and vegan alternatives. Introducing the new Rebel Vegan concept, with 12 new menu items highlighting ingredients like mushrooms, cauliflower and plantains.
Rebel House goes through menu changes quite often, as they like to keep things fresh and seasonal. Earlier this year, I got to experience the fall changes, and was pretty impressed with the lighter fare and vegetarian options offered. But it's this particular menu change that has been getting a lot of attention — and the one that has me most excited. There is a large vegan community in South Florida, with more and more restaurants jumping on the bandwagon and offering vegan options. It's not uncommon to see meat alternatives and veggie-centric dishes, as well as full-blown entirely vegan concepts. With the Rebel House being such a popular restaurant and known for going a little outside of the box, it's no surprise that Rebel Vegan was born.
Rebel House co-owners, Mike Saperstein and Evan David, and Chef de Cuisine Danielle Herring, welcomed us with open arms, plenty of cocktails, and a seven-course journey through the new menu.
The first of the Rebel Vegan dishes was served as a starter for the table — mashed avocado and pea guacamole topped with a charred ramp salsa verde and served with sweet potato and celery root chips. Have you ever had dehydrated fruit or vegetables? That was the texture of these "chips" — and I absolutely loved them. A bit soft and chewy, but still sturdy enough to pile on lots of that guacamole. I'm thinking Rebel House should private label and bag these babies. I'd be first in line to buy 'em!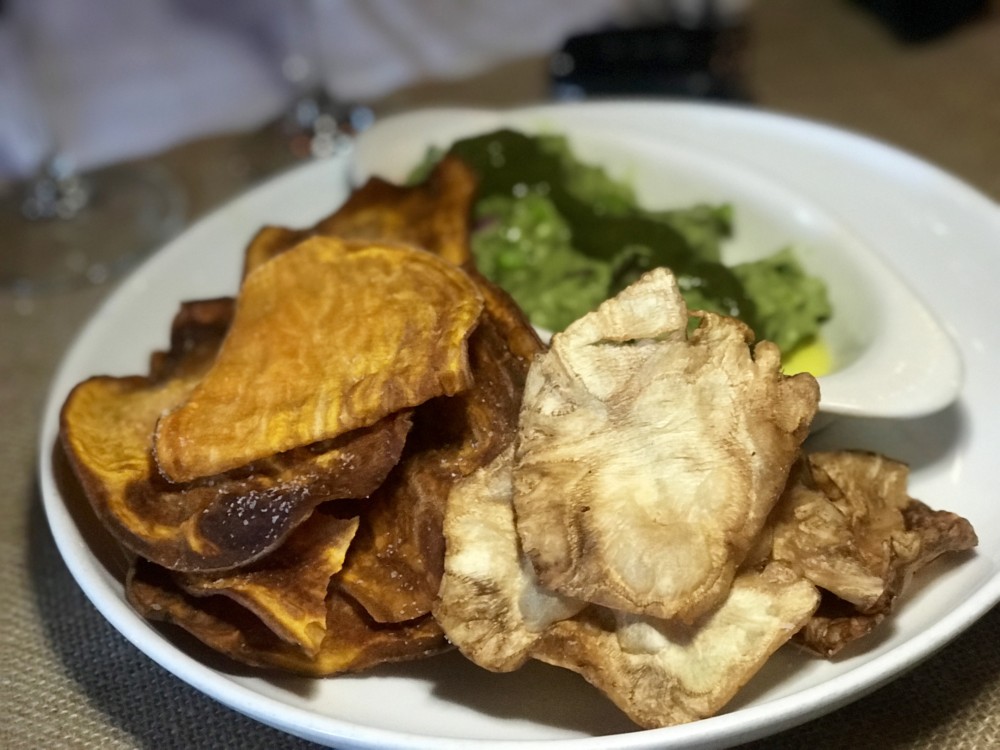 What came next set the bar extra high, and after looking back, it was my favorite of the night. Everything about this dish basically screams Shaina. Miso-cured mushroom lettuce wraps with beet raita, celery root slaw, cashews and calamansini (Philippine lime). I finished mine in about five seconds, and secretly wished my date wouldn't like it so I could have his too. Spoiler alert: he liked it, and finished it almost as quickly as I did.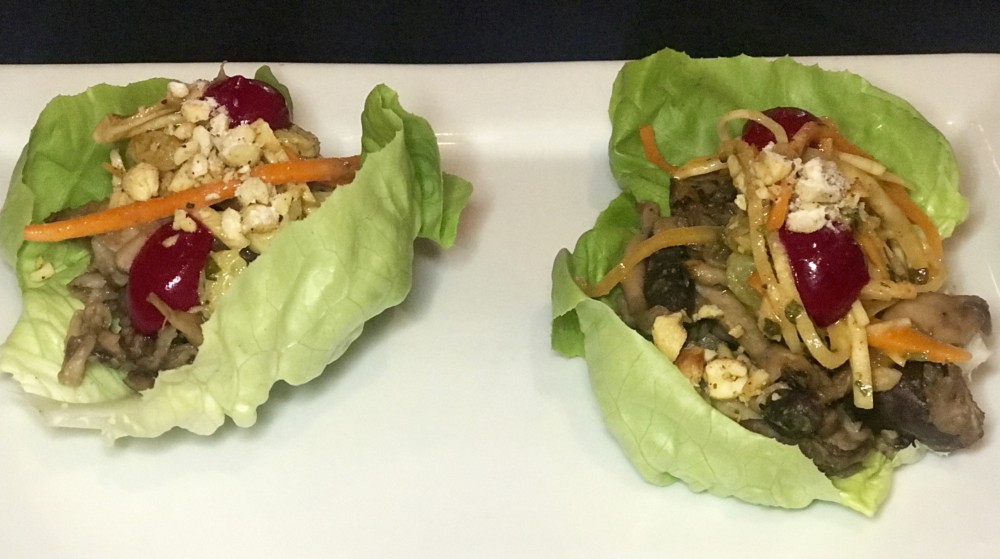 Aside from mushrooms, I'd argue that the other most popular vegetable used to mimic other ingredients is cauliflower — two vegetables I just so happen to love. We've already seen how Rebel House used mushrooms, so now it's time to make room for the cauliflower. The whole roasted cauliflower is a beautifully composed plate consisting of cauliflower-cocoa purée, peri peri (a kind of chili pepper), apricot chutney, mint, curry aioli and coconut. The cauliflower is charred to absolute perfection, giving it a perfect smokey flavor. While this was a smaller tasting portion, the actual dish is considered an entrée and it is definitely something I'd go back for.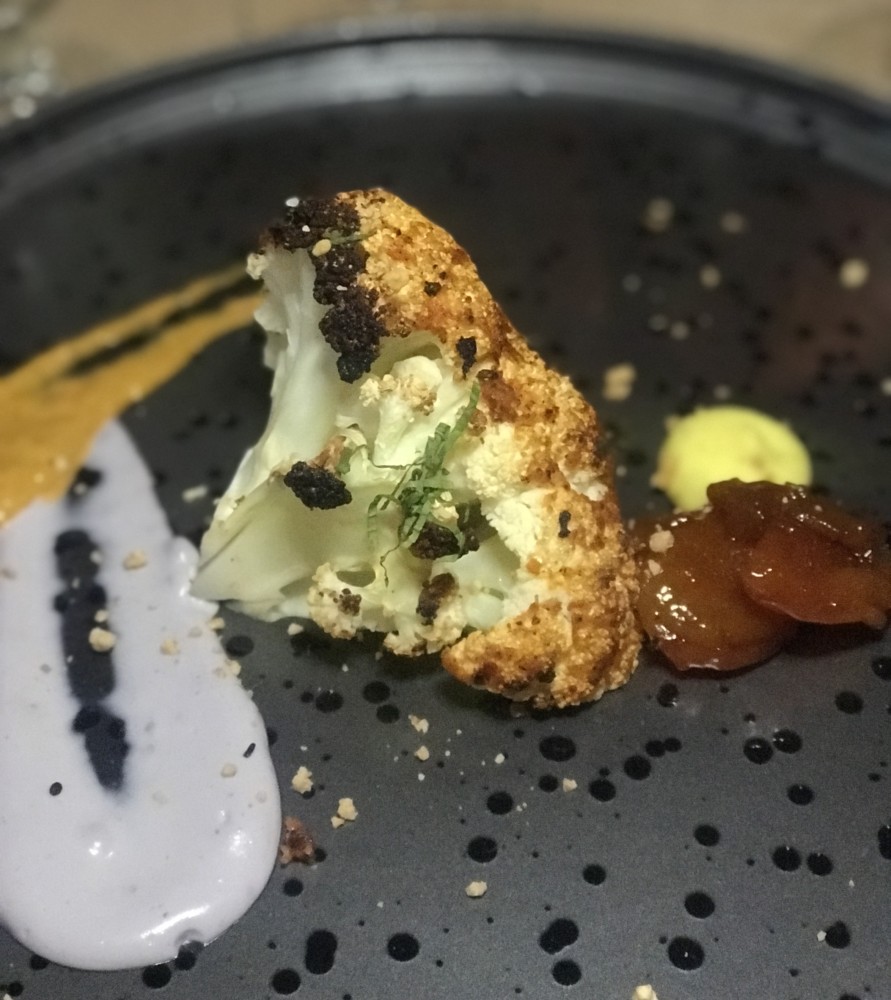 Chef Danielle clearly has talent in the kitchen when it comes to creating vegan dishes, but she was great at accommodating my gluten-free diet as well. The next vegan dish to come out was the stuffed Vidalia onion with farro (not gluten-free), nut-milk cream cheese, caramelized onions and "everything" granola. The plating was exquisite and it looked delicious, but I was super pumped when I saw what Chef Danielle made for me instead. Griddled eggplant with pomodoro sauce, sprinkled with a generous helping of capers and shredded cashew cheese. It was for sure one of that #WhatsShainaEating moments when all eyes darted toward me and my special dish. It was rich with flavor, with the capers adding just the right amount of saltiness to balance out the bitter eggplant and sweet tomato.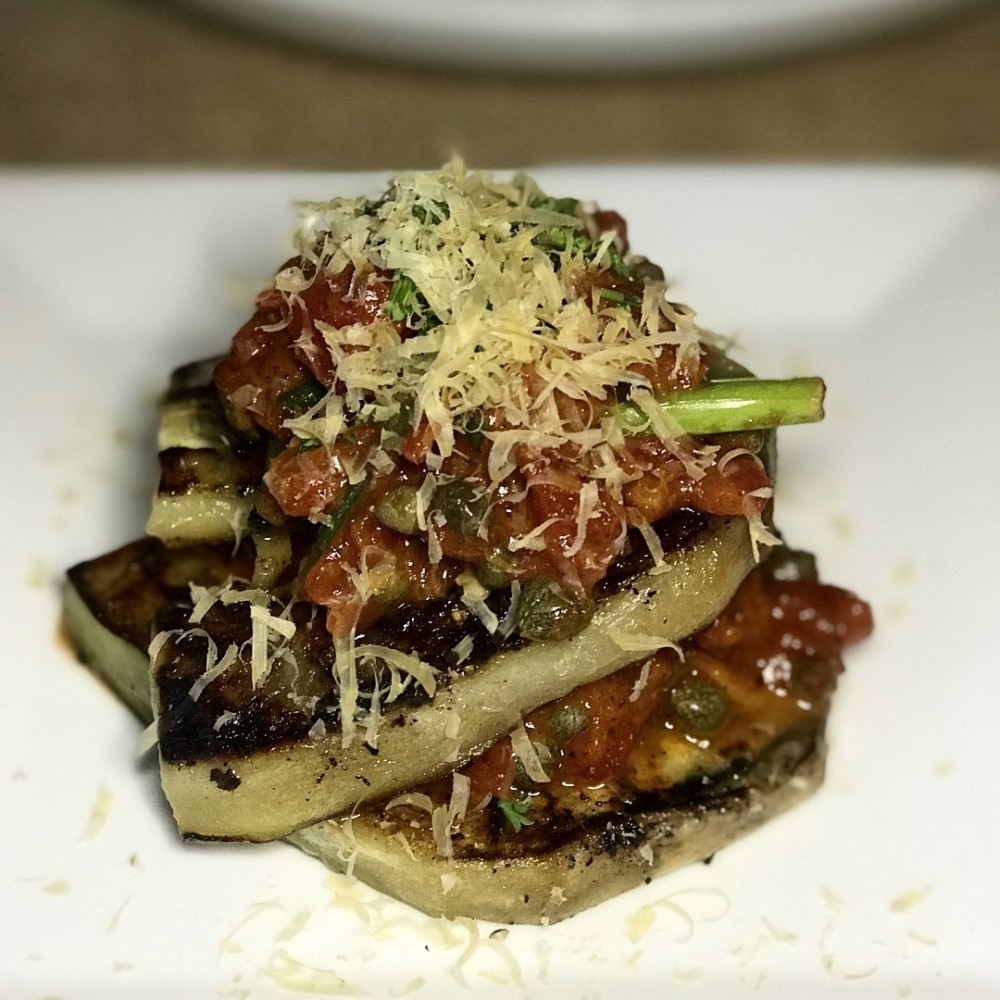 In addition to the whole roasted cauliflower mentioned earlier, the second Rebel Vegan entrée is a black truffle and English pea agnolotti with roasted tomato, mushroom ragu, lemon and corn silk. Since this clearly is not gluten-free, Chef Danielle whipped up another speciality dish for me of local mushroom and pea ragu with baby heirloom tomatoes. Simple and straight forward, but very tasty.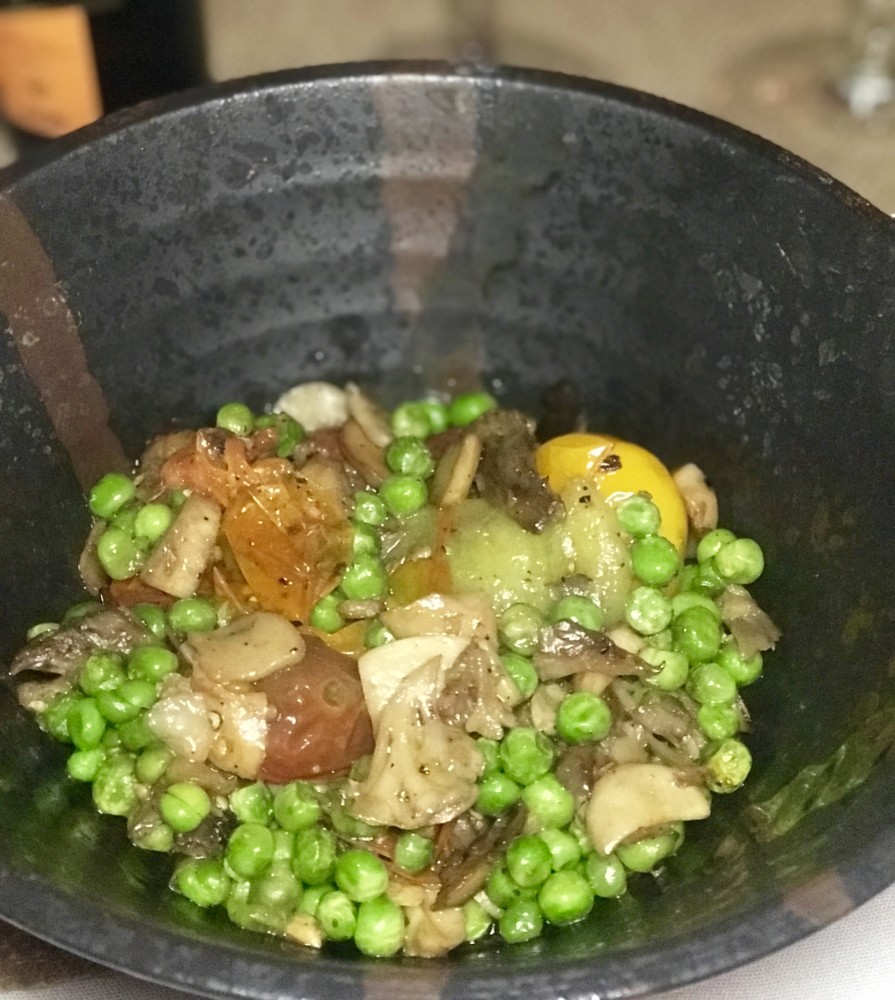 Although these are not a regular menu item, they are still worth noting to show how Chef Danielle and Rebel House are able to accommodate any and all dietary restrictions with ease.
Take note that Rebel Vegan is part of Rebel House's most recent menu change, which also includes a couple non-vegan additions. One of these new dishes is the NOLA BBQ shrimp with a crawfish and avocado salsa, grilled ramps and Florida corn fritters. For me, Danielle created another off-menu dish, still highlighting Cajun-style shrimp and crawfish but with a twist on the other ingredients. The shrimp were immersed in a Creole mustard vinaigrette and a crawfish and tomato remoulade, another impressive flavor combination that had me practically licking the plate clean.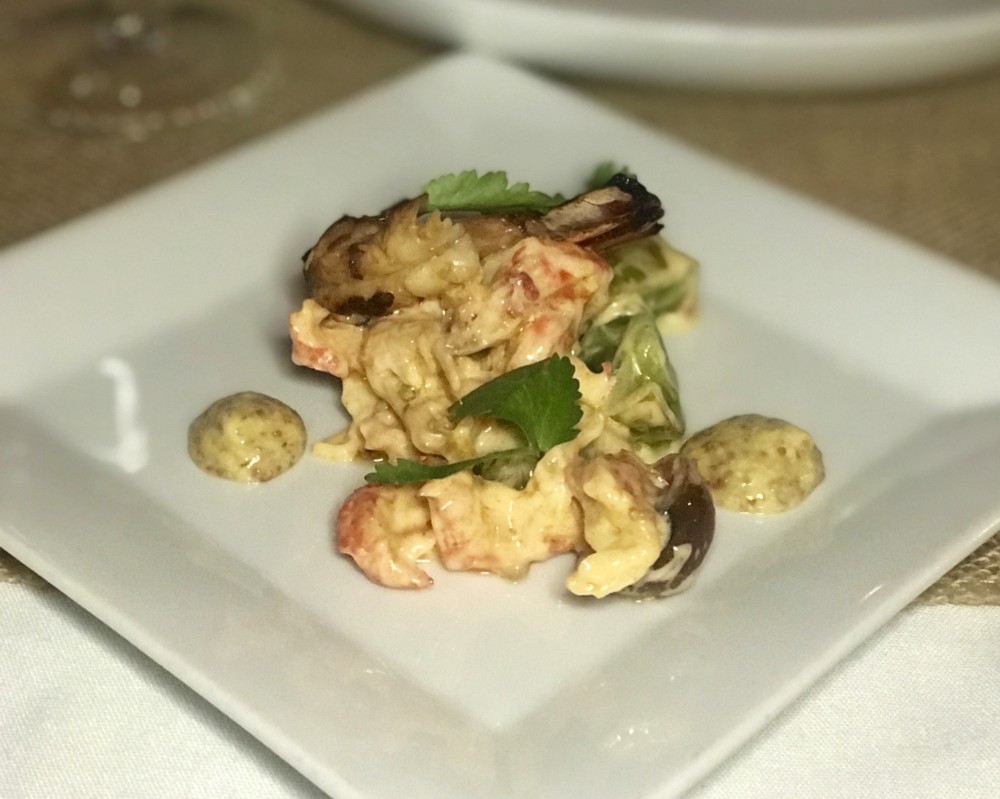 You didn't think we were finished, did you? Nope — can't leave without dessert! The vegan, gluten-free peanut butter blondie (make with chickpeas!) with dark chocolate and coconut gelato completely satisfied my sweet tooth. I have to admit I often prefer a blondie over a brownie. The texture is like that of a perfect chocolate chip cookie, fresh out of the oven with its crispy edges and fluffy center. This blondie was all of that and more.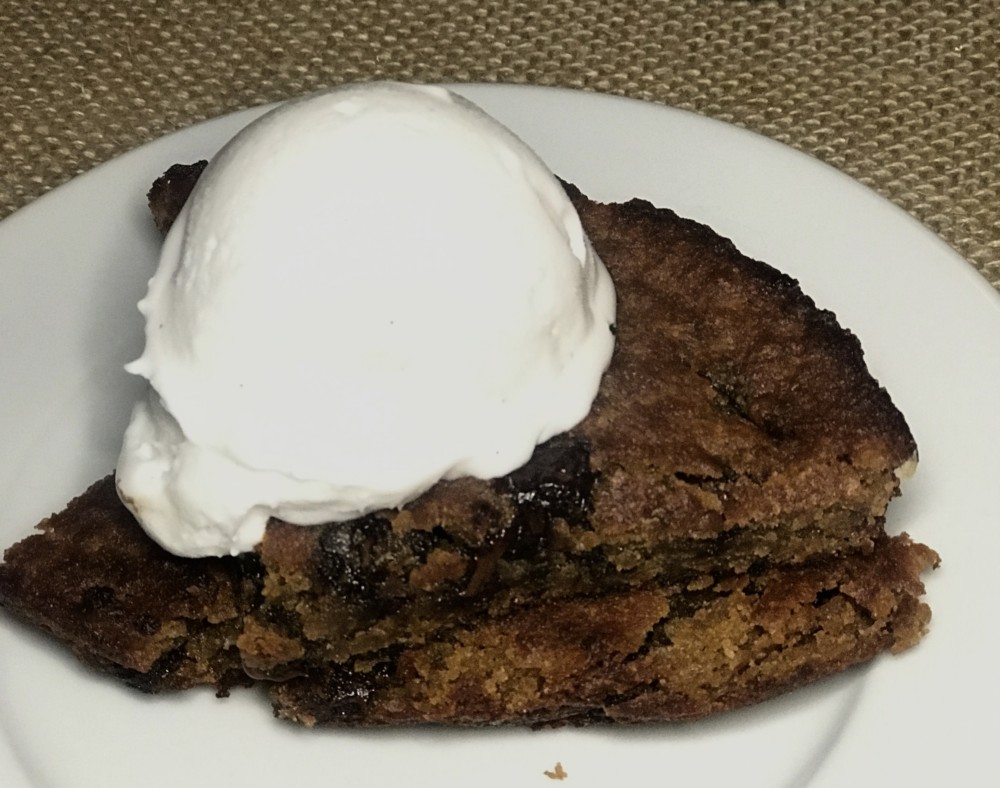 The entire meal was impressive from start to finish. I'd suggest you run over to Rebel House sooner than later — you never know when they're going to switch up the menu on ya! One thing's for sure, Rebel Vegan is a welcomed addition to the restaurant and I'm looking forward to seeing what other new items show up.
Rebel House is located at 297 East Palmetto Park Road in Boca Raton. The restaurant is open for dinner Monday through Wednesday from 5pm-12am, Thursday through Saturday from 5pm-2am, and Sunday from 5-10pm. Brunch is served Saturday and Sunday from 11am-3pm with $15 All-You-Can-Handle mimosas and $14 "Dirty South" Bloody Marys. Happy hour is at the bar daily from 4-7pm, and there is live music every Wednesday night from 9-11pm.